When Brandi's friend, a volunteer at Weatherford Whiskers in Texas, told her about Angel, a black and white cat who had been at the rescue for several months with no interest from potential adopters, she immediately felt sorry for the one-year-old feline. "She was very scared and overstimulated at the rescue center and was hiding in the litter boxes and refusing to eat," says Brandi.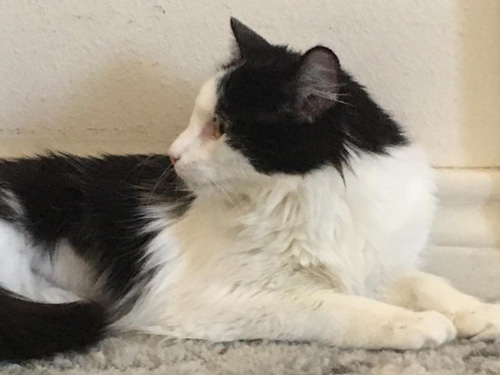 However, Brandi already had two older cats at home, and she wasn't looking to add another pet to her family. Still, she listened with sympathy and concern as her friend told her Angel's weight had dropped below five pounds, and the staff and volunteers at the rescue were very worried about her physical, mental, and emotional well-being. "She then proceeded to tell me the little cat had only one eye," remembers Brandi, and being a neuro-optometrist, she immediately asked to see a picture of Angel. "I fell in love."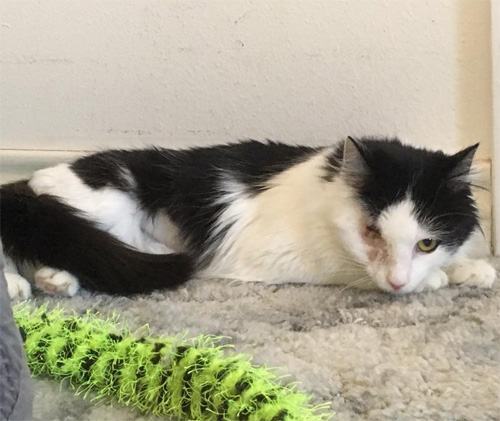 Just three days later, Brandi adopted the fluffy one-eyed cat on February 2, 2019, having been warned by the staff and volunteers at the rescue that Angel might never be a lap cat. After all, Angel was living in a feral cat colony before she was rescued and admitted to Weatherford Whiskers' Wounded Whiskers program due to the severe infection in her right eye.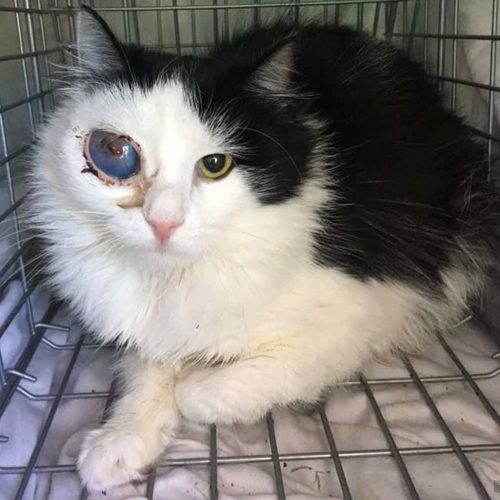 "She suffered from buphthalmos [an enlarged eye] as a complication of feline herpes virus," explains Brandi. "The vet said she had the biggest eye they had ever seen — the amount of pressure in her eye was so high most other cats with this condition would have already suffered a rupture."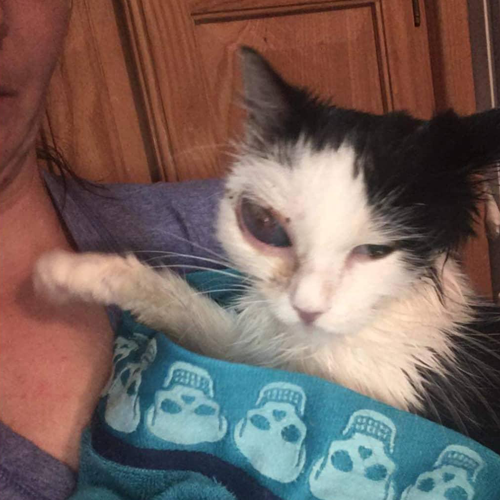 In fact, Angel's eye was so swollen, it was nearly half the size of her head. It was also irreparably damaged, and the only option was to surgically remove the injured eye. "I knew that had to be incredibly painful," says Brandi, "and since the condition develops over time, she must have been in excruciating pain for a very long time."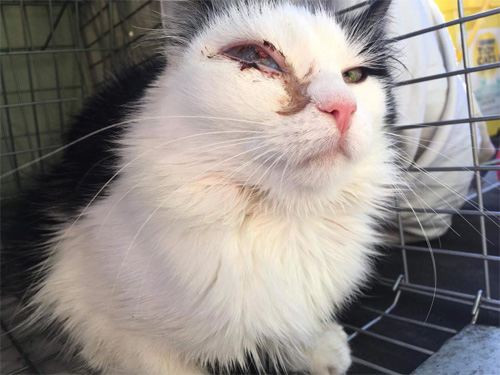 Thankfully, following the surgery, Angel was placed in a wonderful foster home with an experienced caregiver who not only helped her recover from the surgery, but also provided her with some much-needed socialization. While it didn't take long for Angel to adjust to life as a one-eyed cat, especially because she'd probably been blind in her right eye for quite a while, she struggled once she was moved to the rescue center, making it harder for her to find a home.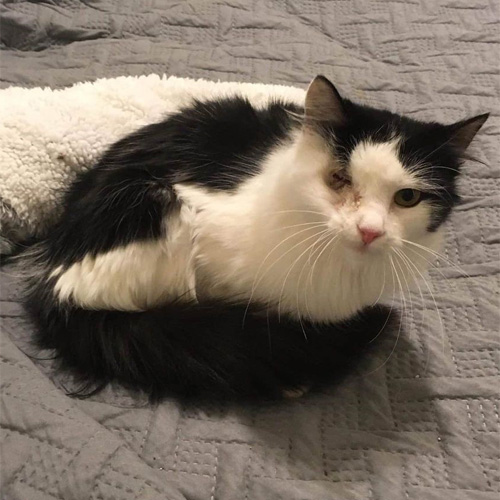 "I think people adopting animals, especially families with children, are naturally attracted to outgoing animals," says Brandi, "and they may not want to adopt a pet with visible differences or deformities out of fear that the animal is still sick and may not live long, may have an illness contagious to other household pets, or may be traumatized or come from an abusive situation that alters their temperament."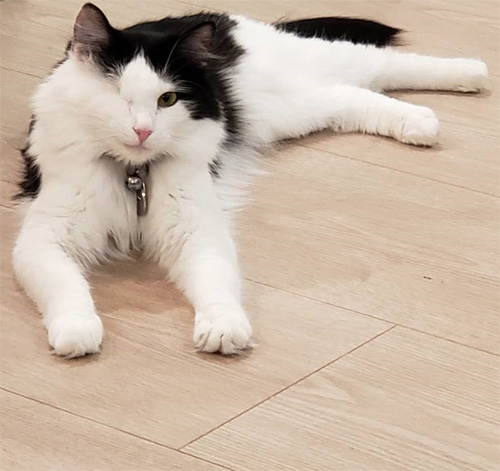 Being a neuro-optomtetrist, Brandi wasn't worried about Angel having one eye, but she was concerned the fluffy black and white cat might have trouble settling into her new home. Fortunately, once she got the cute one-eyed feline back to her house in a Dallas suburb, it quickly became apparent Brandi had no reason to be worried. "The cat that 'may never be a lap cat' started cuddling me and rolling around for pets less than 24 hours after coming home with me," remembers Brandi. "I would pet her and tell her I loved her and that she never had to be hungry or scared or in pain again."
View this post on Instagram
More than two years later, Angel is continuing to thrive in her forever home, and while she only has one eye, it doesn't prevent this special girl from having a very happy and active life. Not only does this fluffy one-eyed feline love cuddling and being brushed, she adores playing with toys, racing around the house, and scaling her cat tree and other high places around her home. "She absolutely loves climbing the kitchen cabinets and the Christmas tree!" says Brandi.
View this post on Instagram
However, because Angel only has one eye, Brandi takes extra precautions to protect it. Not only does she make sure Angel doesn't contract conjunctivitis or a respiratory illness, Brandi always does her best to limit any potential trauma caused by an object or her other cat. "I am super cautious about making sure she can't get to toys or objects she thinks are toys that might injure her, such as scissors or Christmas tree ornament hooks," explains Brandi, "which I've replaced with soft ribbons."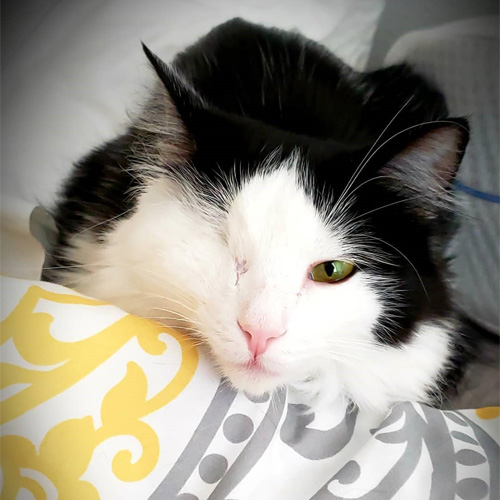 Aside from these measures, Brandi doesn't have to make any other special accommodations for Angel, proving one-eyed cats really aren't that different from their two-eyed counterparts.
View this post on Instagram
"A cat with only one eye, especially a fully sighted eye, can do everything a 'normal' cat can do," says Brandi, and she believes it's important to remember cats don't have emotional attachments to their body parts like people do. "Their fur grows in over any scar, and after you've loved your cat long enough, seeing pictures of them with an eye starts to look wrong! It just looks like an adorable wink."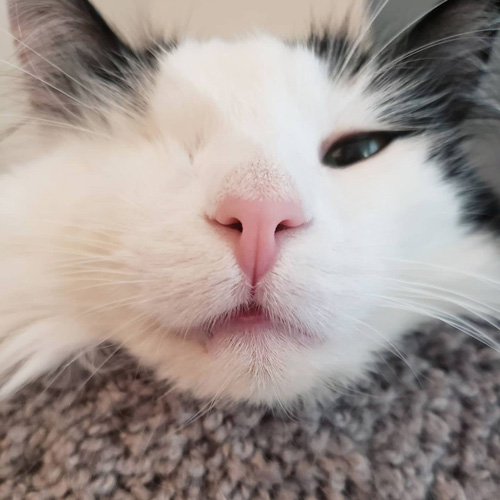 While Angel is fortunate to have found a wonderful home with someone who loves and appreciates her for her differences, not in spite of them, Brandi considers herself just as lucky to have this beautiful one-eyed girl in her life. When Brandi adopted Angel, she had just finished a major multi-year medical battle that included more than 20 surgeries, and she was also struggling with PTSD. "She gave me something to look forward to every day and focus my attention on," remembers Brandi.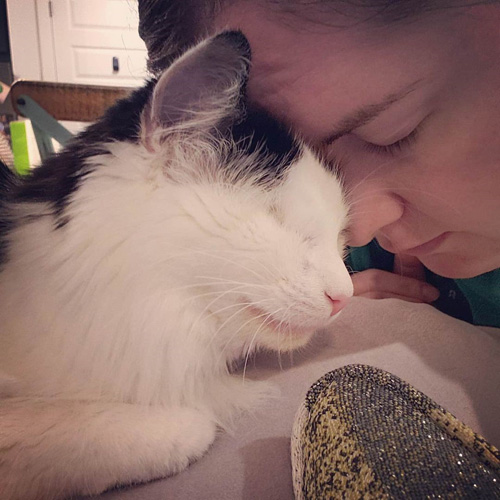 Not only does Brandi credit Angel with helping her get through this incredibly difficult time in her life, she relies on the very special bond they share to help her overcome challenges. "The fact that she is such a happy, confident, playful, and loving cat after living almost her first year of life in such excruciating pain really inspires me," says Brandi. "She cuddles me every morning when I first wake up, gives me kisses and affectionate head butts on the face, and whenever she deliberately looks at me and slow blinks, I can feel her love and my heart melt."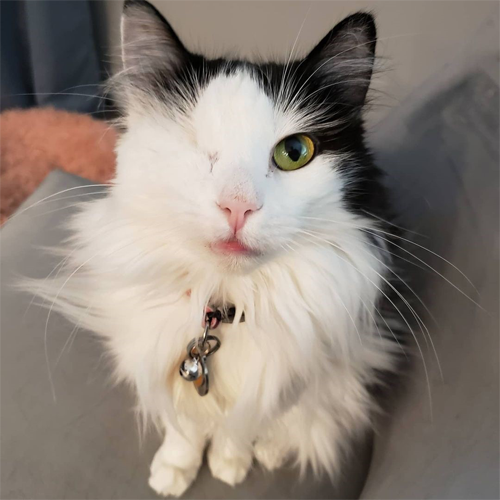 To learn more about this beautiful cat, you can follow Angel on Instagram.