When Frida Castaneda saw a photo of Lt. Dan, a two-month-old cat with paralysis and incontinence who was rescued from the streets of Fort Worth, Texas, by Good Neighbors Animal Rescue (GNAR) in the summer of 2019, she felt compelled to help the tabby and white special needs kitten. "I had never taken care of a paralyzed kitten, but the moment I saw his picture, where he looked so intuitive and determined, I knew I had to do whatever I could to help him thrive," remembers Frida.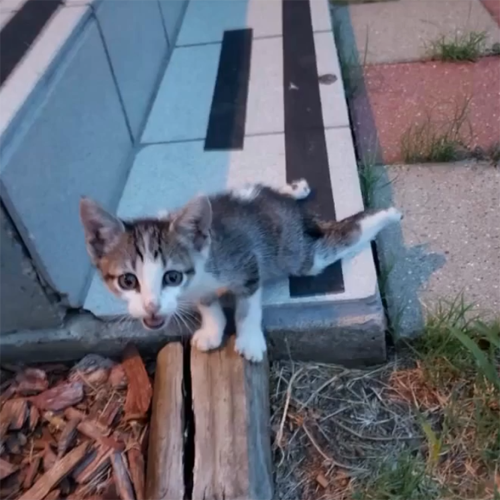 Frida agreed to foster Lt. Dan, who had been paralyzed and incontinent from birth due to a congenital spinal malformation and yet had somehow managed to survive the first few weeks of his life while living on the streets. "I thought, he made it this far on his own, now it's our turn to make sure he lives a full and happy life," says Frida.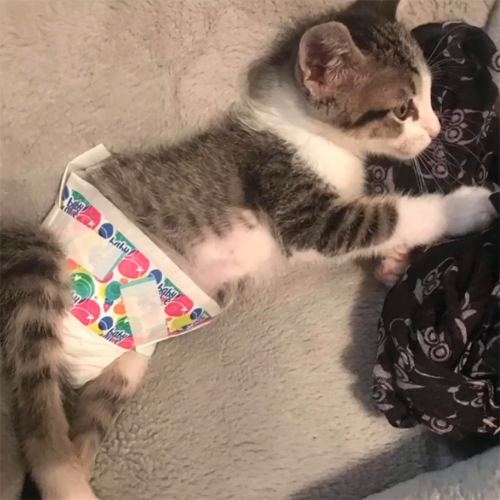 In September 2019, Lt. Dan was wearing diapers made for baby dolls when he arrived at his foster home, and he immediately won Frida over with his affectionate and persistent personality. "From the beginning, Dan was a sweetheart," says Frida. "[He was] purring and cuddling and screaming to be let out anytime you put him in his kennel. He just wanted to be close and cuddling with his new humans at all times."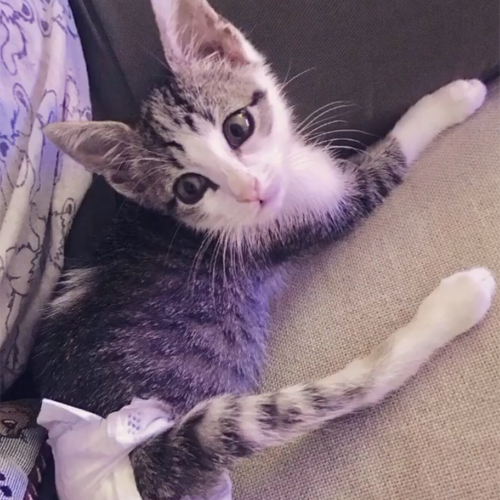 Even though Lt. Dan was extremely loving, fostering him wasn't always easy, especially because while Frida had experience caring for incontinent cats, she'd never looked after a paralyzed kitty. "I'd say the biggest challenge was figuring out his bathroom routine," says Frida. "It took mountains of puppy pads, diapers, paper towels, wipes, and disinfectant spray."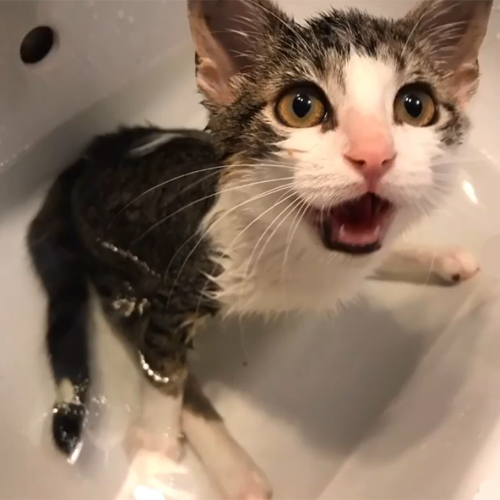 Fortunately, Frida refused to give up, and Lt. Dan's tenacity and persistence inspired her to keep going until she found a solution to his bathroom issues. "I felt an instant dedication to him," says Frida, "like, 'Ok little guy, I'll be just as determined as you — let's do this!' "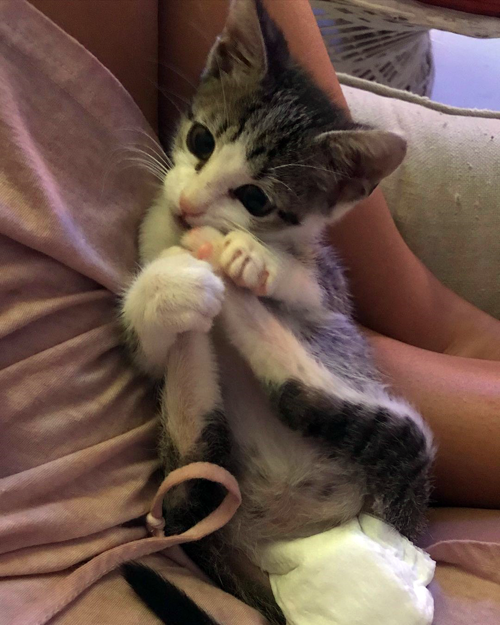 Consequently, she began following other rescuers and fosterers on social media who had cared for cats with paralysis and incontinence, including Hannah Shaw @kittenxlady and Ellen Carozza from @thecatlvt. "Having access to resources like the ones they offer gave me the confidence I needed to step up and take care of Dan," remembers Frida. "There were times when I reached out to Ellen Carozza with questions and concerns and she was so willing to help. She even sent me special preemie diapers that fit Dan perfectly!"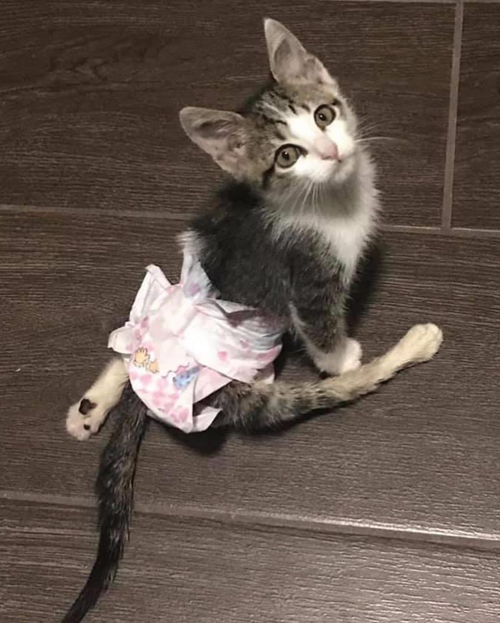 Eventually, Frida developed a routine that worked well for both her and Lt. Dan, ultimately allowing her to express his bladder and bowels into the toilet. Over time, she also found herself becoming more and more attached to the adorable tabby and white cat, and shortly before Lt. Dan's first birthday Frida decided to adopt him! "Dan is my first ever foster fail!" says Frida. "Usually I say goodbye is the goal, but Dan is just so incredibly special I couldn't say goodbye to him!"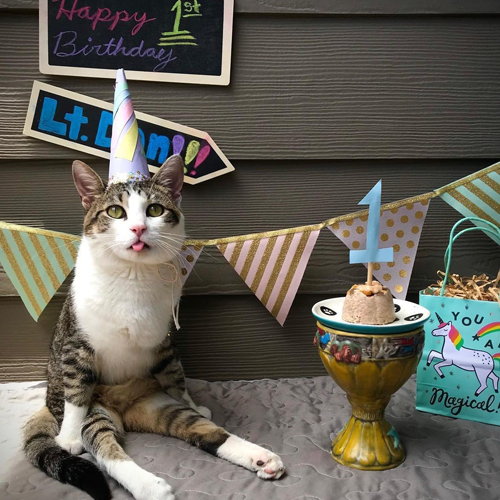 Several months later, Lt. Dan is doing better than ever, and he absolutely adores spending time outside. In fact, Frida got a stroller last year as a gift from Lt. Dan's many friends and fans, allowing her and her boyfriend to take him on adventures, including to state parks and botanical gardens, as well as for walks around the neighborhood.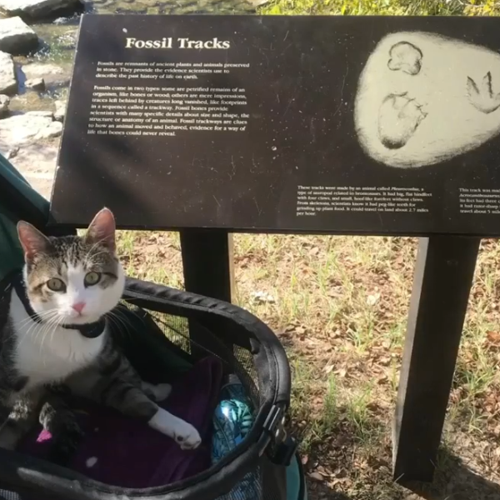 "He's so well known around here," says Frida. "It's not uncommon for us to be strolling along and hear someone yell, 'OMG! Is that Lt. Dan?!?' He is a big personality in our neighborhood, and loved by all!"
View this post on Instagram
In addition to exploring, Lt. Dan loves helping Frida care for the kittens she fosters for Good Neighbors Animal Rescue, and he can often be found eating, sleeping, and playing with them, as well as cleaning them. "Dan loves being a teacher to our foster kittens," says Frida. "We try to always have a foster kitten in the house for him."
View this post on Instagram
Currently, Frida is fostering Dottie, a paralyzed and incontinent kitten, putting her experience caring for Lt. Dan to good use. "I jumped into fostering Dan with almost no experience and look at us now!" says Frida. "Caring for these cats can seem daunting, but it's actually a very manageable and fulfilling responsibility."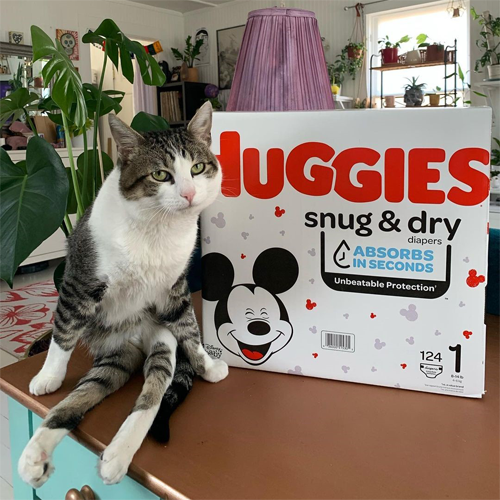 While people often assume cats with paralysis and incontinence need constant attention, Frida has found they actually don't require that much additional time. "Once you get a routine going, caring for these cats on a daily basis only takes about 10-15 minutes total out of the day," explains Frida.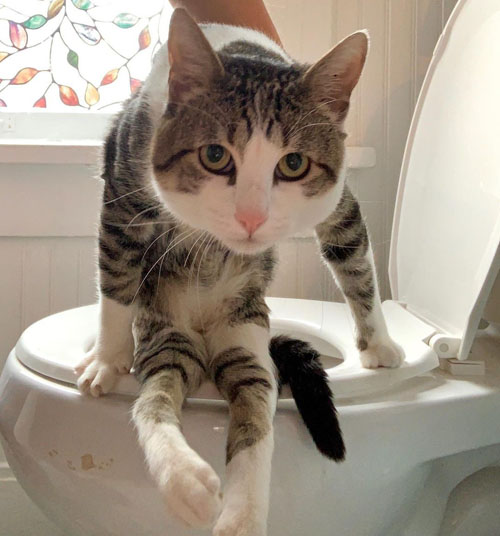 She's also found a lot of people think paralyzed cats have trouble getting around and require wheelchairs and carts to be mobile, but that certainly hasn't been Frida's experience with Dottie and Lt. Dan. "They are incredibly mobile!" says Frida. "Dan can even go up and down the patio stairs — although he's not supposed to. He can climb up on the couch, bed, and pretty much anywhere else his little heart desires."
View this post on Instagram
However, because Lt. Dan needs to have his bladder expressed multiple times a day, he can't be left alone for extended periods of time. Consequently, Frida and her boyfriend bring Lt. Dan with them when they travel, taking him with them to stay in pet-friendly accommodations. "We do have a pet sitter who understands Dan's special needs on standby just in case we need to travel for an emergency," explains Frida.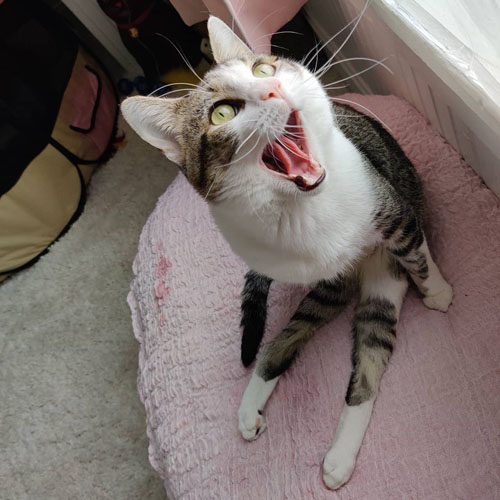 While caring for Lt. Dan requires a bit more time and planning when compared to a typical cat, Frida is more than happy to do whatever it takes to have this very special boy in her life. After all, when the Covid-19 pandemic has caused Frida to have moments of sadness, anxiety, and uncertainty over the past year, she's always been able to count on Lt. Dan's optimism and joyful personality to bring a smile to her face.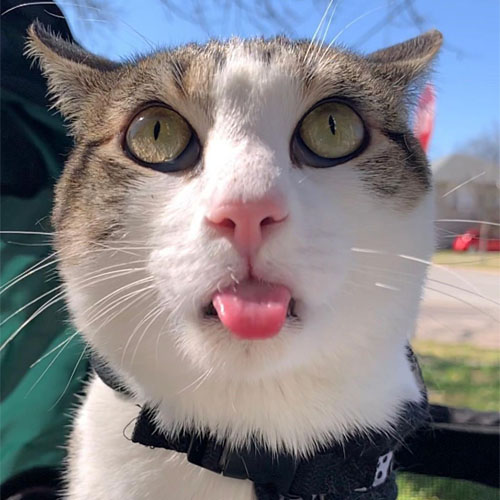 "Dan means everything to me," says Frida. "Anytime I start to feel down, I just think back to that first picture I ever saw of him. So alert and determined and ready to live, and here he is now, doing just that and loving every minute of it. We all need to be like Dan!"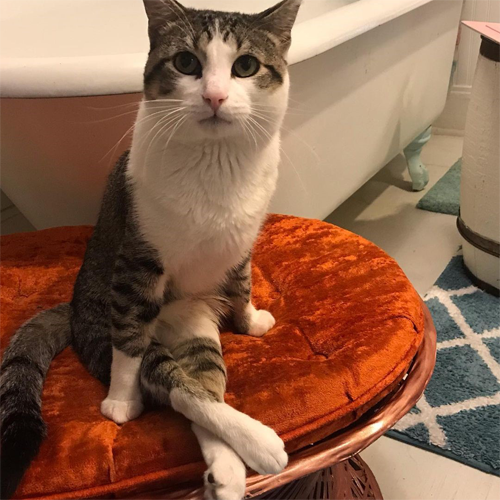 To learn more about this handsome cat, you can follow Lt. Dan on Instagram.