When Janell learned Saving Grace Rescue (SGR), a San Francisco organization dedicated to helping young kittens and special needs cats, was looking for a home for Max, a blind feline they'd rescued from an animal shelter, she was immediately interested in adopting him.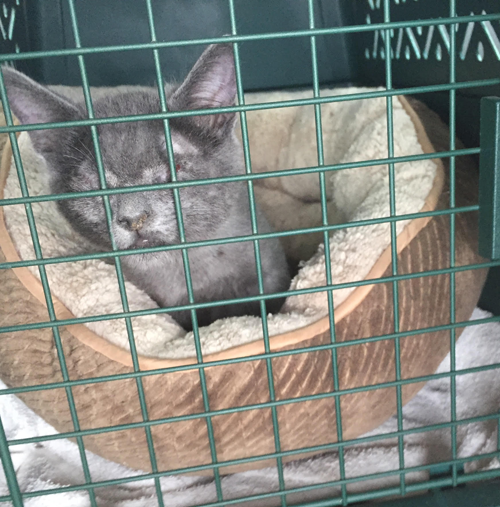 "After our senior kitty of 18 years was diagnosed with diabetes, people shocked us by asking if we were going to put him down," explains Janell. "It made us realize there were likely lots of special kitties that people might not consider — or put down — when they could live totally awesome lives. We decided after he passed, we would look into adopting a special needs cat."
Having mourned the passing of her beloved senior cat, Janell thought Max — who was born in September 2014 — might just be the ideal special needs pet for her. When he was approximately a week old, Max had an upper respiratory infection and severely infected eyes when he was pulled from the shelter by Saving Grace Rescue. "With medicine and the healing power of love, his infection cleared up but his eyes were badly damaged," says Janell. "Always a very happy kitty, he was blind and his eyes were still causing him pain. They needed to be removed."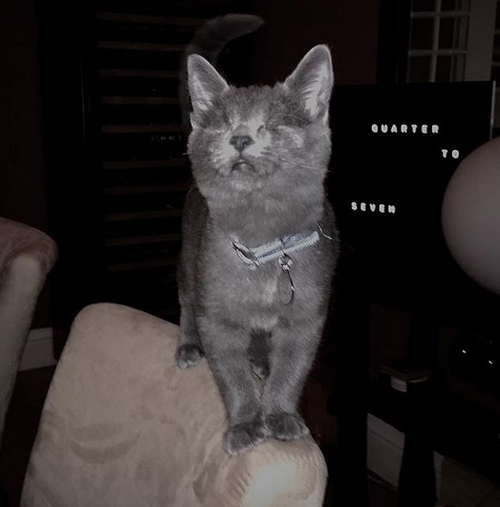 Because Max developed a severe eye infection when he was approximately seven days old, he has most likely never been able to see, so he didn't need to adjust to a lack of vision following the surgery to remove his eyes. Despite everything the striking Russian Blue kitten had been through in his life, he remained a happy, active, and extremely lovable cat who stole the hearts of everyone he met. "Max's gregarious, loving personality showed through and he quickly became a favorite with the volunteers," says Janell.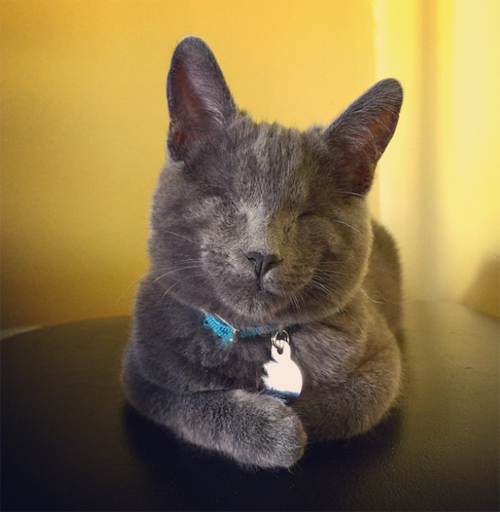 Not surprisingly, Max won Janell over as well, and after hours spent researching blind cats, she adopted him on December 20, 2014. While Janell had read tips about placing different diffusers in each room of her house to help Max navigate his new home, as well as refraining from ever picking him up and moving him, a member of the Saving Grace Rescue encouraged her to treat him the same as she would a sighted kitty.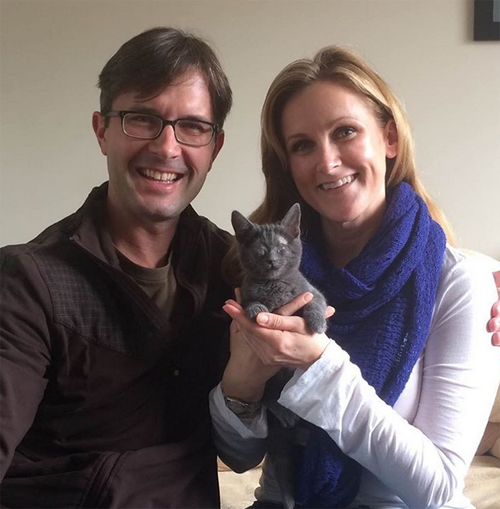 "I started following Rufus the Blind Cat and Little the very special kitty on Facebook and saw that blind cats are just like any other cat — totally unique and completely capable," remembers Janell. In fact, Janell, who had expected a blind kitten to be less curious and adventurous than a sighted kitten — and therefore easier to care for — was surprised at just how fearless and rambunctious Max turned out to be.
View this post on Instagram
"He climbed the drapes, the house plants, got in the shower with me, swung from the chandelier, opened the kitchen drawers, stole headphones from our bags — you name it," says Janell. Convinced a companion might help keep Max entertained and out of trouble, Janell returned to Saving Grace Rescue and met Grace, a blind kitten who had also lost her vision to an upper respiratory infection.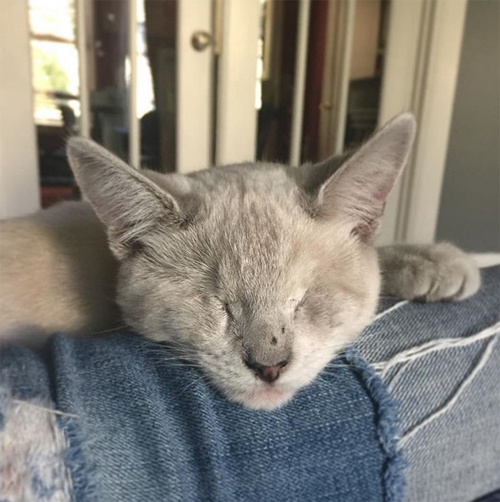 While Grace had a lot in common in Max, having been pulled from the same animal shelter, she'd lived on the streets as a feral kitten for a while, so she didn't share his outgoing personality. However, Janell remained optimistic, hoping Grace's reserved nature would complement Max's extroverted personality. "We decided right away to take the little fluff ball home and make her part of our family, and more importantly, a sibling to Max," remembers Janell.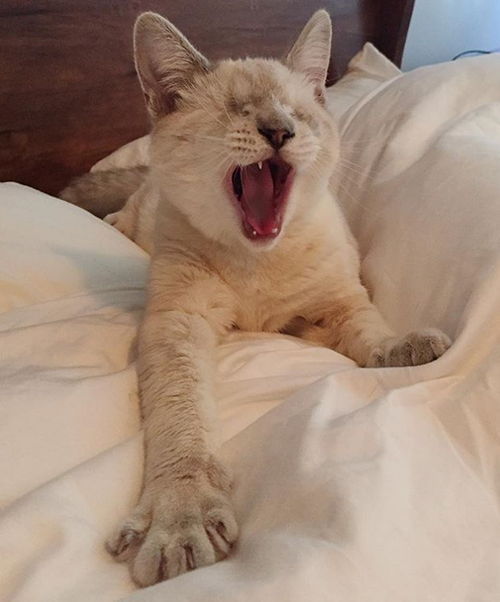 Thankfully, it didn't take long for this special pair to bond, and years later, Max — who is a year older than Grace — likes to play and cuddle with his little sister, and he's as sociable as ever. "Max loves to play, climb, and meet new people," says Janell. "He also greets every visitor, rifles through their bags, and sniffs their drinks."
View this post on Instagram
While Max turned four last September, this handsome Russian Blue boy still has the energy of a kitten, and when he's not attacking shoelaces, chasing after Grace, or climbing up his mom to sit on her shoulder, he can usually be found on the highest point in the room.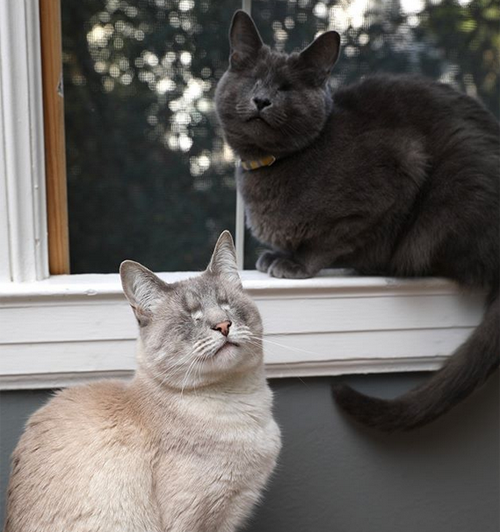 "Max and Grace do all the normal kitty things, as they were never told they couldn't," explains Janell. Before meeting Max, Janell had never cared for a blind cat, and today she shares her home with two, and she hopes other people will consider adopting special pets like her beloved kitties. "Blind cats are just like any other cat," says Janell. "They require love, a warm place to sleep, and a full bowl."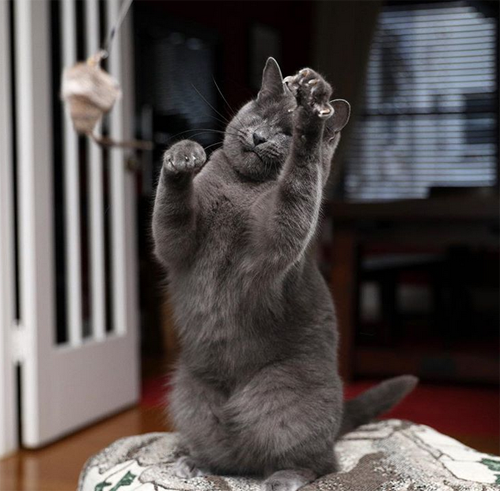 However, Janell admits what she and her family have given to Max and Grace pales in comparison to what they've received from this adorable duo. "We've given them a forever home, but they have given us something much more important — a daily source of inspiration, love, and joy," explains Janell. "Together we want to spread the word that #BlindCatsRock. Rescue them!"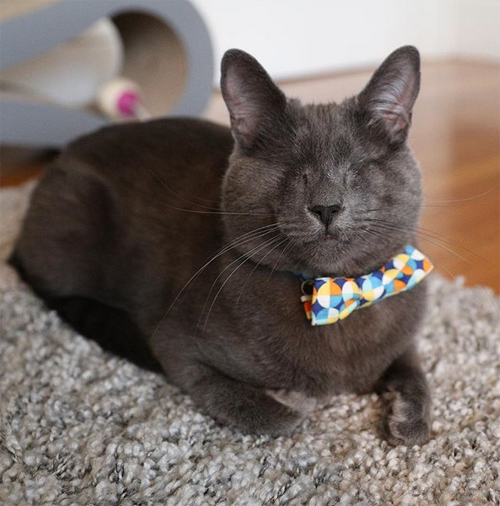 To learn more about this handsome cat, you can follow Max on Instagram.