When Bari Zappoli went to an adoption event in Manhattan in early June 2017, she was still mourning the loss of her beloved cat, Spider, and she had no intention of opening her heart to another animal.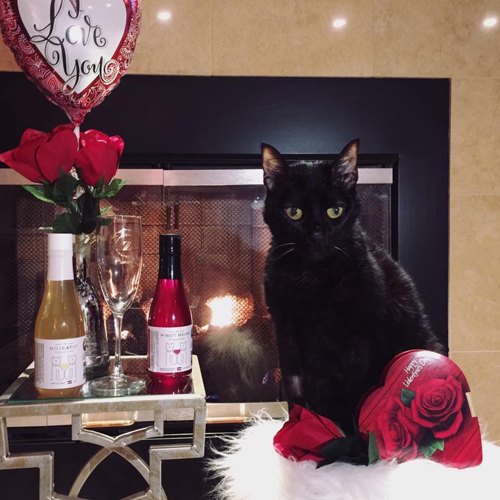 Spider had passed away just a few months earlier, and Bari was still coping with the shock and pain of losing her beloved companion. "I had lost my kitty who was the absolute love of my life," remembers Bari. "I adopted him right after high school and he had been with me through everything."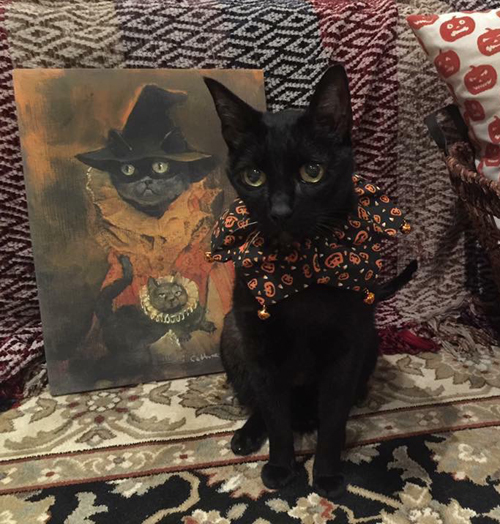 Spider seemed in perfect health when his mom took him in for his annual vet visit, but routine blood work revealed he had Lymphoma. "I was told the average life span on medication was going to be about two years, but his prognosis seemed better, according to his doctors," says Bari, and she and her husband dedicated themselves to giving Spider the best care possible.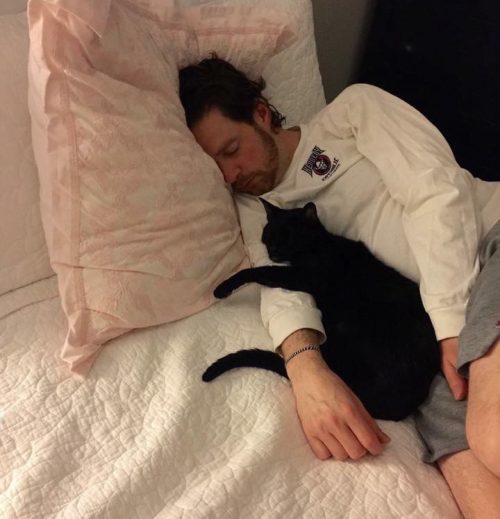 In addition to medication, Spider received fluid therapy and blood transfusions, and his parents even stayed at a hotel next door to the vet's office to be close to him while he was hospitalized. "He spent the last four days of his life in the hospital," says Bari. "After the fourth day, the doctors determined that the cancer was in his nervous system."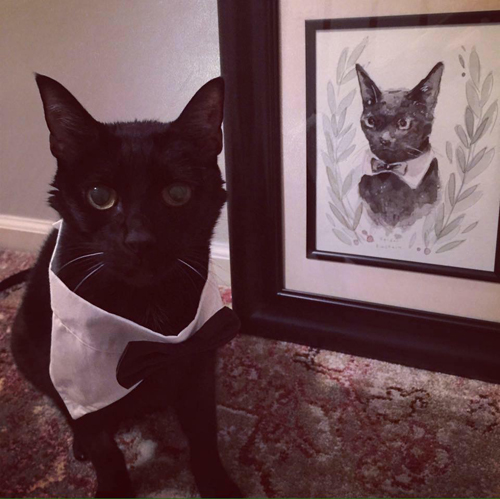 Devastated, Bari and her husband made the heartbreaking decision to take Spider home with them to their house in Westchester, New York, where — surrounded by the people who loved him — he was put to sleep.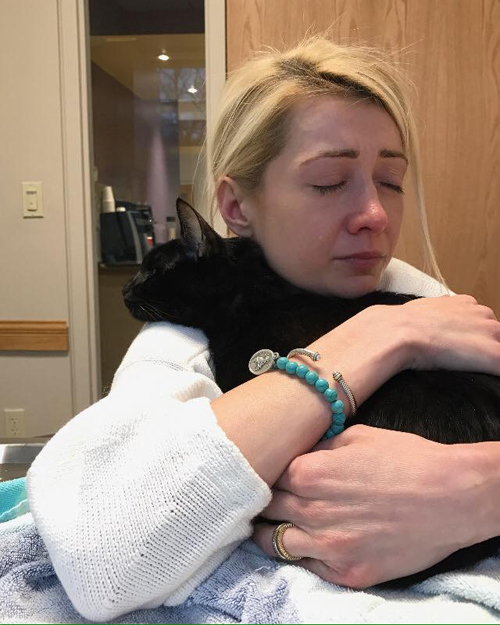 Spider, who doctors gave a two-year life expectancy when he was diagnosed with Lymphoma, passed much sooner than anyone had expected. "I only got seven more months with my angel," says Bari. "It was the single hardest thing I've even been through."
Heartbroken, Bari wasn't planning on an adopting a cat when she went to the New York City adoption event; instead, she was interested in fostering cats and kittens, and she wanted to talk with representatives from her local rescues to find out what sort of opportunities were available in her area. "There were hundreds of adorable cats and kittens," remembers Bari. "I was looking in cages and just missing my baby."
Bari, who thought fostering might be a way to help heal her broken heart, felt the loss of Spider even more profoundly with every feline she saw, until one cat caught her eye, a blind tabby cat named Morty (formerly Mewford). "I came to Morty's cage and noticed how calm and sad he looked at the same time," remembers Bari, and she asked the rescue, the New York chapter of Best Friends Animal Society, if she could spend some time with handsome tabby in a viewing room. "When I got him in there, I felt his energy," says Bari. "I felt a connection with him and truly hoped someone great would take him home."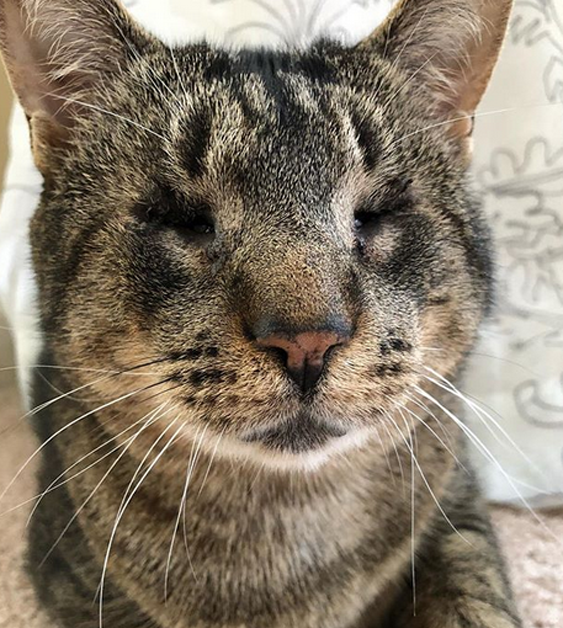 While Bari and her husband, who had decided long ago that they would adopt a special needs cat when Spider passed away, were both drawn to Morty, they left the event without him, unsure if they were ready to open their lives to another pet just a few months after losing their beloved boy. However, once the couple got back to their home in Westchester, Bari couldn't stop thinking about the handsome blind cat, and she was worried that Morty wouldn't be able to find a family that would give him the love and care she felt he deserved.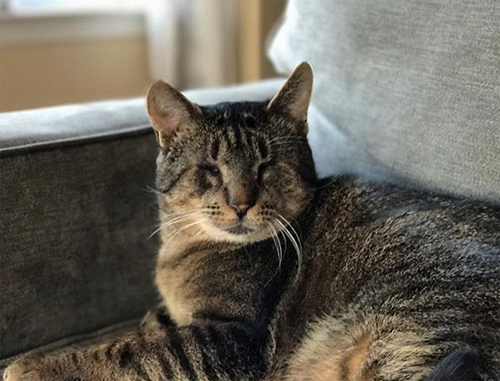 "I cried the whole next morning because I missed my baby so much, but I knew what I had to do," says Bari, and that day, the couple returned to the adoption event in Manhattan to learn more about Morty. Best Friends Animal Society told Bari and her husband that Morty was approximately five years old, and while he had attracted a lot of attention at the many adoption events he'd attended, no one had been willing to adopt the special needs boy. "We saw people looking at him as though he were a novelty, the cat with no eyes," remembers Bari. "I saw his personality and a cat who needed to feel safe."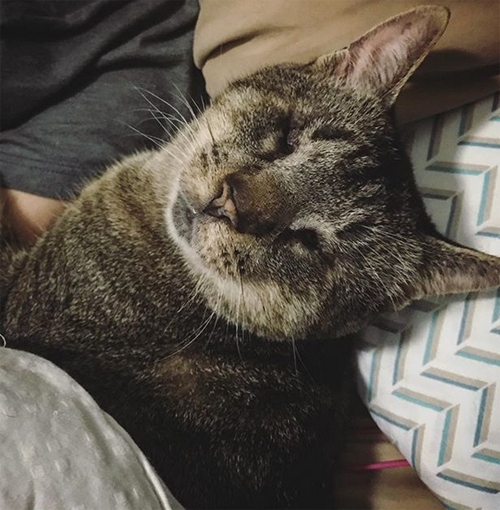 The couple took Morty home with them that day, and it didn't take the blind tabby long to adjust to their townhouse. "We started him out in our master bedroom," explains Bari, "then we started letting him out only when we were home. Within a week or two, he was completely acclimated." Initially, Morty did have some trouble with the litter box, but Bari and her husband tried various boxes and locations until they found a solution that worked well for the adorable kitty.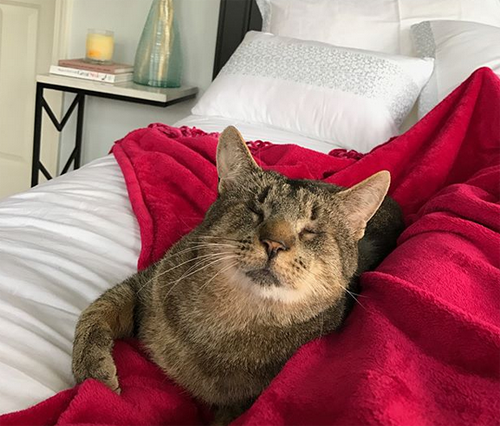 Shortly after they adopted Morty, Bari and her husband took him to a vet and learned that while he was living on the streets, the handsome blind cat had sustained severe trauma to one of his legs, and the injury had never healed properly. While Bari had a lot of sympathy for what Morty had been through, she struggled to form a relationship with him as she dealt with a complex range of emotions anyone who has lost a pet is familiar with, especially when they decide to adopt a new animal.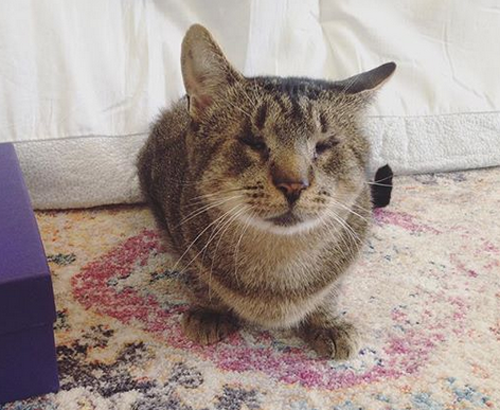 "At first, I felt like I was cheating on Spider," says Bari, "and it wasn't so easy to bond with Morty, but with time he won me over." Apparently, it took Bari and her husband a while to win Morty over too, because for the first six months in their home, this handsome blind cat didn't purr, but today, he's extremely happy with his new family. "He didn't purr in our home for about 6 months," says Bari, "but now he purrs, climbs on furniture, plays, sleeps in the bed, and does everything a cat with their sight does."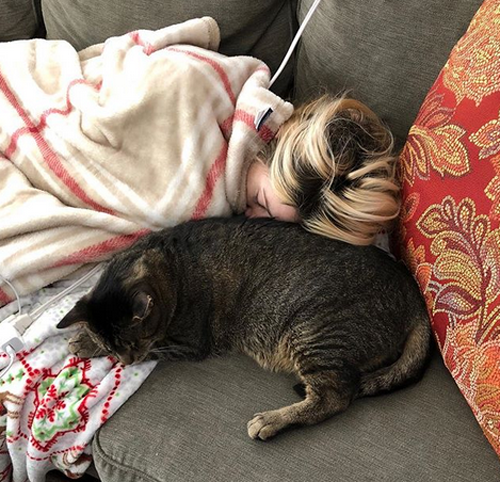 Like a typical cat, Morty also loves treats, playing with his toys, snuggling under the covers, and getting head rubs from his mom and dad. In fact, Bari is certain that while he needs a little bit more care than the average feline, Morty really isn't that much of a challenge. "Adopting a blind cat has been surprisingly easy," says Bari, "and didn't require much more work than adopting a cat with vision."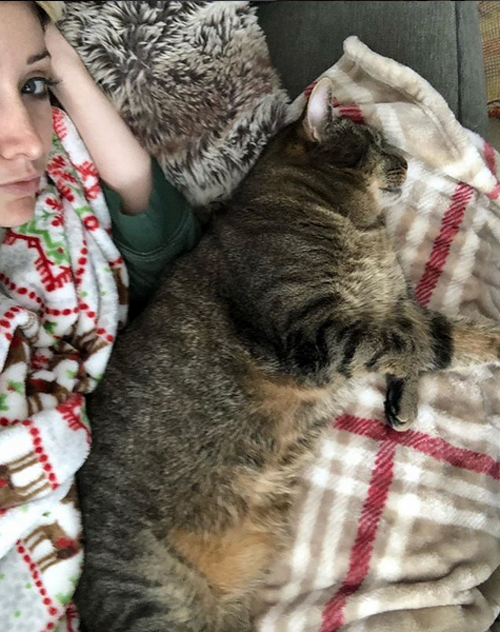 Bari hopes by sharing Morty's story, not only will it inspire people to consider adopting special needs cats, it will help raise awareness about feline cancer and the importance of routine checkups and lab work so that people won't have to go through pain she and her husband experienced when Spider developed Lymphoma. "We have the power to make animal lives safer, longer, and more rewarding," says Bari. "These animals will improve our quality of life in return."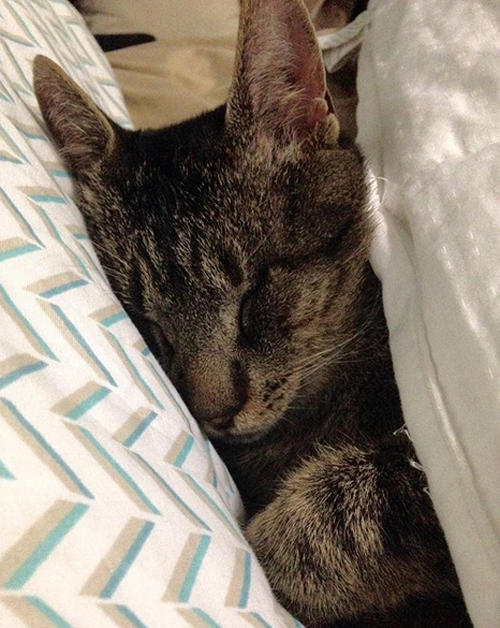 Undoubtedly, Morty and Bari have improved each other's lives, and the pair now share an incredibly special bond. "I call him my squishy because he's so fat and snuggly," says Bari. "He means a lot to me because when I see him sleeping with his belly in the air, or sitting on the couch purring, I know that I changed his life: he feels safe."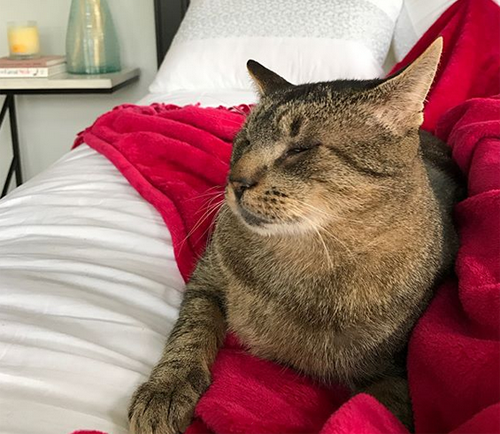 Spider, who was by his mom's side through college, her wedding, and nine different cities, will always hold an incredibly special place in Bari's heart, and he could never be replaced by anyone, not even a cat who is as special as Morty. Thankfully, Bari has chosen to form a new bond with Morty, not attempt to replicate the relationship she shared with Spider, and today, the two are extremely close. "I can't explain how sweet this cat is. He has the most gentle spirit," says Bari. "This cat has been through so much and is still just the sweetest, most gentle cat that I have ever been in contact with. I think he helped me heal a little bit."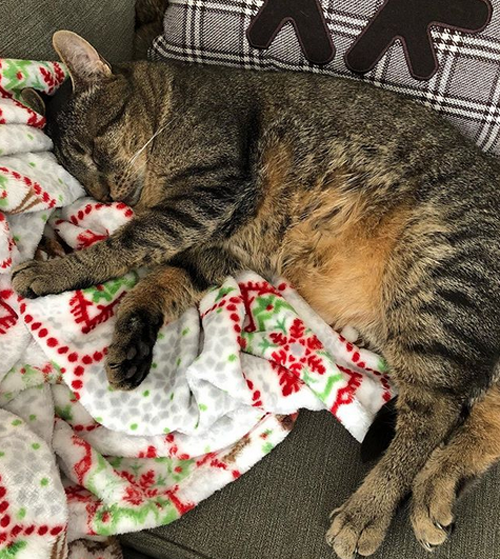 To learn more about this lovable cat, you can follow Morty on Instagram.