When the staff and volunteers at Advocates 4 Animals, Inc. (A4A) were contacted by local law enforcement in late 2017 about a cat who had endured severe and prolonged abuse, they were eager to help the inured feline who had recently been seized by police.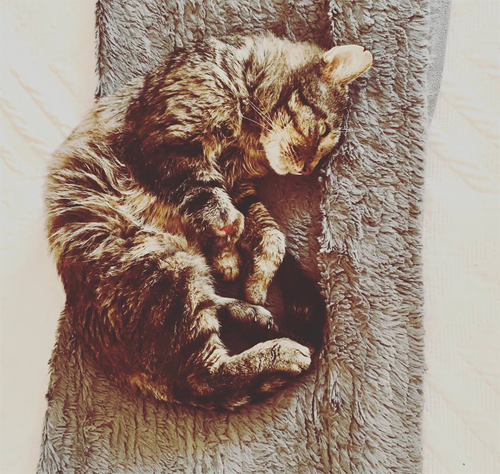 "He had been found in a home with multiple wanted felons," explains Stacey, executive director and co-founder of Advocates 4 Animals, Inc. "He arrived with two severely broken legs — one front, one back — and he was incredibly emaciated, missing patches of fur, and very hungry and mangled and had wounded ears, was covered in fleas and parasites, and had a hematoma on his head."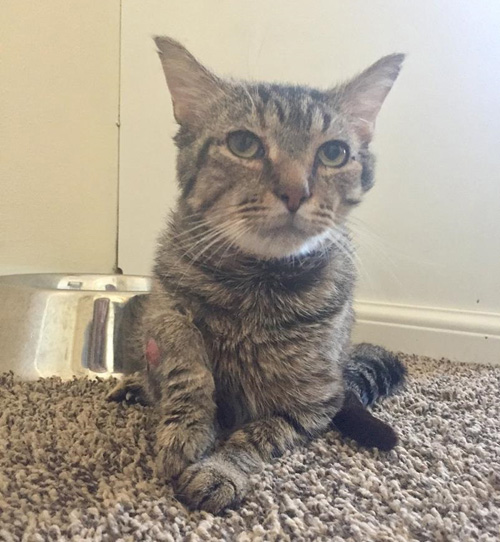 Needless to say, the battered and abused tabby cat was frightened and desperately in need of medical attention, so the staff at the animal rescue in Xenia, Ohio, immediately took him to a veterinarian for a thorough examination. The vet determined that the cat, who Advocates 4 Animals, Inc. named Albert in honor of the officer who rescued him from his former home, was approximately four years old, and he needed to have both of his fractured limbs surgically removed.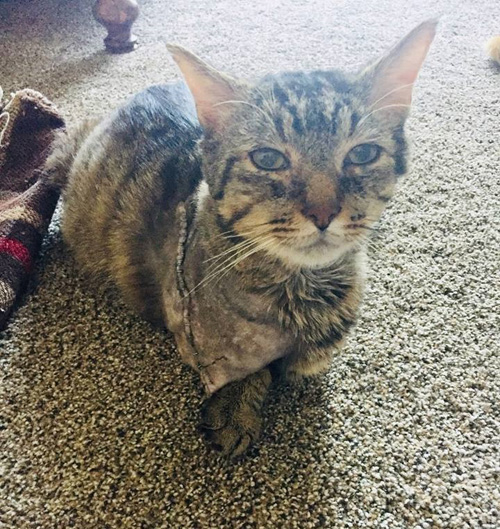 "Both leg amputations were required as the bones were broken so severely that infection had set in due to a lack of care prior to rescue," explains Stacey. "Had the legs not been removed, the infections would have killed him."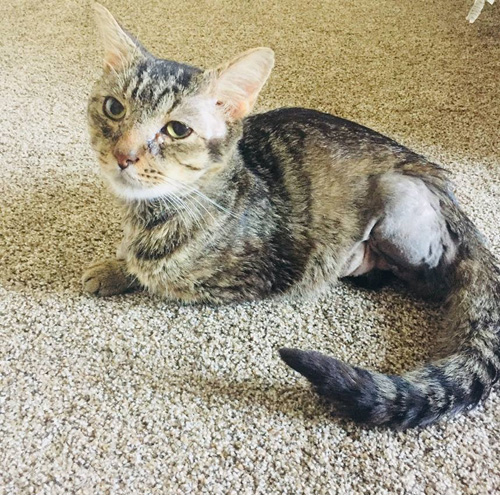 While a lot of people and organizations would have had a cat in Albert's condition put to sleep, unable or unwilling to cover the cost of his extensive medical care, everyone at Advocates 4 Animals, Inc. was determined to help this handsome tabby boy. "We believe every life matters," says Stacey. "When we answered the call regarding Albert, we knew we were his last hope."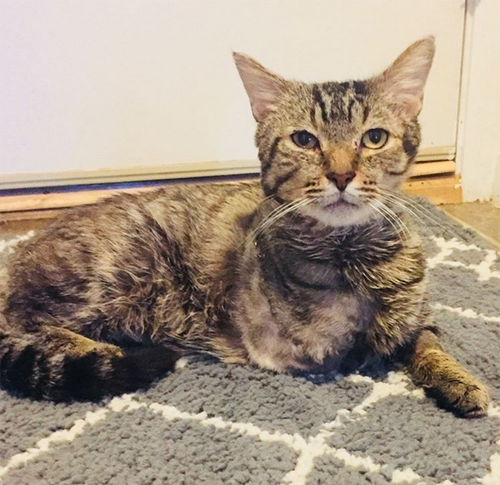 In fact, this Ohio animal rescue prides itself on helping cats and dogs that other non-profits and charities are reluctant to take on. "We've rescued countless special needs animals since our start in 2002, including cats who were blind, three-legged, two-legged, one-eyed, deaf, suffered severe abuse and neglect, deemed 'unadoptable' at the animal shelter, had neurological disorders, were paralyzed, and more," explains Stacey.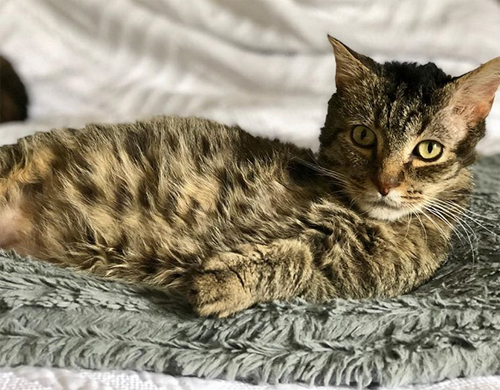 Fortunately for Albert, the staff at Advocates 4 Animals, Inc. had plenty of experience with special needs cats when they rescued him in late 2017, and following his surgeries, they were prepared to help this handsome boy adjust to his new life as a two-legged cat. However, it quickly became apparent to everyone at the organization that Albert — who had endured severe abuse and neglect — wasn't an ideal candidate for adoption, especially because he was diagnosed with a disease caused by the bone infection that went untreated during the time before he was rescued.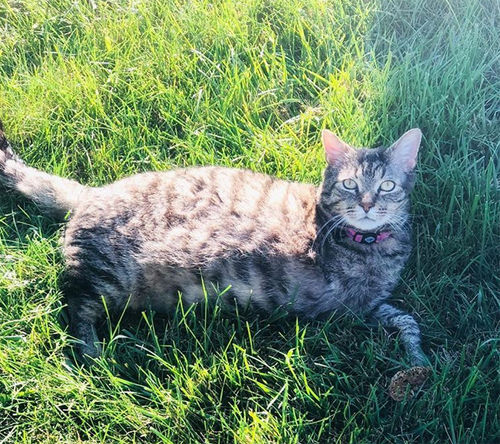 "Albert was found to have a fatty tissue disease that causes ongoing internal infections – – which requires him to be given daily medication for effective management," explains Stacey. "Because of his ongoing medical needs and because of his trust issues, Albert remains at A4A for lifetime care."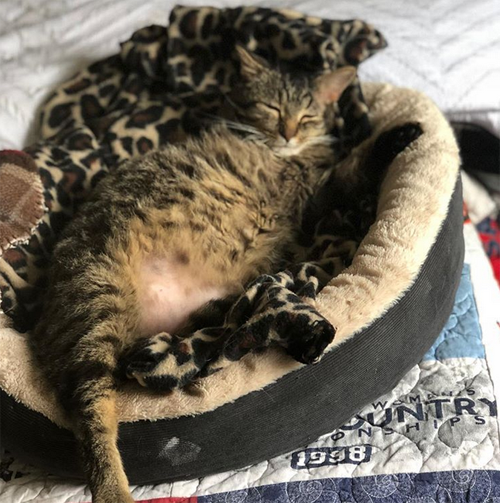 While this adorable two-legged boy may never get adopted, Albert has a forever home with Advocates 4 Animals, Inc. where he receives the love and care he needs to be a happy and active cat, and he has made incredible strides during his time with the organization. However, Stacey admits it took Albert a little while to learn how to get around in his new body, and she and the staff at the rescue needed a bit of time to figure out the right litter box for this handsome tabby.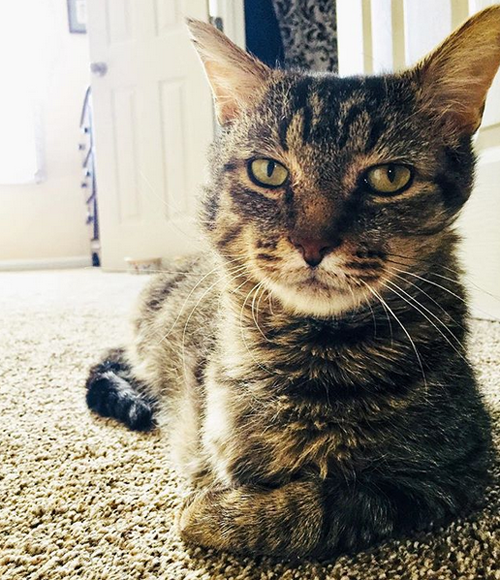 Fortunately, they made it through this adjustment period, and now Albert — who is a survivor of horrific abuse and cruelty — is thriving! "Many wonder how he can get around and maneuver, others wonder if he has a quality life" says Stacey. "He is a super happy, healthy guy — he plays, sprints, jumps on and off furniture, and runs up and down stairs."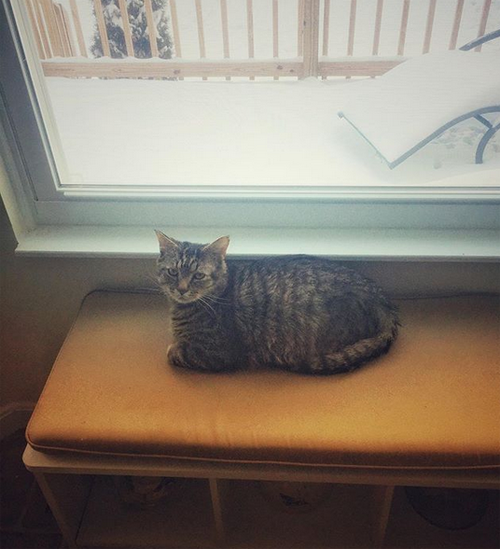 Albert, who once had a life where seemingly no one loved or valued him, now has many people who absolutely adore him and want nothing more than for this courageous feline to know how special he is. Since coming to live at Advocates 4 Animals, Inc., Albert has developed a particularly close relationship with Teddy, a cat who was rescued by the organization after he was intentionally set on fire, and these two are proving that abuse survivors and animals with special needs are definitely worth saving. "They can have quality lives full of happiness and love!" says Stacey.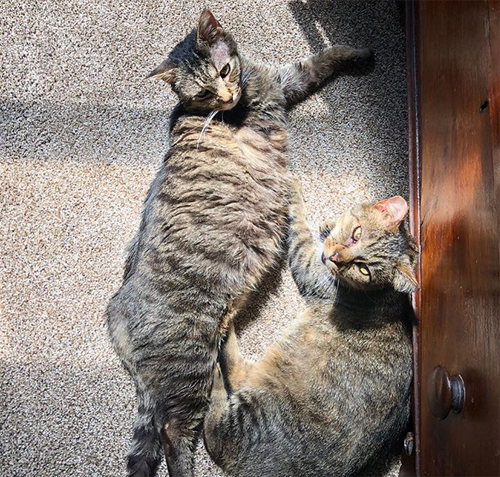 While Albert's trust was betrayed by the very people who were meant to love and protect him, this remarkable boy has been able to overcome the physical, emotional, and psychological damage inflicted upon him by his abusers.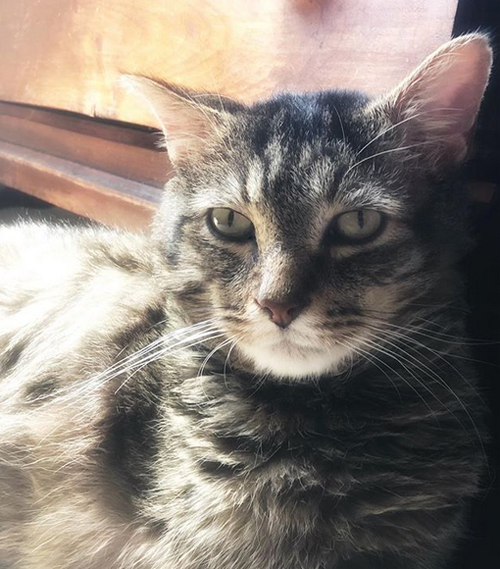 Once battered and broken, Albert is now safe, happy, and loved for perhaps the first time in his life, and this incredible cat is inspiring everyone he meets with his resilience and bravery. "Albert is the sweetest feline we've ever met and is always purring," says Stacey. "The veterinarians said his middle name is now 'Warrior' because of all he's endured in his life."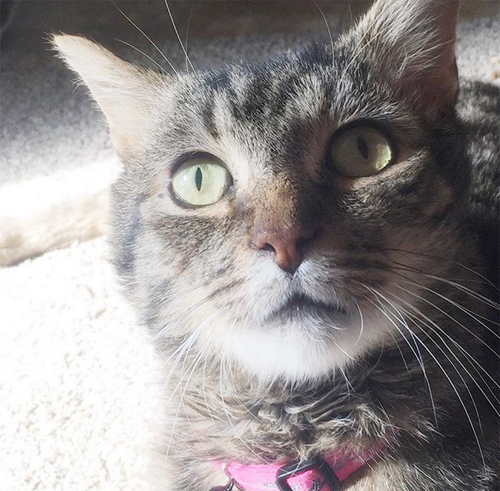 To learn more about this remarkable cat, you can follow Albert on Instagram.
To sponsor Albert, please visit Advocates 4 Animals, Inc.