Sarah and Westley Ferguson were at an adoption event at a pet supply store near their home in Haines City, Florida, when they spotted Winkie, a blind tabby and white cat who had lost his vision and one of his eyes when he was very young. "Winkie was brought into an animal hospital by his owners after being hit by a car as a kitten," explains Sarah. "The owners who brought him in never came to get him."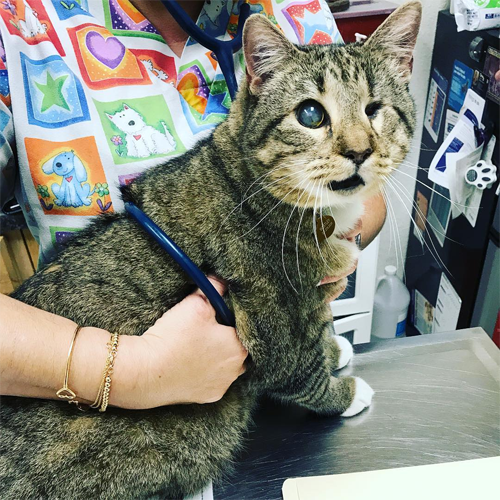 After being abandoned by his family, Winkie remained at the animal hospital where he was kept in a cage for approximately three years. "He gained a lot of weight and at one point was unable to walk," says Sarah. "He was saved by The Way Home Rescue and was nursed back to health."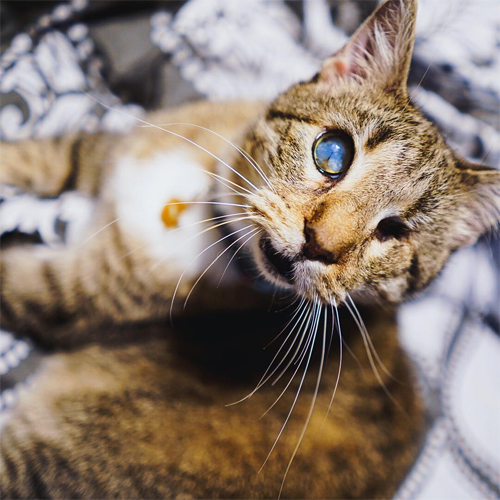 When Sarah and Westley met Winkie at the adoption event in 2013, he had recently been returned  to The Way Home Rescue because his owner had been incarcerated. Being advocates for animals who often have difficulties finding homes, the couple began following the special needs cat's story online. "We would notice Winkie on the website periodically," remembers Sarah, and she and Westley were happy when they learned the blind one-eyed cat had been adopted from The Way Home Rescue for a second time.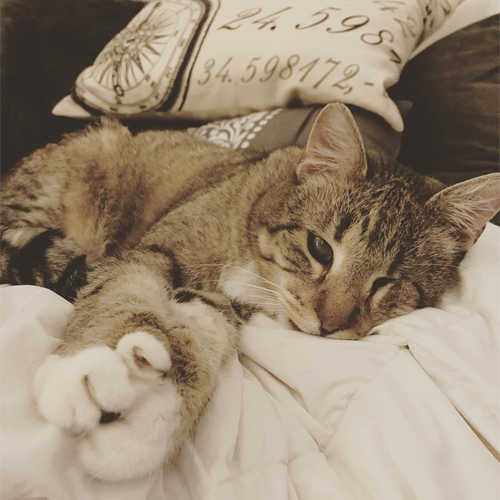 Unfortunately, the other cats in Winkie's new home started bullying him, and it wasn't long before he was returned to the Florida rescue yet again. Fortunately for Winkie, when Sarah and Westley discovered he was once more looking for a forever home, they made the decision to adopt him! "Since he was returned twice we wanted to make sure he had a forever home," says Sarah. "We decided he was coming home that day."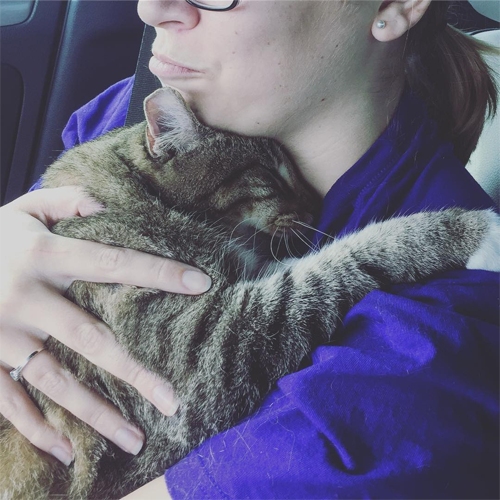 On March 25, 2017, they rescued Winkie when he was approximately seven years old, and despite being unable to see, he quickly adjusted to his new home. More than three years later, this beautiful tabby and white boy is doing great, and while people often assume blind cats have difficulty getting around, that definitely isn't the case for Winkie.
View this post on Instagram
"He is able to get up on and down from furniture on his own," says Sarah. "We know how he jumps up and down from things so we make sure his safety is in the forefront of our furniture arrangements or placements. He also has certain pathways around the house that we try to keep clear so he does not trip or bump in to unexpected items."
View this post on Instagram
In addition to getting around, Winkie has no trouble finding or using his litter box, another common misconception about blind cats. "With very few adjustments blind cats can live a perfectly normal life!" says Sarah, and like a typical feline, Winkie loves to lounge and nap, especially on his beloved floor cushion. "It is his favorite spot in the entire house."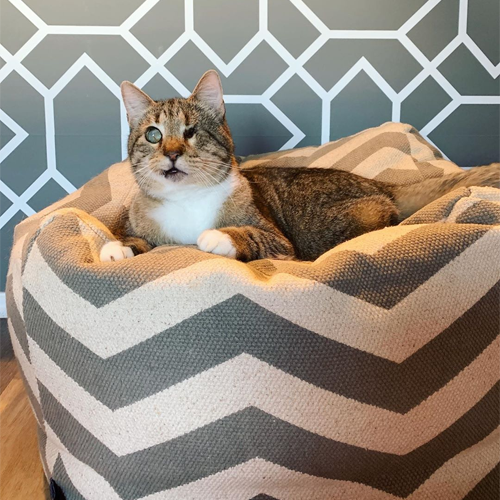 He also has unique habits and quirks, and while he may not be able to see, being blind doesn't prevent Winkie from being playful, nor does it stop him from having certain toys he prefers over others. "He loves sparkly balls and a few other specific toys," explains Sarah. "He will dig through the toy bin until he finds the one he is looking for. We assume that they have certain smells to them."
View this post on Instagram
While his lack of vision hasn't been much of an issue, Winkie was diagnosed with diabetes last year, which required a change in his diet and insulin injections every 12 hours. Fortunately, Winkie's mom and dad made sure he got the medication and special food he needed, and after just three months, his diabetes went into remission and he no longer requires insulin.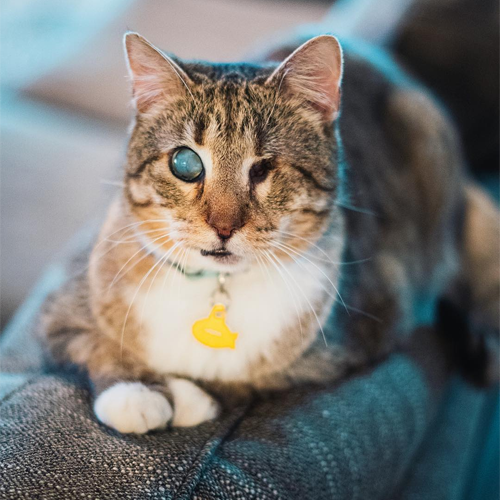 However, some people questioned why Sarah and Westley made this sort of effort to save the life of an older special needs cat, but it's something neither of them had to think twice about. "He put in so much effort to be alive today," explains Sarah. "Whatever we can do to make sure he is happy and healthy, we will do it!"
View this post on Instagram
Thanks to his awesome parents, there's no doubt Winkie — who was hit by a car, abandoned at a vet's office, and returned to The Way Home Rescue twice — is both happy and healthy, and Sarah and Westley hope sharing his story will encourage more people to consider opening their homes to pets who are often considered unadoptable.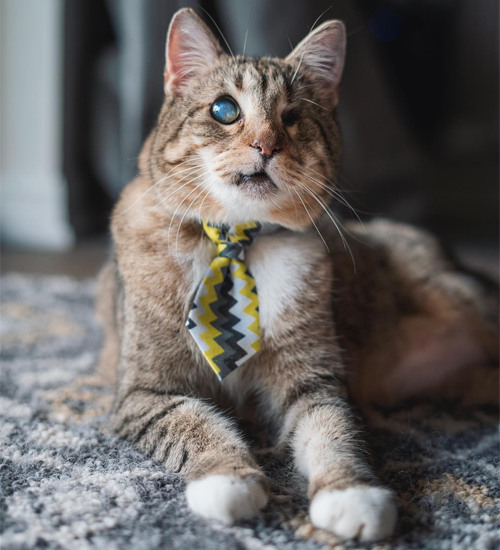 "Adopt the old kitties — they have so much love to give," says Sarah. "Adopt the kitties who are missing eyes or legs — they will forever be grateful for the love you give them and will double the love in return!"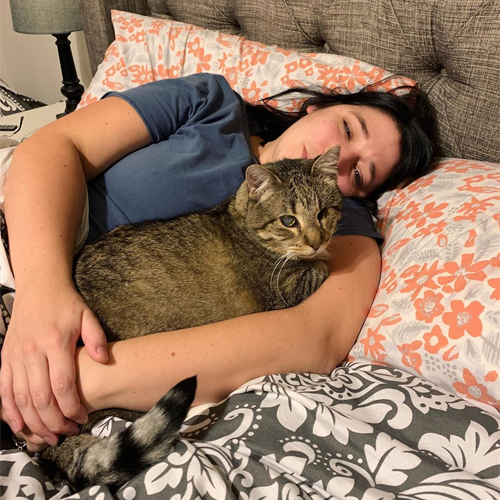 Without a doubt, Winkie absolutely adores Sarah and Westley, a special couple who are doing everything they can to make up for all the suffering, rejection, and uncertainty this sweet and affectionate boy had to endure before they adopted him. "He has been through so much that he deserves to just relax and have a great life," says Sarah. "He is a determined little guy. He is literally a prime example of hope."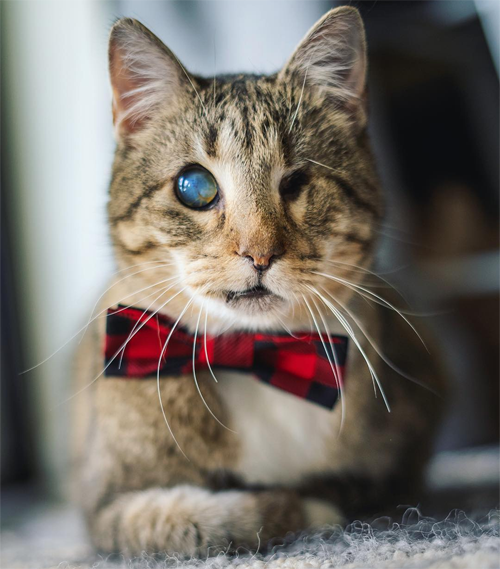 To learn more about this handsome cat, you can follow Winkie on Instagram.