When Holland Cox saw a post on Facebook about Jambo, a cat who desperately needed a home after his owner had to go into hospice care, she was eager to help the black and white senior kitty. "I happened to see him, and totally fell in love!" says Holland. "I'm a sucker for tuxedo cats." Holland, who runs Cat Castle NYC, a rescue located in Upper Manhattan, with her husband Max Turner, intended to foster Jambo until they were able to find him a forever home.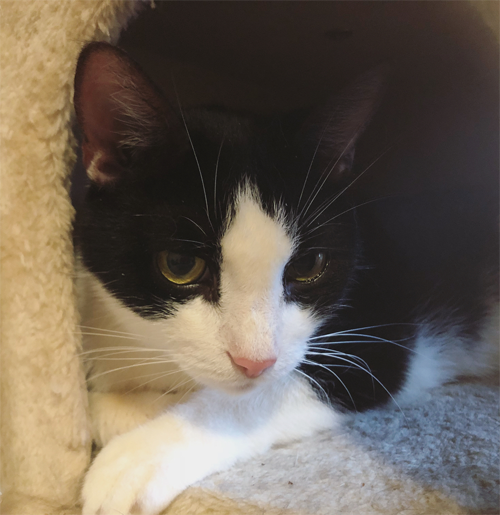 On August 31, 2018, the couple met Jambo, who was 15 years old at the time, in person for the first time, and despite his advanced age, he appeared to be in great heath. "Jambo was nine pounds, ate well, and was good with the other cats in the home," remembers Holland. "However, things quickly changed: Jambo stopped eating, rapidly lost weight down to five pounds, and had a series of chronic URIs [upper respiratory infections] and abnormal stool."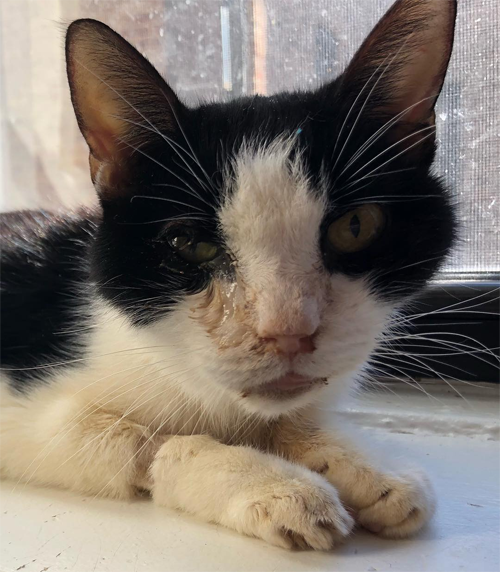 Needless to say, Holland and Max were extremely concerned about the senior cat's seemingly rapid decline, especially because Jambo had to be hospitalized three times between September and October 2018. "The first time, our vets suggested euthanasia, but I just couldn't bring myself to accept that," says Holland. Eventually, Jambo was diagnosed with a number of different health issues, including chronic kidney disease (CKD), gastrointestinal (GI) cancer, and irritable bowel syndrome (IBS), and the vet prescribed multiple medications to manage his symptoms.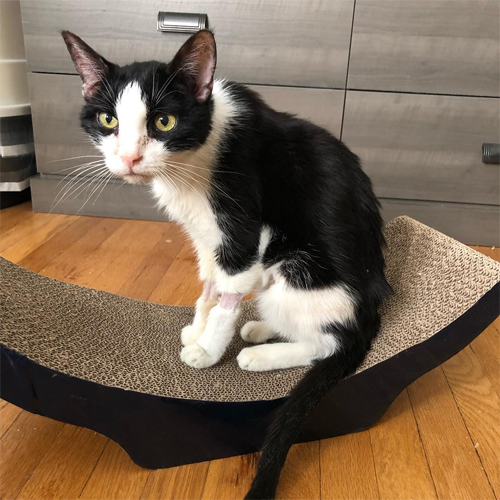 Over time, the resilient black and white cat recovered, and Holland and her husband knew they would never be able to part with Jambo, especially after the ordeal the three of them had been through together. "We grew so attached to him, and loved seeing him recover so beautifully on the right medications," explains Holland. "Given how costly he could be, how funny and personable and completely mischievous he is, and the work we have already done with Jambo, my husband and I decided to adopt him."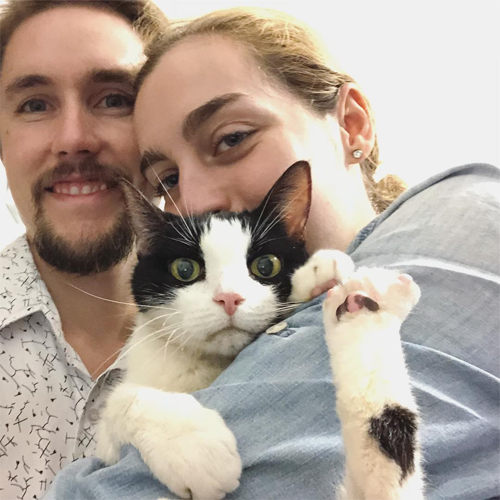 Nearly a year after he was rescued, Jambo is doing extremely well, and he remains the only one of the organization's cats Holland and Max have adopted during the time Cat Castle NYC has been in operation. Without a doubt Jambo requires a bit more care than the average feline, but his mom is certain he's worth any extra effort.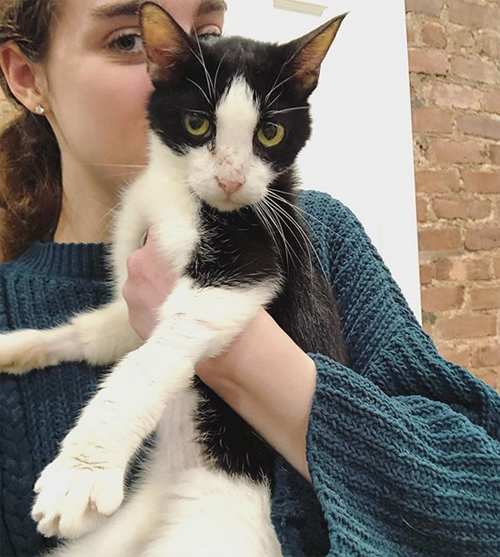 "I think the biggest misconception about special needs or senior cats is that people doubt their own abilities to care for these animals," says Holland. "The reality is that senior and special needs animals may have different needs, schedules, or behaviors than some of our other cats, but these are things adopters can adjust to as easily as they adjust to the needs and routine of a typical cat."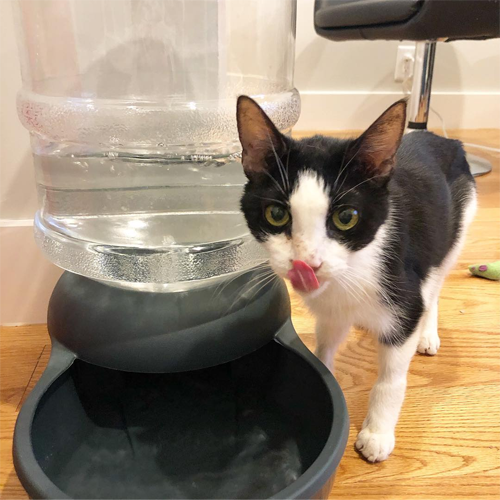 After all, Cat Castle NYC often has difficulty finding homes for senior kitties and cats with special needs, so Holland and her husband have ended up fostering many of them until they passed away, allowing this couple to gain a thorough understanding of their personalities and requirements. With Jambo, he had trouble gaining weight due to his intestinal issues, but his parents recently tried him on some new food, and he's already put on a pound.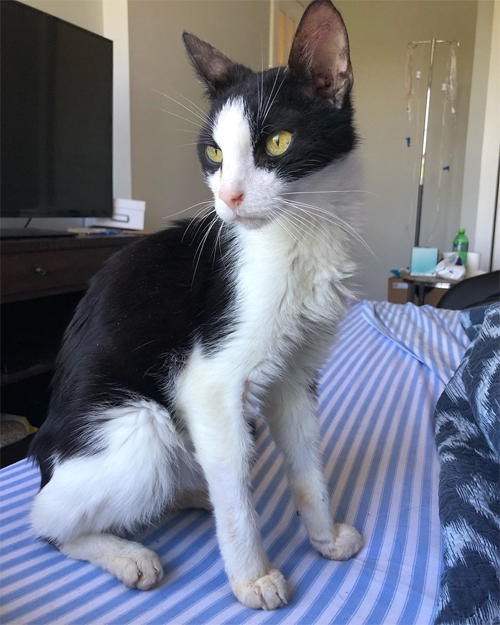 Holland and Max also struggled with Jambo urinating on their bed, which they attributed to his chronic kidney disease. "We would cover up our bed with a tarp during the day and wash it overnight," says Holland. "However, his problems escalated so much that he even peed on my husband while he was asleep!"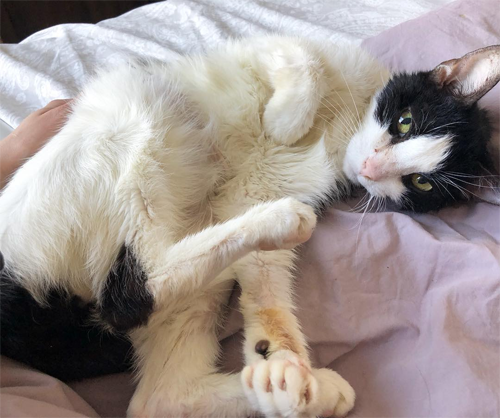 The couple decided Jambo was no longer allowed in their bedroom, which forced the senior feline to have to live in the room where most of Holland and Max's foster cats hang out. Much to their surprise, he stopped urinating outside of the litter box, causing them to conclude it actually hadn't been related to his kidney disease. "We had been looking for medical causes due to all his health issues, but turns out it was behavioral — he was bored with us!" says Holland. "Go figure."
View this post on Instagram
However, this 15-year-old feline prefers the company of people to other cats, and in addition to eating human food, drinking fresh water, and sleeping on Max's pillow, Jambo adores going on adventures with his mom and dad. "Jambo loves to explore new places!" says Holland. "We try to take him to one new place a month, like the homes of family or friends, a meeting, or school, and he can sniff and run around for hours without getting bored."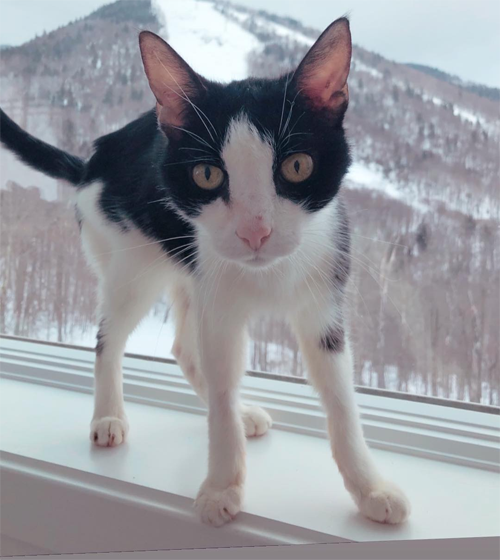 In fact, Holland and her husband have even created a bucket list of activities to do with Jambo before he passes away, which hopefully won't be for a very long time. However, he is nearly sixteen years old and has multiple health issues, including cancer, and Holland and Max have decided against subjecting Jambo to invasive treatments like mass removal or chemotherapy.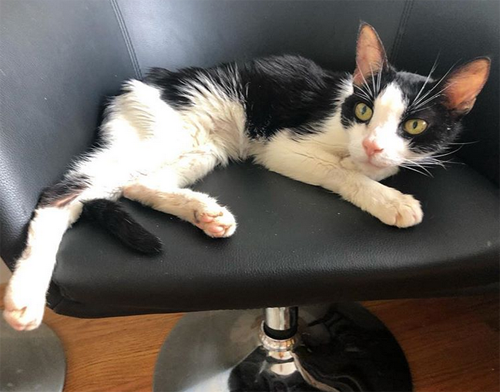 Instead, they've chosen palliative care, opting to make sure this senior cat is as comfortable and pain-free as possible. "Something we always do when making choices about any of our rescue cats' health is think about the impact on the cat, not just our feelings," explains Holland. "We always see palliative care as a very fair choice for seniors with cancer, so as not to prolong their suffering for our own benefit of having them around."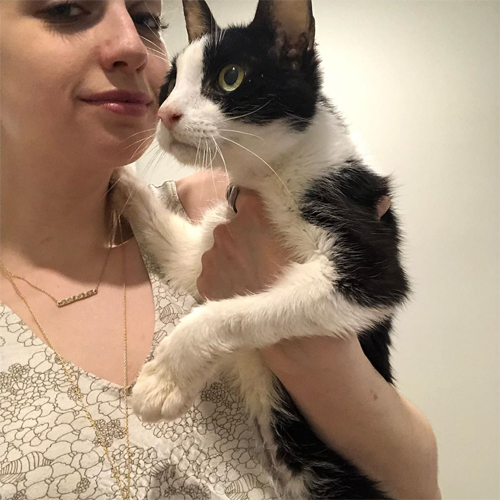 While Holland knows not everyone would be up to the challenge of caring for an older, special needs cat like Jambo, she insists it's easier than a lot of people seem to think. "A lot of people think that we're stronger than the average person for the care we give Jambo despite his illnesses, but we aren't special at all!" says Holland, and she hopes more people will be open to adopting cats who are often deemed less adoptable. After all, even though she considers Jambo to be one of the most challenging cats she and her husband have ever rescued, Holland believes he is easily one of the most rewarding, making him Cat Castle NYC's mascot.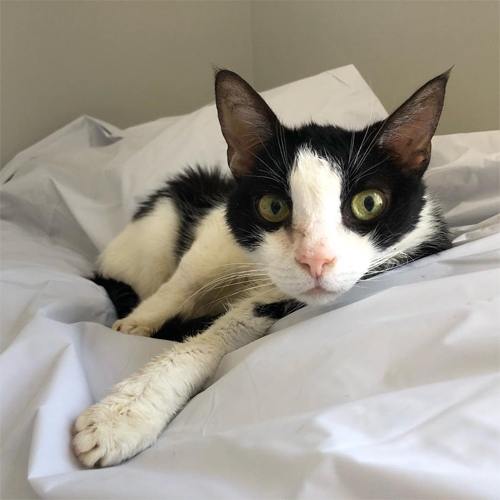 Jambo is also Holland's favorite, and she spoils him with extra food and attention, even though he plays hard to get by showing affection to her husband and guests instead of her. "I don't even mind, because I know he knows how hard I work for him," says Holland, and she admires and respects his tenacious, personable, and strong-willed personality. "Jambo is my entire world! We love him so much."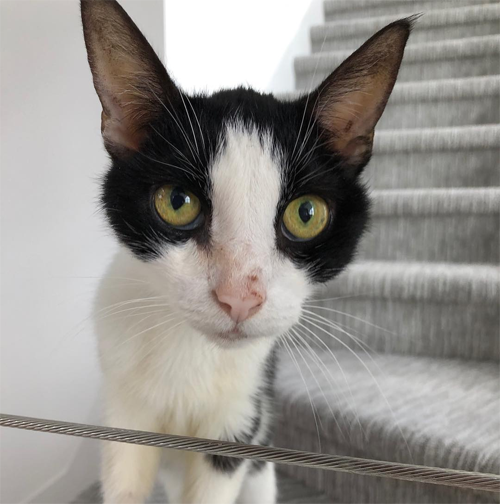 To learn more about this handsome cat, you can follow Jambo on Instagram.
To learn about about Cat Castle NYC, you can follow them on Instagram.