When Alexandra Reifenrath and her partner Colin Little saw a video on Instagram about Diddy, an adorable tabby and white kitten with moderate cerebellar hypoplasia (CH), they thought they would be able to provide the little special needs cat with a great forever home.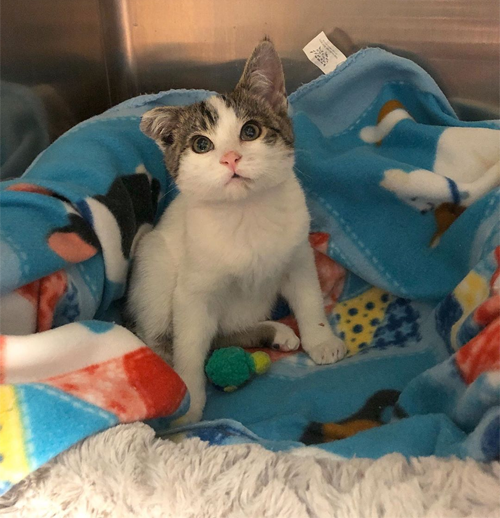 "I first laid my eyes on Diddy when Nikki Martinez [from myfosterkittens on Instagram] posted a video of him," explains Alexandra. "She does TNR [trap-neuter-return] here in Las Vegas and she ended up trapping Diddy, two of his siblings, and both his mom and dad cat."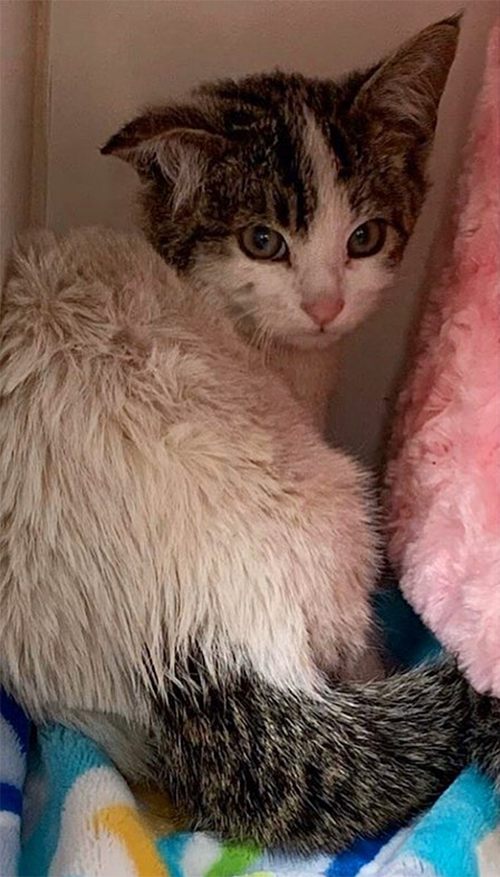 Usually, TNR involves humanely trapping homeless and feral cats, sterilizing them, and then returning them to their communities or colonies. However, Nikki knew cerebellar hypoplasia, a non-progressive neurological condition, would make it difficult for Diddy to survive on the streets, especially because she suspected he had a third sibling with CH who died after being hit by a car. "She was worried that this could happen to Diddy too, as he stumbles and falls frequently and wouldn't be able to dodge a vehicle," says Alexandra.
View this post on Instagram

When he was found, Diddy was also suffering from injuries to his ear and chin, indicating he might have been attacked by an animal and underlining just how difficult life can be for homeless cats, particularly when they have special needs.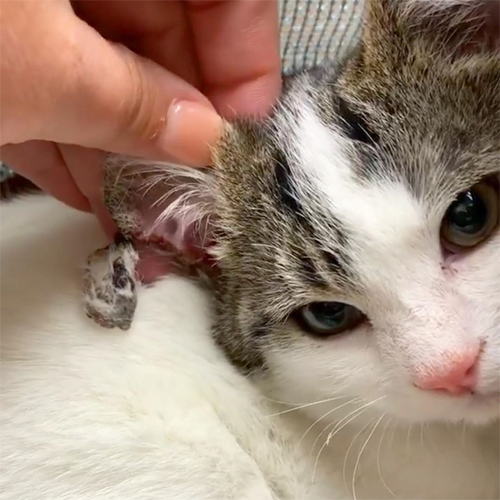 "After reading Diddy's story, we knew we wanted to adopt him, no matter what neurological or underlying issues he had," says Alexandra, so she submitted an adoption application in November 2019.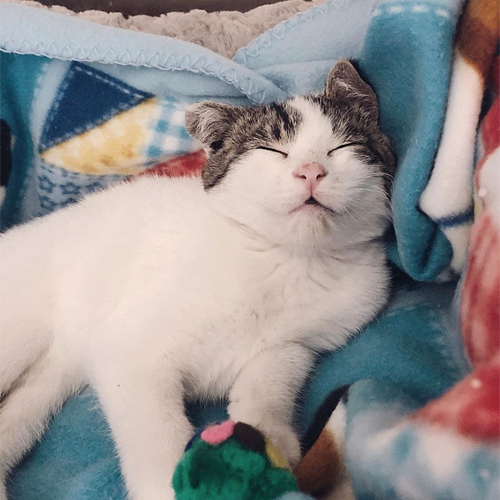 To their surprise and delight, Alexandra and Colin's application was approved, and on November 15, 2019, the couple visited Hearts Alive Village in Las Vegas to meet Diddy for the first time. "When we first saw him in his cage, he was tiny!" remembers Alexandra. "I held him first and he just melted in my arms. He was so calm and so interested in us!"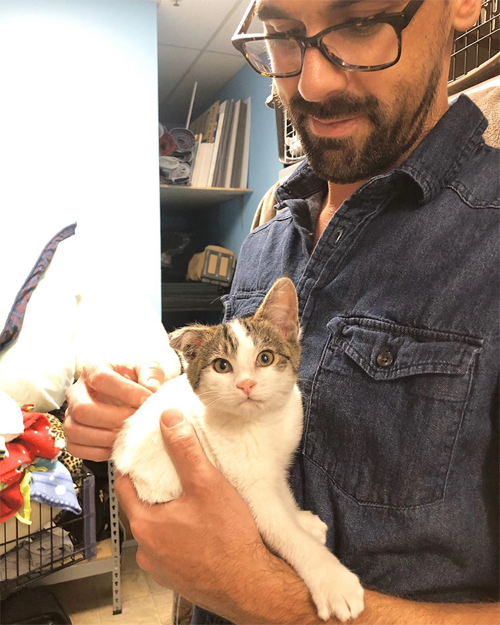 However, when they saw Diddy walk, Alexandra and Colin were taken aback by just how wobbly and uncoordinated he was, and despite having done plenty of research about cerebellar hypoplasia, they began to wonder if they would be able to provide the 10-week-old special needs kitten with the care he needed to thrive.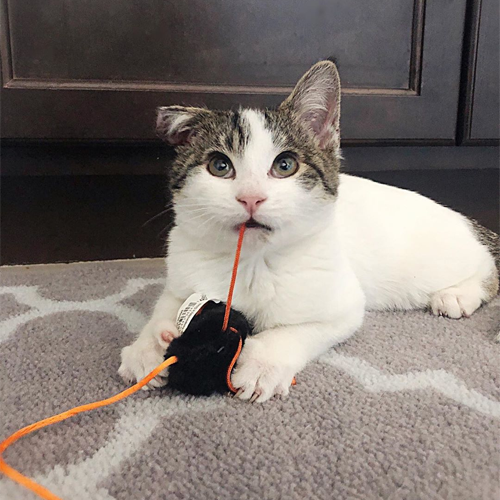 Thankfully, they got over their initial reservations, and the following day, Nikki brought Diddy to his new home, which Alexandra and Colin had outfitted with a litter box with a ramp for easy access, anti-slip mats for food and water bowls, and lots of soft rugs to cover their hardwood floors. "We literally had to think of any and all special accommodations for him in regards to his every day life prior to his arrival," says Alexandra. "Our worries instantly dissipated when he jumped onto our high bed from the floor all by himself!"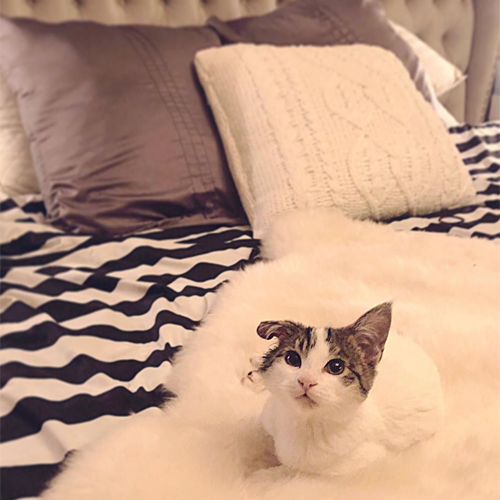 Several months later, Diddy is doing great, and he absolutely loves to play, especially with catnip toys. He also enjoys attacking his parents' feet, the many rugs Alexandra and Colin purchased to cushion his falls, and his very own archenemy. "Diddy has an archnemesis named Double Diddy," explains Alexandra. "It's Diddy's reflection that he spots — and eventually attacks — in the most obscure of places: the glass shower wall, the bedroom mirror, the sliding door to the back patio, and he has even spotted Double Diddy along the shiny side of his litter box."
View this post on Instagram
While it's obvious Diddy is an incredibly active and happy boy, his parents have encountered people who believe having a neurological condition like cerebellar hypoplasia must have an impact on his intelligence, personality, or both. Even though CH, which occurs in utero when a pregnant cat is exposed to trauma, illness, or malnutrition, causes kittens to be born with underdeveloped cerebellums — the area of the brain responsible for balance and coordination — it doesn't negatively affect their cognitive abilities or temperaments.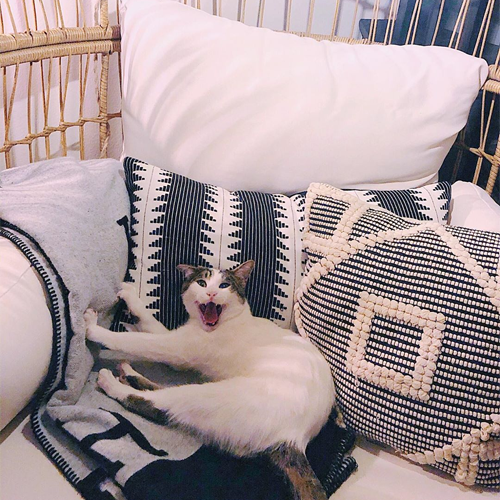 "Diddy has one of the biggest personalities we have in our house and certainly is one of the sharpest ones too," says Alexandra. "He may walk around like he's a little drunk, but his memory and cognition are perfect: He is as normal, lively, energetic, and as curious as they come."
View this post on Instagram
Despite his wobbly walk, Diddy has no trouble using the litter box, and while it took him a little while, he is now able to go up and down the three flights of stairs in his home without any issues. "He learned pretty quickly when descending the stairs that he has less of a chance of falling if he leans up against the wall as he goes down," explains Alexandra, demonstrating just intelligent and resourceful special needs cats can be.
View this post on Instagram
In addition to Diddy, Alexandra and Colin have three other cats, including Voodoo, who was born without eyes, and they encourage more people to consider adopting pets who often have difficulty finding homes due to their special needs.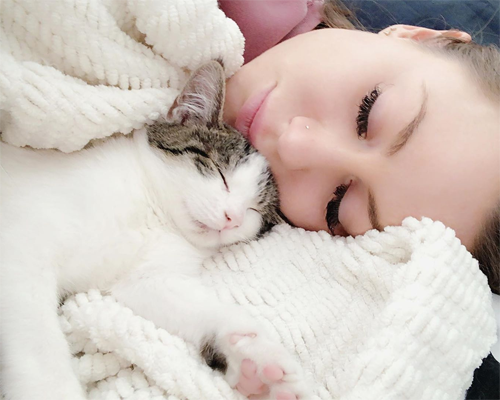 After all, they're wonderful companions, and while caring for a cat with special needs can be challenging, it's also tremendously rewarding. "Special needs animals bring a sense of inspiration, empowerment, pride, accomplishment, wonder, and downright amazement to your family," says Alexandra.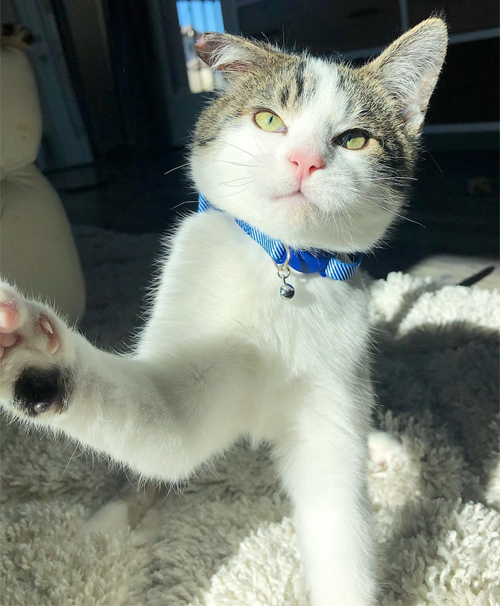 After meeting Diddy in person for the first time, Alexandra and Colin were unsure if they were the right family for this wobbly boy, but just seven months later, it's impossible for them to imagine their lives without him. "Our little family is inseparable and we are so grateful to have them be such a significant part of our lives," says Alexandra. "Diddy means everything to our family. We couldn't ask for anything more."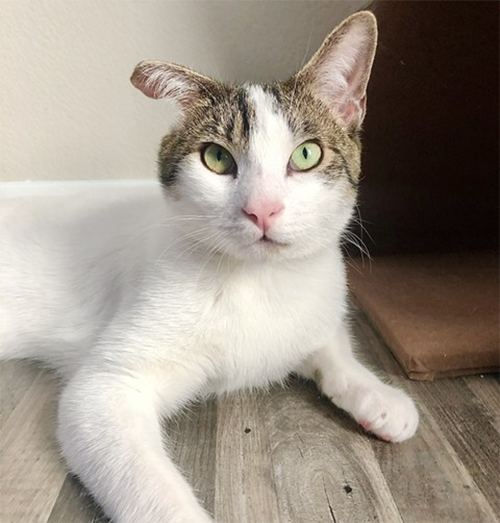 To learn more about this handsome kitten, you can follow Diddy on Instagram.