Sensitive Content
This post includes photos some people may find upsetting.
When Mari-Carmen and Celia visited a cat colony near their home in Sant Joan, Spain, on September 7, 2018, they were planning to feed the homeless felines their evening meal as part of their work for Gatos con Alma, their non-profit rescue. However, shortly after arriving at the site, the women noticed all the cats were behaving strangely. "When we got closer and started talking to them we heard a painful scream," remembers Mari-Carmen, and so she and Celia began searching for the source of the anguished cry. "We started looking and found this little baby kitten on a dirt heap, behind a fence, behind some bushes."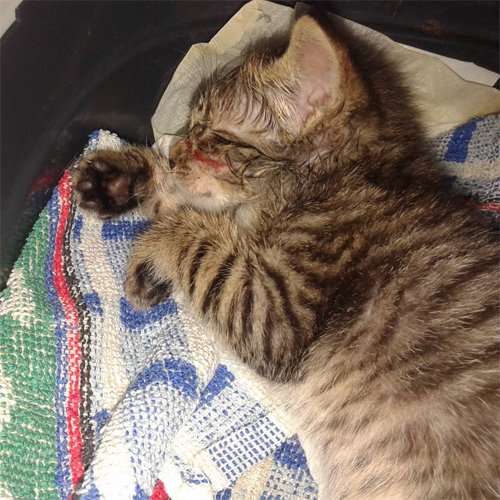 Neither of them recognized the three-week-old feline, and while they knew he wasn't a member of the cat colony, they also knew there was no way the young tabby would have been able to get to the site on his own. However, while they were unsure of the kitten's origins, Mari-Carmen and Celia both knew he needed their help. "It was dark and we couldn't see his face well, but there was something odd with his eyes," remembers Mari-Carmen.
Initially, they assumed the kitten was suffering from an eye infection, a malady that is all too common for homeless cats. However, once they returned home with the little feline, Mari-Carmen and Celia discovered most of his face was covered with a layer of crust that appeared to be different from a typical eye infection.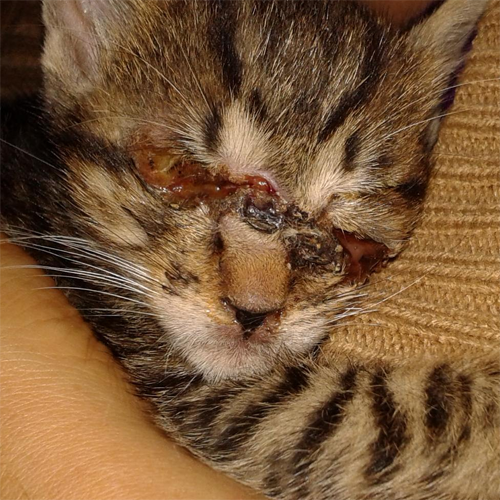 "We didn't dare touch it because we didn't know what was underneath," explains Mari-Carmen. "The following morning when the vet started cleaning the wound and removing the crust we could see the monstrosity which had been done to him."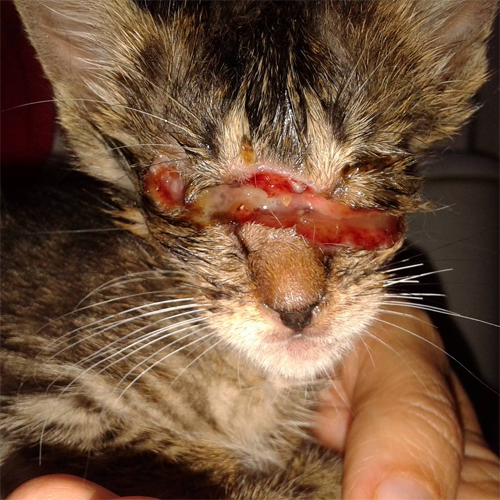 Mari-Carmen and Celia were horrified to learn the layer of crust had been concealing severe wounds to the kitten's face, including deep cuts that had severed his right eye and nose. They were even more disturbed to discover the debilitating injuries were almost certainly the result of extreme cruelty he'd suffered before being abandoned at the cat colony. "It couldn't have been an accident," says Mari-Carmen. "It was pure evil."
View this post on Instagram
Despite being in intense pain, the kitten was too small and too young to take pain killers, but he astounded everyone with his bravery and courage. "One of his vets told us that an eye bursting was one of the most painful things which can happen to anyone," says Mari-Carmen, "but he never cried when he got the wound treated twice a day."
View this post on Instagram

While the tiny feline had already proven to be a fighter with a strong will to live, Mari-Carmen and Celia knew it would take a long time for him to recover from his wounds. Consequently, they decided to name him Zeus as an ode to the ancient Greek god of sky and thunder. "We wanted to give him a strong name, to give him all the strength he was going to need to survive, and who better than the greatest and mightiest of the Olympian Gods?" explains Mari-Carmen.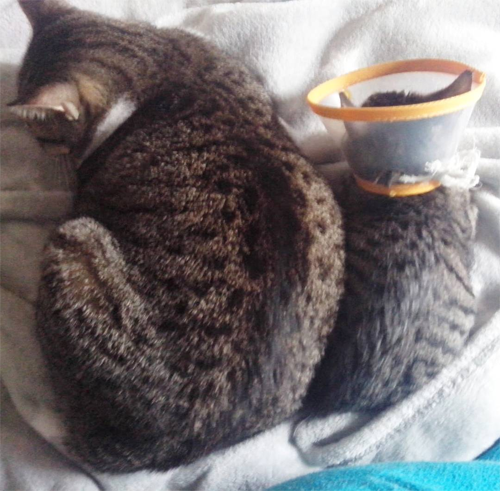 Just a week after he was rescued, Zeus weighed approximately one pound when he underwent surgery to stitch up his nose and remove what remained of his right eye. He was so tiny, the doctor had to use microsurgery equipment to perform the delicate operation, but the resilient tabby cat pulled through.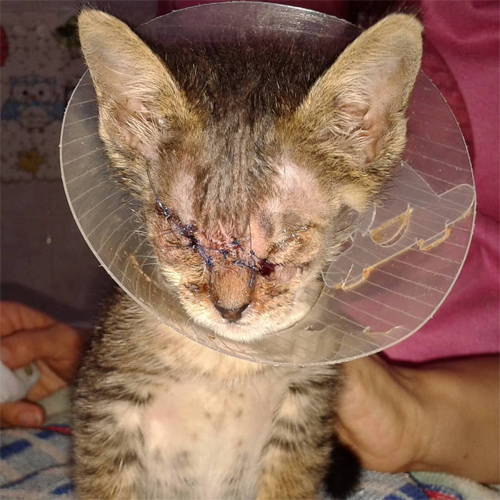 "His second surgery was two months later to remove his left eye as it had been damaged by the swelling and had started giving him problems," says Mari-Carmen.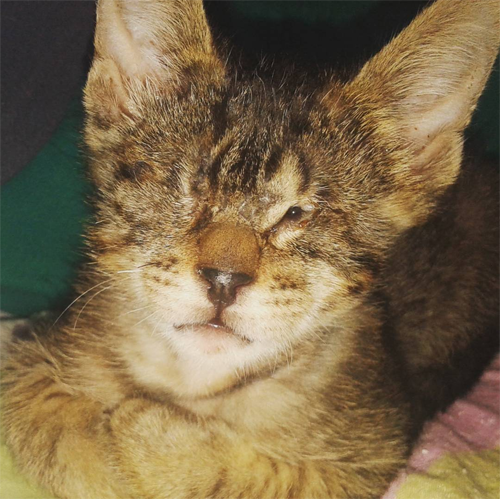 More than a year later, Zeus is doing well, and he now has a forever home with Mari-Carmen and Celia, the women who rescued him and saved his life. However, this handsome blind feline has had more than his fair share of health issues over the last 18 months, including calicivirus and panleukopenia, two potentially deadly viruses.
View this post on Instagram

"He also continues to have problems caused by the mutilation, as sometimes his nasal passages get blocked and edemas form on his forehead and eye sockets," says Mari-Carmen. "Sometimes it is even painful, and he can't smell and bumps into things."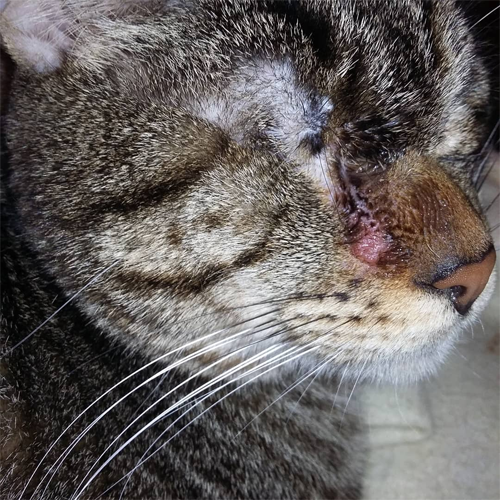 Consequently, Zeus may need to have another surgery in the future, demonstrating just how severely the trauma he suffered as a tiny kitten has impacted his life and health. Thankfully, this special boy is still incredibly brave and resilient, and while he may not be able to see, Zeus is a very happy and active cat. "He loves playing, and jumping like a little bunny on the bed," says Mari-Carmen. "He also loves playing with his mouse furry toys and balls."
View this post on Instagram
In addition to playing, Zeus enjoys trying to catch flies, and while he may not be able to see the insects who are on the other side of the windows of his home, he uses his keen sense of hearing to track them. He also adores climbing on his cat tree, proving blind kitties really aren't all that different from sighted felines. "One of our vets told us he wouldn't be able to climb a tree," says Mari-Carmen. "Well, she now realizes she was wrong."
View this post on Instagram
While Zeus doesn't need a lot of special accommodations, Mari-Carmen and Celia make sure not to move their furniture around too often, as these sorts of changes can be confusing to blind cats. Thankfully, they have no problem taking Zeus's special needs into consideration, especially because this remarkable boy has had such an incredible impact on their lives and their home.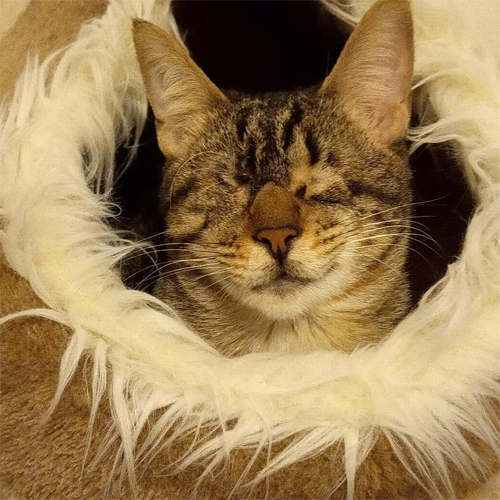 "We have fought so much together that our lives wouldn't be the same without him," says Mari-Carmen, "And he's taught us so much. His will to live despite everything he's gone through is an inspiration whenever we get down."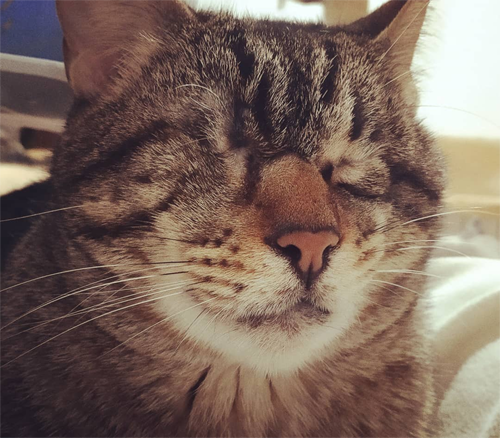 To learn more about this beautiful cat, you can follow Zeus on Instagram.