When Elizabeth Sidler saw a post about Oats, an adorable grey cat with incontinence and hind leg paralysis, in late 2018, she was instantly smitten with the cute special needs kitten. "Honestly, I fell in love with him the moment I saw him on Instagram," says Elizabeth. "His little bent ear, his head tilt — I couldn't get enough!"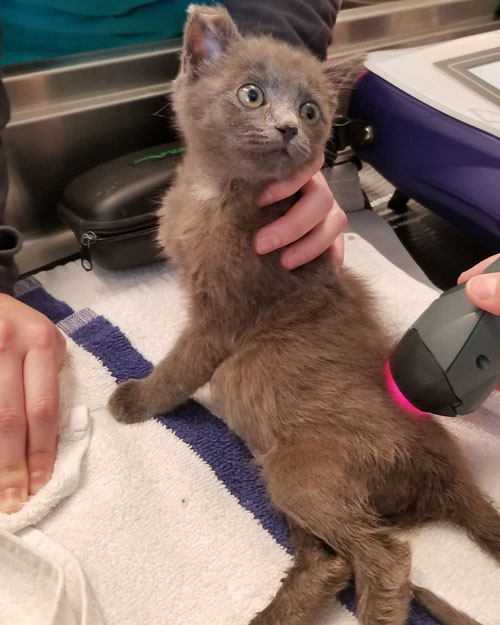 Elizabeth learned Oats had suffered a severe spinal injury after getting caught in a heavy door when he was approximately two months old. Thankfully, the injured kitten was taken to Humane Rescue Alliance, where an exam revealed that while he was paralyzed and incontinent, he wasn't in pain.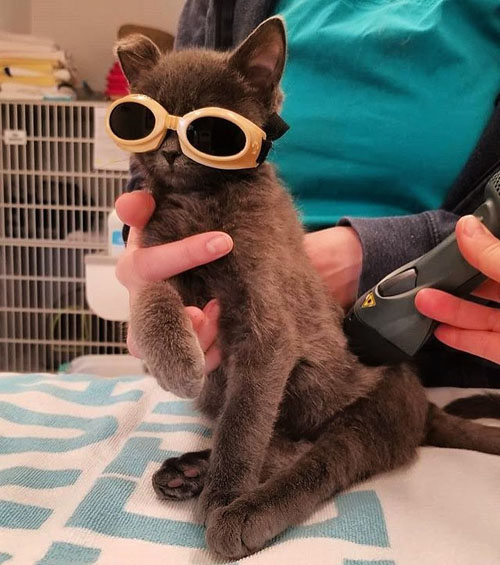 "Ellen Carozza (@thecatlvt) onboarded him into her foundation [the Chris Griffey Memorial Feline Foundation] when he was about eight weeks old," explains Elizabeth. "Oats was able to regain some feeling and motion in his hind limbs through laser therapy, acupuncture, and exercise."
View this post on Instagram
With every post Ellen and Oats's fosterer shared about the resilient little cat, Elizabeth found herself falling more and more in love with him. By February 2019, Oats — much to Elizabeth's surprise — still hadn't found his forever home, so she contacted his fosterer to learn more about him. "After speaking with his foster about what his personality was like and what his care fully entailed, I knew I had to apply to be his forever home," says Elizabeth.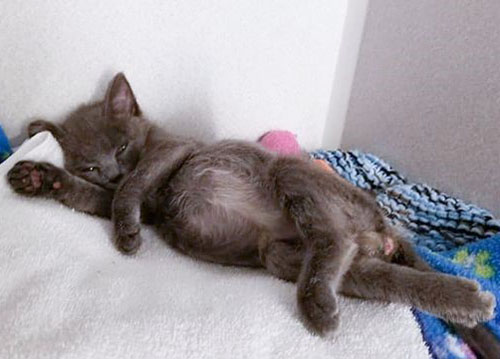 Fortunately, Elizabeth's adoption application was approved, and on March 9, 2019, she drove three hours from her home in Central New Jersey to Oats's foster home in Maryland. "He greeted me at their full glass door, giving me his signature head tilt," remembers Elizabeth. "We spent some time playing and when I picked him up for the first time, he lost a baby tooth in my sweater — I still have the tooth!"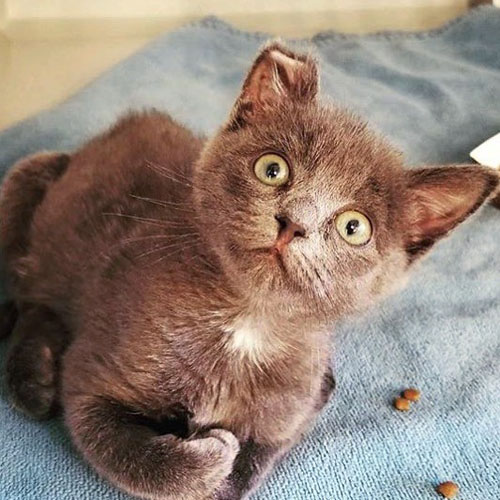 In addition to playing and cuddling with Oats, Elizabeth — who didn't have any experience caring for a paralyzed or incontinent cat — learned how to give him the special care he needed to thrive. After learning how to bathe Oats and change his diapers, Elizabeth and the cute grey kitten set off on their first road trip together. "We made the long drive back home to New Jersey, which he was an angel for," says Elizabeth. "Oats is the best traveler."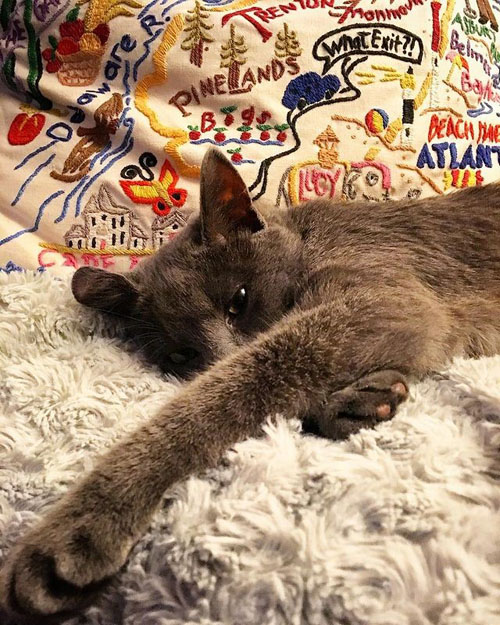 It didn't take long for Oats to adjust to his new home in New Jersey, and nearly three years later, he's thriving thanks to the help of his wonderful family! In fact, while most cats rarely leave their homes, this adventurous boy is constantly on the move. "He has road tripped from New Jersey to Missouri, gone to Philadelphia and Bethlehem, and on random local walks and hikes," says Elizabeth. "Oats loves going on adventures!"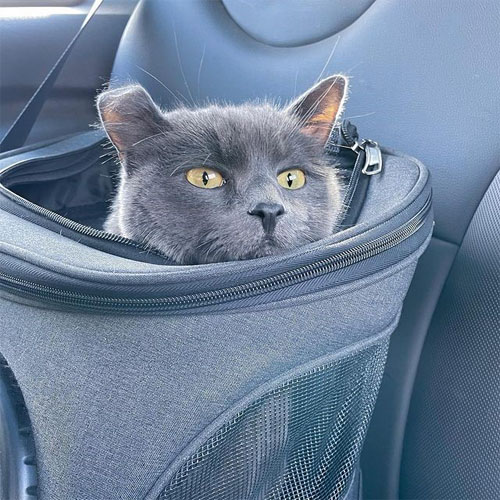 When he's not off exploring or traveling, Oats loves chasing after his feline sister and wrestling with his cat brother, and he enjoys playing with spring toys. "He likes to put them in cat dad's shoes and fish them back out," explains Elizabeth.
View this post on Instagram
Oats also adores food, especially treats, and his parents taught him how to give high fives in exchange for Churus. Eventually, this morphed into Oats using touch to communicate with his mom and dad, a particularly useful skill for a cat with special needs. "He will tap a chair to ask to be put on it," says Elizabeth. "Sometimes he will tap a chair and have you chase him to the bedroom to be put on our bed or to the kitchen because he wants a kibble from his brother's dish. He will also tap my leg while I'm cooking or washing the dishes for an ear rub."
View this post on Instagram

While Oats is obviously an extremely happy, active, and intelligent young cat, he has had some health issues over the years. Currently, he's being treated for a urinary tract infection (UTI), and in the past he's struggled with constipation, two relatively common — but serious — issues for incontinent cats. "The biggest challenge was in June 2020 when Oats became constipated," explains Elizabeth. "After eight enemas and several trips back and forth to the vet, Oats had to have a deobstipation procedure where the vet puts him under anesthesia and removes the blockage in his colon. There was a lot of diarrhea and a lot of baths during this time."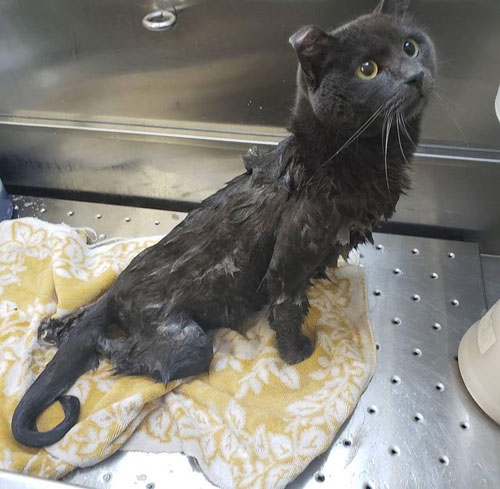 Following this incident, Oats's family began adding extra water to his food and giving him laxatives, and he hasn't had any issues with constipation since. Over the years, they've also learned the subtle signs Oats displays when he's starting to have a UTI, allowing them to get him treatment as soon as possible. "The biggest hint is that he will have a Halloween cat tail," says Elizabeth.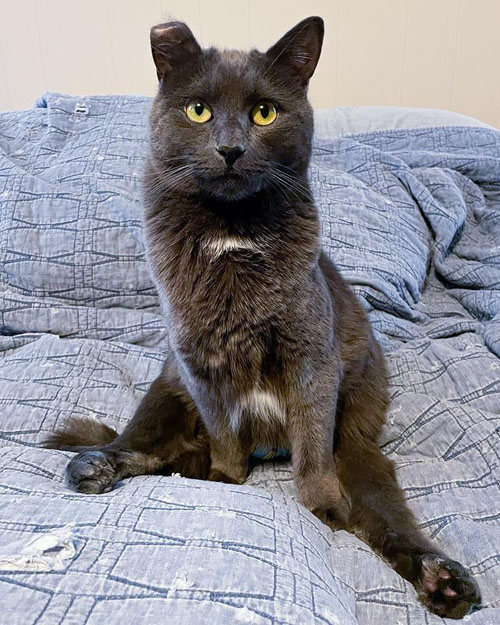 Without a doubt, Oats has had some medical issues related to being incontinent, but he is an otherwise healthy cat who loves to eat, play, and cuddle, just like any other feline his age. However, Elizabeth has encountered multiple people who believe Oats is incapable of having a good quality of life because he is paralyzed and incontinent.
View this post on Instagram
"I've heard this from friends, family, strangers on the internet, and different veterinary offices," explains Elizabeth. "I wish more people knew that paralysis doesn't necessarily mean 'zero quality of life' or that the animal is a burden. Because that is just not the case."
View this post on Instagram
While Oats needs more care than a typical cat, his family definitely doesn't mind giving this special boy the extra time and attention required for him to thrive. Not only is Elizabeth grateful for everything Oats has taught her — and all of the wonderful people she's met because of him — she considers herself incredibly fortunate just to be able to spend time with this sweet and affectionate feline. "Wrapping him up in a purrito so he can make biscuits and loud purr on you is the best feeling in the whole world," says Elizabeth. "Oats really is a joy to share our lives with."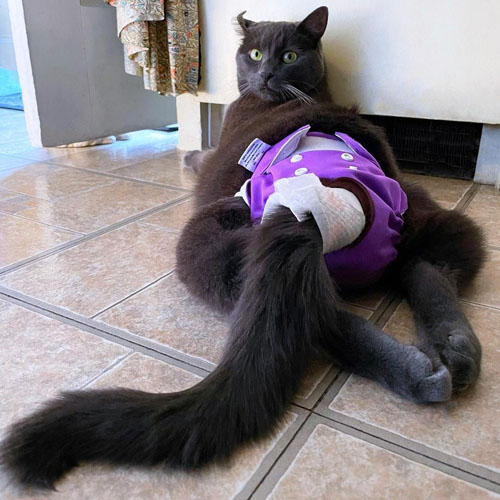 To learn more about this handsome cat, you can follow Oats on Instagram.
View this post on Instagram