Akiko Tanaka was at her job at a vet's office near her home in Tokyo when she met Luca, a two-legged ginger kitten, and his brother Theo, a three-legged black and white cat. "I met them for the first time when the volunteer group that was raising them brought them to the hospital for their vaccinations," explains Akiko.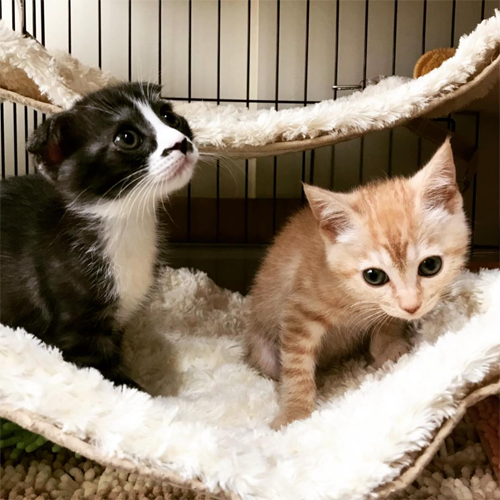 Prior to meeting the three-month-old felines for the first time in April 2019, Akiko had already heard stories about the adorable siblings who had undergone amputation surgery when they were just a few weeks old.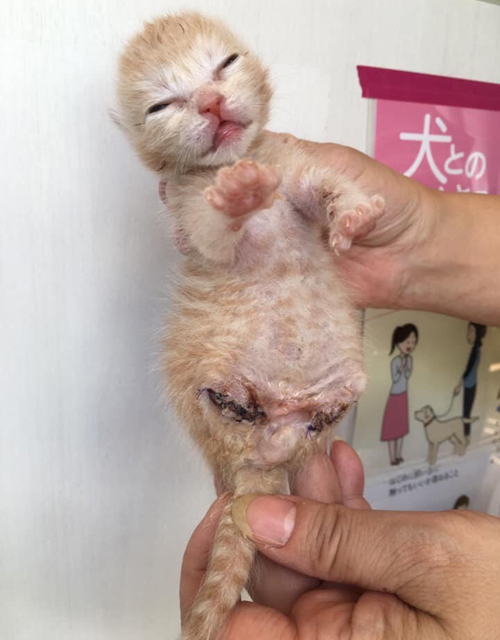 "Luca was born with necrosis on both hind legs due to entangled umbilical cords," explains Akiko. "Theo also had necrosis on his left hind leg for the same reason."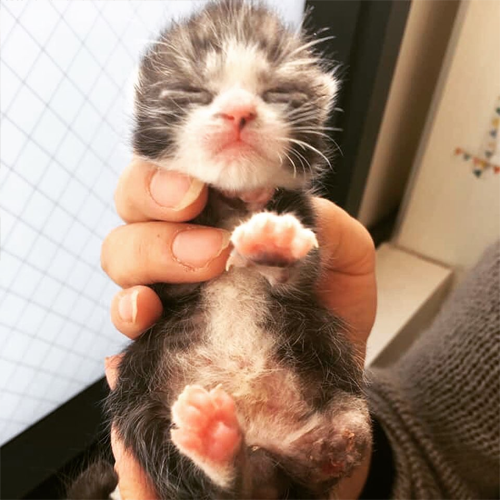 Shortly after they were born, the kittens' owner took them to another animal clinic in Tokyo where an examination revealed Theo would need to have one of his back legs removed, while both of Luca's hind limbs would have to be amputated. Their owner was unwilling to entertain the thought of raising cats with missing limbs, so he asked the veterinarian to euthanize them.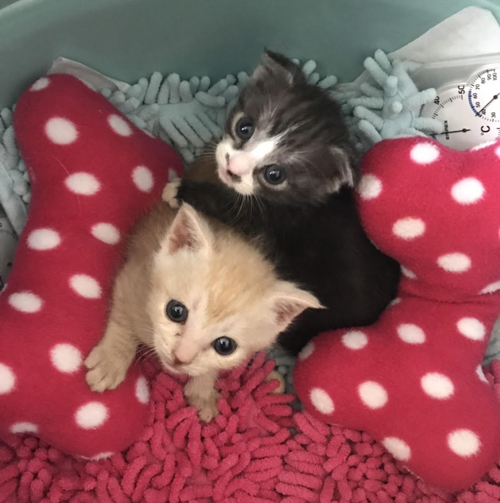 "The vet was angry with him," says Akiko, and instead of putting the kittens to sleep, the doctor convinced their owner to surrender them. "They were protected at the veterinary clinic, and later, they were taken over by a cat volunteer group."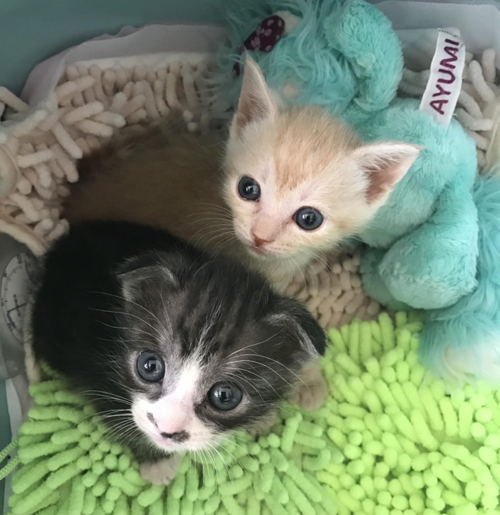 When the rescue organization brought Theo and Luca in for their vaccinations on April 13, 2019, Akiko felt an instant connection with the adorable duo upon seeing them for the first time. After all, not only were they were incredibly cute, they were both very sweet and happy-go-lucky, especially considering everything they'd already endured in their young lives. "I fell in love with them at first sight," remembers Akiko, "and I asked the volunteer group to make them my family. I felt it wasn't so important whether or not they had legs."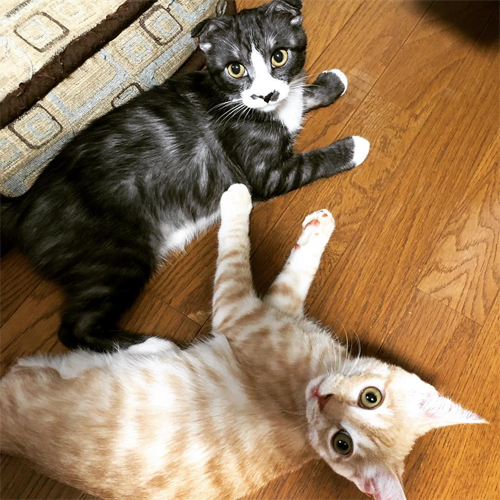 To her delight, the rescued allowed Akiko to adopt the brothers, and it didn't take long for them to adjust to their new forever home. However, just a few weeks later Luca had to have another surgery to remove a portion of his left hind leg that hadn't been completely amputated. "He was unable to lift his lower body, so he was rubbing the lower half of his body [while moving around], and that part became purulent," explains Akiko.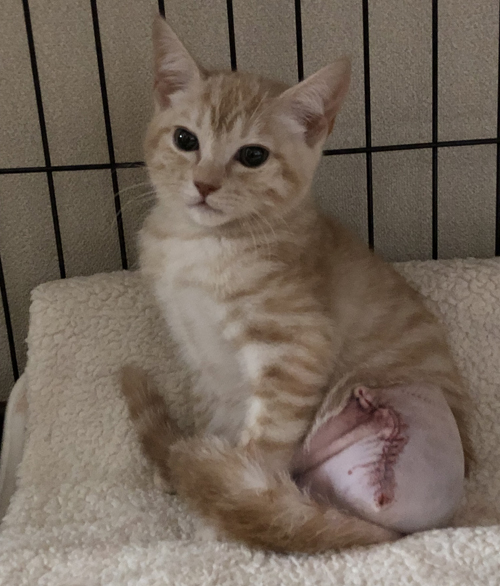 Fortunately, Luca recovered from the second surgery and more than a year later, he and Theo are both doing great! Not only has this remarkable two-legged cat learned how to maneuver around his home using just his front limbs, Luca is able to go up and down stairs without any help. "Luca loves Theo, so he might have improved his skills by imitating Theo," says Akiko.
View this post on Instagram
In addition to imitating Theo, Luca loves wrestling with his brother and chasing after him, and this two-legged boy also enjoys playing with Akiko's dogs and bird watching. "Of course, he also loves to be stroked by me, and purring on my lap," says Akiko.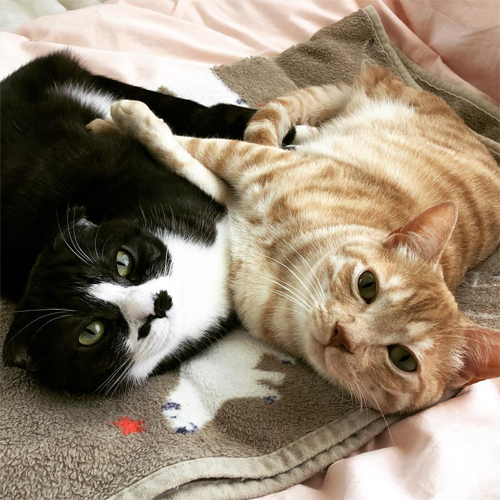 Even though it's obvious Luca is a very happy and active young cat, some people still think it's impossible for two-legged felines to have good lives. However, Akiko believes it's because these individuals are wrongly assuming special needs cats feel certain emotions they're simply incapable of experiencing. "Unlike humans, animals don't envy or compare themselves to anyone," says Akiko. "They just make the best of what they are given."
View this post on Instagram

After all, when Luca and Theo's former owner learned they would need to have some of their limbs amputated, he asked the vet to euthanize them, thinking their lives would be difficult and unhappy. Thankfully, the veterinarian refused to put them to sleep, and today these special boys are doing better than ever, proving it's definitely possible for two-legged and three-legged kitties to thrive.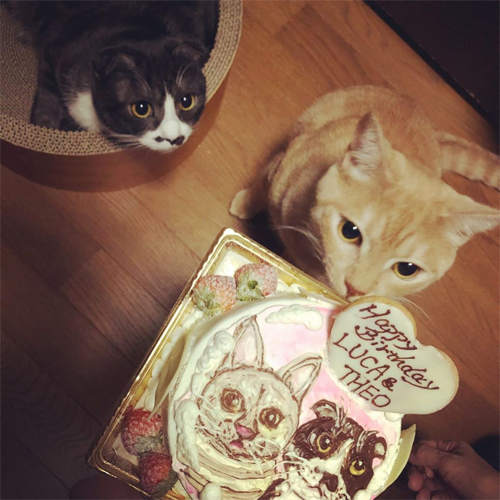 "I want many people to know that such cats live happily like 'normal' cats," says Akiko, but they need just need caring families. "Depending on our love and ingenuity, their lives can be very happy."
View this post on Instagram
Fortunately for Luca and Theo, they have a wonderful family, and while Akiko has done everything in her power to make them happy and content, she considers herself the one who is lucky to be able to share her life with these special boys.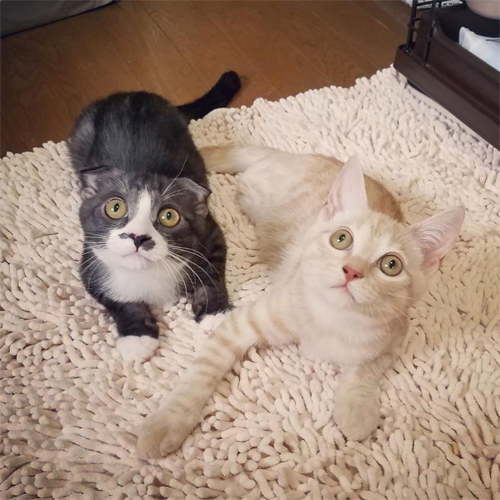 Luca, whose name means light in Italian, is especially resilient, tenacious, and determined, and he has been a constant source of inspiration to his mom since the moment they met in April 2019. "Luca is always positive and bright," says Akiko. "He is my hope, my pride, and my precious family. I want to be as strong as Luca."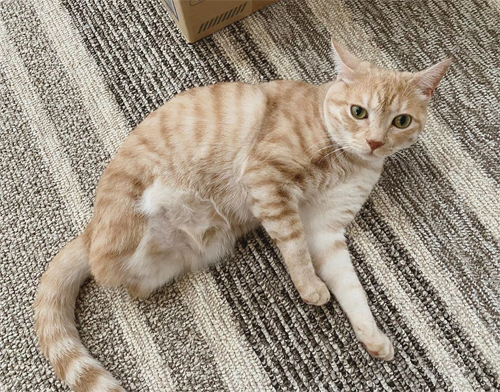 To learn more about this adorable cat, you can follow Luca — and his brother Theo — on Instagram.