When Sonita, an experienced fosterer for Ten Lives Cat Rescue in Rhode Island, was asked to take on the challenge of caring for Finn, a black and white kitten with malformed front limbs who had recently been rescued from the streets, she said yes with hesitation. "I agreed to fostering him right away and knew that he'd be an extensive medical case as no one could quite tell what was going on with him," explains Sonita.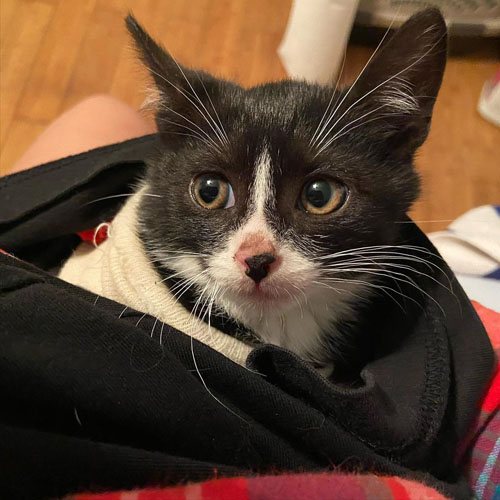 After all, she already had experience caring for a cat with special needs, having fostered Theo, who was born with cerebellar hypoplasia (CH), a non-progressive neurological condition that impacts balance and coordination. "I'm always up to the challenge of a medical foster as I know not every foster family is comfortable or able to take them on," says Sonita.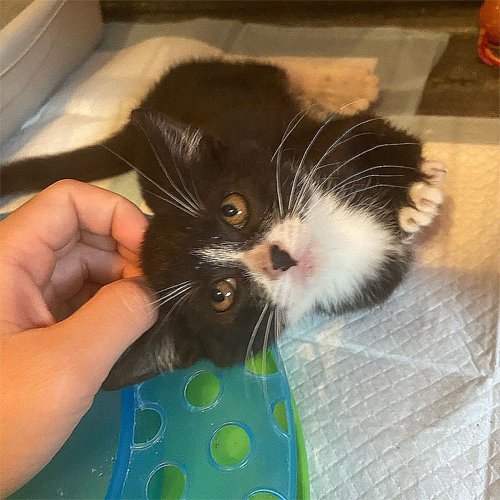 In late October 2020, Sonita collected Finn — who got his name because he was initially suspected of having swimmer syndrome, a congenital condition that causes affected kittens to have splayed legs — from the rescue when he was approximately six to eight weeks old. "He was this tiny, adorable thing who arrived to me in a handmade sweater that the shelter made for him because they were worried that the way he walked made it uncomfortable for his elbow joints," remembers Sonita.
View this post on Instagram
Initially, it took a while for Finn to adjust to his foster home, most likely because he had spent the first several weeks of his life with his mother, a feral cat, and his siblings, having little to no exposure to people. "He was really shy and unsure when I first got him and spent some time hiding in the cat house that I placed in his crate," remembers Sonita.
View this post on Instagram
Sonita was understandably concerned that when Finn finally felt confident enough to explore his new foster home, his malformed front legs might make it difficult for him to get around. "I was worried when I first got him that he wouldn't be able to climb or jump and that we'd have to look into ramps for him to get onto the bed or couch," explains Sonita.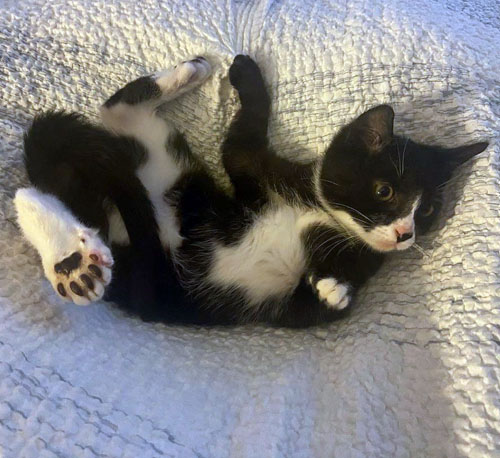 However, it wasn't long before Finn started venturing out of his crate and quickly proved that not only was he able to get on and off the furniture, he had no trouble going up and down the stairs in his foster home and even jumping on to the kitchen counters. "He's proved me so wrong," says Sonita. "He doesn't seem to know that he's different; he runs, plays, and climbs with the rest of our feline crew."
View this post on Instagram
It also didn't take long for an orthopedic veterinarian to diagnose Finn with radial hypoplasia (RH), a congenital condition that causes affected cats to have unusually short and twisted front legs. "I'm not sure why he was born with this condition," says Sonita. "Interestingly enough, his hind paws seem to be disproportionately long, almost like his body compensated for it."
View this post on Instagram

In extremely severe cases, some cats with radial hypoplasia may require surgery, but the vast majority of them — including Finn — are capable of having happy, healthy, and active lives without any kind of serious medical intervention. However, soon after Finn was diagnosed with radial hypoplasia, he was also diagnosed with megaesophagus, a combination disorder in which the esophagus dilates and loses its ability to move food into the stomach. "He was officially diagnosed with this in January after weeks of worsening regurgitation that we initially attributed to his enthusiastic, hyperspeed eating," explains Sonita.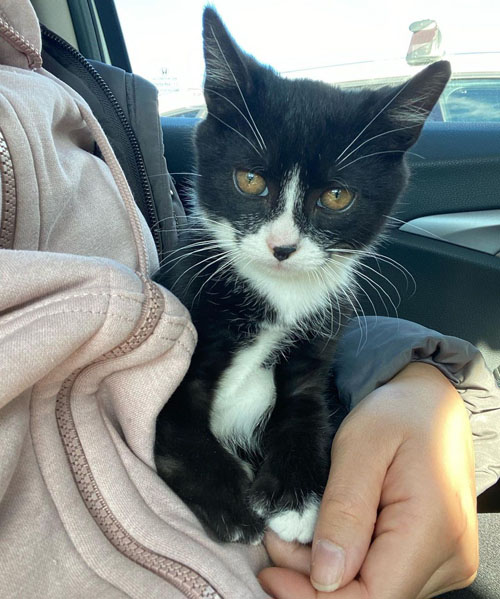 Before Finn was diagnosed with megaesophagus, Sonita tried to treat his symptoms by changing his diet and food bowl. When neither of these alterations stopped Finn from routinely regurgitating his meals, Sonita took him to a vet who recognized the symptoms as megaesophagus and prescribed a simple solution. "As a result of this condition, he has to eat standing upright to allow passage of food down his GI tract," says Sonita.
View this post on Instagram
Thankfully, this treatment proved extremely effective, and today this adorable tuxedo kitten is thriving! While he might move a bit differently from a typical feline, Finn is very active and agile, and he loves playing and wrestling with his foster siblings. "He likes to hide under the coffee table and jump out at them with his little front paws out like a bear," says Sonita. "It's such a funny and amusing sight to behold."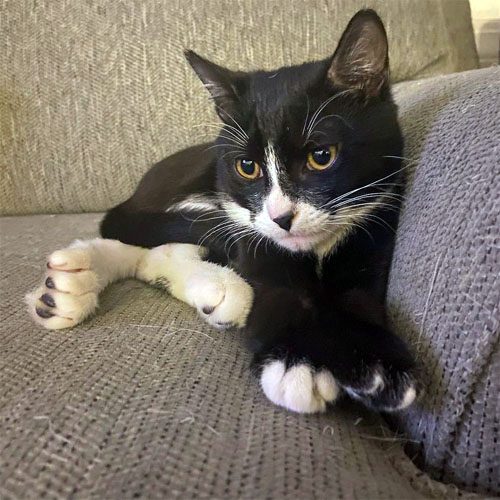 He also loves to cuddle, especially with his foster mom, and he often buries his face in the crook of Sonita's arm while he takes his afternoon nap. Like the average feline, Finn adores food, and Sonita wants to make sure he finds a forever home with a person or people who will make sure he maintains a healthy weight so that he doesn't place any unnecessary stress on his forearms, as well as provide him with routine medical care and maintain his upright feeding regime.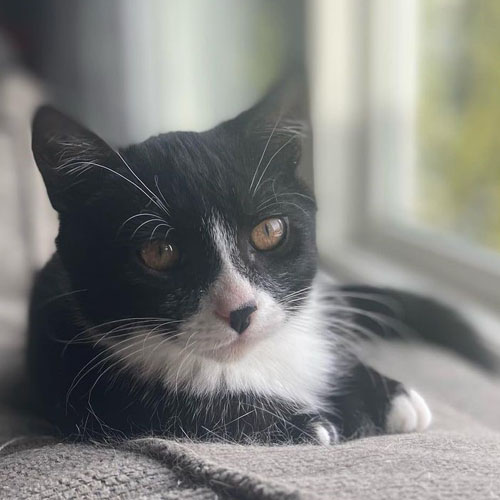 "He's adapted so well to the feeding regimen the vet recommended for us," says Sonita. "He runs to his feeding stool in anticipation every meal time because he knows that's where he's fed."
View this post on Instagram
While she knows not everyone is willing or able to provide Finn with the time, care, and attention he needs to thrive, Sonita also believes he — and other special needs cats like him — are more than worth any extra effort they require. "These cats are truly resilient and so worthy of love," says Sonita. "Despite all of the challenges that have been placed before him, Finn is still a spunky, cuddly kitten whose spirit has never been dampened."
View this post on Instagram
When Finn finally finds his forever home, there's no doubt he will be deeply missed by Sonita and her family, but also by all of the other people he's encountered over the last few months. "He steals everyone's hearts as soon as he meets them, whether it's my friends and family or all the veterinary specialists he's come across," says Sonita. "He's such a special boy, and we love him so much."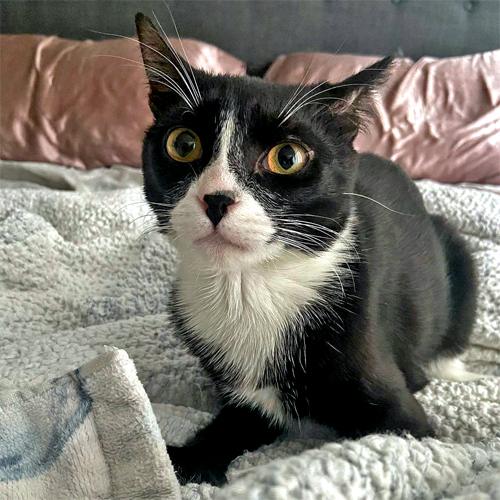 To learn more about this adorable kitten, you can follow Finn on Instagram.
If you're interested in adopting Finn, you can complete an adoption application.