When Zilla Bergamini saw a video of some Sphynx kittens her friend, a cat breeder, was planning to sell, she became smitten with one who looked adorably different from her litter mates. "I fell in love at first sight," says Zilla, so she asked her friend about the unique cat. "She said that kitten was sick and she was not selling her."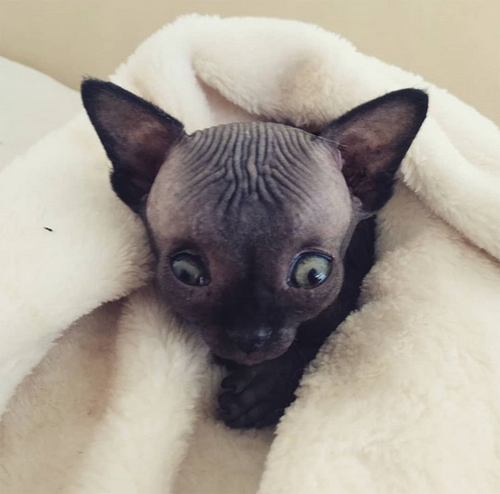 Zilla discovered her friend had taken the kitten to a veterinarian, and she was diagnosed with hydrocephalus, a condition characterized by a build up of fluid in the brain. "Her vet told her some doctors would perform surgery but he thought it wasn't worth it," remembers Zilla. When Zilla said she would be willing to adopt the special needs kitten, her friend was thrilled!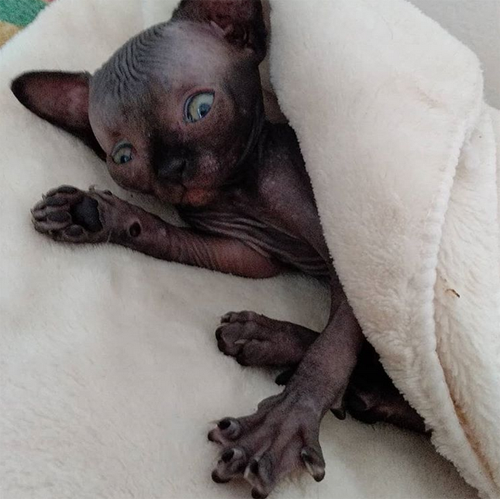 However, Zilla had to wait three days before she could bring the young cat, who she named Lucy, home, so during this time she researched hydrocephalus extensively and prepared for the arrival of her new pet. "I began reading everything I could about hydrocephalus and all possible outcomes, I looked for the best veterinarian neurological center in the country, and I already started setting up a fund to pay for her surgery — if needed — or medication," says Zilla.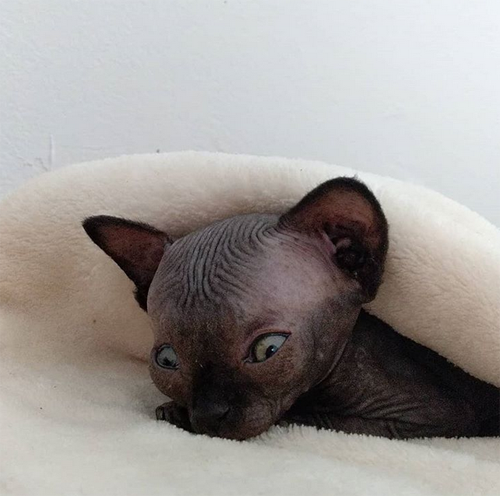 On March 15, 2019, Lucy was two months old when she arrived at her new home in Haifa, Israel, and while Zilla, who already had two rescue cats, was excited, she was also nervous about caring for a kitty with a serious neurological condition like hydrocephalus. "She was loved before coming to me," says Zilla, "but her future was uncertain."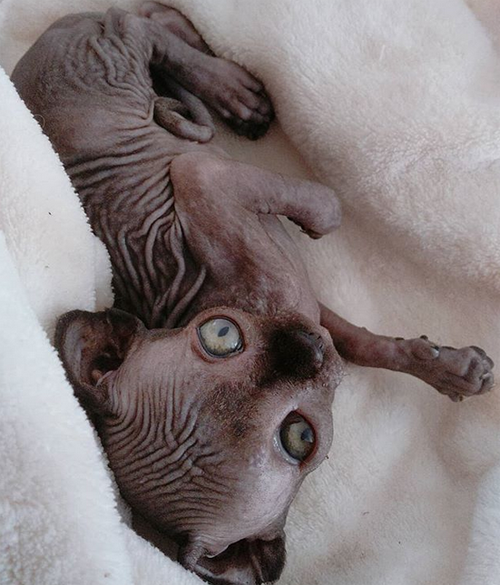 When Zilla adopted Lucy, she knew she would need medicated eye drops for a condition she'd had since birth, but she became extremely concerned when the little kitten spent the first few days in her new home crying constantly. She was also alarmed when she realized three days had passed and Lucy hadn't emptied her bowels once.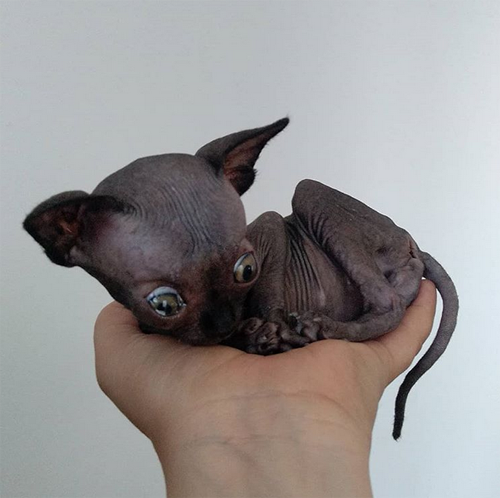 Zilla took her new kitten to the vet who had been treating her since the day she was born, hoping to get some answers about what was going on with Lucy. "I asked about her eyes and why she was always crying and always needed eye drops," remembers Zilla, "and he told me she will need them all her life. I asked why she wasn't pooping and he checked and said her belly was empty and she was probably hiding it." However, when another two days went by and Zilla still hadn't witnessed Lucy emptying her bowels, she found the best veterinarian in her area and made an appointment to see him.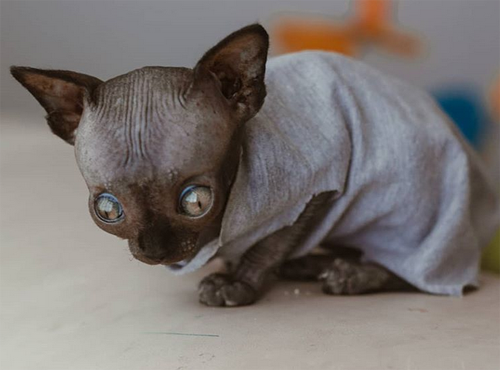 It turned out Lucy actually hadn't had a bowel movement in several days, and after she was treated by the new vet, she was unable to stop emptying her bowels. "She practically leaked poop 24/7 for more than two weeks straight," says Zilla. "I was putting her to sleep in a tiny baby diaper and I was always holding her."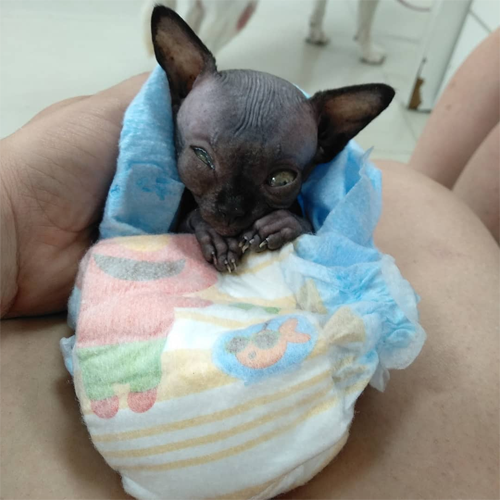 Despite the unpleasant circumstances, Zilla and Lucy formed a very special bond during this time, and the little kitten remained happy and even began responding to her name. After getting Lucy's digestive issues under control, Zilla took her to see a specialist to find out the underlying cause of her eye issues and what — if anything — could be done to permanently fix them.
View this post on Instagram
She discovered Lucy's hydrocephalus had caused her skull to grow in an unusual shape, resulting in her eyelids irritating her corneas. "An amazing veterinarian eye doctor was able to save her eyes and now she doesn't even need eye drops," says Zilla.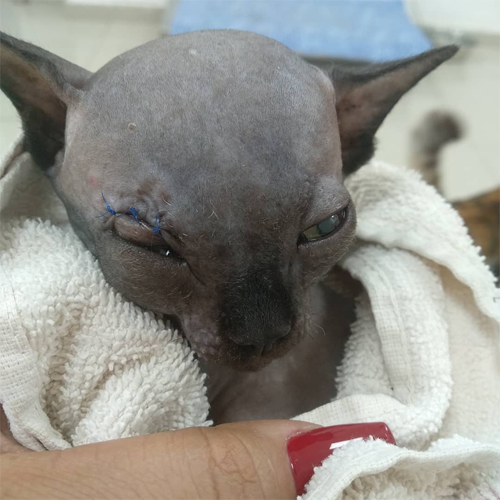 Today, this adorable girl is doing great, although due to hydrocephalus, Zilla has to monitor her closely to make sure she gets immediate medical attention if she so much as bumps her head. Thankfully, this doesn't prevent Lucy from enjoying her life, and she adores watching the sea and the birds from the windows in Zilla's home.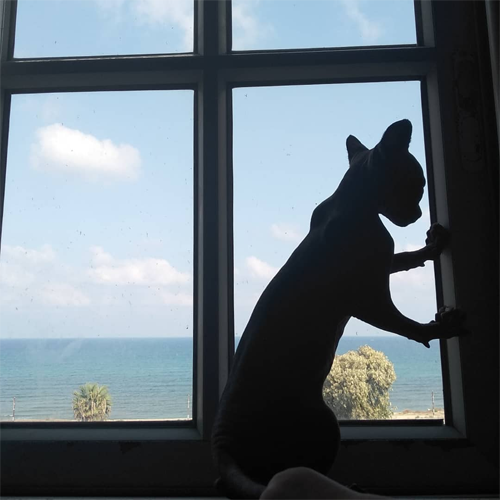 She also loves spending time with people, and there's nothing she likes more than going on adventures with her family. "She loves going out," says Zilla. "She sits in the baby stroller or inside the bag and enjoys the view. Every time we go out she tries to sneak inside one of the two."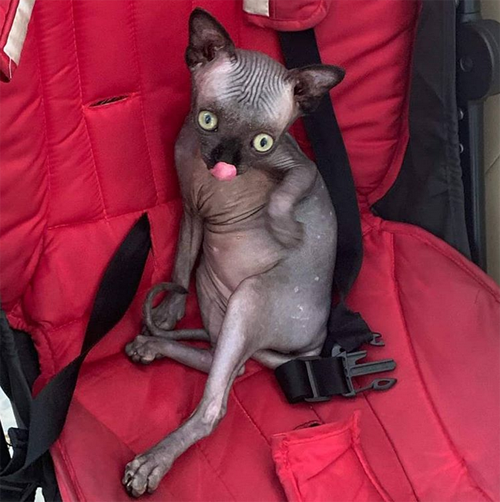 While it's apparent Lucy has a great quality of life, a lot of people assume cats with hydrocephalus will need expensive brain surgeries, making euthanasia seem like the only viable option for families who don't have a lot of money. However, Lucy is living proof this isn't always the case, but she does need more medical attention than the average feline. "Every little thing could be a big problem for her because she is more delicate than a 'normal' cat," explains Zilla, "but it isn't always a death sentence."
View this post on Instagram

Zilla has also encountered people who think because Lucy looks different from a typical cat, she must be suffering or in pain, as well as individuals who simply think she is unattractive because she has hydrocephalus. "Some people just see her strangely shaped skull and weird eyes and think she is too ugly to be a pet," says Zilla. "One of her biggest admirers confessed to me that she had very negative thoughts about her the first time she saw her."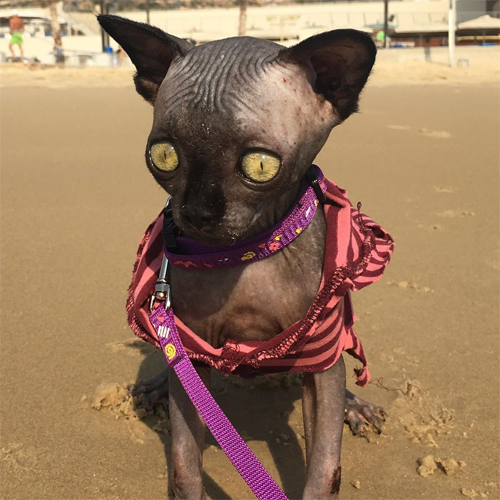 Fortunately, after learning Lucy's story, she had a change of heart, and Zilla hopes sharing her background with a wider audience will cause more people to have similar revelations. "Like humans, pets can have disabilities but live happy lives," says Zilla, "and they can give as much love as any other pet, if not more."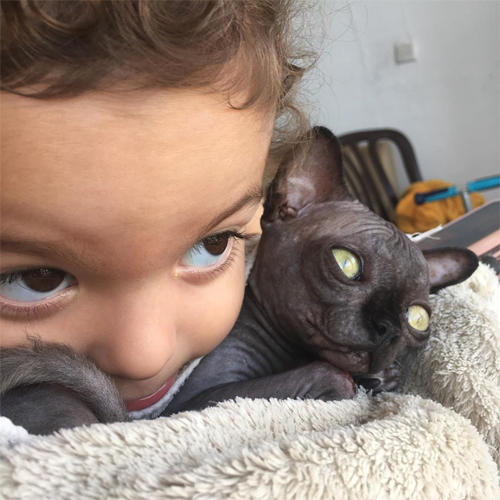 While she absolutely adores all of her cats, including one who has post-traumatic stress disorder because he was tortured as a kitten, Zilla has a unique bond with Lucy, one that only grows stronger over time. "All my cats are misfits, unwanted, or survivors, but they are part of the family," says Zilla. "She is part of our family."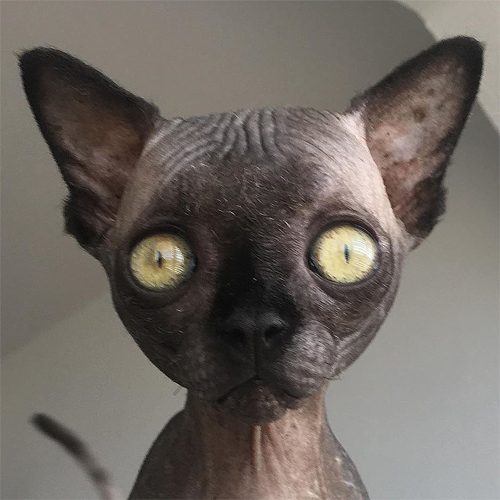 To learn more about this beautiful kitten, you can follow Lucy on Instagram.