When Zara saw a post online about Jack, an adorable Arabian Mau with prominent fangs, she was instantly smitten with the unusual feline. "How could you not love his little face?" asks Zara.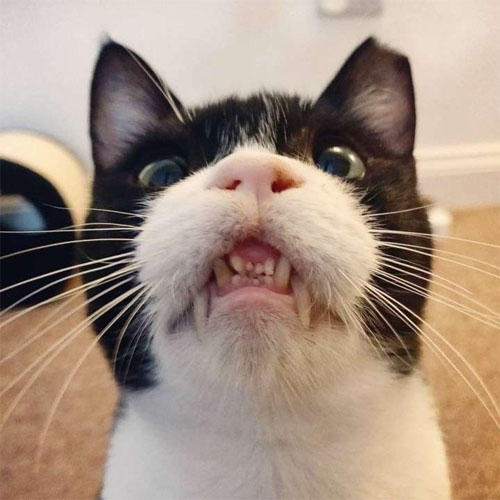 Intrigued by Jack's unique appearance, Zara learned he had been a part of a homeless cat colony in the United Arab Emirates (UAE) until he was rescued by Indira, the colony's manager, in early 2020. "She noticed he had a back leg injury and was getting picked on by bigger cats," explains Zara.
View this post on Instagram
With Indira's help, Jack — who was approximately three years old when he was rescued — healed from the trauma he'd sustained while living on the streets. Jack was made available for adoption and his story was shared online, but when Zara first learned about him, she'd just started searching for a cat to adopt. "Not wanting to rush into anything, I didn't immediately inquire about him," says Zara.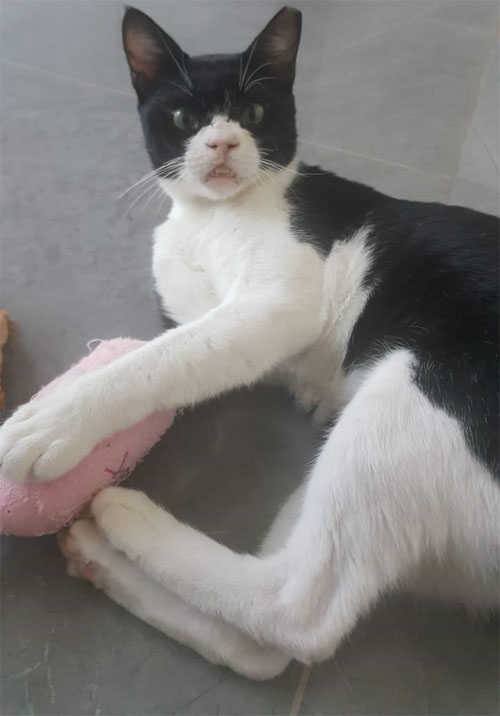 However, after a few days of looking at cats who were available for adoption, Zara realized she couldn't stop thinking about Jack. Thankfully, her adoption application was approved, and after multiple cancelled flights, the handsome black and white feline finally arrived at his new home in England on September 16, 2020. "At first, he was understandably a little confused, pacing about," remembers Zara, but after going on a guided tour of the house with his parents, Jack didn't take long to adjust to his new environment. "I think he realized he was safe and started to roll around on the floor, giving us lots of head butts and purrs."
View this post on Instagram
After Jack settled in, Zara took him to the vet, and a thorough examination revealed that while he wasn't born with a cleft palate — a misconception people often have about this unique feline — one of his nostrils was almost completely blocked. The veterinarian also discovered Jack's teeth were severely misaligned due to trauma he sustained before he was rescued. "His x-ray during dental work did confirm he definitely has had some impact to the face," says Zara, "we'll just never how or what."
View this post on Instagram
A few months later, Zara noticed Jack had a small lump on one of his legs. Concerned, Zara took Jack back to the vet, and an x-ray revealed he had a metal pellet lodged in his limb. "Jack had been shot, meaning he would have been alone on the streets injured," explains Zara. "It did hit and break the bone. Left to heal naturally with no support, the bone has healed but in an odd shape."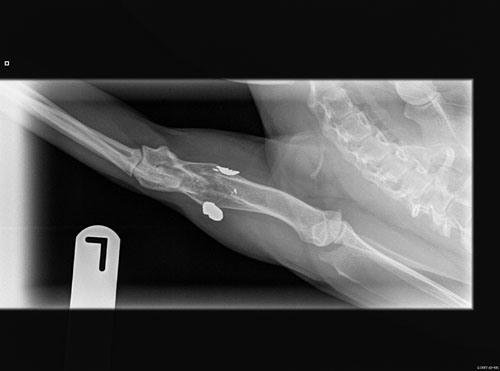 The veterinarian determined that the pellet wasn't causing Jack any pain or discomfort, so removing it wouldn't be worth the risk of putting him under anesthesia. More than a year later, Jack is doing extremely well, and while the x-ray also showed early signs of arthritis in Jack's hind limbs, he's a very happy young cat. "This boy loves to sleep and is very vocal!" says Zara. "He also loves watching the Simpsons on TV."
View this post on Instagram
When he's not sleeping, meowing, or watching television, this sweet black and white cat enjoys playing with pipe cleaners and kneading blankets and his fluffy beds. Also, Jack — who was a bit unsure about people when he arrived at his forever home in September 2020 — adores cuddling with his parents. "He is a totally different cat now," says Zara. "I remember being so happy the first day he came over to me and sat on my lap."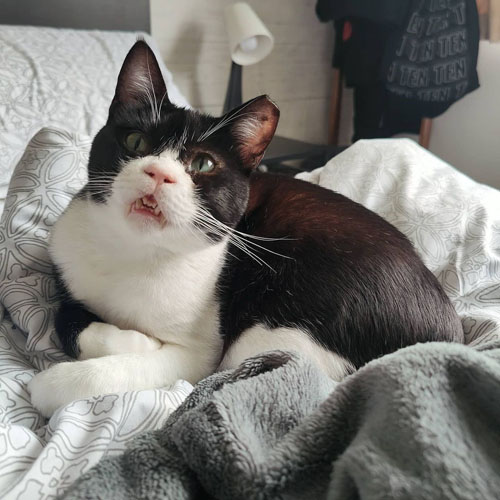 Zara and her partner are incredibly proud of the progress Jack has made during the time he's been with them, and they hope sharing his story will encourage more people to consider adopting cats who often have trouble finding homes. "I think some people can be too quick to judge those who haven't had the easiest start in life," explains Zara. "They may view them as 'broken' or worry about any challenges they may face when adopting."
View this post on Instagram
While she acknowledges Jack may have needed more time and special care because of the hardships he endured while living on the streets, Zara believes this remarkable boy was well worth any extra effort he required. "I think anyone who has adopted an animal that has been through trauma or spent time on the streets would agree that you see how much they appreciate feeling loved and safe," says Zara, "and they will show you that every day."
View this post on Instagram
Zara — who recently adopted Mini, another cat who was rescued from the streets of Dubai — also wants to raise awareness about international pet adoption, especially adopting companion animals from countries like the United Arab Emirates where people can be fined simply for feeding homeless cats. "There is estimated to be over 100,000 stray cats in Dubai alone," explains Zara. "The only ones helping them are people like Jack's rescuer who are feeding their colonies and paying for vet fees and towards flights to their forever homes themselves."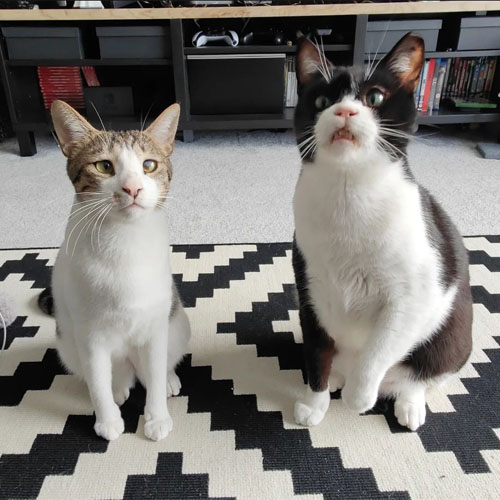 Obviously, Jack — who somehow managed to survive on the streets of Dubai, injured and alone — is one of the lucky ones, but Zara believes she and her partner are just as fortunate to be able to share their lives with this one of a kind kitty. Not only does he make them laugh with his expressive face, Jack has turned out to be the piece they didn't know their home was missing. "I've had other cats in the past, but I've never known a cat with as much character as Jack," says Zara. "He is a huge part of our household and we'd be lost without him."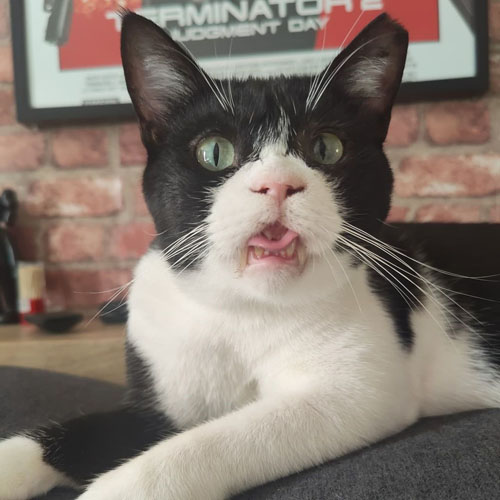 To learn more about this handsome cat, you can follow Jack on Instagram.
View this post on Instagram