When Rachel, a volunteer with Animal Rescue of the Rockies, was asked if she was interested in fostering an adorable calico kitten with malformed legs, she immediately said yes. "The rescue I volunteer for knows I love special needs kitties, and is always keeping an eye out for them," says Rachel. "I like to bring them into my home so the people in my community can see how special they are as individuals, and how they are not defined by their disability."
View this post on Instagram
While Rachel was eager to begin caring for the beautiful special needs kitten right away, the four-week-old feline — who had been abandoned at a high-kill shelter in Texas — wasn't healthy enough to travel to her home in Denver, Colorado. "She was very sick with an upper respiratory infection when she arrived at the Texas shelter, and had to be fully well and weaned before she could be put on a transport van," explains Rachel.
View this post on Instagram

Initially, Rachel had planned to name her Serendipity in honor of Yoshi, a special needs kitten who had passed away two years earlier. "His favorite toy was this specific pair of earrings I wore," explains Rachel. "I had not worn those earrings since he passed…until the day I got the call about [the calico kitten] needing to be saved."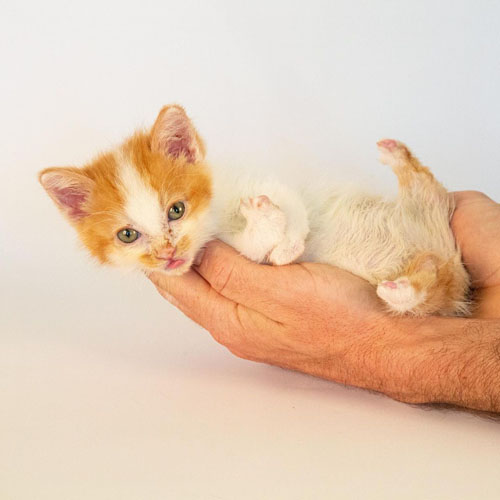 However, before the tiny feline actually arrived at her home, Rachel agreed to foster another special needs kitten named Lunchbox. Deciding Serendipity was too long of a name for such a little cat, Rachel decided to call her Apple instead. "I thought it was delightful and went so well with her new roommate, Lunchbox," says Rachel.
View this post on Instagram
A month after Rachel learned about Apple for the first time, the little kitten was healthy enough to travel, and on July 25, 2021, she arrived in Colorado when she was approximately two months old. A thorough veterinary examination revealed Apple was born with femoral hypoplasia (FH), a congenital condition that causes affected cats to have unusually short and twisted hind legs. "Her rear legs are bent inwards at about a 45 degree angle, and she has partial use of them," says Rachel. "Her front legs have deformities as well, but they do not have a specific diagnosis for the deformity."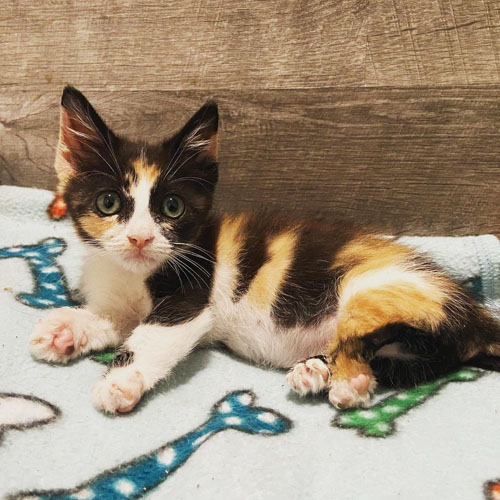 While it's impossible to know exactly why Apple was born with femoral hypoplasia, it's possible she might be the product of inbreeding. However, the vet who examined Apple suspects her mother may be a munchkin cat, a relatively new breed of feline with a genetic mutation characterized by unusually short legs. "The mama kitty may have suffered an impact while Apple was a 'bun in the oven' and that caused a deformity in her limbs," explains Rachel. "An impact while the limb buds are forming can easily cause issues with formation."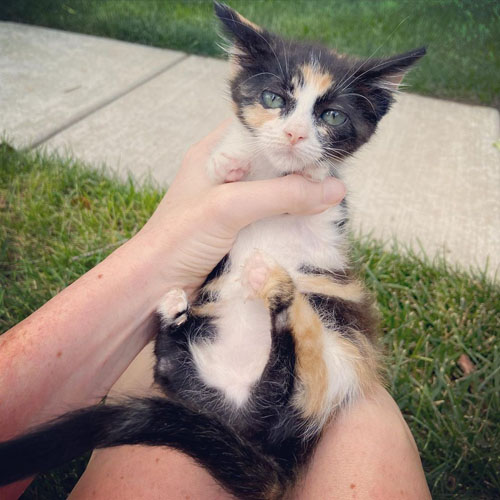 Fortunately, Rachel quickly discovered Apple was an incredibly active cat despite having femoral hypoplasia, and the little special needs kitten didn't waste any time settling into her foster home. Several months later, Apple is doing incredibly well, and while she moves a bit differently from a typical cat, she's surprisingly agile. "She is super fast when she gets going and has places to go!" says Rachel. "She cannot jump onto furniture and uses a ramp instead. Other than that, nothing slows her down."
View this post on Instagram

In addition to a ramp to help her get on and off of furniture, Apple uses a low-entry litter box, which makes it easier for her to relieve herself. However, aside from the ramp and litter box, this gorgeous girl doesn't require any other special accommodations. "People immediately think she needs surgery or an assistive device such as a kitty wheelchair," says Rachel. "In her case, neither are necessary!"
View this post on Instagram
After all, Apple is able to get around extremely well just the way she is, and she loves to play, whether it's with toys or her foster brother Lunchbox. However, she also loves to cuddle, and she's happy to sit on Rachel's lap while she works or plays video games. "I have fostered over 350 kitties, and the ones with disabilities or special needs just have more love to give," explains Rachel. "It truly makes them special, because they love their humans so much."
View this post on Instagram
Thankfully, Apple has already been adopted, and once she's spayed, she will go to her forever home where she will undoubtedly shower her family with love and affection. While Rachel will definitely miss this remarkable kitten, there's no way she'll ever be able to forget her or any of the other special needs cats she's fostered. "Kitties with special needs really are special," says Rachel.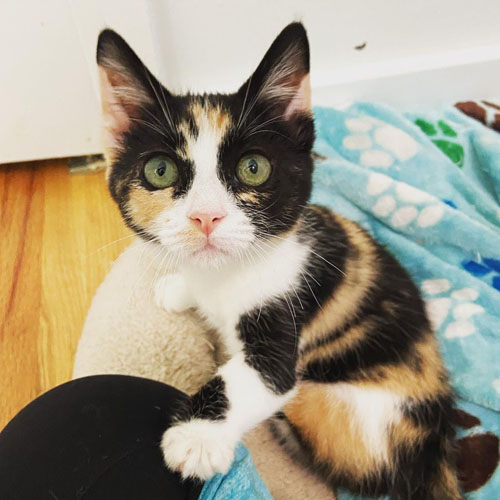 To learn more about this gorgeous kitten, you can follow Apple on Instagram.