After working in animal rescue in Ontario and Quebec, Canada, for nine years, Amber told the staff at the shelter near her home in Toronto that she and her boyfriend wanted to foster a cat with special needs. Just a few weeks later in May 2019, Amber received a message — accompanied by photos and videos — about Hips, a special needs kitten who had been surrendered to the shelter when she was just nine weeks old. "This poor girl could not walk, was a little puff ball, and had the sweetest face," remembers Amber. "To say I was head over heels was an understatement."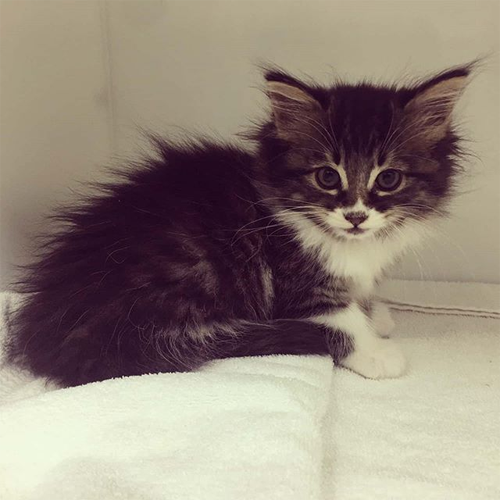 At the time, Hips was unable to walk due to what veterinarians have described as a congenital deformity of her hind limbs, possibly due to inbreeding. "She lacks hip sockets, she lacks muscling in her hind end — only one muscle back there — her knees are displaced by her thigh, her legs are straight and lack curvage, her bones are basically 'backwards,' and her ankles are fused," explains Amber.
View this post on Instagram
While Amber knew Hips would need a lot of extra time and attention, she had experience caring for cats with special needs, so she eagerly agreed to foster the unique kitten. "The second I met her my heart melted into a puddle of mush," remembers Amber. "She was the sweetest little soul at only nine weeks old, and she rode around in my sweater when she wasn't in her pen."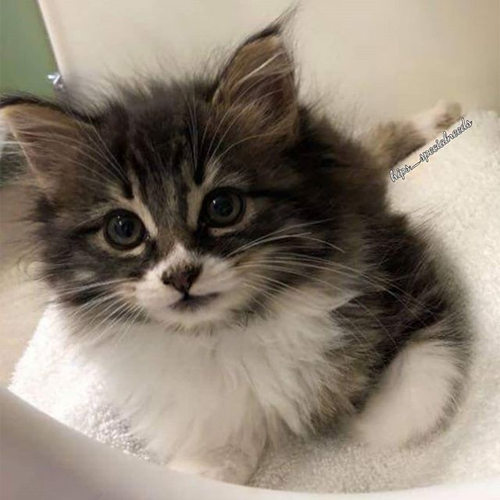 In order to help Hips learn how to walk and use the litter box, Amber spent the next three months doing intense rehabilitation and physical therapy with the little kitten. As Hips grew stronger, her bond with Amber deepened, and when it was time for the young feline to be adopted, her foster mom was unable to bear the thought of letting her go.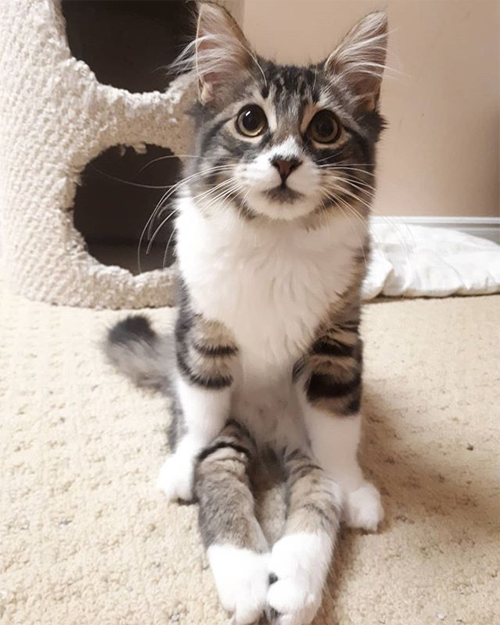 "I couldn't see her in any other home than my own," says Amber, so she decided to keep Hips, a decision she didn't make impulsively. "I have only ever kept three foster cats — including her — and I have gone through well over 400 kittens in my years of fostering."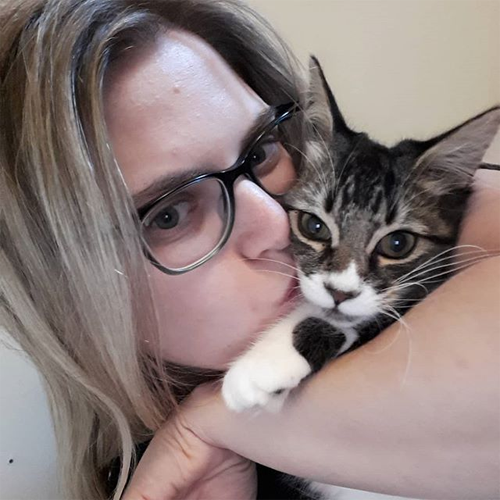 More than a year later, Hips is doing very well, and after trying out a number of different foods, she eats a raw diet to keep her weight stable and her bowel movements normal. Hips also does water therapy for a few weeks every few months to keep her legs strong and flexible, and she takes a number of supplements and medications to help manage pain related to arthritis and her leg bones rubbing against her pelvis.
View this post on Instagram
"She is on pain medication every single day, joint supplement powder every morning, Cartrophen injections every 12 weeks to help with her arthritis, and medication every day to ensure she has bowel movements daily that aren't causing megacolon," explains Amber.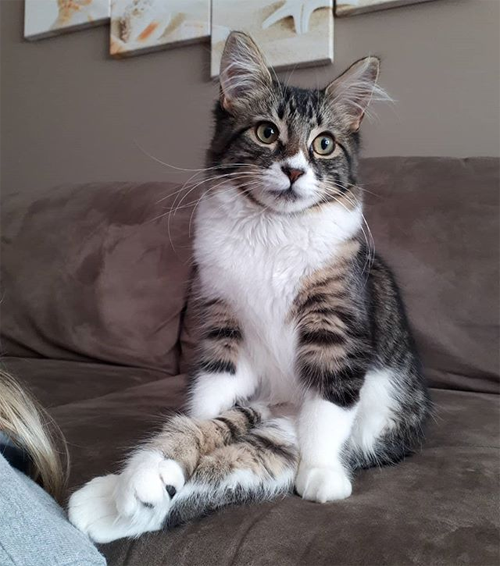 Thankfully, this combination of physical therapy, medication, special food, and supplements allows Hips to enjoy a relatively normal and pain-free life. While people often assume she is incontinent, Hips is able to control her bladder and her bowels, and she has no trouble using the litter box Amber and her boyfriend made especially for her. "She can scoot right into it without having to lift herself in but she will use a normal box too," says Amber.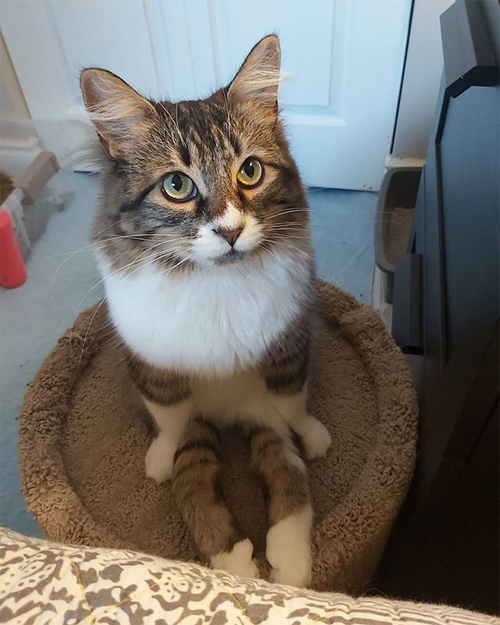 Hips is also an excellent climber, and while she is able to walk, she prefers to scoot where she needs to go. Fortunately, Hips's unique way of getting around definitely doesn't prevent her from having a happy and active life, and she enjoys smacking her parents' feet when they walk past her, playing with catnip toys, annoying her cat siblings, eating treats, giving her parents judgmental looks, and racing around the house. "Hips loves doing zoomies in the hallway," says Amber. "She runs — and I mean runs — on all fours quite comically from room to room."
View this post on Instagram

However, Amber realizes Hips's medical issues and the medications she takes to treat them will eventually damage her internal organs, most likely causing this special girl to have a shortened lifespan. Consequently, Amber and her boyfriend are doing everything in their power to give Hips the best life she can possibly have. "We cherish every second we have with her, providing her with as much pain-free life as we can," says Amber. "Her life is quality over quantity and sometimes people don't understand that."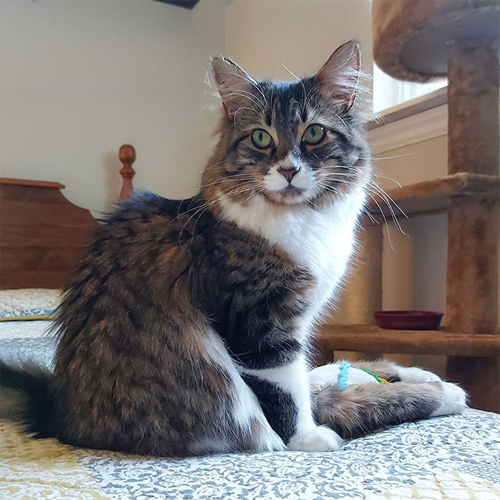 While she knows not everyone would be willing or able to take on the challenge — and potential heartbreak — of caring for a cat like Hips, Amber hopes more people will consider opening their homes to special needs pets who often have difficulty getting adopted. "I wish people knew how special and loving these sweet souls are," explains Amber. "Hips brings so much laughter, joy, and love to our family."
View this post on Instagram
When Amber started searching for a special needs cat to foster last year, she had no intention of permanently adding another pet to her family. However, Amber's bond with Hips was so extraordinary, there was no way she could let her go, and more than a year later, their connection is stronger than ever. "I would spend every last dime I had to give this girl the life she deserves, because she is 110% worth everything," says Amber. "Hips means the absolute world to me!"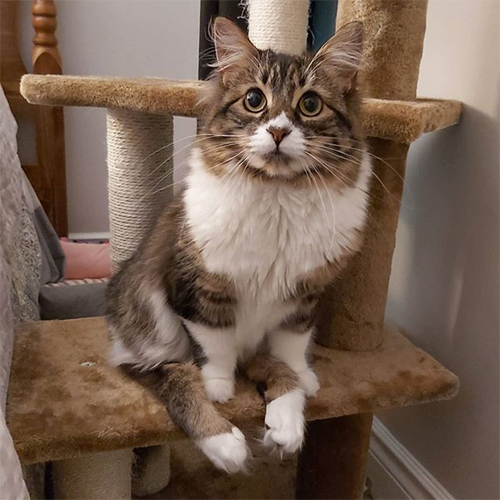 To learn more about this gorgeous cat, you can follow Hips on Instagram.