When Sarah O'Hearn saw a post on social media in early 2019 about Maleficent, a deaf and partially blind cat who had been searching for her forever home for two years, she was immediately interested in adopting the fluffy black feline with the striking blue eyes.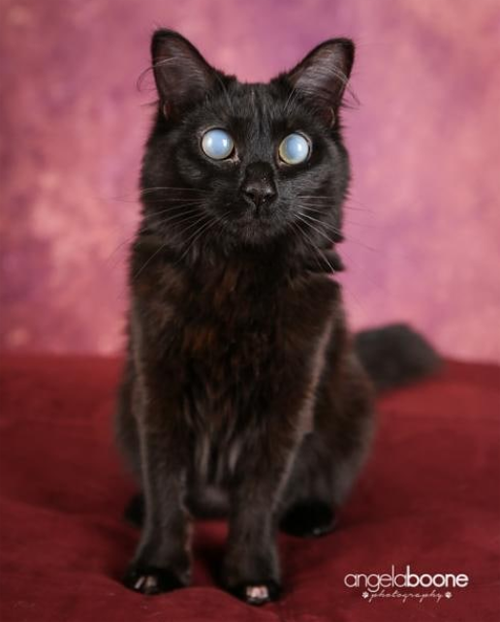 After all, Sarah and her boyfriend already had Stephen, a deaf and blind Maine Coon, and the couple was confident they would be able to give Maleficent the care she needed. "We really feel like we understand how to communicate with Stephen and meet all of his needs," says Sarah, "and honestly, it's not that much work."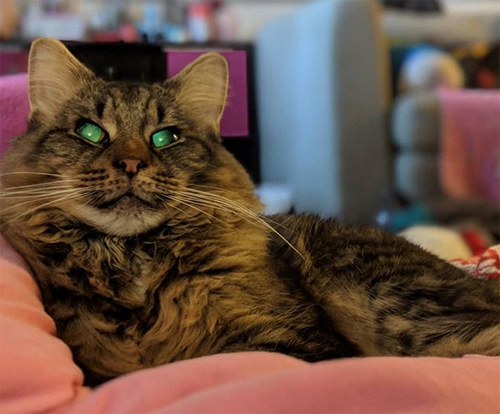 Plus, when Sarah discovered what three-year-old Maleficent had already been through in her short life, she became even more determined to help the beautiful special needs cat. When she was just a year old, Maleficent's family posted an ad online, looking for someone to adopt her. "They felt she was wild and feral and potentially dangerous," explains Sarah.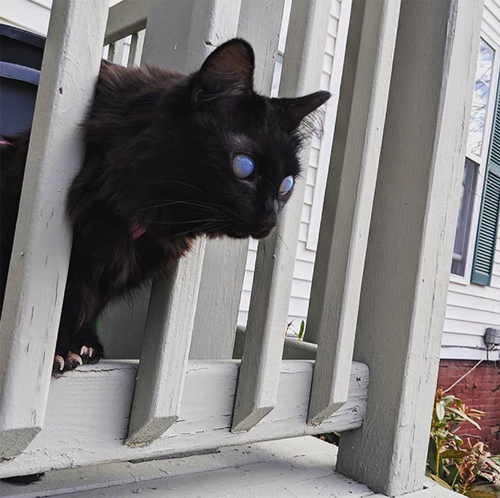 Thankfully, a woman named Nicole rescued Maleficent, expecting her to be aggressive and unpredictable, only to find she was actually very friendly and sweet. "It seems the family did not realize that Maleficent was completely deaf, which would explain some of her issues," says Sarah. Shortly after she was rescued, Maleficent went to Twin Cities Pet Rescue where she received treatment for corneal edema, a buildup of fluid in the cornea that can cause blindness and swelling.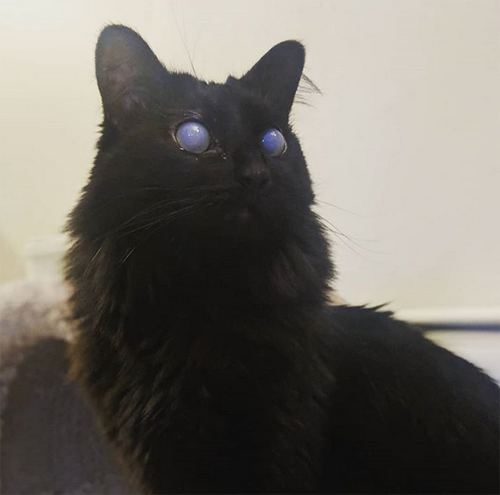 Following a procedure to create scar tissue on her eyes, Maleficent was adopted in 2016, but she was returned to the Minnesota rescue the following year. "Unfortunately, Maleficent was not doing well in her adopted home," explains Sarah. "She spent the next two years in various foster homes waiting for the right family."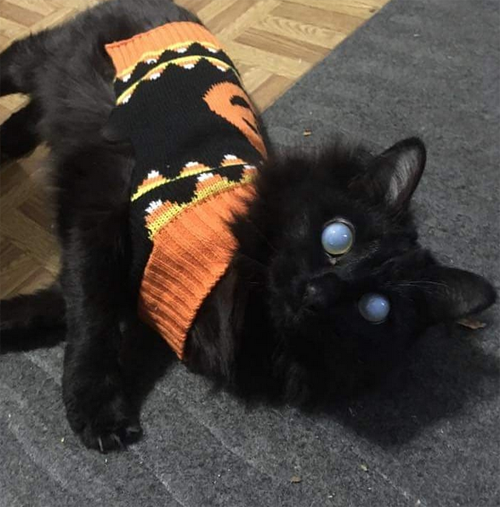 Certain she and her boyfriend Mark were the right family for Maleficent, Sarah emailed the rescue, explaining why she thought her New Hampshire home would be perfect for the black cat. "Initially, her rescue told me that since they only adopted within 60 miles of Minneapolis, and I was 1,500 miles from Minneapolis, I wouldn't be able to adopt her," remembers Sarah.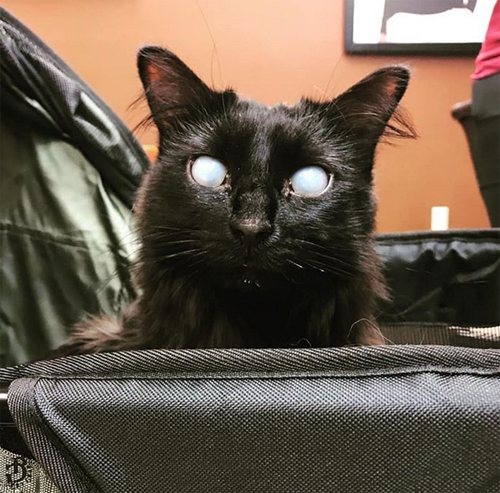 While she was disappointed, she wasn't deterred, and when Sarah found herself still thinking about Maleficent a month later, she contacted several people at Twin Cities Pet Rescue, listing every reason she could think of for why they should make an exception.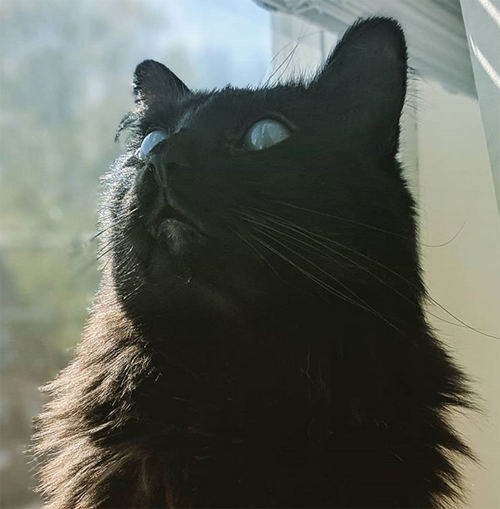 "I laid out why I thought my home would be the perfect fit for Mal and offered to get letters of recommendation from my vet and local rescues I've worked with before," says Sarah. Incredibly, Sarah's determination paid off, and after her adoption application was approved, she flew to Minneapolis to meet Maleficent for the first time.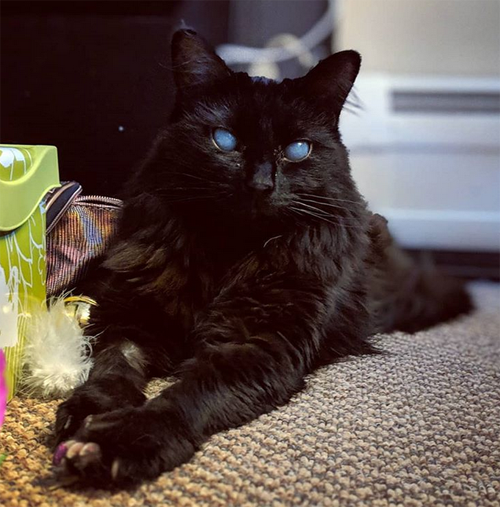 "I picked her up at a volunteer's home and just immediately fell in love with her," remembers Sarah. On April 8, 2019, Maleficent arrived at her new home in New Hampshire, and while it didn't take long for the deaf and partially blind cat to get acclimated to Sarah and Mark's house, it took her a little while longer to adjust to Stephen, her new brother.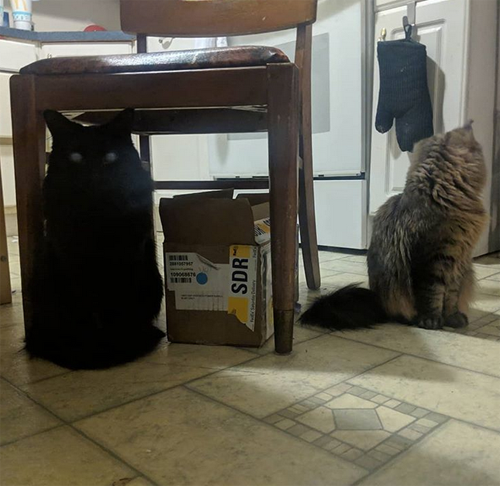 "He would be eager to inspect her and run straight into her face, frightening her, so she would slap him away," says Sarah. Over time, Stephen learned to approach Maleficent by backing into her, and a month later, these two special needs cats are able to play with one another relatively peacefully. In addition to hanging out with Stephen, this stunning cat enjoys chasing after the laser pointer and the kittens her parents recently adopted from their local rescue.
View this post on Instagram
Maleficent also likes being outside, whether she's going for walks on a leash or in her pet stroller, and she's obsessed with food and being groomed. "She adores eating cheese of any kind and absolutely loves being brushed," says Sarah. Even though she has vision issues, like her brother who is completely unable to see, Maleficent doesn't have any trouble finding her litter box, a common concern people have when it comes to blind cats.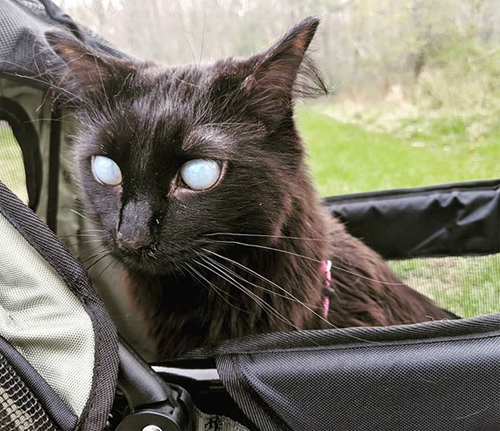 In fact, while she needs daily eye drops and regular appointments with an ophthalmologist, Sarah has found Maleficent — and Stephen — to be pretty easy to take care of. "I always tell people that they are more work than my sighted cats but much less work than my dog," says Sarah. "Sharing your home with a disabled cat is incredibly rewarding."
View this post on Instagram
Even though the staff at Twin Cities Pet Rescue was understandably concerned about placing Maleficent with a family more than 1,000 miles away, it's evident this gorgeous girl is thriving with Sarah, Mark, and their other pets. While she had to spend two years in foster care before finding the perfect family, it seems the wait was worth it, because Maleficent now has a home where she is given the love and care she needs to blossom.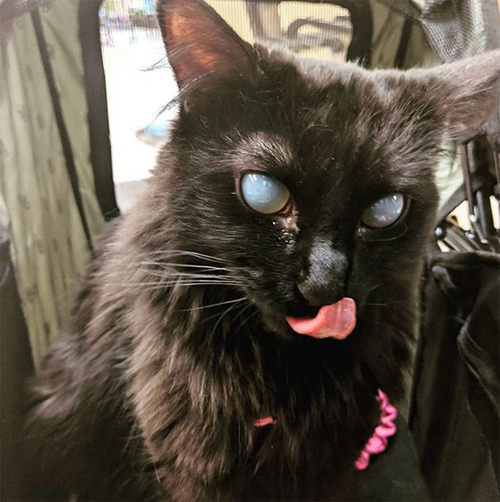 "Maleficent is so important to me!" says Sarah. "She is incredibly sweet, friendly, and spunky. I consider us lucky to have her in our family. She is always so happy and quite naughty — we enjoy seeing more of her sassy personality every day."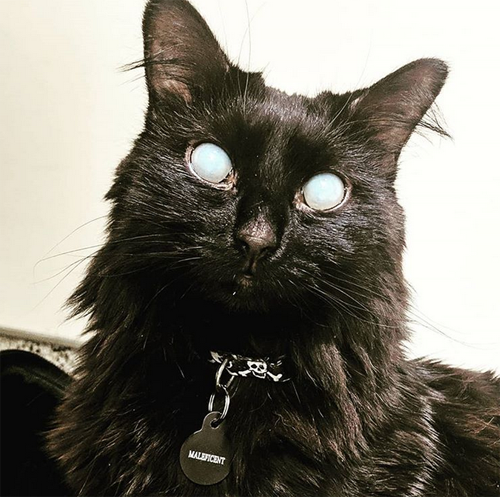 To learn more about this beautiful cat, you can follow Maleficent on Instagram.