Sensitive Content
This post includes photos some people may find upsetting.
When Mélanie Hauttecloque saw a photo of Ivy on Facebook in December 2019, she was instantly drawn to the little black kitten who had an ulcer on her left eye when she was rescued from the streets by a local animal rescue. "They brought her to the vet and they tried to save her eye by doing a tarsorrhaphy, closing the third eyelid to protect the eye," explains Mélanie, "but it didn't work and she had to go through surgery again."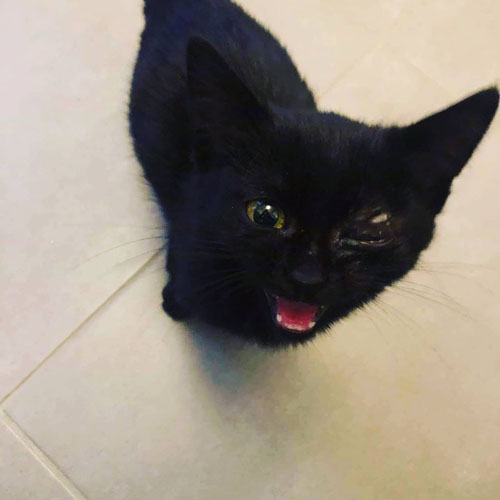 Ivy had a connective tissue graft, which allowed her to keep her left eye, although it was severely damaged, making it unlikely she was able to see much — if anything — out of it. However, Mélanie didn't mind that Ivy looked different from a typical cat. "I loved the picture of her with her missing eye," says Mélanie. "She looked so cute and — as a black cat lover — I decided to adopt her."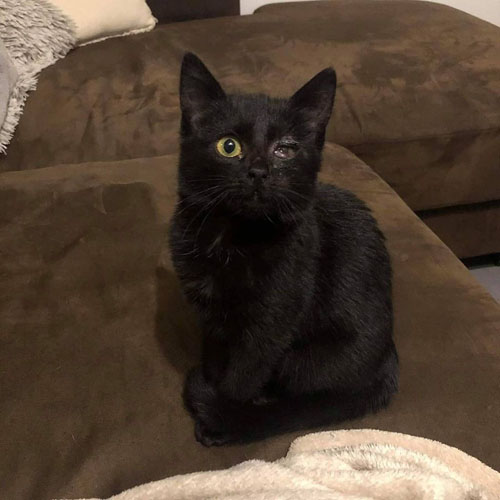 When she reached out to the animal shelter near her home in Avignon, France, Mélanie learned the four-month-old feline was still very much available for adoption. "No one wanted to adopt her and I was actually the only one that contacted the shelter to adopt Ivy," says Mélanie.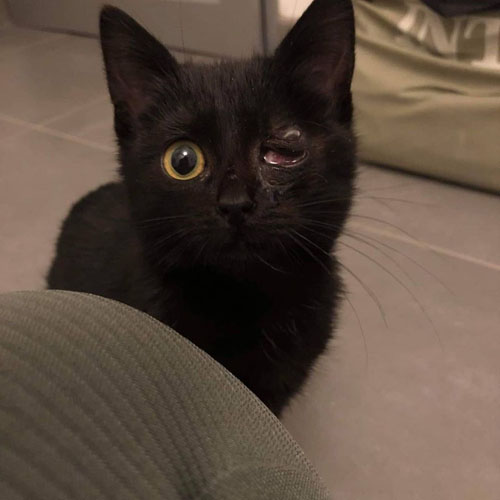 Fortunately, Mélanie's adoption application was approved, allowing her to bring Ivy home a few weeks after seeing her on social media. While it didn't take long for the unique black kitten to adjust to the new environment, soon after she was adopted, her left eye became badly infected.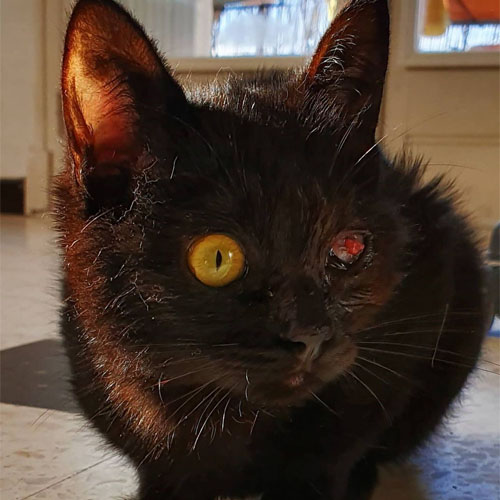 "The vet told me we had to totally remove [her right eye before it also became infected,]" remembers Mélanie, "so we did what was best for her and removed her eye."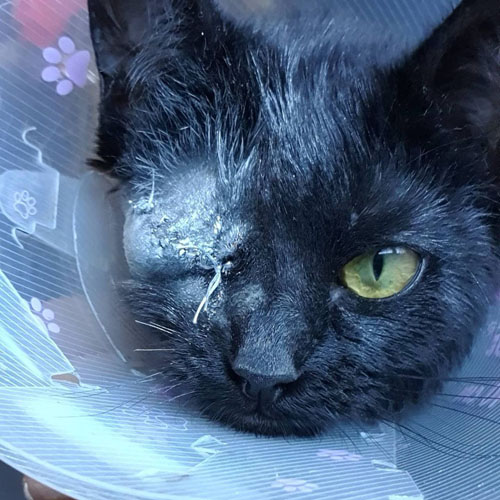 Thankfully, Ivy made a rapid recovery, and she quickly adjusted to life as a one-eyed cat. More than two years later, this sweet girl is doing extremely well, and being partially blind has had little impact on her quality of life. "Ivy grew up with only one eye so it doesn't bother her in her everyday life," explains Mélanie. "She's always been like this so it's pretty normal to her."
View this post on Instagram
In fact, aside from looking a bit different from the average feline, Ivy is a typical two-year-old cat in pretty much every way. Not only does she love to cuddle with her mom every night — and will cry when Mélanie leaves for work — Ivy is extremely curious and playful.  "Ivy loves to look at birds or insects," says Mélanie, and while some people might assume she's not as agile as her two-eyed counterparts, that definitely isn't the case for this energetic girl. "She loves to play hide and seek and run around the house. She also loves to be on shelves in the house!"
Mélanie hopes more people will realize that one-eyed cats are more than capable of having happy, healthy, and active lives, and that they need loving families just as much as any other feline. "Ivy is like any other cat and I think her missing eye adds to her personality!" says Mélanie. "Her difference is what makes her special and I love her even more for that."
View this post on Instagram
When Mélanie saw Ivy's photo in late 2019, she wasn't looking to adopt a one-eyed kitten, but she's so thankful she spotted this special cat when she did. While it's incredibly sad she was the only person to contact the shelter about Ivy, Mélanie is very grateful she was able to adopt this remarkable girl before anyone else did. "I was very scared when she she had the surgery because I thought that I was going to lose her," says Mélanie, but Ivy not only survived, today she is thriving in her forever home. "We do everything together. Ivy means everything."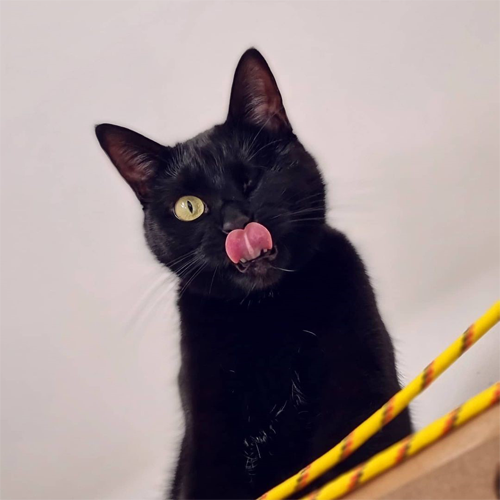 To learn more about this gorgeous cat, you can follow Ivy on Instagram.
View this post on Instagram