After a day off, Sarah returned to her job as an animal care officer at ManxSPCA, a rescue center near her home on the Isle of Man, and was greeted by a stunning white cat who had recently been surrendered to the organization. "He was there due to his elderly owner becoming unable to care for him," explains Sarah.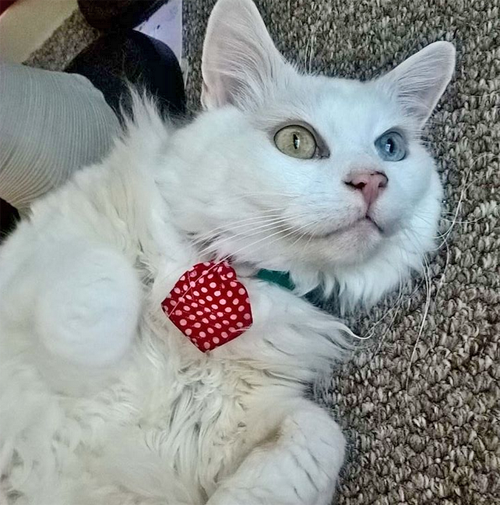 Dubbed Snowy by his former owner, Sarah learned that fluffy cat with the luxurious coat was born on March 6, 2006, making him ten years old when she met him for the first time on December 3, 2016, and he was deaf. "He was born deaf due to his genetics," says Sarah. "It's very common for white cats, especially with two different eye colors."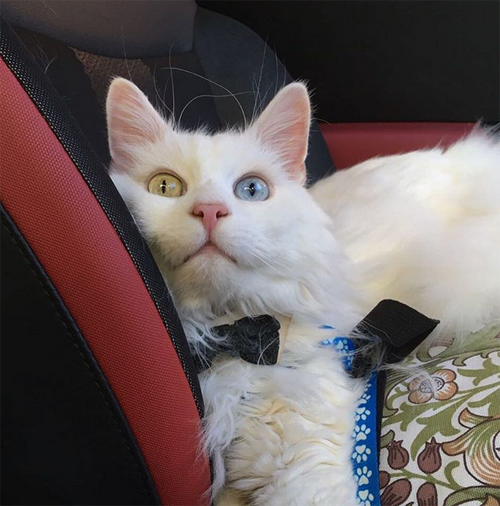 Not only did the senior feline have a unique appearance, he was incredibly friendly and affectionate, causing Sarah to feel an immediate connection with the adorable deaf cat. "I instantly fell in love and adopted him the same day," says Sarah.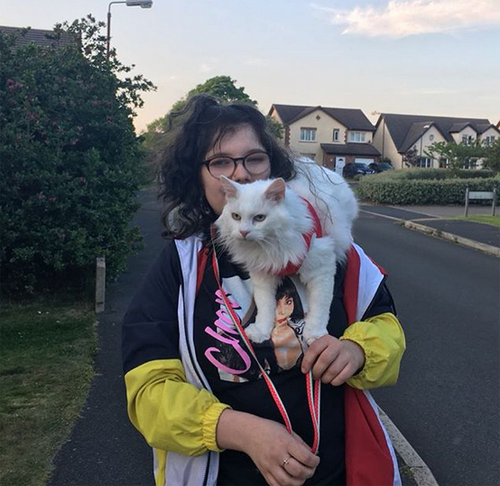 Shortly after Sarah brought the beautiful white cat home to live with her and her roommate Emma, she decided to give him a new name — Hedwig — to go with his new life. "Hedwig's name comes from Harry Potter," explains Sarah. "He is named after Harry's snowy owl which makes sense as Hedwig's old name was Snowy."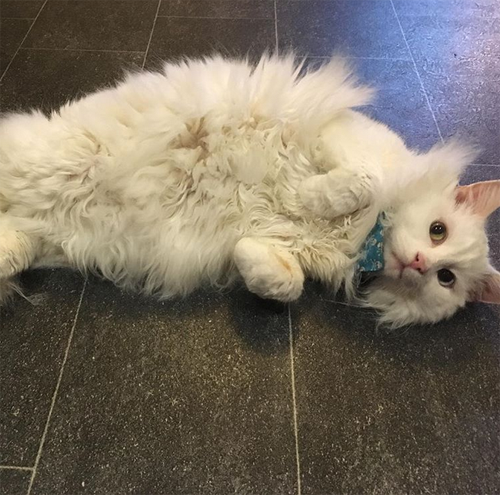 Because Sarah had never had a deaf cat before, she wasn't sure if she would have to make any special accommodations for Hedwig. However, she quickly realized that his lack of hearing doesn't have much of an impact on his to day to day life, although Sarah and Emma learned they have to take a few extra precautions when he accompanies them on nature outings.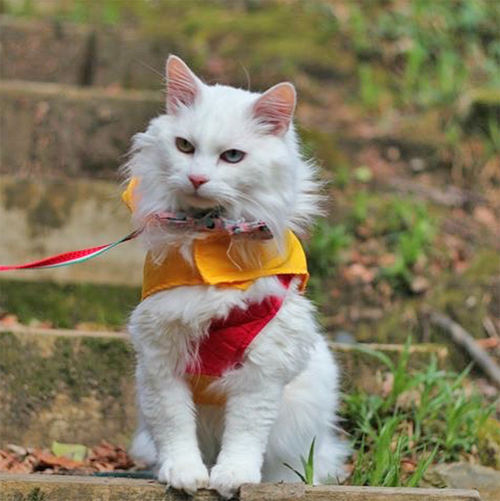 "Hedwig can't hear danger coming, so when we take him on walks we have to make sure he's far away from cars and dogs," explains Sarah. "He loves making friends with dogs but they don't always like him."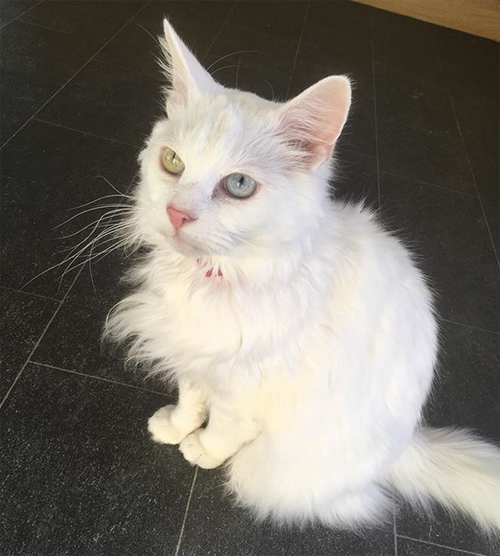 Sarah also discovered that due to Hedwig's deafness, he tends to be a bit more vocal than a typical feline, although she doesn't mind his noisy nature. "He meows loud because he can't hear himself," says Sarah, "but other than that he's just like any other cat."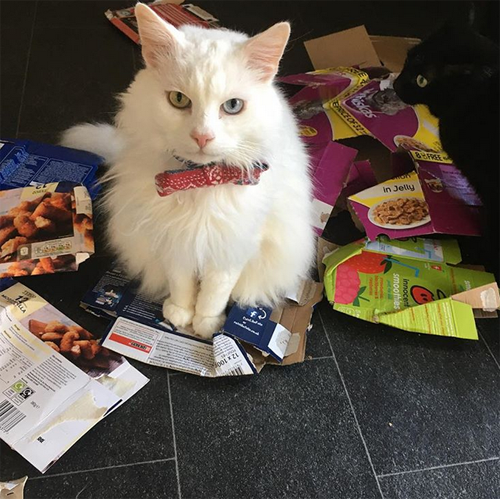 Hedwig — who enjoys sleeping in cardboard boxes, eating turkey, and wrestling with his adoptive feline sister India — isn't all that different from the average cat. However, in addition to befriending dogs, Hedwig likes going for rides in the car, making him a bit unique when compared to the typical feline.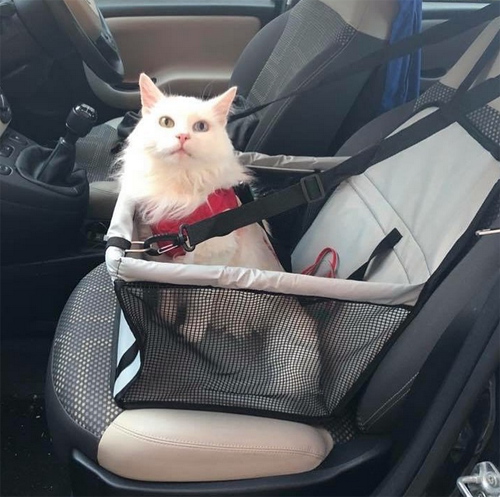 Because Hedwig is incredibly loving and outgoing, his mom decided to get him certified as a therapy cat, allowing this handsome senior kitty to brighten the days of people of all ages.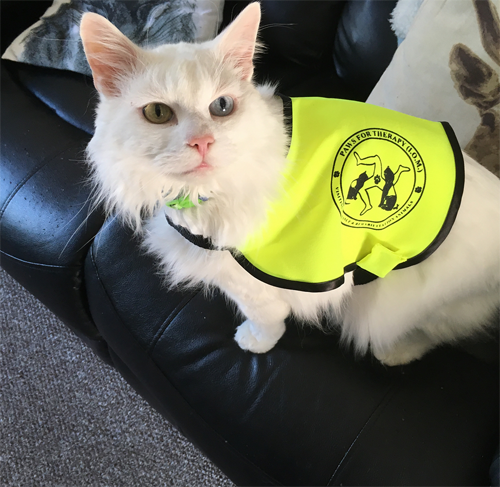 "Hedwig visits the elderly in residential homes and also visits schools and youth clubs for disabled children and teenagers," says Sarah. "He absolutely loves it and can't wait to get in the car for his visits."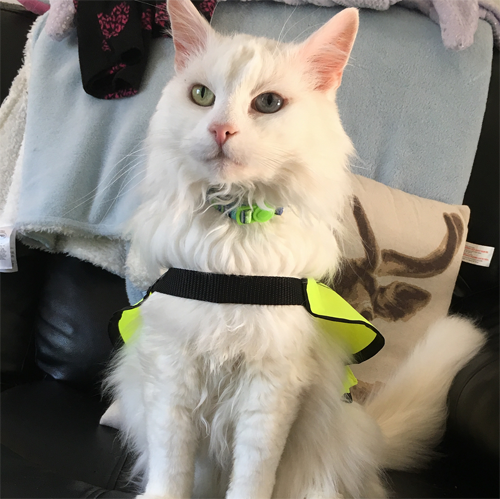 It's been well over a year since Sarah adopted Hedwig after meeting him for the first time shortly before Christmas 2016, and she's so glad she and her roommate Emma opened their home to this truly unique cat who — as far they're concerned — just happens to be deaf. "His deafness didn't affect our decision at all," says Sarah. "We completely fell in love with his personality."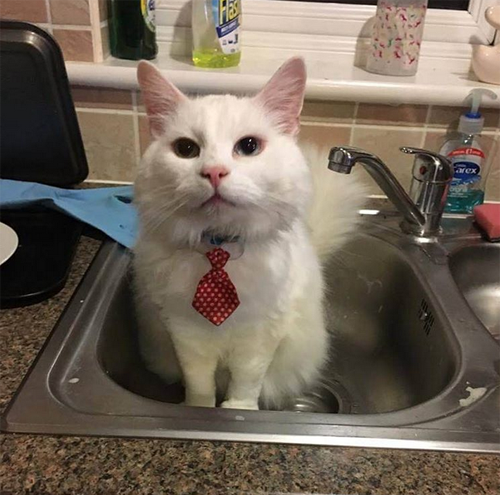 Over the past 18 months, Hedwig — who celebrated his 12th birthday in March 2018 — has proven himself to be a truly special cat, but his deafness has very little to do with what makes this senior boy so unique. "A lot of people assume deaf cats will mean extra work but he is just like any other cat," says Sarah.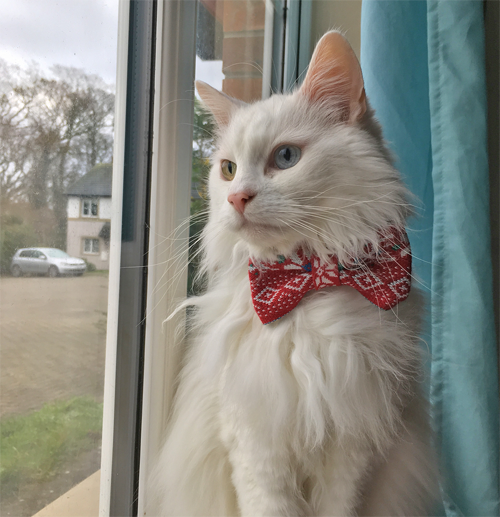 While Hedwig is just as capable as his hearing counterparts, it's impossible to deny that there is something extraordinary about this fluffy cat who loves dogs, car rides, and spreading love and cheer to seniors and children with disabilities.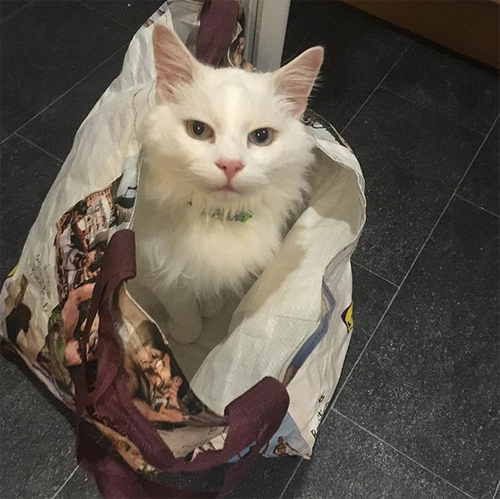 Fortunately, this special cat found a wonderful forever home after his elderly owner was no longer able to care for him, and Sarah and her roommate are so glad they were given the opportunity to share Hedwig's life with him. "Hedwig means everything to us," says Sarah. "We can't imagine life without him; he has brought us so much happiness and laughter."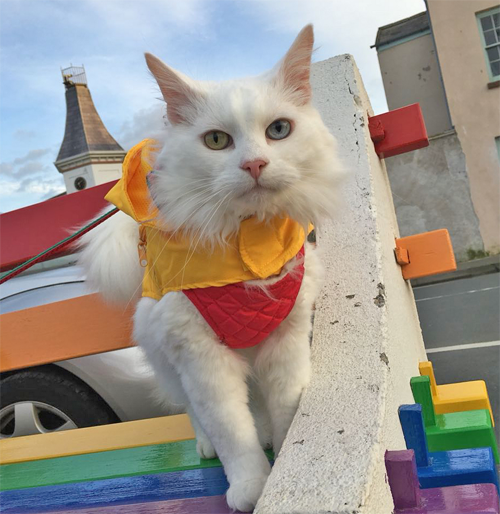 To learn more about this handsome cat, you can follow Hedwig on Instagram.