When Kate and her family decided they wanted to adopt a pet, they were to determined to provide a loving home to an older cat. In September 2017, Kate began searching online for senior felines near her home in Westchester, New York, when a tabby who was born in April 2003 caught her eye. "When I saw Scotty, I instantly knew he was the one," remembers Kate. "I saw the shelter was about 30 minutes away from my house and knew it was meant to be!"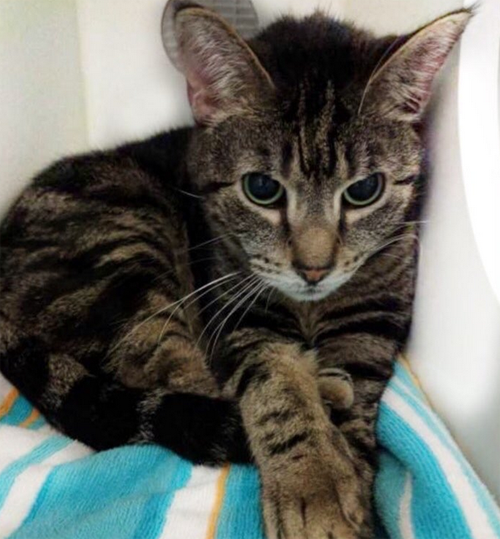 Smitten with Scotty after seeing his photos online, Kate contacted the rescue and arranged for her and her family to meet the then-14-year-old cat in person. At the time, Scotty had been at the shelter for approximately six months, and he had a bit of a reputation among the staff for being difficult.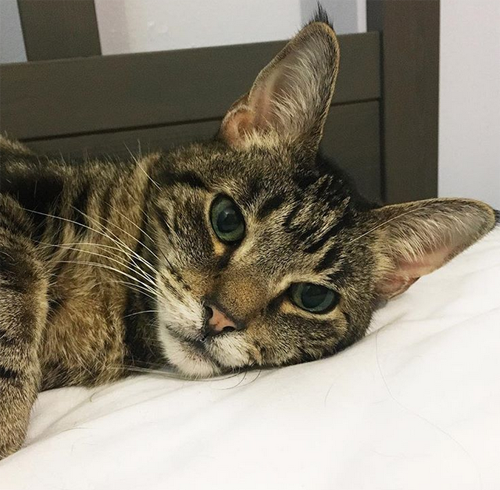 "Before he met us, he was known as the grumpy old cat in the shelter," says Kate, but she and her family were pleasantly surprised when they finally came face to face with Scotty.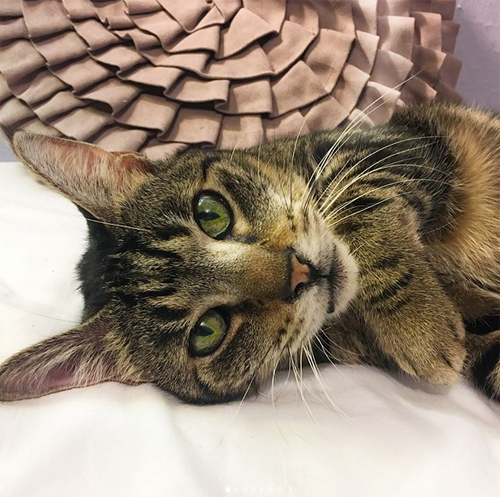 "As soon as we met him in person, he was the sweetest boy ever, tucking his head into our arms and begging for affection," says Kate. Not surprisingly, Kate was taken with the loving and snuggly senior cat, and when she learned how Scotty had ended up at the shelter several months earlier, she knew she had to adopt him. "He was found in a box [outside the shelter] with his ears beyond infected," explains Kate.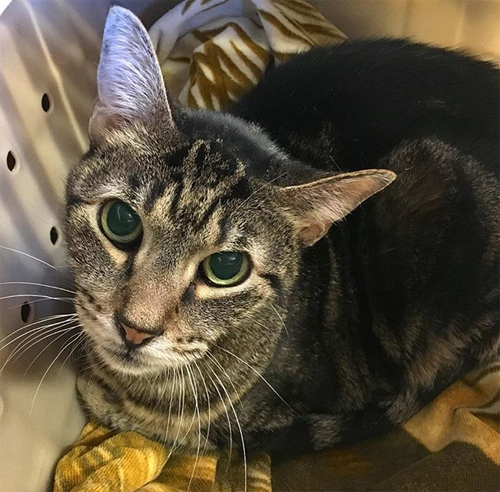 Scotty's was in such poor shape, the staff at the shelter immediately suspected the growths in his ears were cancerous tumors. However, a closer examination revealed that while Scotty's ears were badly infected, the masses of tissue were actually benign polyps, not cancer. "Scotty has many benign polyp tumors in his head which cause his left eye to resemble a cat with Horner's syndrome although he doesn't have Horner's syndrome," explains Kate.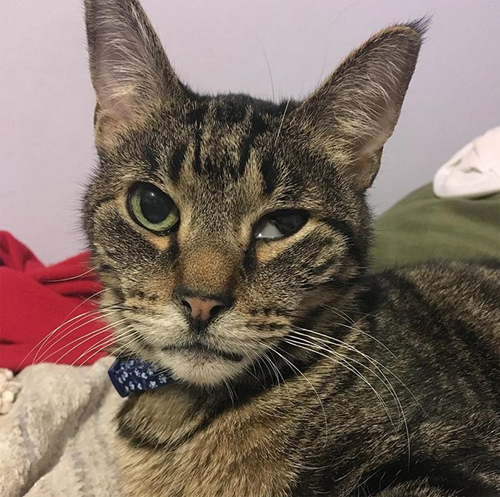 While the staff at the shelter removed some of the polyps, they decided that due to Scotty's age, it was best not to subject him to a more invasive surgery to get rid of them entirely. Convinced that they would be able to give Scotty a happy life after he'd suffered obvious neglect, Kate and her family decided to adopt this senior boy.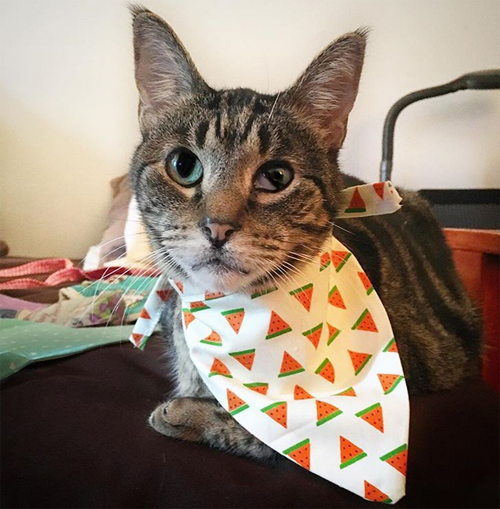 Several months later, this toothless kitty with a wonky eye is loving his life in his new home, and for a 15-year-old cat, Scotty is very active. "Scotty loves bringing his toy mice to us and enjoys going for walks in his stroller!" says Kate. "As soon as I come home from work, he jumps right in! He doesn't mind going for walks on his harness either!"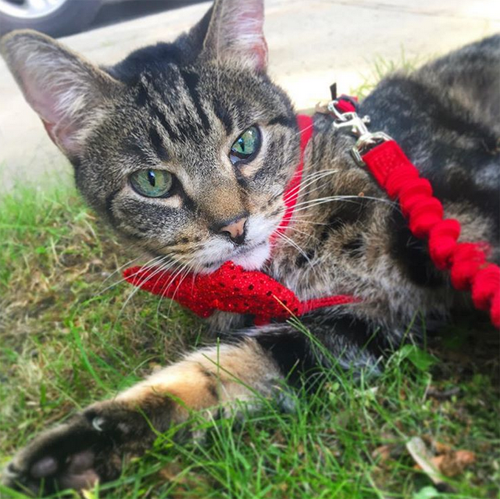 Even though Scotty's wonky eye causes him to look a bit different from a typical cat, it's obvious this senior boy isn't suffering in any way. "People think [his eye] hurts," says Kate, "but it's painless and he's the happiest boy he can be." Currently, the polyps in Scotty's ears aren't causing him any problems, but this adorable tabby's mom admits that she's concerned about what she'll be able to do if they become an issue in the future.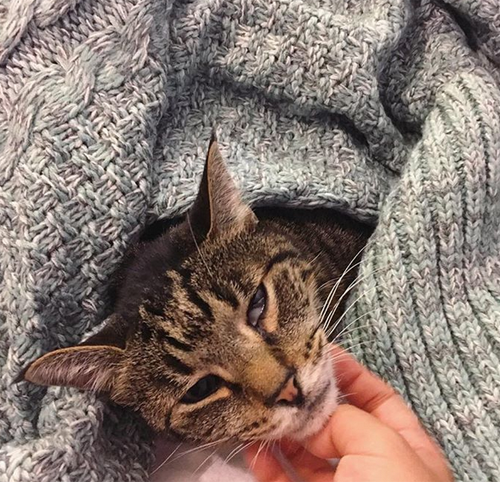 "Surgery isn't an option since it's very risky with him being 15 years old," explains Kate. "We're searching for options, but in the meantime, we just focus on keeping him out of pain and making him the happiest boy he can be to make up for the awful and abusive life he had before us."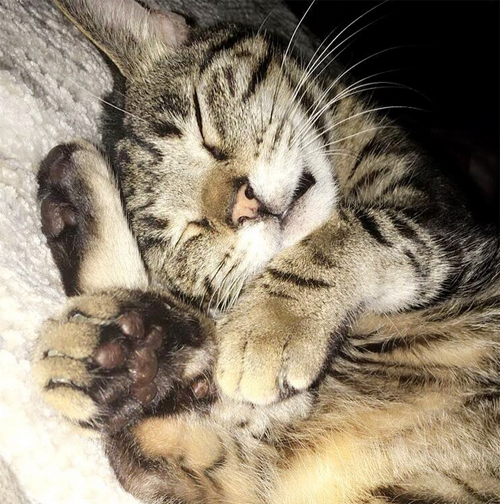 While Kate knows adopting a senior cat, especially one with special needs, isn't right for everyone, she's so thankful she and her family were able to give Scotty a loving home. By sharing Scotty's story, Kate hopes other people will be inspired to adopt older pets, and she's certain the rewards senior cats provide are more than worth any extra effort they might require. "They're the sweetest angels and show it every morning, day, and night," says Kate.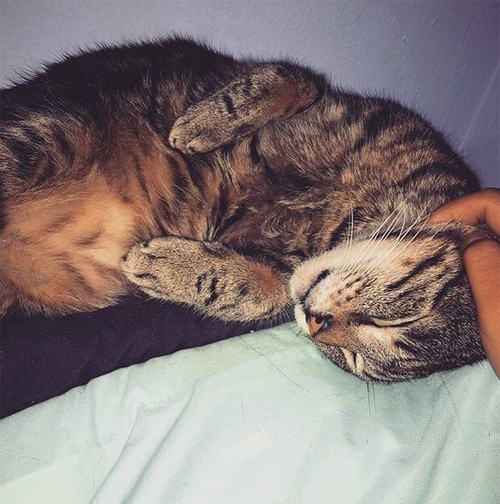 Without a doubt, Scotty has come a long way since he was discarded outside of a shelter more than a year ago, and the change in this senior boy — who was once considered a grumpy old cat — is apparent both in his appearance and his attitude. "Now, Scotty has the largest and most beautiful ears ever!" says Kate, and it's obvious that this 15-year-old feline adores his family just as much as they adore him. "He means the world," says Kate, "and I love him to the moon and back!"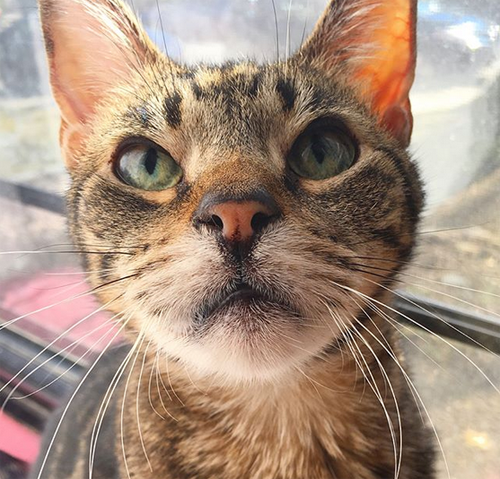 To learn more about this stunning boy, you can follow Scotty on Instagram.