In November 2016, Holly learned about Giselle, a blind dwarf munchkin cat, when some of her friends sent her the link to the Instagram profile MSPCA Boston created for the tiny special needs kitty who had been surrendered to the shelter in October 2016. "The first time I saw [Giselle's Instagram profile]," remembers Holly, "my heart just cried for her."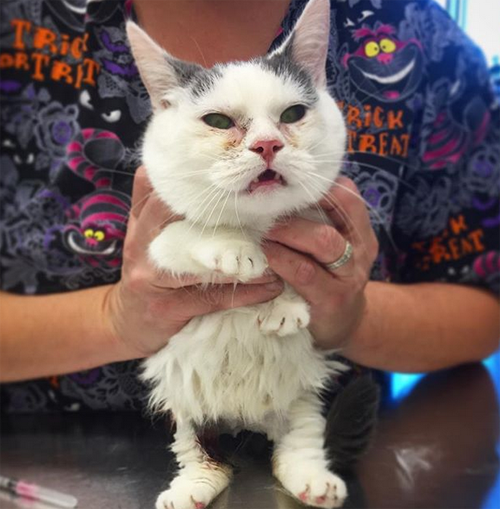 Holly, who lives just 20 minutes from the shelter where Giselle had been surrendered by her owner, had lots of experience taking care of elderly felines and cats with special needs. In fact, her beloved cat Lucy, who was 14 or 15 years old when Holly adopted her, had passed away a few months earlier, leaving a large void that Holly thought a tiny kitty like Giselle might be able to fill.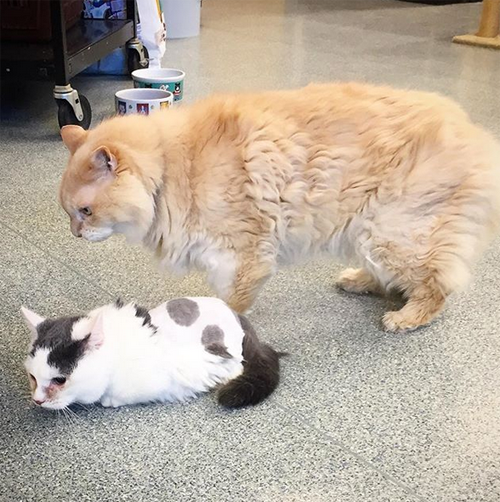 However, Holly didn't want to rush into a decision, and she spent a sleepless night thinking about whether or not she would be able to care for the tiny blind cat who had a host of health issues. "All of her joints and legs and spine were not formed correctly," explains Holly, which causes Giselle considerable discomfort. "Her rib cage is actually too small for her body," says Holly, "but her heart and lungs are normal cat size, so they are crushed and twisted inside of her."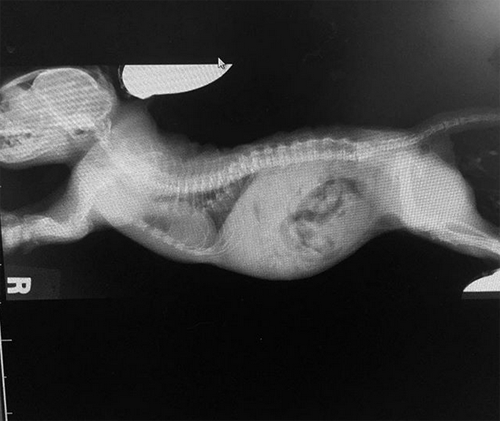 In fact, Giselle, who's exact date of birth is unknown, is approximately three years old, and yet she weighs just three pounds, and her legs are just a couple inches long. After speaking with some of her clients about Giselle, Holly determined she had the time, money, and experience required to take care of the little munchkin cat, so she went to MSPCA Boston and filled out an adoption application. Holly — with her experience fostering and adopting elderly cats and special needs felines — must have stood out from the other applicants, because MSPCA Boston arranged for her to meet Giselle in her foster home.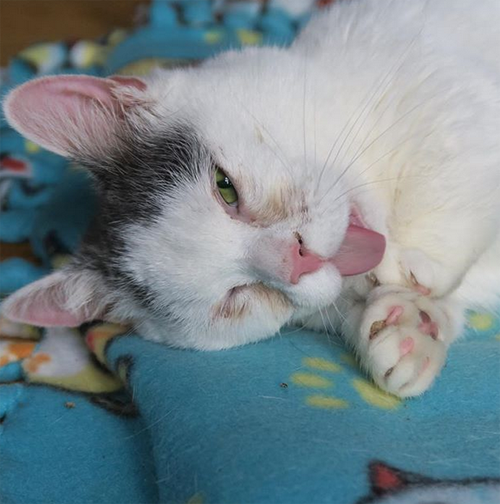 "She was in bad shape medically," says Holly, "in and out of the emergency animal hospital and on a lot of medication to keep her comfortable." Within minutes of meeting Giselle for the first time, Holly and Giselle's foster mom had to rush the special needs munchkin cat to the vet. While this experience may have discouraged other people from taking on the responsibility of caring for Giselle, Holly still wanted to open up her home to the tiny cat, officially adopting her on November 9, 2016.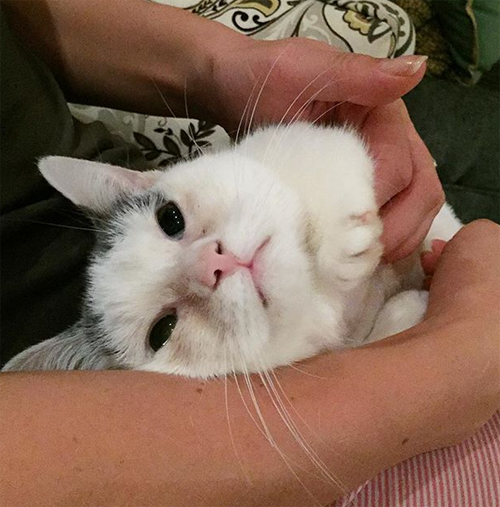 Less than 24 hours after Holly brought Giselle home, she had to take her to the emergency vet, but Holly's commitment to Giselle never wavered. "She is such a special little kitty," says Holly, "and she deserved a chance at having a good life and getting the care she needed."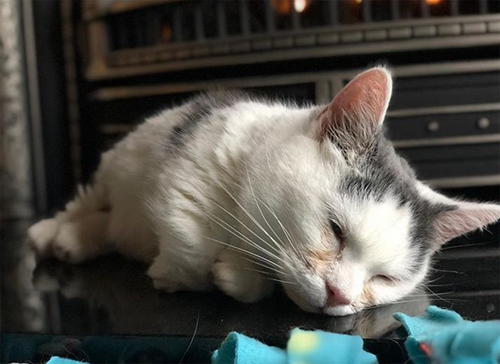 In addition to issues with her legs, spine, neck, heart, and lungs, Giselle was born with an oversized colon that made it difficult for her to defecate properly, a life-threatening problem. Consequently, this tiny cat had surgery in February 2017 to remove 70% of her colon, a procedure that solved Giselle's issue with going to the bathroom and significantly reduced the amount of medication she needs to take.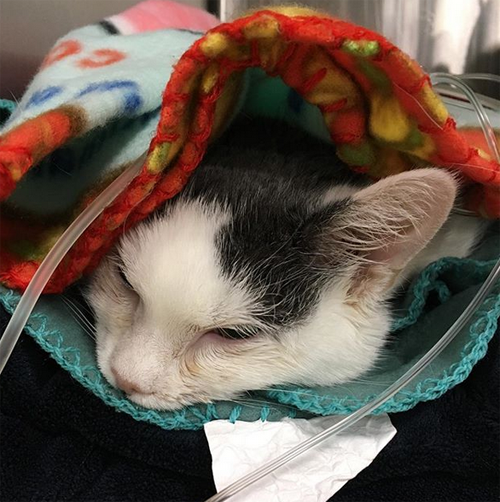 While some people might expect Giselle's blindness to be a major problem, Holly says the tiny cat's lack of sight isn't much of an issue at all.  "We believe that she was either born blind," explains Holly, "or it was caused by her lack of proper care for the first two years of her life. Either way, she's not bothered by it!"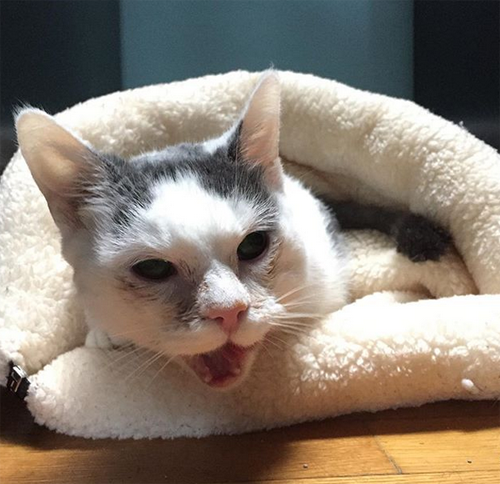 In fact, Holly says Giselle's blindness is actually the least challenging of her many health problems. In order to cope with Giselle's lack of vision, Holly makes sure not to leave stuff lying around on the floor, and she doesn't rearrange the furniture if she can avoid it. Otherwise, Giselle has no trouble getting around the house — relying on her senses of smell, touch, and sound — nor does she have any difficulty finding her bed, litter box, toys, or food and water. "Blind cats are amazing to watch because you can actually forget they are blind!" says Holly. "The love and trust you receive in return is something that is indescribable."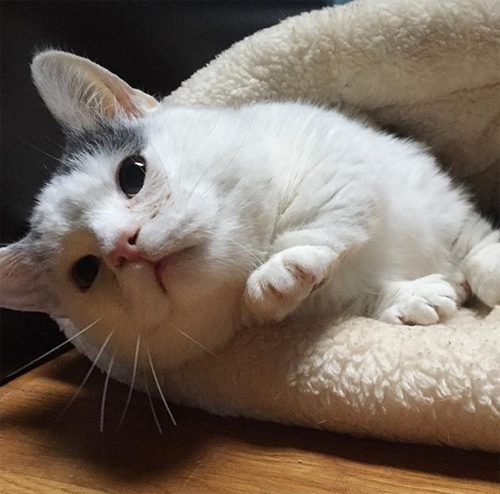 While Giselle can't see, and she has more than her fair share of health issues, Holly insists she's not that different from other felines. "Break out one of her crinkly toys or her favorite lobster toy," says Holly, "and she will play like any other three-year-old cat will." Giselle also loves to sit by the fireplace, enjoying the warmth of the fire, and she enjoys chasing after her brother Jack, a ginger cat who is at least three times her size.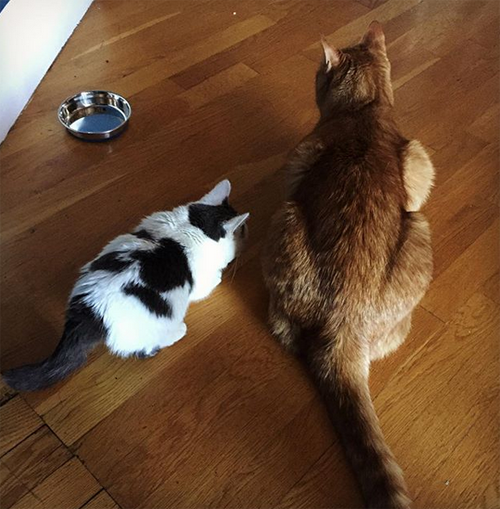 "He is so good with her," Holly says, "and watching a huge cat run away from a tiny cat is hilarious." However, unlike many of her kitty counterparts, Giselle is pretty unusual because one of her favorite activities is cuddling up with her mom for belly rubs.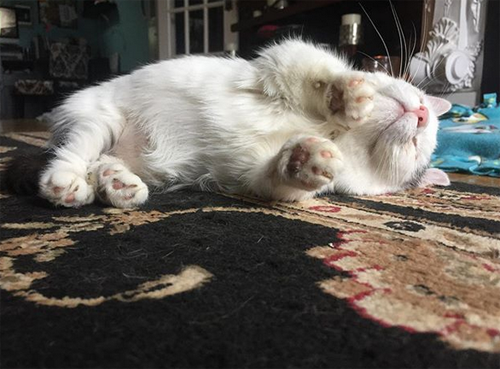 It's been more than a year since Holly adopted Giselle — her "potato cat" — from MSPCA Boston, and this tiny munchkin kitty is doing better than ever. "Watching her struggle with her health a year ago," says Holly, "I never thought I would see her with the level of energy and playfulness that she has currently."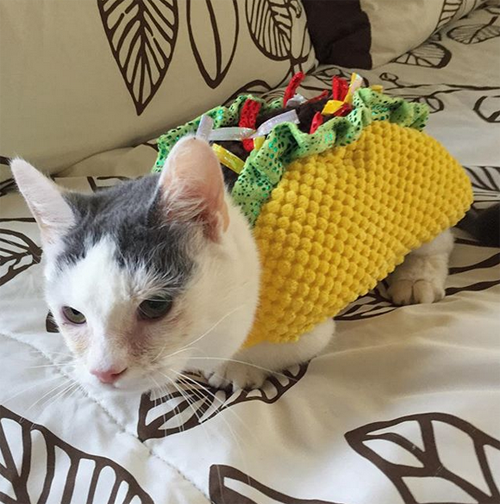 While Holly credits the staff at MSPCA Boston, as well as several doctors and medical specialists, with the improvement in Giselle's health, the love this special needs kitty has received from her adoptive mom over the past year has undoubtedly helped her thrive. "I know she has learned to trust me," says Holly, "and that makes me so happy. She really is such a wonderful little potato of a cat."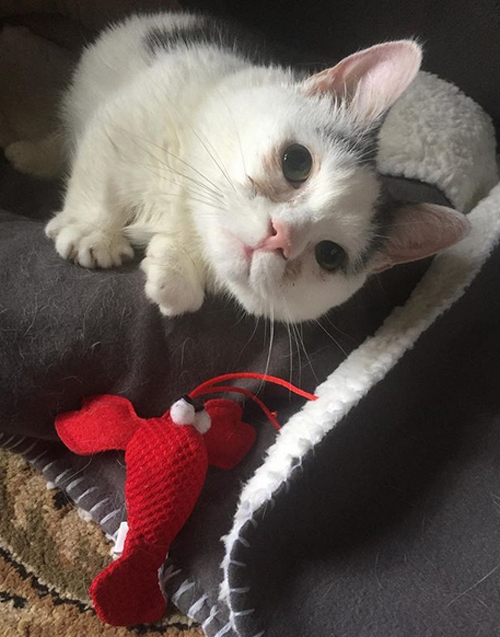 To learn more about this adorable cat, you can follow Giselle on Instagram.