When Emma Jackson saw Maple, a young tortoiseshell cat with special needs, on Petfinder in the spring of 2009, she had no idea what cerebellar hypoplasia was, but she knew she had to meet the tortie with big green eyes and a stunning orange and black coat. Emma contacted K9Kastle — the animal charity in New York City that rescued Maple a year earlier after she ended up at animal control as a kitten — and set up a meet and greet.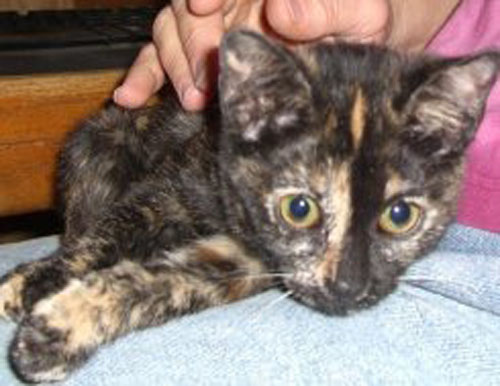 During the meeting, Emma learned more about cerebellar hypoplasia (CH), a non-progressive neurological condition that causes issues with balance and coordination. Emma also discovered the tiny cat she was interested in adopting was full of tortitude when Maple spent most of her time ignoring her potential adoptive mother — "She seemed to have her own plan about life," Emma remembers —  only to eventually fall into Emma's lap and refuse to get up again.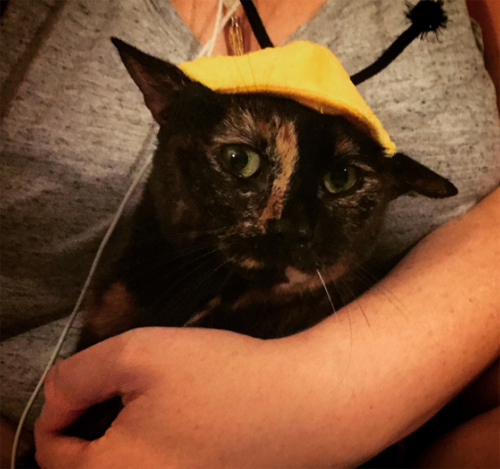 Emma was in love with the sassy and sweet tortie, and after bringing Maple home, the pair formed a strong bond. "She was tiny and scream-y and adorable," Emma remembers. "We would sleep together at night, me curled around her like the big shrimp."
Over time, Emma learned more about CH and the unique challenges it posed, experimenting with different types of food and water bowls until she found a solution that worked for Maple. Emma also tried a number of litter boxes before eventually settling on pee pads, which she says works well for both her and Maple. "Picking up a pee pad and tossing it isn't any harder than scooping the litter box," Emma explains.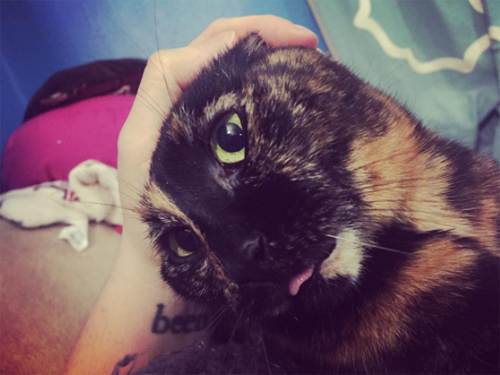 Approximately six months after she adopted Maple, Emma decided to find another cat to keep her tortie girl company. "I knew I wanted another CH cat," Emma recalls, "because I was afraid a regular cat would hurt Maple." Once again, Emma contacted K9Kastle, and she met with several different kitties, including Kona, a tortoiseshell cat who — like Maple — had cerebellar hypoplasia.
"She climbed into my lap," Emma remembers, "and hissed at the other cats to stay away."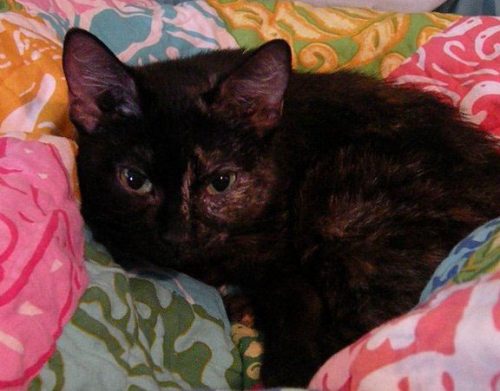 While Kona and Maple had a lot in common — being rescue torties, having CH, and being unusually small — they didn't get along right away. "The first night Kona was in the house, Maple wouldn't even let me pet her since I smelled like Kona," Emma says. "I sat on the floor weeping."
However, Emma was patient and dedicated to making the situation work, and Kona and Maple eventually became more tolerant of one another. Still, eight years later, Emma says Kona and Maple aren't friends, but their feelings for one another haven't stopped either of them from enjoying their lives.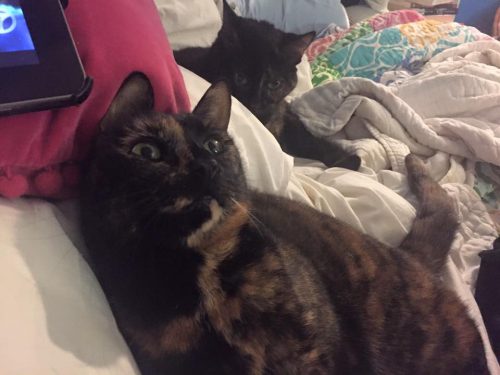 Despite their many similarities, Kona and Maple are different from each other in lots of ways. While neither of the girls have the balance and coordination required to be able to jump, Kona can climb — "I think she started doing it to get away from Maple," Emma explains — and she's happy to use a litter box. "Kona is more independent," says Emma, "but she also loves cuddles."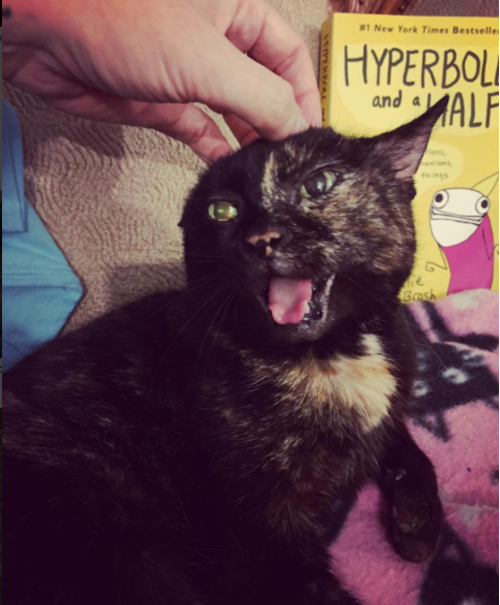 Conversely, Maple enjoys spending supervised time outside with her mom, while Kona hates going outdoors. Also, Kona likes hanging out in a cat castle or a cardboard box, while Maple prefers cuddling up in bed with her mom. "Maple is either a love bug or a shrieking banshee," explains Emma. "The girls have such different personalities."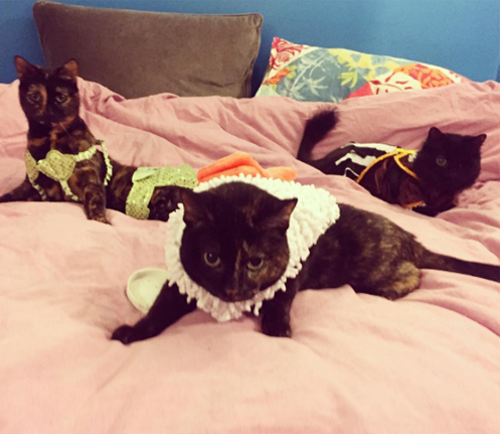 Kona and Maple's spunky dispositions and unique approaches to life have inspired Emma in different ways. "I love that Maple is not afraid to ask for what she wants," Emma says, providing her with motivation to purse her dreams. When she has a bit of difficulty achieving her goals, Emma only has to look to her other wobbly cat for encouragement. "Kona's determination is inspiring. I love how she welcomes people and makes new friends," says Emma. "She is loving and not afraid."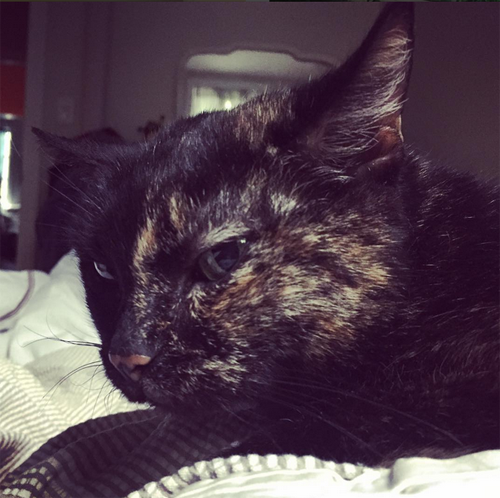 Nearly 10 years ago when she first saw Maple on Petfinder, Emma knew very little about caring for a cat with special needs, and almost a decade later, she doesn't think CH kitties are all that different from other felines. "They are just like any other cat," Emma explains. "They don't see themselves as disabled."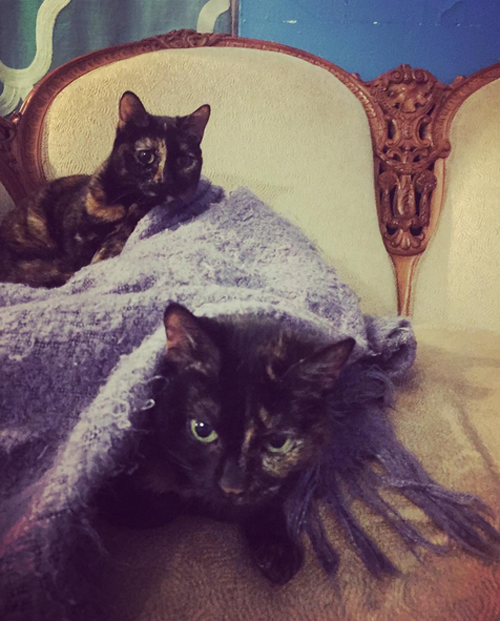 In fact, of all the challenges Emma has faced with Kona and Maple, few of them have been related to cerebellar hypoplasia. "CH cats are not a burden; they are not in pain," says Emma, "and they can live full, happy lives. They deserve that chance."
To learn more about Kona and Maple, you can follow them on Instagram.