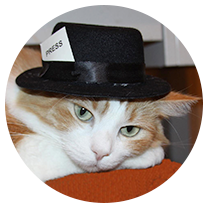 This article was written by our friend Katniss, Cat Reporter. If you love cats, you'll love her website, especially her cat-to-cat interviews!
Sylvie and Jules, Lovable Cat Twins!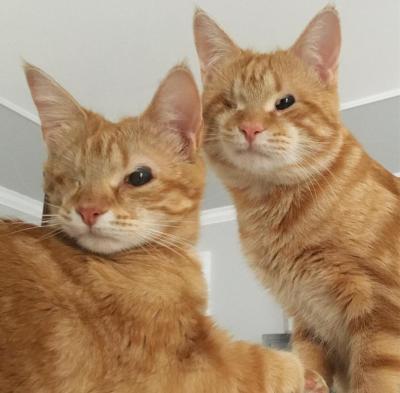 Lookalike cats Sylvie and Jules are so bonded with each other that they've been dubbed "The Love Bugs." I had a chance to sit down with them for a cat-to-cat-to-cat interview.
KATNISS: On your Instagram page, almost every photo is of you two cuddling with each other. Is it true you are insepurrable?
SYLVIE: Oh, no. We're very independent. We have diffurent purssonalities. I'm more outgoing and furiendly —
JULES: While I'm meowr of an observer.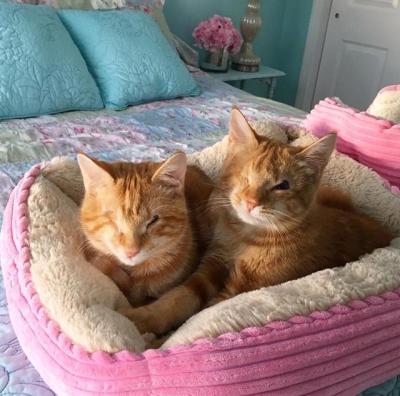 SYLVIE: We spend a lot of time apurrt but —
JULES: — then we start looking fur each other —
SYLVIE: — like if I go into a room —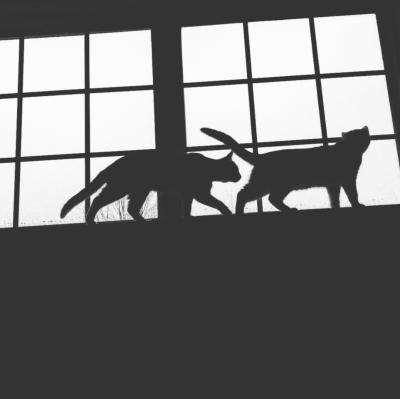 JULES: — I follow. And if I go somewhere to rest —
SYLVIE: — I go rest with him.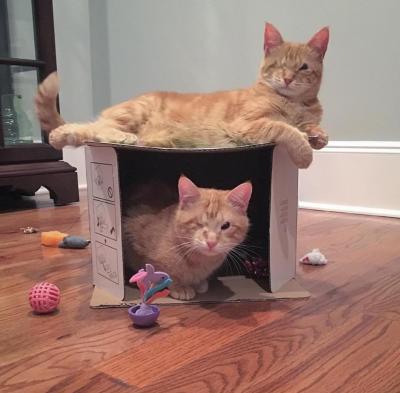 KATNISS: You two were found in the engine of an old car in the back of a car dealership. You were both starving, emaciated, sick, frightened and had ear mites and infected eyes. How pawful.
SYLVIE: Yes, but we were found, which is what's most impurrtant. Found —
JULES: — and taken to a foster home with famed advo-cat —
SYLVIE/JULES: Beth Stern.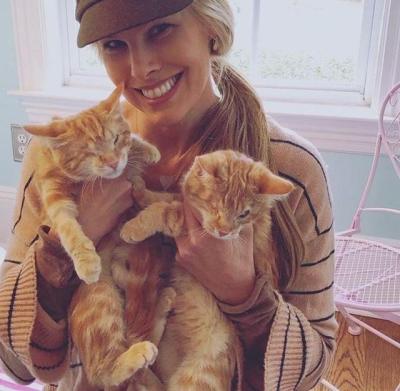 KATNISS: So furtunate.
SYLVIE: No kitten.
JULES: We got lucky fur sure. We were treated fur eyelid agenesis —
SYLVIE: — we each had to have an eye removed and our eyelashes were furrozen and removed so they wouldn't bother us anymore.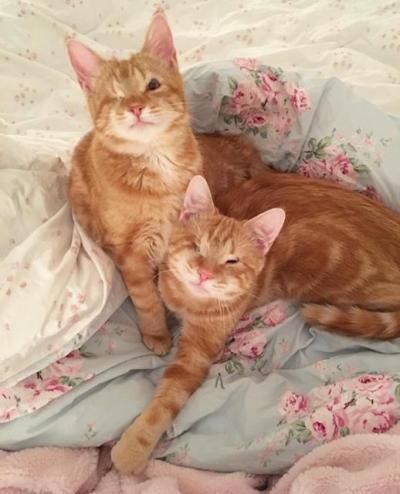 KATNISS: Then after a few months, you were ready for a furever home. Tell me about your life now.
SYLVIE: Our Meowmy is the best! She gives us boxes —
JULES: We love boxes! And beds —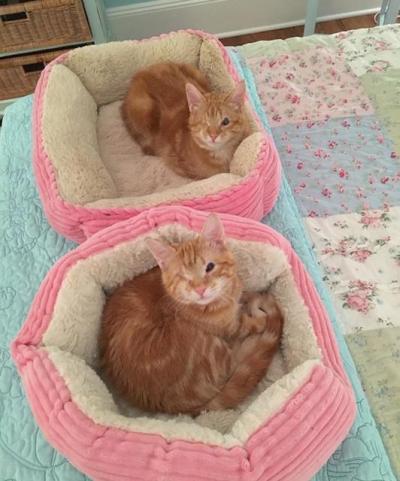 SYLVIE: We love beds! And lot of toys —
JULES: — and catnip.
KATNISS: So, you've got all these toys and beds and catnip. So what's your favfurite thing to do?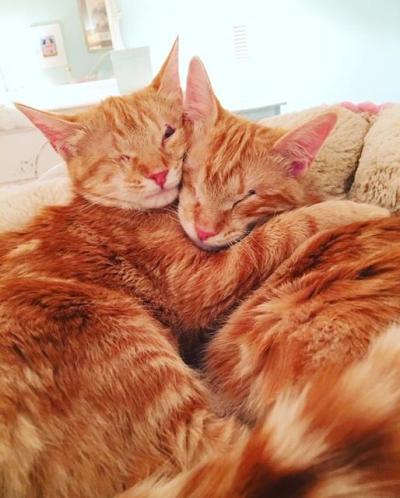 SYLVIE/JULES: Snuggle with each other. >PURR<
__________________

Follow Sylvie and Jules on Instagram.