We love black cats here at Meow As Fluff, so when we saw Gavin on Instagram, we were immediately drawn to his gorgeous face and his beautiful black coat! When we learned he still hadn't found his forever home more than a year after he was rescued from a warehouse in Florida, we knew we had to do something to try to find Gavin the perfect family. We reached out to Danielle, Gavin's foster mom and president of With Grace Rescue, and not only did we find out how he ended up with her in Las Vegas in June 2021, but we also learned about the remarkable transformation he has made since the day he was rescued in May 2021!
When Gavin was found, he was already paralyzed and his penis was badly infected, but thanks to Danielle — as well as his initial rescuer, Jen from Kitten Nuggets — this handsome house panther got the help he needed. Today, Gavin is thriving, and while he needs to have his bladder expressed three times a day, he's really not all that different from a typical cat. However, as we learned from Danielle, there are still lots of misconceptions about paralyzed and incontinent cats, which may be one of the reasons why Gavin is still available for adoption more than a year after he was rescued.
We also found out what Gavin is looking for in a forever home, and Danielle told us about some of his favorite activities, including a few that might surprise you! We hope you'll enjoy learning about this remarkable boy as much as we did, and we encourage you to share this article in hopes of finding the perfect adopter for Gavin.
Meow As Fluff: How did you end up meeting Gavin?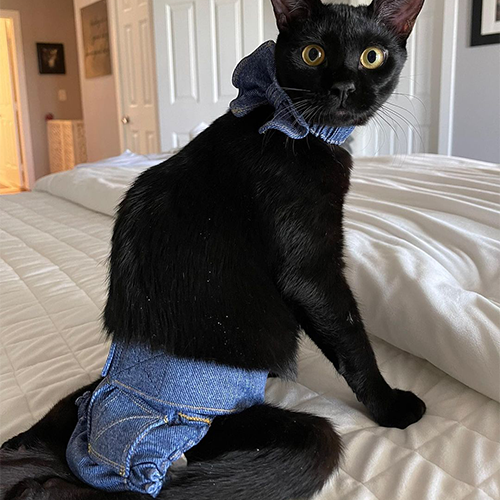 Danielle: One of my rescue partners, Jennifer from Kitten Nuggets in Florida, alerted me to Gavin and his situation. We worked together and she got him until we could arrange transportation to me in Las Vegas (it took a couple of weeks). He had a horrible infection on his penis from his bladder leaking and dragging in the dirt and urine. She started treatment and got Gavi on the road to recovery! So, it really was a joint effort to save this little guy!
View this post on Instagram
MAF: What's the story behind his name?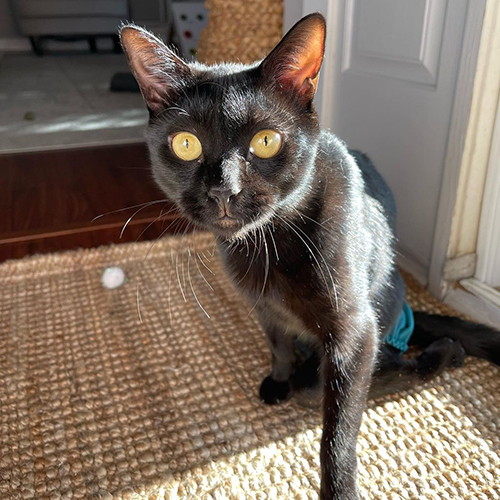 D: Every year, we do a big fundraiser and sponsor a spay and neuter clinic in Mexico. This has become a passion of ours, and to date, we've sponsored over 500 cats! Anyway, when I found out about him, we were in Mexico and the place we were staying was called Las Gaviotas. I wanted his name to reflect our time there, so we decided on Gavin, and we often call him Gavi.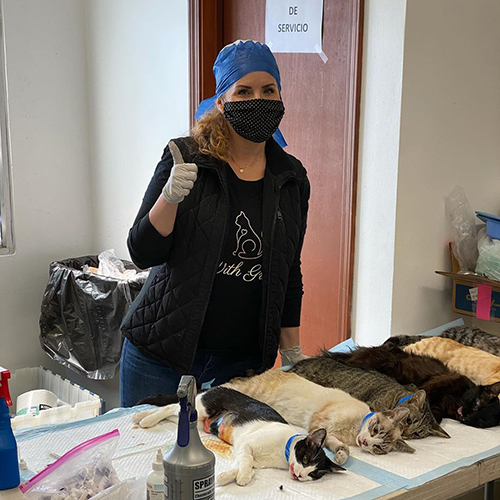 MAF: What made you decide to rescue a cat with special needs?
View this post on Instagram
D: Gavin isn't my first special needs foster. In fact, our rescue is named after a sweet little baby, Grace, who we fostered years ago. My heart is always rooting for the underdog and I think it's important to show people that just because a kitty is different, they deserve to have the best life possible.
View this post on Instagram
MAF: What are some of the biggest misconceptions you think people have about cats with paralysis?
D: I think some of the misconceptions people have with cats with paralysis is that they're hard to take care of. While every cat and situation is different, it's just figuring out their routine that makes all of the difference. Once you get them on a routine, it's very easy.
View this post on Instagram
MAF: What are some of the challenges — if any — you and Gavin have faced as a result of his special needs?
D: Gavin and I don't face any challenges because of his paralysis. He is really just a normal cat, he just has a different routine.
View this post on Instagram
MAF: What do you wish more people knew about cats with special needs, particularly cats with paralysis?
D: I wish more people knew that cats with special needs can be very easy to take care of. It's all about a routine. Once you figure out what that is, easy peasy! I think people assume it's time-consuming and expensive to care for a cat like Gavin, but it honestly couldn't be farther from the truth.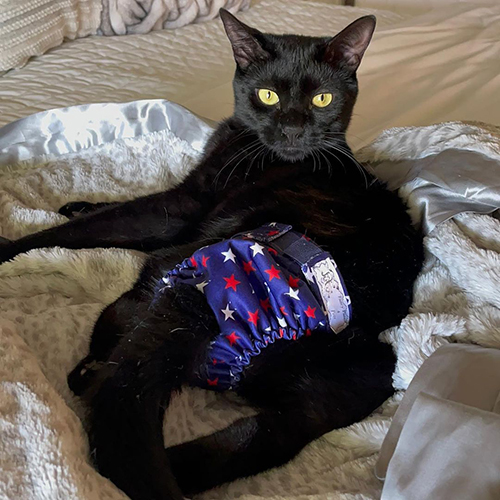 Gavin needs his bladder expressed three times a day, which takes just a minute, and he wears a diaper just to protect him from the floor because of the way he drags (he's never leaked urine because he's on a schedule that works for him). His diapers are very affordable and washable, so after the initial cost of the diaper, there are no different costs than a regular cat (and no litter!).
View this post on Instagram
MAF: What are some of Gavin's favorite activities?
D: Gavin LOVES playing with other cats! He definitely thrives off the energy of having buddies. He absolutely loves playing with toys, and some of his favorites are wand toys, tower toys, and sparkle pom poms. I think meal time might be one of his favorite activities too!
View this post on Instagram

MAF: Can you describe his ideal adopter?
D: His ideal adopter needs to be someone who just accepts Gavi, the way he is. Someone who loves cats and wants a little mini house panther zooming (and he zooms!) around their house. He needs cat siblings, so someone who has friendly cats who'd love a brother.
View this post on Instagram
MAF: What does he mean to you?
D: Gavin means the world to my husband and me. He's such a fun, funny, playful little guy who just gets along well with everyone. Even with our resident grumpy lady who likes to bite his ears, he just lets her do it. He's so sweet by nature and he just makes us laugh constantly. If we were looking to adopt, we'd adopt him in a heartbeat. But, we know his forever family is out there, they just haven't found us yet. Until that time comes, we are his family.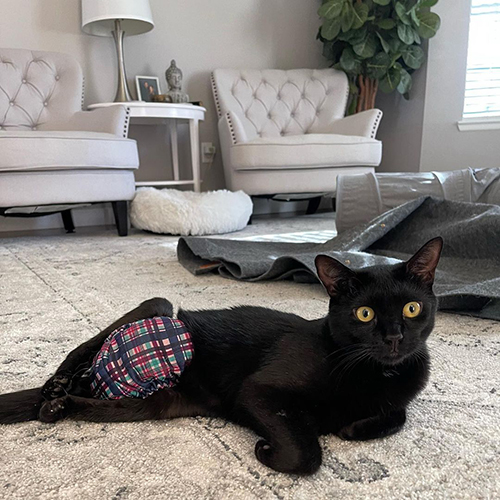 To learn more about this adorable cat, you can follow With Grace Rescue on Instagram.
If you're interested in adopting Gavin, you can complete an adoption application.