If you're looking for the purrfect gift for your favorite cat lady, then you have to check out our holiday gift guide! We've chosen our favorite presents for women who love kitties, making it easy for you to find items for every cat mom on your list!
Everything's Fine with Kittens and Wine Gold Kitten Quality Wine Stopper and Glass Set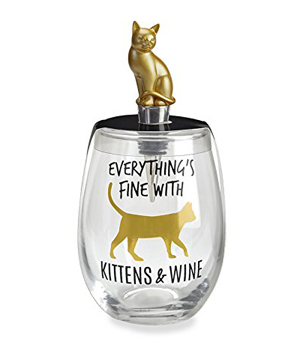 This set includes a stemless wine glass and a stopper made from resin and stainless steel, and it features cute gold cats.
Pilgrim Imports Book Kitty Fair Trade Ornament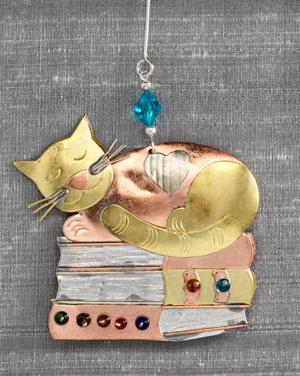 This Christmas ornament features a cute cat sleeping on a stack of books, and it's made from plated nickel, copper, and brass.
PUDDING CABIN Mini Kitty Cat Ring Dish Jewelry Trinket Tray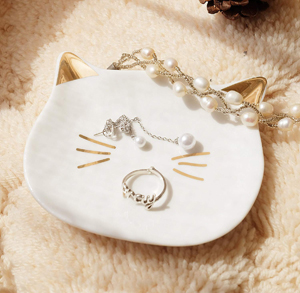 This cute trinket tray is shaped like a cat's face, and it's made from glazed ceramic and has gold accents.
Studio Oh! Hardcover Medium Spiral Notebook, Mia Charro Fancy Cat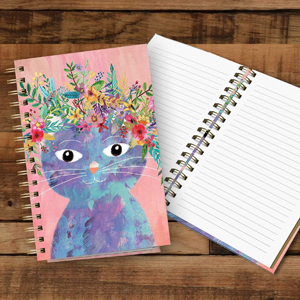 This hardcover spiral notebook features a beautiful cat wearing a flower crown, and it has 160 lined pages.
Dynomighty Mighty Wallet Tyvek Bifold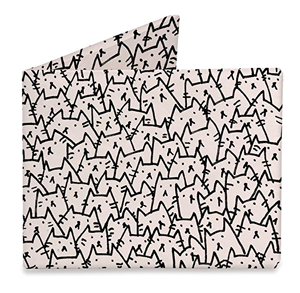 This bifold wallet features a cute black and white cat pattern, and it's made from water and tear-resistant microfiber material.
LOL Enamel Pin – Want To Be A Stay At Home Cat Mom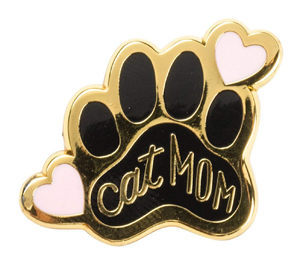 This gorgeous enamel pin is perfect for cat moms, and it features a gold, pink, and black color scheme.
HOYOFO Portable Cosmetic Bags Set of 3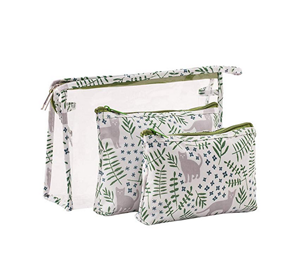 This set includes three cosmetic bags with a beautiful grey, white, and green cat pattern, making it great for cat ladies who love to travel.
Wrapables Silk Like Satin Polyester Large Scarf Wrap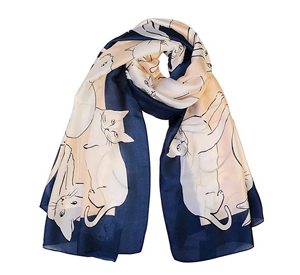 This silky scarf features a stunning cat pattern, and it's made from lightweight, breathable fabric.
7 Pack Strong Cute 3D Fun Cat Refrigerator Magnets with Tail Hook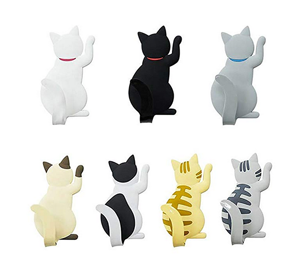 This set comes with seven adorable cat magnets with tails that double as hooks, making it a fun gift for cat moms.
Cat Page-A-Day Gallery Calendar 2019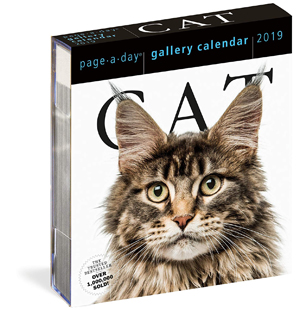 This 2019 desk calendar features a different cute cat for every day of the year, making it a present that lasts all year long.
Best Cat Lover Coffee Lover Coffee Gift Set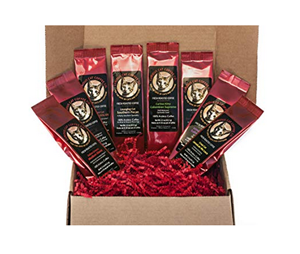 This set comes with eight different packages of coffee, each with a fun feline name, making it perfect for ladies who loves cats and coffee.
Waldbaur Chocolate Cat Tongues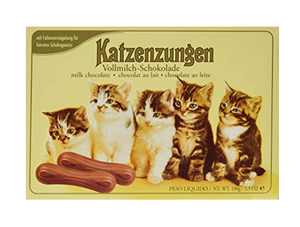 These chocolates are shaped like cat tongues, making them a unique sweet treat for your favorite cat lover.
Love Cat Large Canvas Tote Bag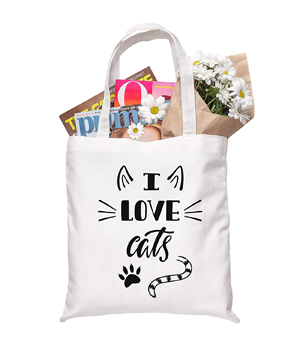 This canvas tote bag is made from heavy duty material, and it has a classic black and white cat design.
Cats on Catnip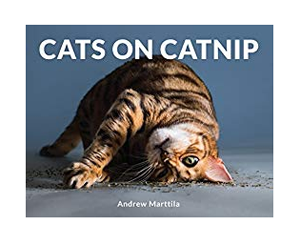 This cute book features cats who are high on catnip, making it a fun gift for women who adore kitties.
Lux Accessories Two Tone Cat Ear Kitten BFF Best Friends Charm Necklace Set of 2
This set includes two cat face necklaces with gold and silver finishes, and they come on 18″ chains.
Thermee Micro Flannel THRSSQNCAT Sheet Set, Cat Party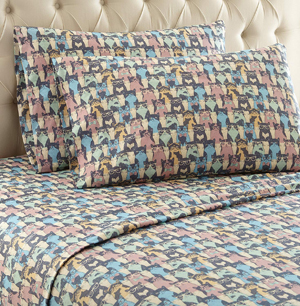 This micro flannel sheet set features a colorful cat pattern, and it comes in a range of sizes.
JJMax Women's Cute Kitty Cat Paws Socks with Paw Prints on Toes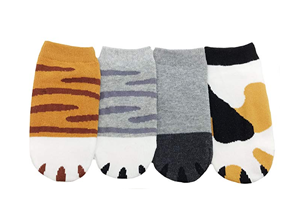 This set comes with four different pairs of cat socks, making it the purrfect gift for your favorite cat lady.
Innerest 3D Cat Night Light Table Lamp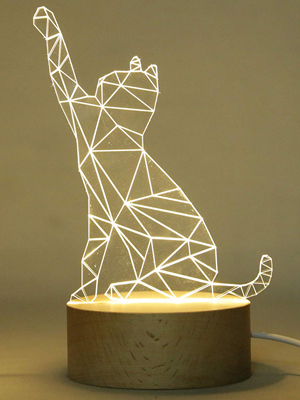 This fun lamp features an acrylic 3D cat on a hardwood base, making it a cool addition to any room.
DIDK Women's Kitty Cat Print Tee and Polka Dot Pants Pajama Set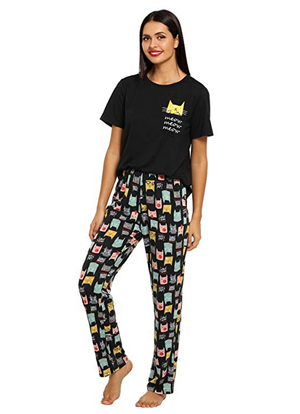 This set of women's pajamas features pants with colorful cats on a black background and a black t-shirt with a cute kitty peeking out of the pocket.
Cat Teapot by Home-Style Kitchen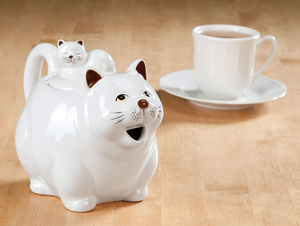 This white teapot looks like two incredibly cute cats, and it's made from hand-painted ceramic.
PINJIA Womens Cute Letter Printed Cat Sweatshirt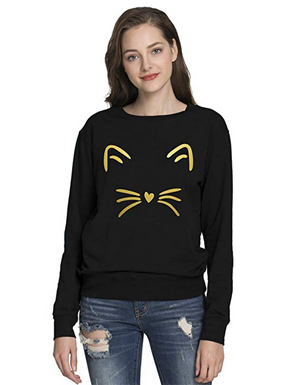 This black sweatshirt features a gold cat face, and it comes in a wide range of sizes.
Sass & Belle Nori Cat Kawaii Friends Coin Purse and Glasses Case Set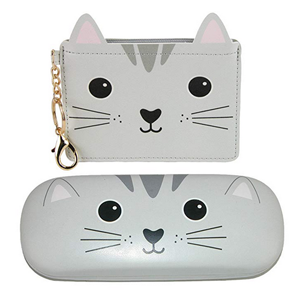 This set comes with a glasses case and a coin purse, both of which look like adorable grey cats.
Warm & Snuggly Cats in Hats Winter Christmas Holiday Super Soft Throw Blanket 50×60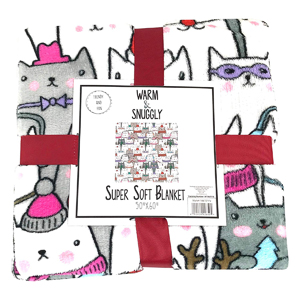 This blanket features a festive cat pattern, making it a wonderful Christmas gift for your favorite cat lady.
Amily Silk Eye Mask Super Soft Cat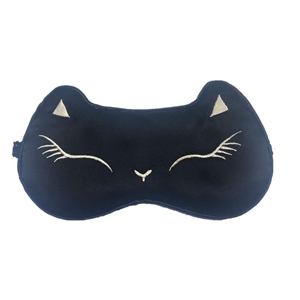 This black eye mask looks like a cat face, and it features an adjustable band.
RoseSummer Minimalist Dainty Gold Silver Hollow Cat Metal Hairpin Hair Clip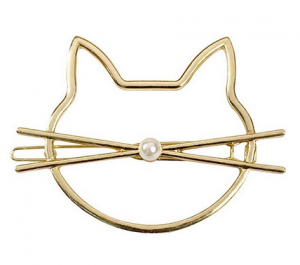 This hair clip looks like a cat face, and it comes in gold and silver styles, making it a sweet gift for your favorite cat lady.
Women's Hat Cat Ear Crochet Braided Knit Cap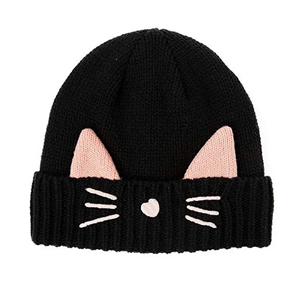 This black cat features cute cat ears, a nose, and whiskers, and it's made from soft wool.