When Nicole discovered a kitten in the backyard of her uncle's Los Angeles home on October 3, 2017, she and her family were eager to help the little grey feline. "We picked her up and offered her food and she ate right away," remembers Nicole. "She was a tiny, beautiful little kitten and we could tell there was something different about her, but she was still too small to see just how different she truly was."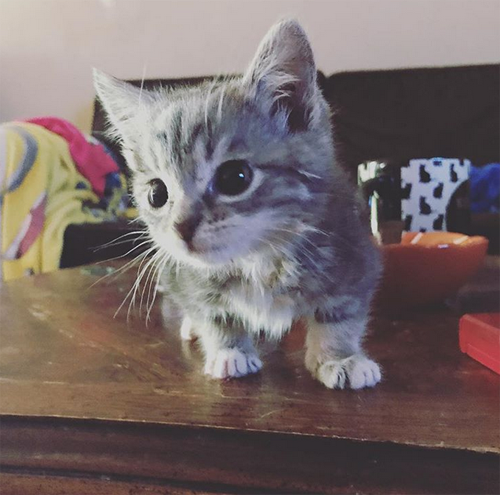 A veterinarian determined the kitten — who Nicole dubbed Mouse because of her hopping walk, small body, long tail, and prominent ears — was approximately six weeks old when she was rescued from a cluster of grapevine. At the time, she appeared to be a typical cat, and Mouse quickly stole the hearts of her new family with her sweet and outgoing personality.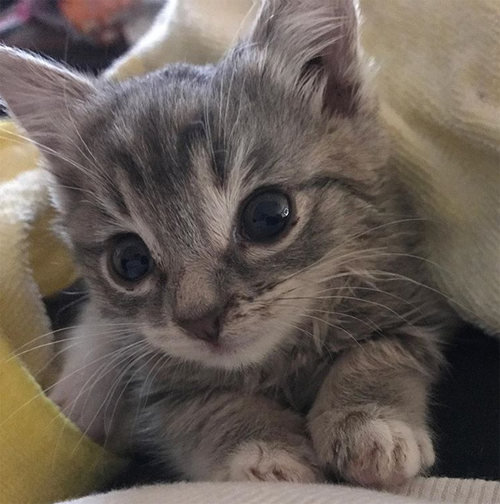 "Once we brought her home and cared for that tiny baby, our family fell in love with her as did our other pets," explains Nicole. "Mouse especially bonded with one of our dogs, Chewy, and she just naturally became our new family member."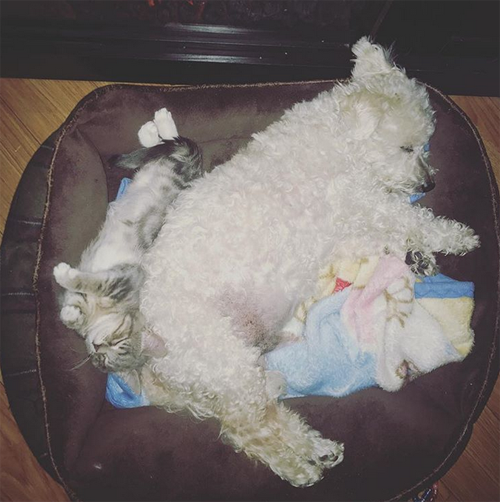 Because Mouse fit in so well, Nicole decided to adopt her, and as she grew from a kitten into an adult cat, it became apparent that this friendly feline was born with radial hypoplasia (RH), a congenital condition that causes animals to have unusually short and twisted front legs.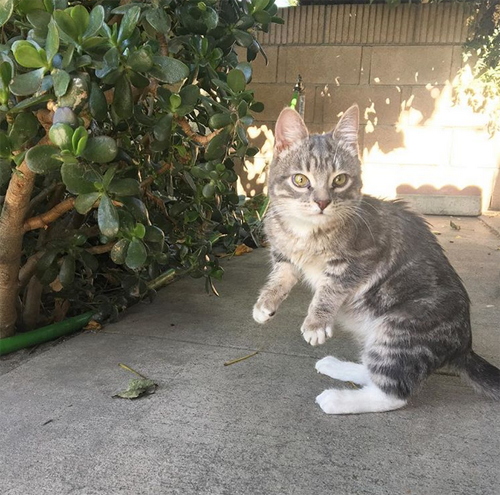 "Mouse's forearms are deformed; the bones are short and twisted toward the sides of her body making her unable to bend them," says Nicole. "The lower portion of her arm/wrist area and paws are small and almost appear flipper like as her wrists do not bend like a typical cat's would."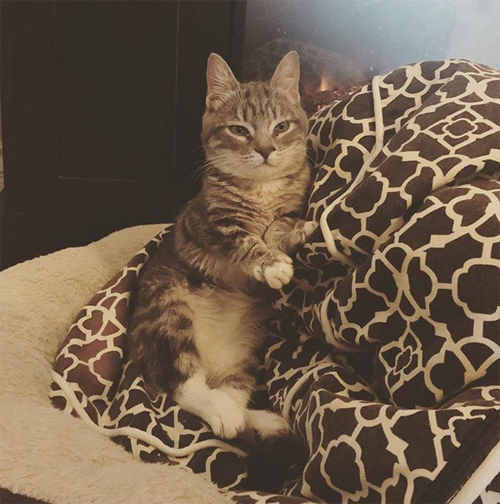 In addition to her radial hypoplasia, Mouse has malformed toes and a compressed torso. As a kitten, Mouse's veterinarian warned Nicole that her internal organs might not develop properly, but this special cat — who recently celebrated her first birthday — appears to be in excellent shape.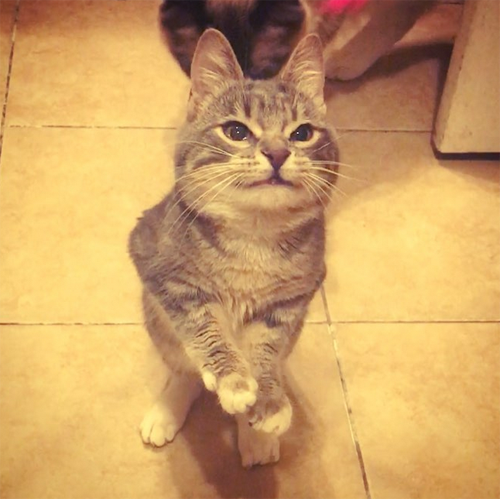 "She is a healthy cat and despite her physical abnormalities has — thankfully — had no general health issues," says Nicole. Still, she wants to give this beautiful girl the best care possible, so Nicole is currently looking for a veterinary specialist who might be able to provide more insight into Mouse's congenital conditions.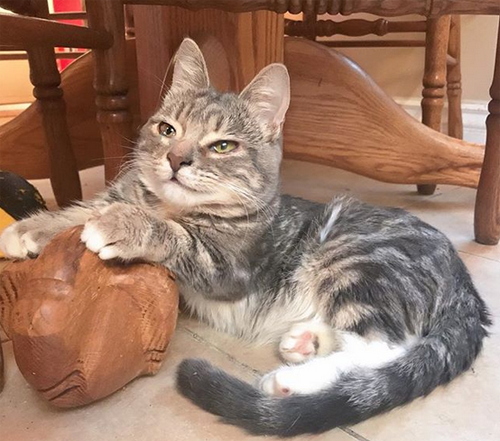 While Mouse may look and move a bit differently from a typical cat, she is a happy and healthy girl who loves to play with balls, chase after toys and feathers, listen to birds, and spend supervised time outside with her mom. "She will hop around like a bunny rabbit in pure joy feeling the grass beneath her feet!" says Nicole. "She loves to smell the plants and flowers in the garden and just listen to the sounds of nature outside."
View this post on Instagram
In addition to playing and enjoying the outdoors, Mouse — whose mother was most likely a homeless cat who became pregnant because no one took the time to spay her —  likes being around other animals, and all of Nicole's other pets absolutely adore her. "I have three other cats who are very caring with Mouse and two dogs who love her," says Nicole. "She has mostly become attached to my dog, Chewy, and they truly are best friends. She spends a lot of her time cuddling with him."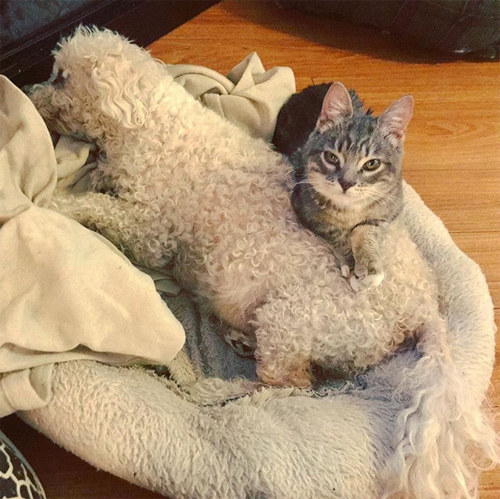 Mouse also enjoys grooming herself, but because of her unique body structure she needs her mom's help to get clean. "I sit her up on a towel and brush her with a small comb as she licks her front paws and tail," explains Nicole. "I trim her nails regularly — and she is totally comfortable with this as well — because she cannot scratch them as other cats can, which makes her susceptible to ingrown or overgrown nails."
View this post on Instagram
In order to make it easier for Mouse to relieve herself, Nicole got this special girl a low entry litter box, enabling her to get in and out without any assistance. While Nicole has had to make a number of accommodations for this stunning grey feline who is unable to jump and climb like the average cat, she is more than happy to do anything she can to help Mouse do everything she wants and needs to do.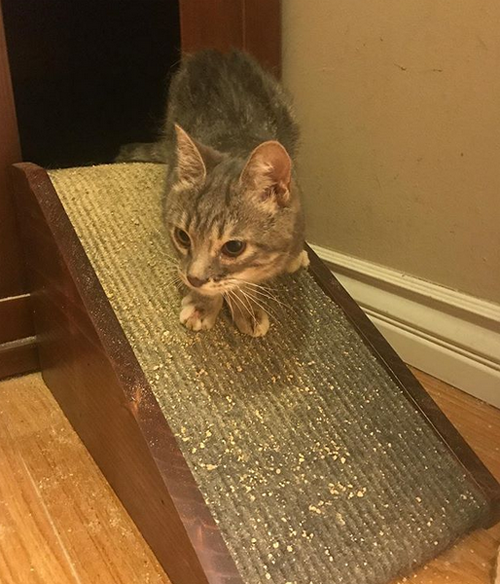 "I think the beautiful thing about a cat such as Mouse is that — although people look to them as being different — they are still a cat and they act like cats and have the same instincts that cats do," says Nicole. "She is just like every other cat and she is so loving and so smart! She is tiny, but keeps up with the other cats at playtime — she rules the house!"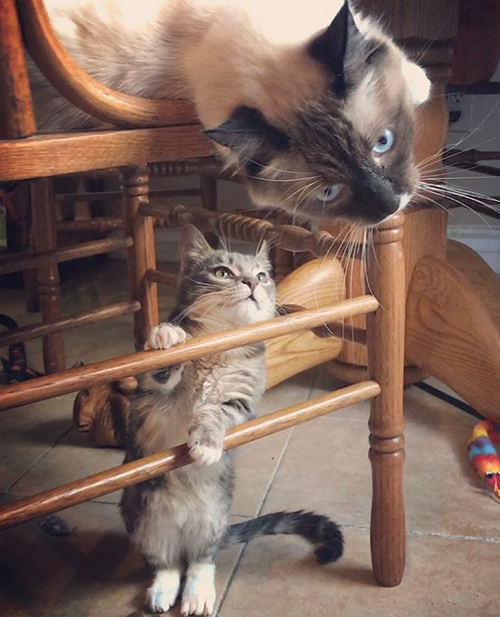 While Nicole acknowledges that Mouse requires a bit more care than the average cat, she believes she's a lot easier to look after than many people might think. After all, even felines without special needs have their own sets of challenges, especially if they have behavioral issues, so Nicole really isn't bothered by having to make accommodations for Mouse.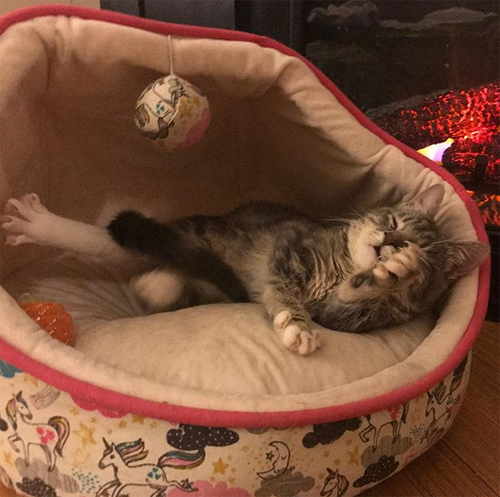 "Every cat I have had has come with some sort of challenge, whether it be wanting to run out the front door, or scratching furniture, or knocking things off the table!" explains Nicole. "Any time you bring a pet into your family, you will come across obstacles, but you just deal with them as they come because they are family."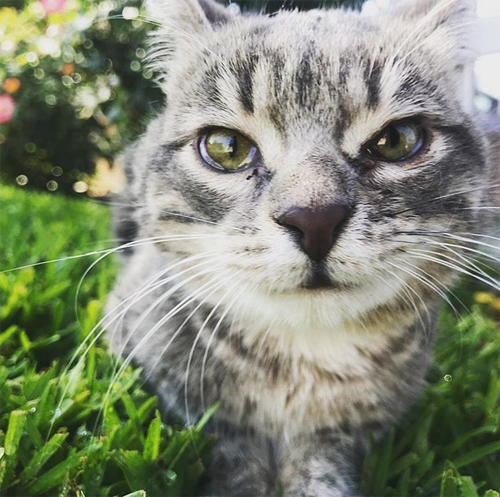 Over the past year, Mouse — who was found all alone, having been left behind by her biological mother — has become an integral part of her adoptive family, and Nicole is so thankful they were given the opportunity to rescue her from an undoubtedly difficult life on the streets. "Mouse brings so much joy to everyone who knows her," says Nicole. "Everyone who meets her falls in love with her because she is so sweet, playful, and unique. Being around Mouse truly brightens even the darkest days; she is just so special to us in many ways."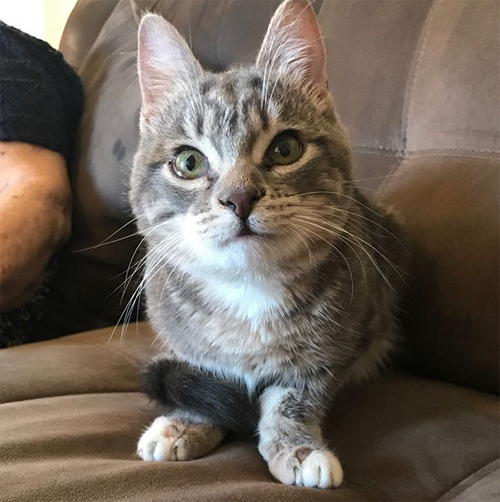 To learn more about this adorable girl, you can follow Mouse on Instagram.