If you need to find the perfect Christmas, Kwanzaa, or Hanukkah present for your favorite cat dad, then you have to check out our 2019 holiday gift guide! We've found some great presents for the cat guy in your life, including a sweater, a sweatshirt, a calendar, a game, socks, a book, a canvas print, a fun sticker, and more, all with feline designs!
Men's Meowy Catmas Holiday Fleece Sweater – Kelly Green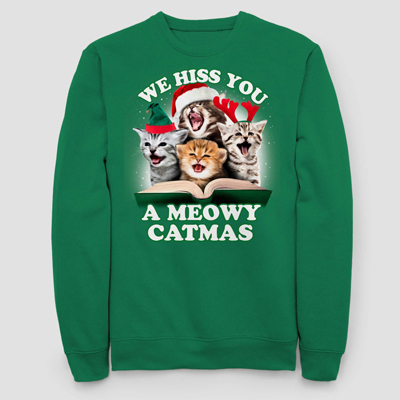 This green men's sweatshirt features four adorable kittens celebrating Christmas, it comes in sizes from Small to 2XL, and it's machine washable, making it a great gift for your favorite cat guy.
Cute Hanging Baby Kitten cat Door Decal Sticker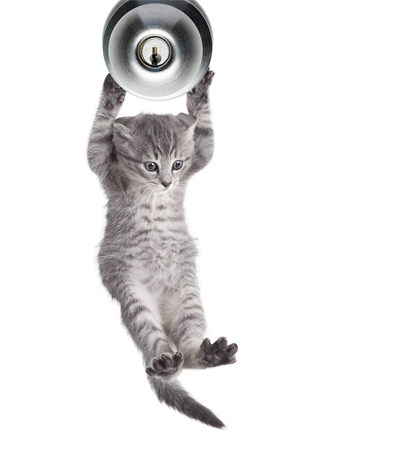 This decal features a cute kitten, and it will make it appear as though a tiny cat is hanging from your doorknob.
Brainwright Cat STAX, The Perfect Puzzle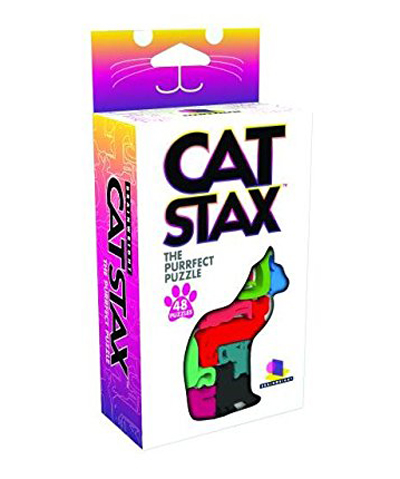 This cat-themed puzzle game comes with 48 challenge cards, 12 cat pieces, a travel case, and a set of rules, making it a fun game your favorite cat dad will enjoy playing this Christmas.
Function – Novelty Funny Cat Fashion Socks Cute Weird Funky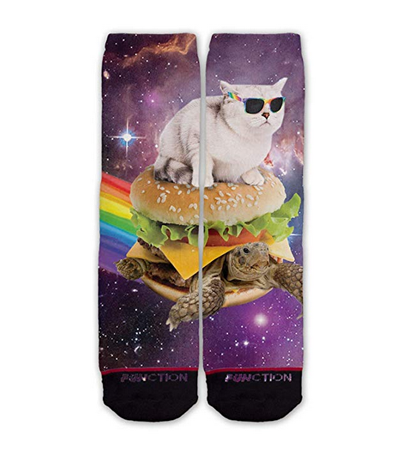 These men's socks feature a cool cat wearing sunglasses while riding a turtle burger in outer space, making them a very unique Christmas gift for the cat guy in your life.
Cat Face Ice Cube Trays Silicone Molds Set of 2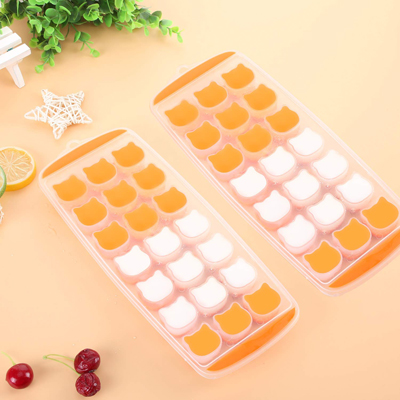 This set comes with two cat head ice cube trays that are durable, BPA-free, and dishwasher safe, making it a Christmas gift cat guys can enjoy all year long.
TUONROAD Mens Christmas Pyjama Jogger 3D Pattern Loose Lounge Sleepwear Leisure Pajama Pant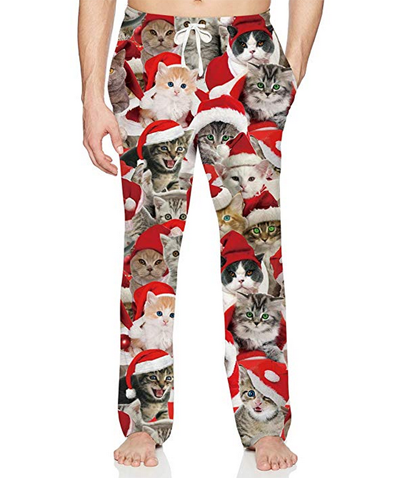 These Christmas men's pajama pants features lots of cute cats celebrating the holiday season, they're available in multiple sizes, and they have a drawstring closure.
Welmeco Modern Animals Artwork Decor Abstract Colorful Cat Painting Giclee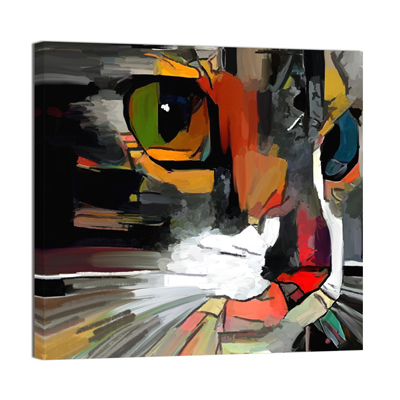 This canvas features a colorful abstract image of a cat, it comes with a hanging hardware kit, and it measures 20″ x 20″, making it a unique Christmas your favorite cat guy will love.
Miya Catch Cat Tongs, 7-Inch, White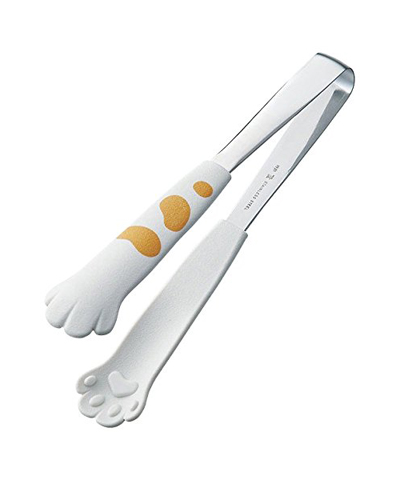 These tongs look like white and orange cat paws, and they're dishwasher safe, making them the perfect Christmas present for cat dads who like to cook.
Paw Addict Soft & Comfortable Funky Cat T Shirt for Men – Perfect for Cat Lovers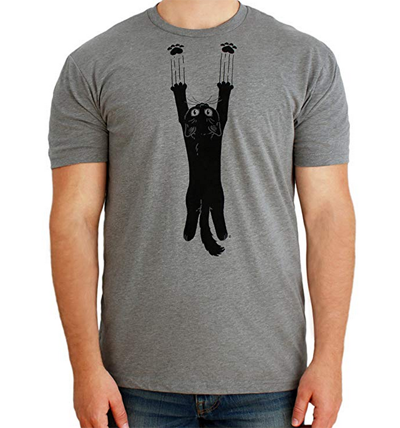 This ring-spun cotton men's t-shirt features a naughty cat, it's available in teal and grey, it's made in the USA, and it comes in sizes from X-Small to 3X-Large.
CHICHIC 6 Pack Fun Cat Refrigerator Magnets Office Magnet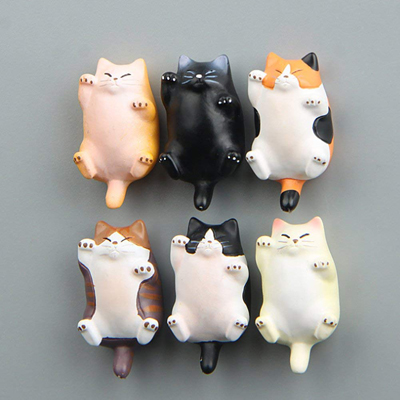 This set includes six magnets, each featuring a different chubby cat, making it a fun stocking stuffer for the cat guy in your life.
Men With Cats: Intimate Portraits of Feline Friendship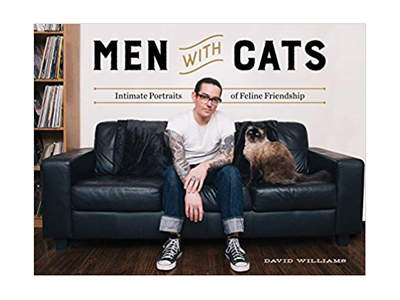 This sweet book features images of men with their cats, making it a celebration of the amazing bond guys can have with their feline friends.
360 Cute Cat Sticky Notes Page Flags Index Tabs for Cat Lovers Kids Office School Reading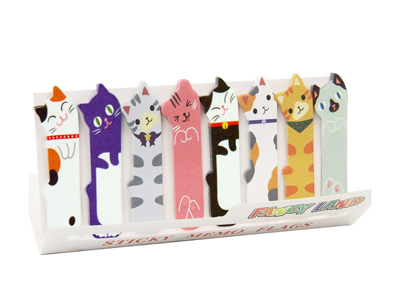 This set includes 360 cat sticky notes, making it a fun stocking stuffer your favorite cat dad will enjoy all year long.
Texts from Mittens the Cat 2020 Day-to-Day Calendar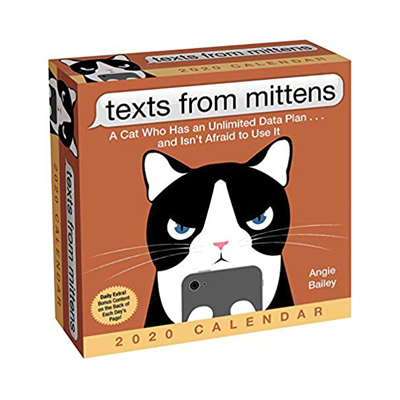 This 2020 desk calendar features entertaining text messages from Mittens, a self-absorbed black and white kitty, to his owner, making it a Christmas gift your favorite cat guy will love.
Bone Collection 32GB USB 3.0 Flash Drive, Novelty Cute Animal Cartoon Enclosure Thumb Drive Jump Drive Pen Drive Pendrive Memory Stick – Cat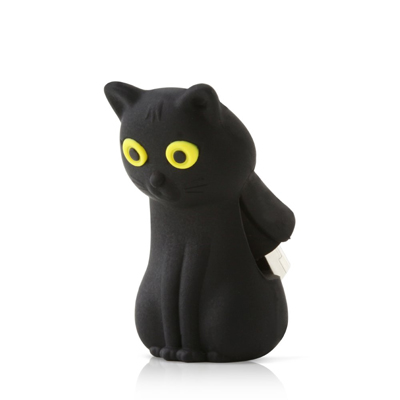 This USB flash drive looks like a black cat, it has a silicone rubber enclosure, and it holds 32GB of data, so it's a Christmas gift for the cat-loving techy in your life.
Men's Ugly Christmas Cat with Glasses Sweater – Red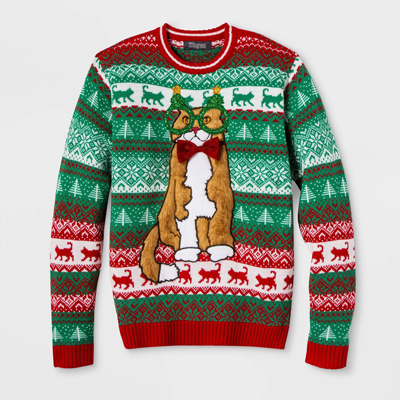 This ugly Christmas sweater is made for men, it features a ginger and white cat wearing a red bow tie and sparkly green glasses, and it comes in sizes from Small to 2XL.
USB Heated Mouse Pad Hand Warmer, [Newest 2019] Winter Warm Cushion Comfort Plush Thickening Heated Mouse Pad with Wrist Support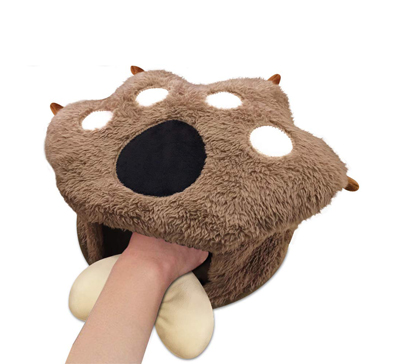 This cat paw mouse pad is also a hand warmer thanks to a USB powered heating element, and it comes with wrist support, making it a cool Christmas gift for the cat guy in your life.