Shortly after adopting Max, an incredibly handsome blind cat, Janell and Justin knew they had to get a companion for their energetic and extremely social special needs kitty. "We had one blind cat, so we wanted the other to be blind, too," explains Janell. "No unfair advantages while playing!"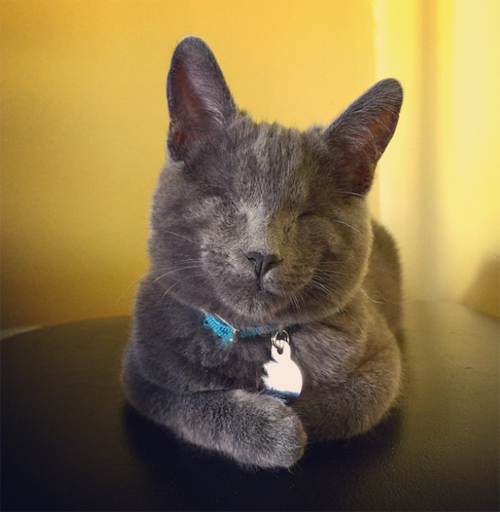 The couple reached out to Saving Grace Rescue, a non-profit organization in San Francisco dedicated to helping young kittens and cats with special needs, and discovered they were looking for a home for Grace, a beautiful blind kitten.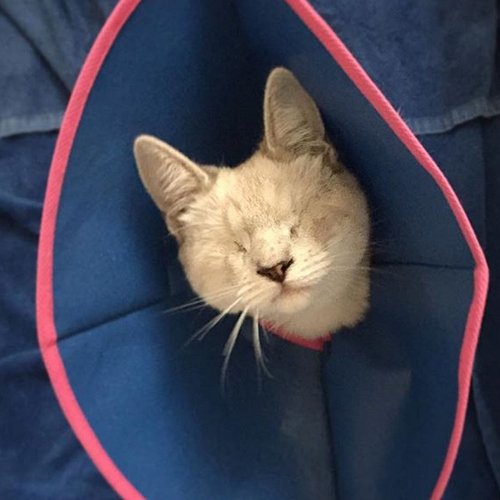 "She had a bit of a rough start as a feral kitten," says Janell. "Not only was she out roaming the streets of Stockton, she was also blind from a bad upper respiratory infection."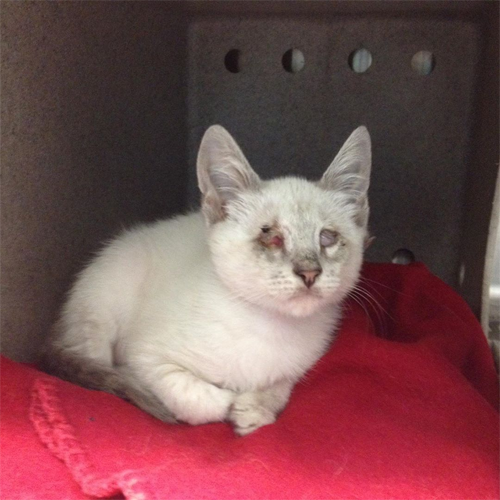 Fortunately for Grace, who was born in June 2015, Saving Grace Rescue came to her rescue, saving Grace's life by giving her the medical care and attention she needed to thrive.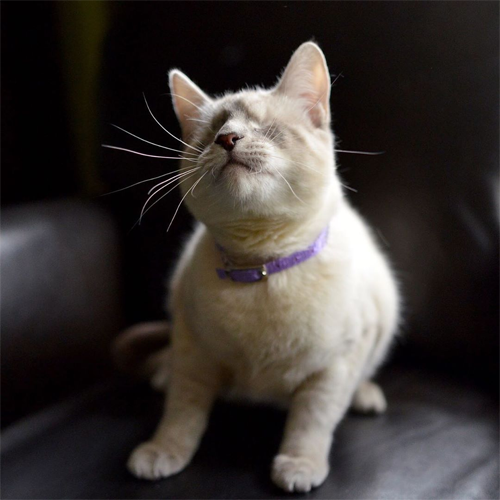 On September 18, 2015, Janell and Justin met Grace for the first time, and while the stunning three-month-old Siamese cat was initially nervous, it didn't take long for her to warm up to them. "We decided right away to take the little fluff ball home and make her part of our family and — more importantly — a sibling to Max," remembers Janell.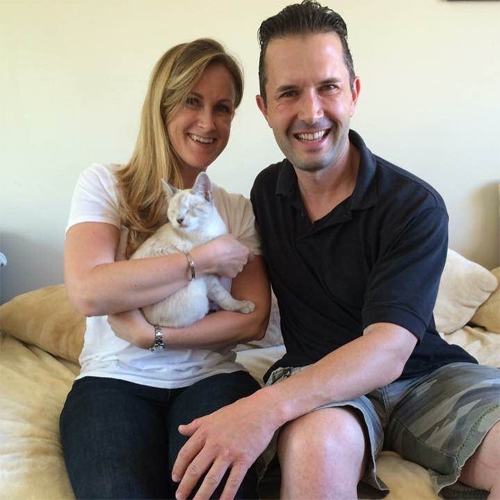 Despite having a very different temperament from Max, Grace promptly bonded with her big brother, and more than four years later, these two blind cats are the best of friends. "Max and Grace do all the normal kitty things, as they were never told they couldn't," says Janell. "And I believe in many ways, they can see."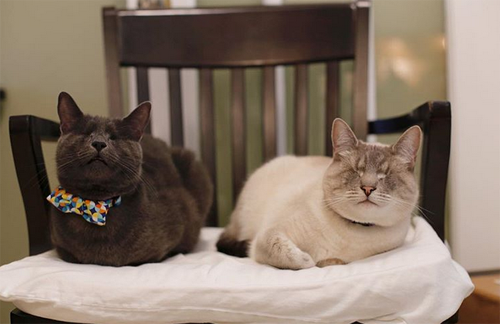 Like a typical cat, Grace absolutely loves to play, whether it's with her parents, Max, or on her own, although she's definitely not as athletic as her brother. "Grace is far from graceful while Max has the skills of a gymnast," explains Janell. However, Grace's lack of nimbleness doesn't stop her from having fun.
View this post on Instagram
She especially likes sparkle balls, but Janell and Justin have to monitor Grace closely while she plays with them. "She loves them so much, she will fetch them, but she will also even eat them," explains Janell. "She likes to dunk them in her water bowl first, then eat them."
View this post on Instagram
In addition to trying to eat her sparkle balls, Grace adores bread, something else she's not allowed to consume. "It does not agree with her tummy," says Janell, but Grace is allowed to indulge in another one of her favorite activities. "She loves to flirt with her cat dad, Justin. She meows a trill, gives a little run, and turns back so he will chase her."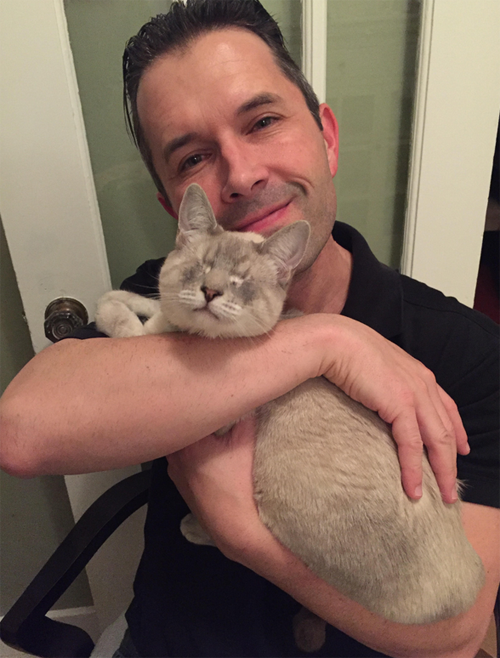 In fact, Grace loves her dad so much, she waits by his computer every morning in anticipation of their special time together when she gets to sit in Justin's lap while he drinks his coffee.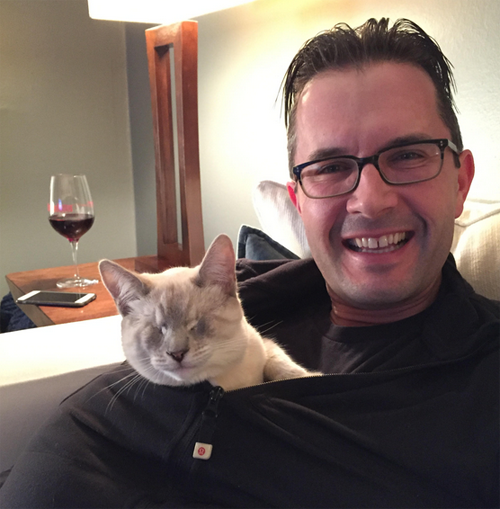 She also adores cuddling in bed with both of her parents, and Grace — who was at least semi-feral when she was rescued from the streets — will actually crawl under the covers each night to snuggle up with her mom and dad. "Grace is named after Princess Grace," says Janell. "She is so beautiful, and truly a princess."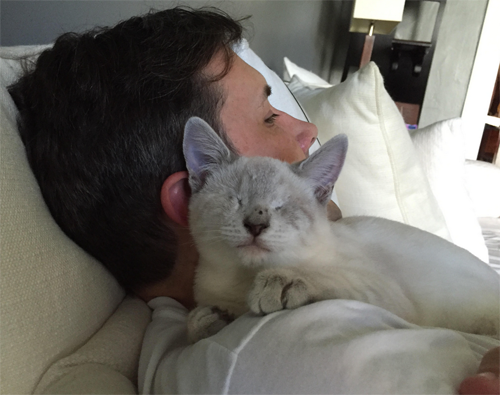 While Grace and her brother Max are treated like royalty, Janell realizes this isn't always the case for a lot of cats with special needs.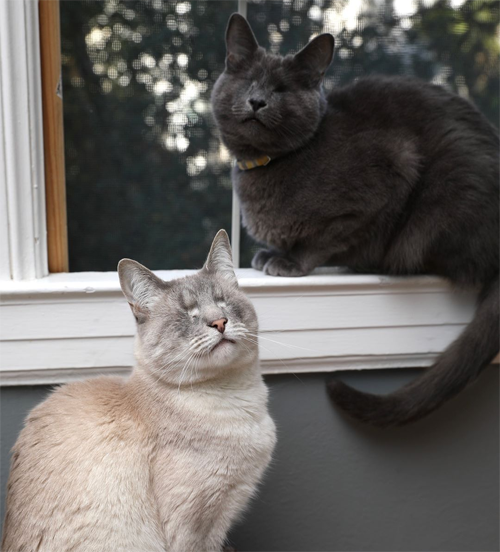 "Most 'special' kitties don't get a first birthday as they are considered unadoptable," says Janell, "Together, we can change that." After all, Janell and Justin knew very little about special kitties until Clyde, their 14-year-old cat, was diagnosed with diabetes and needed to be given regular doses of insulin.
"A few people enquired if we were going to euthanize him, which shocked us," says Janell. "It really opened our eyes to the struggle special needs animals face when looking for a home." When Clyde passed away from cancer three years later at the age of 17, Janell and Justin decided their next cat would have special needs, which is what led them to adopt Max and eventually Grace.
View this post on Instagram
While these two blind cats are very fortunate to have Janell and Justin for their parents, this couple is confident they're just as lucky to have Max and Grace in their lives. "We've given them a forever home, but they have given us something much more important — a daily source of inspiration, love and joy," says Janell.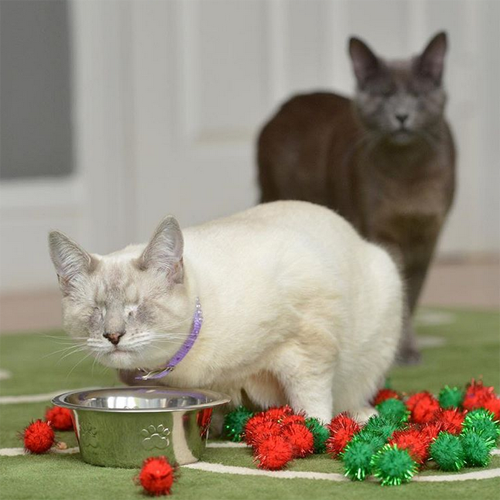 To learn more about this gorgeous girl, you can follow Grace on Instagram.