We've been fostering cats for over 10 years, and we've cared for lots of black kittens, so when we saw Sticky on Instagram, we knew we had to help this baby panther find the perfect forever home! We reached out to Sticky's foster mom, Abigail, to learn more about this incredibly cute blind, tripod cat, and she was gracious enough to share his story with us, including her decision to start fostering home on June 16, 20022, when he was approximately four weeks old. We discovered that over the course of his short life, Sticky has had to cope with a  number of different challenges, including scabies, surgery to remove an irreparably damaged limb, multiple infections, vision issues, and even seizures.
Fortunately, this courageous and fun-loving boy — with the help of his foster mom, Abigail — is doing extremely well, and he's available for adoption! After everything he's been through, Sticky definitely deserves a great forever home, and Abigail was happy to share what this spunky three-legged kitten needs to thrive. She also told us about Sticky's favorite activities, including his penchant for painting, and we hope you'll enjoy learning about special kitty just as much as we did!
Meow As Fluff: How did you end up meeting Sticky?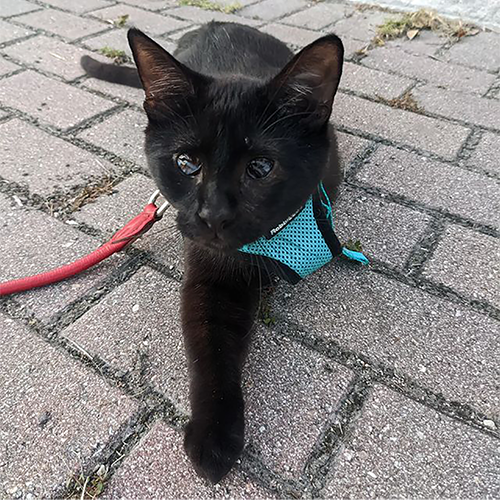 Abigail: I met Sticky at my community shelter (Miami-Dade Animal Services) while interning. I mainly focus on fostering neonates and was planning on fostering a 4-week-old kitten until she was big enough for her spay surgery. The foster coordinator told me about another kitten (Sticky) who was in need of medical foster care.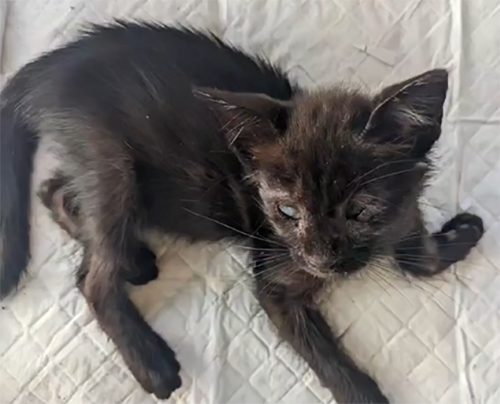 She took me to the clinic to meet him, and I knew I had to take him home. We don't know much about Sticky's life from before I met him, but we do know it was rough; when he arrived at the shelter, he was very underweight, had a fractured arm, scabies, an upper respiratory infection, and was blind (from what we believe is an eye infection that was left untreated).
MAF: Can you tell me the story behind his name?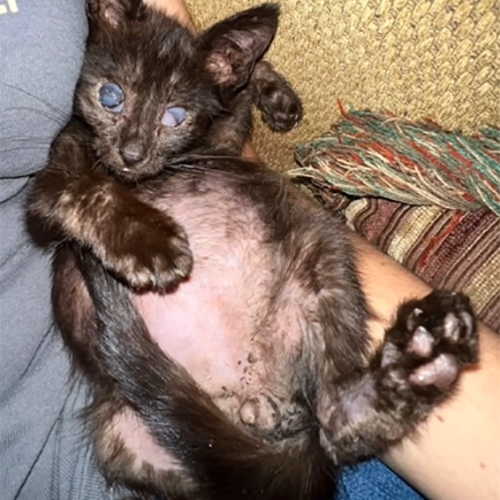 A: I had made an agreement with my father to name my next foster kitten Sticky after one of our previous foster kittens who stepped in a sticky trap. When I saw Sticky, I knew the name was perfect for him. His original shelter name was Chaz, I definitely think the name Sticky is an improvement.
MAF: What made you decide to foster a special needs cat?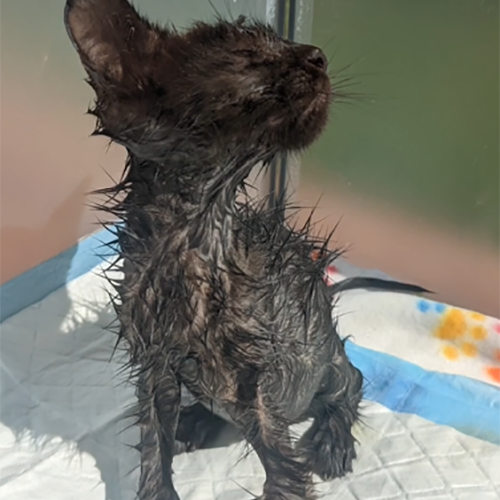 A: Deciding to foster Sticky had nothing to do with wanting to foster a special needs cat and was actually because I wanted to help him. I saw Sticky and knew I could help him feel better and grow to be a big cat. Sticky taught me that special needs animals deserve just as much love as other animals, and I have actually started fostering more medical fosters because of Sticky.
MAF: Can you tell me a bit about how Sticky lost his leg, as well as the cause of his blindness?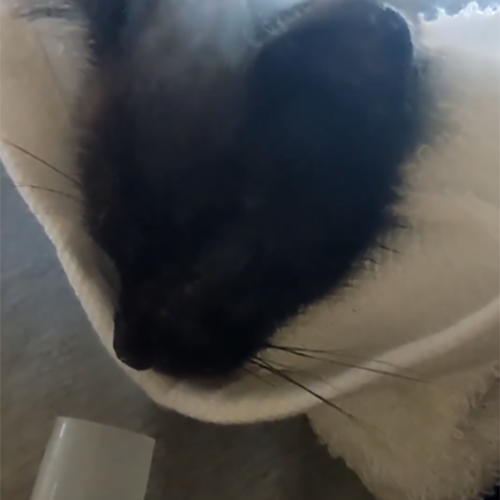 A: Sticky had a severe fracture on his leg and a deformed shoulder blade. He needed his leg amputated to prevent him from developing future issues such as arthritis or spinal issues. When Sticky was found, he was already blind, but I believe it could be from a severe eye infection that was left untreated when he was a baby.
MAF: What are some of the biggest misconceptions you think people have about blind and three-legged cats?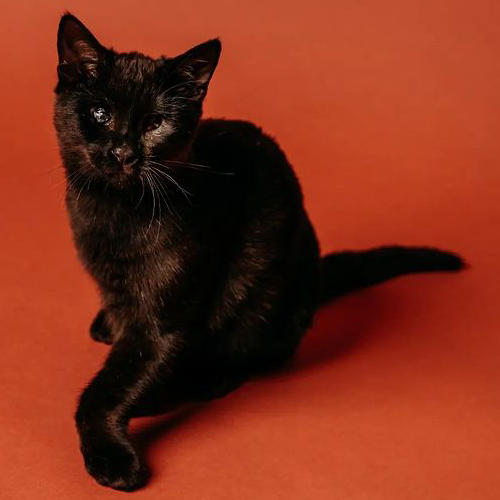 A: I think that the biggest misconception, especially in Sticky's case, is that they have a low quality of life. Just because Sticky is different doesn't mean that he is not happy to be alive. Blind and three-legged cats are able to get around just like a normal cat and can live a very happy life!
MAF: What are some of the challenges — if any — you and Sticky have faced because he is blind and has three legs?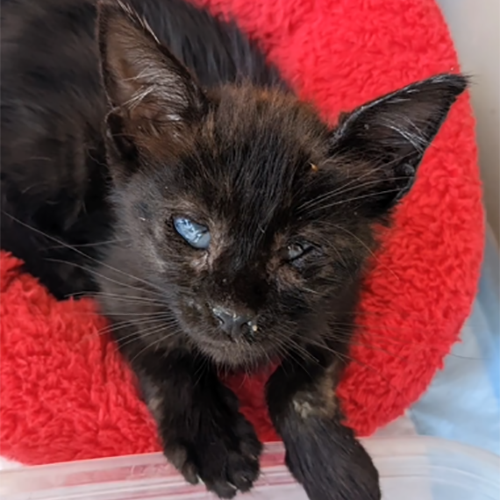 A: The main challenges Sticky has faced have not been because of his blindness or because he is a tripod but actually because of the seizures he has. Sticky has a seizure almost every month. We are unsure of the cause of his seizures, but it does look like something he is going to live with for his entire life. Because of his seizures, he has missed out on being in many adoption events (such as being able to be put up for adoption at the cat cafe), and it has been much harder to find an adopter.
MAF: What do you wish more people knew about special needs cats?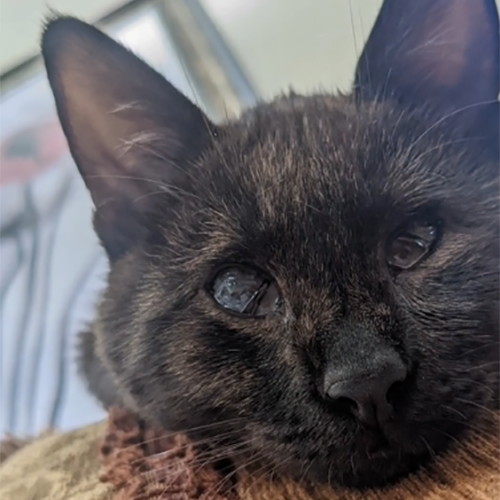 A: I wish more people knew that special needs cats are just like any other cats. I wish people wouldn't see special needs cats as a disability but would rather see them as any other animal looking for a forever home. Many people only see Sticky as the disabilities he has rather than his silly, sweet personality. An example of this is when I was processing adoption applications, the main reason people said they wanted to adopt him was because they have always wanted a special needs cat. This frustrated me because they should want him because of his personality, not his disability.
MAF: What are some of Sticky's favorite activities?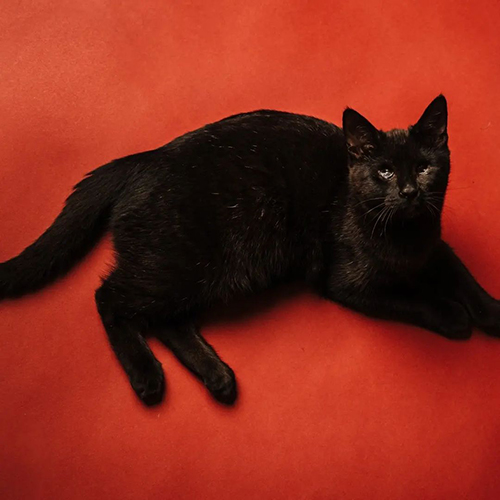 A: Sticky's favorite thing to do is play with Nerf darts. No matter how many cat toys we give him, he will always go back to playing with the Nerf darts. He also loves cat treats! I like to "paint" with him by putting a canvas with some paint on it in a Ziploc bag, then putting the Churru treats on the outside of the bag and let him lick it. He ends up moving the paint around, and all his paintings come out adorable.
MAF: Please describe his ideal adopter.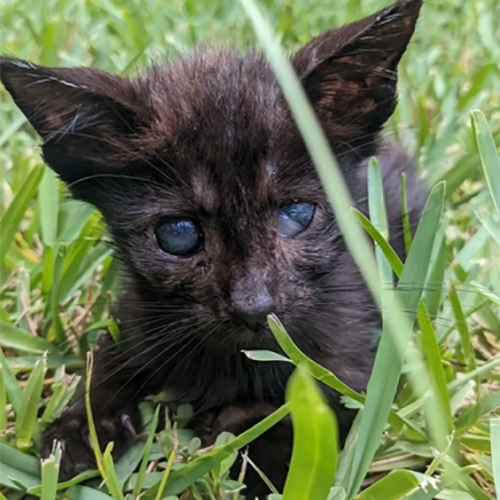 A: His ideal adopter would have experience with either blind, three-legged cats or cats with a history of seizures. He would need an adopter who is able to commit to providing him with the medical care her needs. He would preferably be in a home with no more than two other cats as he needs a lot of attention. He would do best in a quiet home. He can be adopted by anyone in the United States as long as they are able to come to Miami to finalize the adoption application.
MAF: What does he mean to you?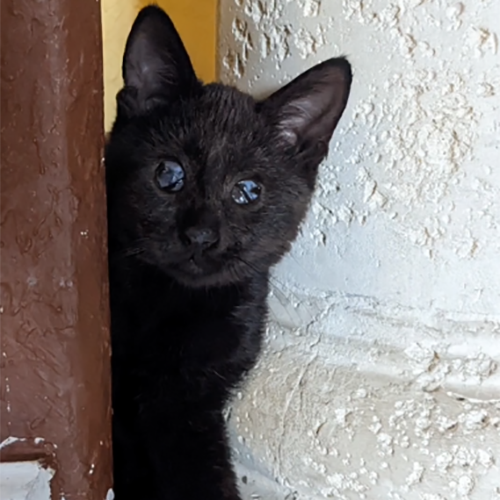 A: Sticky means a lot to me. I have had him for six months which is the longest I have ever had a foster kitten. He has taught me so much about blind cats and three-legged cats. During his life, there have been multiple times when we had to consider euthanizing him, and going through that with him was extremely hard and brought us together. Sticky has inspired me to foster medical foster pets.
If you're interested in adopting Sticky, you can send Abigail a direct message on Instagram.
If you want to help Sticky find his forever home, please share this post on social media.