If you adore cats, then you'll love these monuments from all around that world that were created to honor unforgettable felines. These statues were designed to celebrate lots of different cats, including felines who were owned by famous and illustrious individuals, as well as extraordinary kitties who belonged to ordinary people.
Some of these monuments were even erected to honor homeless cats who were so remarkable and charming, they stole the hearts of everyone they encountered, while others were built in remembrance of kitties who performed very important jobs. Still, other statues were created to simply celebrate the species as a whole, highlighting the special bond between people and cats.
Semyon the Cat Monument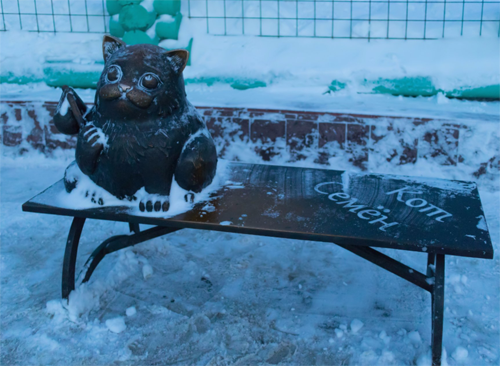 Unveiled in 2013, this bronze statue of a chubby cat holding a bindle was erected in Murmansk, Russia, in order to honor Semyon, a kitty who got lost in 1987 while on a trip to Moscow with his family. Incredibly, Semyon eventually made it back to his hometown, traveling more than 1200 miles over the course of six years in order to be reunited with his loved ones.
This monument, which is a tribute to Semyon's loyalty to his family and spirit of endurance, is located on the northern bank of Lake Semyonovskoe. This statue sits on a bench, encouraging visitors to stay a while and contemplate Semyon's remarkable journey.
Monument to Yelisei the Cat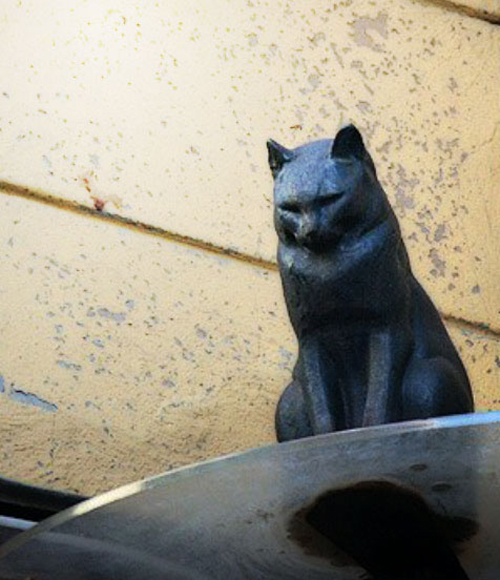 Located on the side of a building in Malaya Sadovaya, a street in St. Petersburg, Russia, this statue of Yelisei the cat was erected to honor the many felines who helped keep the city's rodent population under control during World War II. During the war, approximately 5,000 cats were brought into St. Petersburg to kill the rats who were spreading disease and eating the city's limited food supply.
The statue sits on a shelf near a second-story window, and visitors are encouraged to throw coins to Yelisei. According to local legend, if someone manages to get a coin to land near the cat's feet, either their wishes will come true or they'll have good fortune, making it a fun attraction for tourists and residents alike.
Monument to Hodge the Cat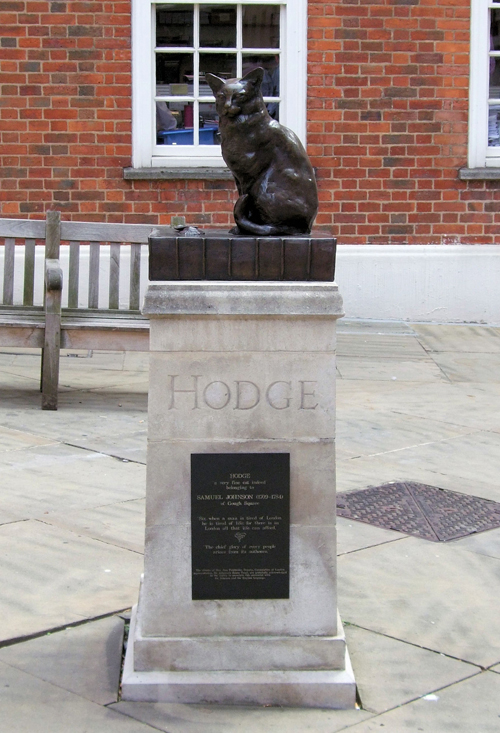 Reportedly English writer Samuel Johnson's favorite feline, Hodge was beloved by his owner and treated with fondness, affection, and consideration that was extremely rare for the late eighteenth century. According to James Boswell, who wrote a biography about the acclaimed author, Johnson adored Hodge, referring to him as "a very fine cat, a very fine cat indeed."
In order to honor Johnson's relationship with his beloved kitty, a bronze statue of Hodge was erected in 1997 in the courtyard of the London home in Gough Square in London where this esteemed cat lived with his famous owner.
Monument to Trim the Cat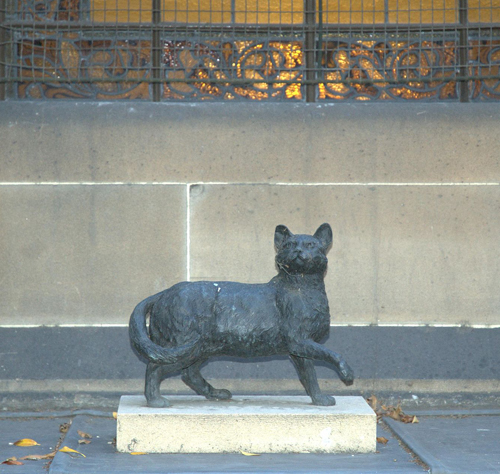 Born aboard the HMS Reliance in 1799, Trim reportedly fell off the ship when he was only a kitten; however, this determined tuxedo cat was able not only to swim back to the vessel, but also to climb back on board, earning him a reputation for having brains, bravery, and brawn. After his brush with death, Trim continued to travel the world with Matthew Flinders, even surviving a shipwreck in 1803.
However, Trim disappeared while Flinders — who had been accused of spying — was in prison in Mauritius. While no one knows exactly what became of this incredible tuxedo cat, a bronze statue of Trim was erected near a statue of Flinders near the Mitchell Library in Sydney, Australia. The monument features a plaque with words written by this remarkable cat's owner, describing Trim as "the most affectionate of friends, faithful of servants, and best of creatures."
Monument to Lovers and Cats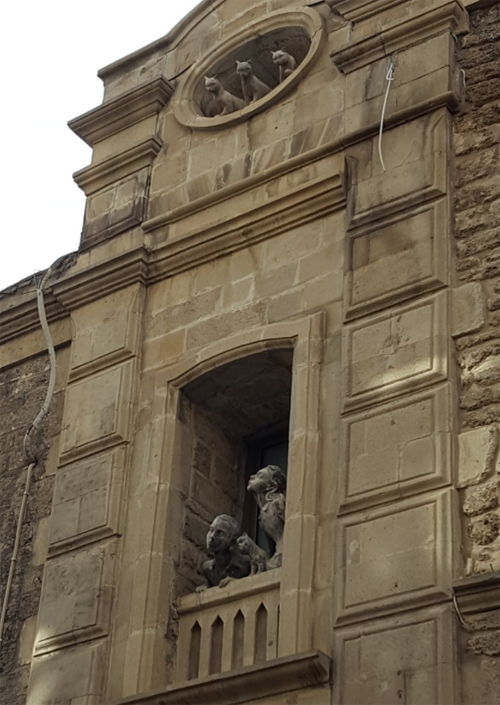 Cats are revered in the city of Baku in Azerbaijan, so it's fitting that a monument to felines (and the people who love them) can be found on one of the towns many beautiful buildings. The monument features a cat perched between a boy and a girl, and several feet above the trio are three kitties who are peering down at them.
The monument — which is located a short walk from Zeferan Hospital in Baku — is a charming ode to cats, so be sure to visit it if you're ever in Azerbaijan's capital city!
Monument to Cats in Zelenogradsk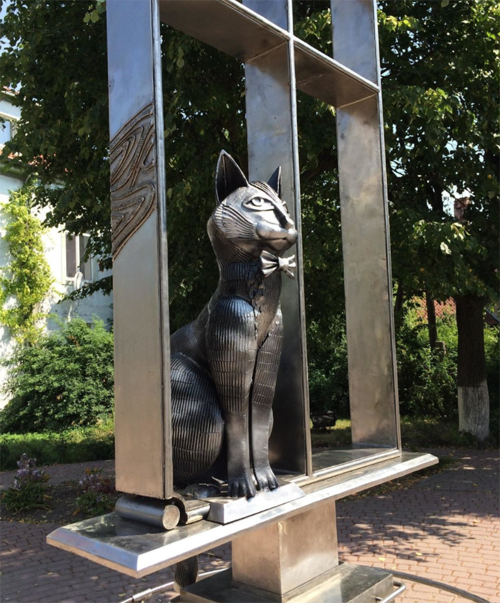 Located in front of Murarium, a museum in Zelenogradsk, Russia, that boasts a massive collection cat related art, this monument features a statue of an adorable cat wearing a bow tie. In addition to being a delightful tribute to cats, this monument actually rotates like a small carousel, making it an interactive landmark that both children and adults will love.
If you're ever find yourself in this city on Russia's Baltic coast, be sure to get your picture taken with this monument after touring the museum.
Monument to Mrs. Chippy the Cat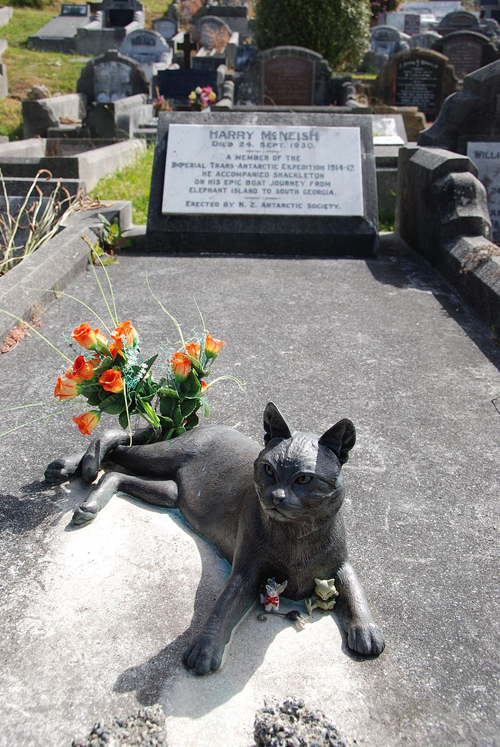 Named Mrs. Chippy despite being a male cat, this tabby lived aboard Endurance, the vessel Sir Ernest Shackleton used during the Imperial Trans-Atlantic Expedition. While the expedition lasted from 1914 to 1917, Mrs. Chippy was killed by Shackleton on October 29, 1915, when the captain determined the cat — and several of the sled dogs who were also on board — were a liability after the ship sustained damage.
Allegedly, Harry McNish, Mrs. Chippy's owner and the ship's carpenter, never forgave Shackleton for ending the cat's life, and in 2004, the New Zealand Antarctic Society placed a bronze statue of the feline on McNish's grave. If you want to see this life-sized monument to this magnificent cat, you can visit Karori Cemetery in Wellington, New Zealand.
Cat Monument in Kuching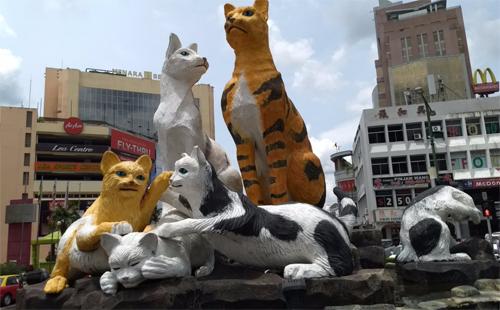 Located in the Malaysian city of Kuching, this monument can be found on a busy street near the waterfront. This cat monument features a mother and father, along with several of their kittens, and visitors are encouraged to take photographs from multiple angles to capture all of the kitties.
If you ever find yourself in Kuching, which is commonly referred to as the city of cats, then be sure to stop visit this charming monument.
Monument to Tombili the Cat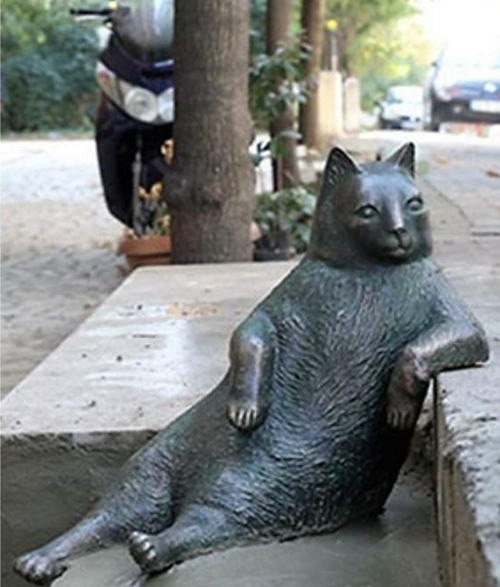 In 2016, a memorial was erected to honor Tombili, a homeless cat from Istanbul, Turkey, who became famous around the world after an image of the chunky kitty was shared thousands of time on the internet. The bronze sculpture, which was created by Seval Şahin, depicts Tombili in his signature pose, and it can be found in a paved area in Ziverbey. Tombili, which is a Turkish word used to refer adorably overweight animals, passed away on August 1, 2016, and more than 17,000 people signed an online petition asking Kadıköy, a district in Istanbul, to memorialize this iconic cat.
Not long after the statue was unveiled on October 4, 2016, the monument to Tombili was stolen, sparking outage around the world. Thankfully, Tombili wasn't missing for long, and the statue was returned on November 10, 2016.
Monument to Towser the Mouser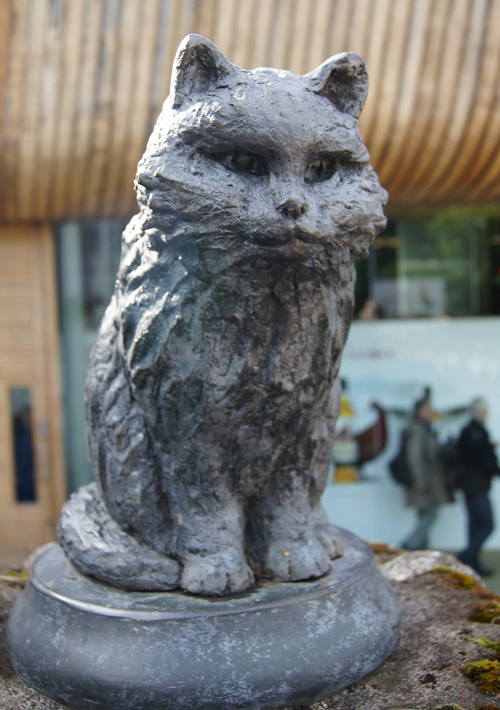 If you're every in Scotland, be sure to visit the country's oldest distillery, Glenturret, and pay your respects to Towser, a mouser who actually set a record for killing an estimated 28,889 mice. In order to honor the kitty who excelled at protecting the grain used to make Glenturret whisky from the many rodents who were drawn to the distillery, a bronze statue of Towser was erected.
Towser, a longer-haired tortie, was born in the spring of 1963, living more than two decades before passing away at the age of 24. While this remarkable tortoiseshell cat no longer prowls the grounds of the Glenturret Distillery — which has been operating on the banks of the Turret River since 1775 — Towser's legend lives on.
Monument to Homeless Cats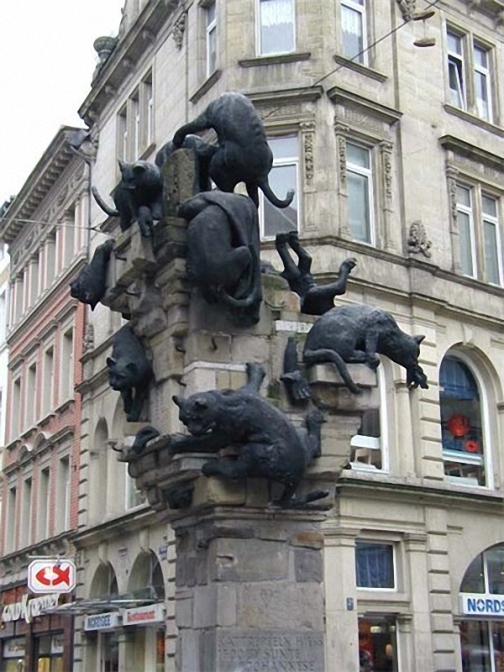 Erected in 1981, this monument in Braunschweig, Germany, features several bronze cats in a variety of different poses. The monument, which was designed by renowned German sculptor Siegfried Neuenhausen, was created in order to honor the many cats who live on the streets of Braunschweig, making it a touching tribute to felines who are often overlooked.

Known as Katzenstele, this monument is located on Kattrepel, a street in Braunschweig's downtown, so be sure to visit this impressive attraction if you're ever in the second largest city in Lower Saxony.
Monument Cat Kazan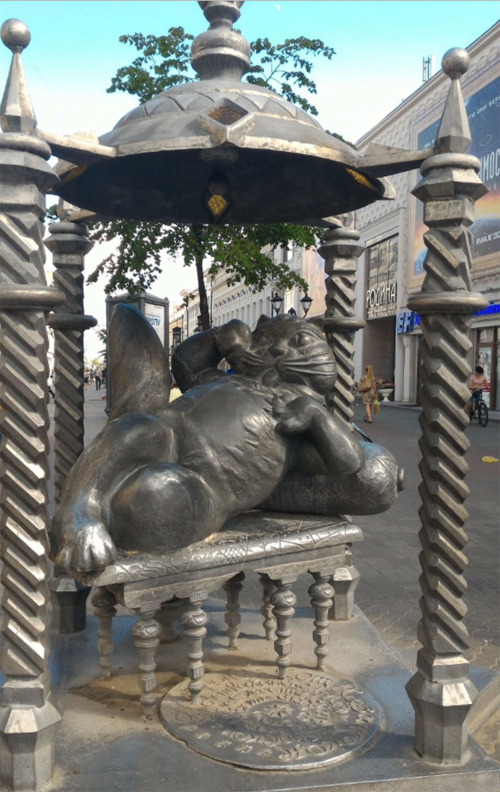 This large bronze statue of a cat was erected in Kazan, Russia, as a way to honor the many felines who were responsible for keeping the rodent population under control in the Hermitage. If you decide to visit this cat monument — which is located on Bauman Street in the heart of the Republic of Tatarstan — be sure to rub the kitty's belly!
According to local folklore, tickling this cat's tummy will bring both good luck and prosperity, giving you just another reason to check out this fun monument.
Monument to Hamish McHamish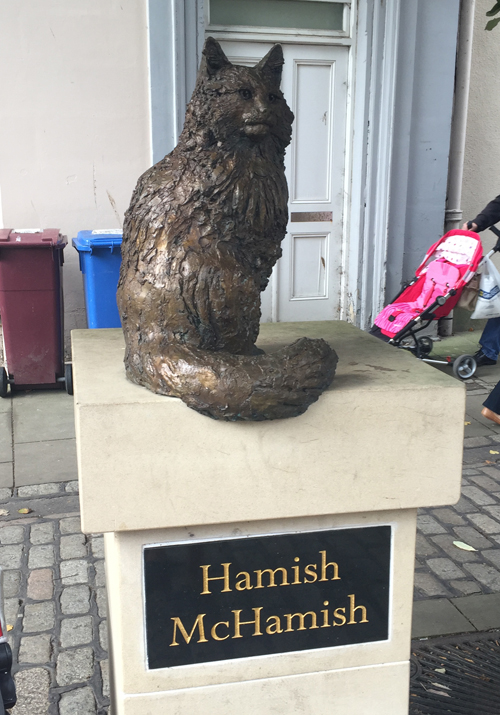 Born in 1999, Hamish McHamish was a fluffy ginger cat who was known for roaming the streets of St. Andrews, Scotland, spending much of his time at houses and business all over the town despite having a home to call his own. Hamish became so popular with the people of St. Andrews, social media accounts were created to track this friendly and nomadic cat's whereabouts.
Funds were raised to create a monument to honor this beloved cat, and on April 5, 2014, a bronze statue — made by Scottish sculptor David Annand — was unveiled. Later that same year, Hamish passed away on September 11, 2014, at the age of 15, but people can pay their respects to this cherished feline by visiting the monument, which is located in Logies Lane in St. Andrews.