When Amanda went to visit her friend's home on July 20, 2017, there was no way she could have know how her life was about to change. "I was at a friend's house," remembers Amanda, "when they got a call from a neighbor that there was an abandoned kitten in their yard that appeared to have broken legs and was incontinent."
Being an animal lover, Amanda went with her friend to see the little female kitten — who was approximately four weeks old at the time — and she immediately agreed to take her back to her family's home in Lebanon, Tennessee, for the night.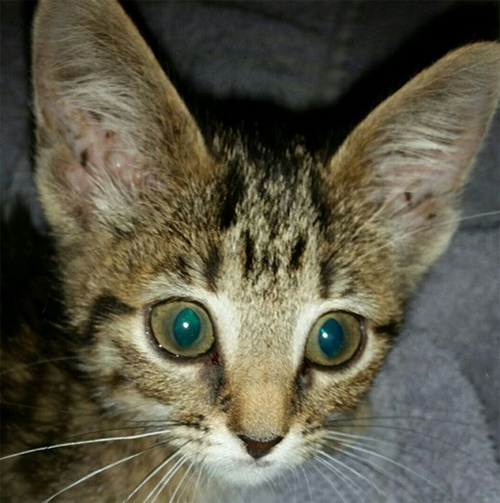 Amanda knew the little tabby needed medical attention and a name, so she began calling her Shelly as an homage to a foster mom at TinyKitten — an animal charity in British Columbia, Canada — who had rescued a kitty who had been born without back legs. After giving her a name, Amanda took Shelly to the vet, and she quickly discovered that the little kitten's legs weren't actually broken.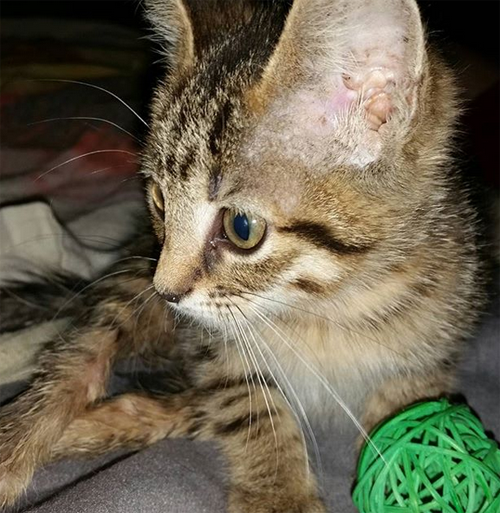 "They think she was born with an illness that caused nerve damage and has always had this condition," explains Amanda. Consequently, the first veterinarian Amanda brought Shelly to recommended putting the little kitten to sleep, as she almost certainly would never be to walk like a typical cat.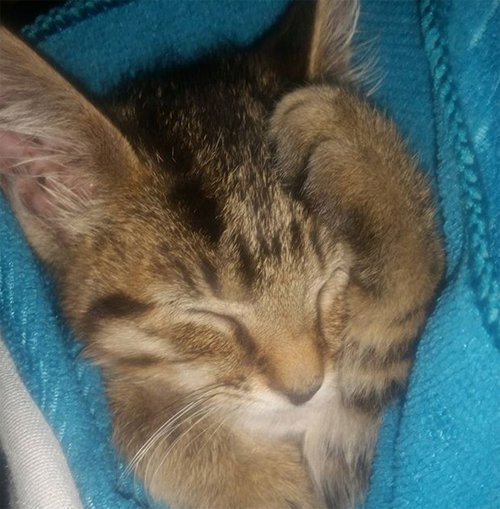 However, Amanda — who had seen the incredible two-legged cat Shelly's namesake had rescued — refused to euthanize the one-month-old kitten with paralysis, and it didn't take long for her to develop a special relationship with the adorable special needs tabby. "She was very trusting and bonded with us from the beginning," says Amanda, prompting her to permanently adopt little Shelly.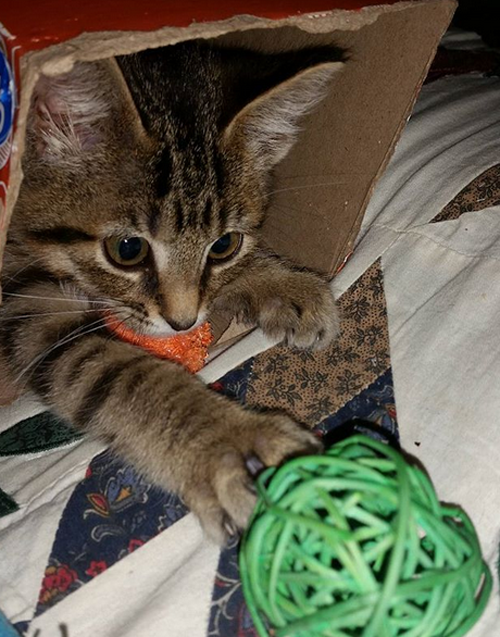 While Amanda, who works from home, was confident she would be able to give the little kitten with hind leg paralysis the care and attention she would need to thrive, one of the first challenges she had to tackle was figuring out how to help Shelly go to the bathroom. "Being incontinent and unable to empty her bladder calls for us to express her bladder," explains Amanda. "We also help her have bowel movements to kind of control when it happens because she is also fecally incontinent."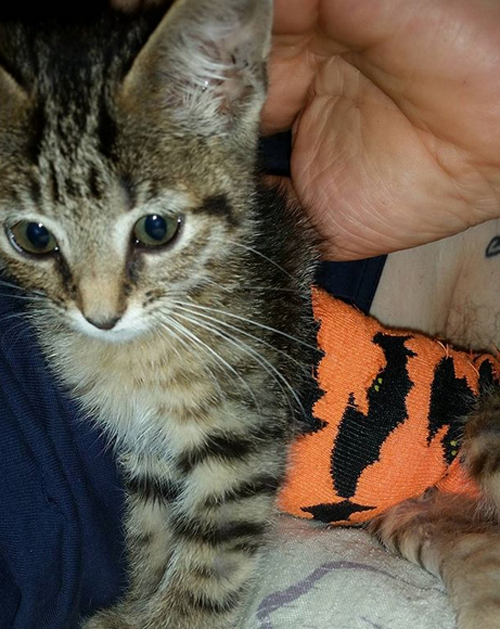 Amanda also had to figure out how to put a diaper on Shelly — who's incredibly active, despite not be able to control her back legs — and get it to stay on the energetic tabby. As a result, Shelly, who's now approximately six months old, is in the buff more often than not. "Lately, she has been diaper free with us just giving her more potty breaks," says Amanda.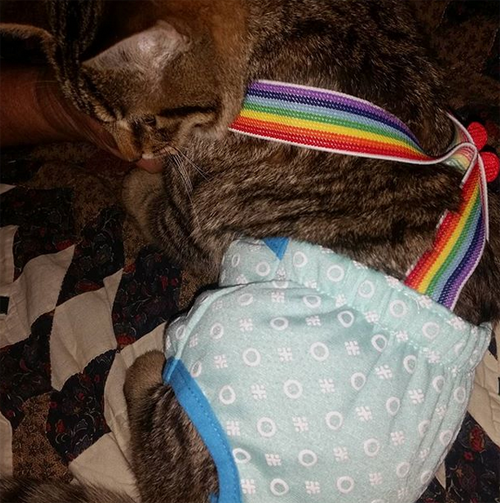 In addition to tearing around the house, Shelly is an excellent climber, which surprises a lot of people who aren't familiar with cats who have hind leg paralysis. "I wish people understood that special needs cats and other special needs animals can live full and happy lives," explains Amanda. In fact, one of this beautiful tabby's favorite activities is scaling her cat tree and pulling herself up on to the furniture, causing Amanda to place cushions near all of Shelly's climbing spots just in case she takes a tumble.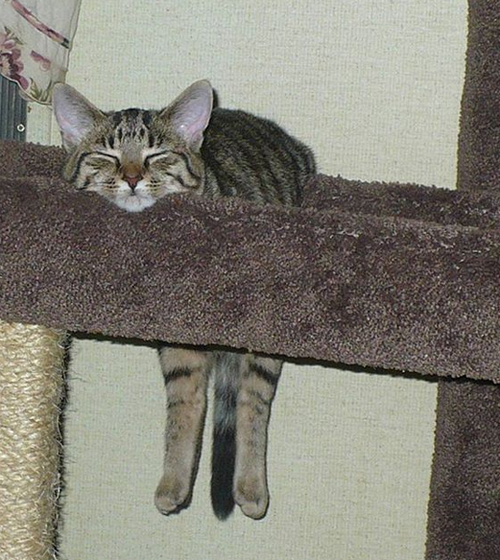 Like a typical cat, Shelly loves sunbathing, she's obsessed with food — especially treats — and she has a blast playing with wand toys and her big sisters. This lively tabby also has a sweet side, and Shelly likes snuggling with her mom and suckling on her favorite blanket while kneading it with her front paws.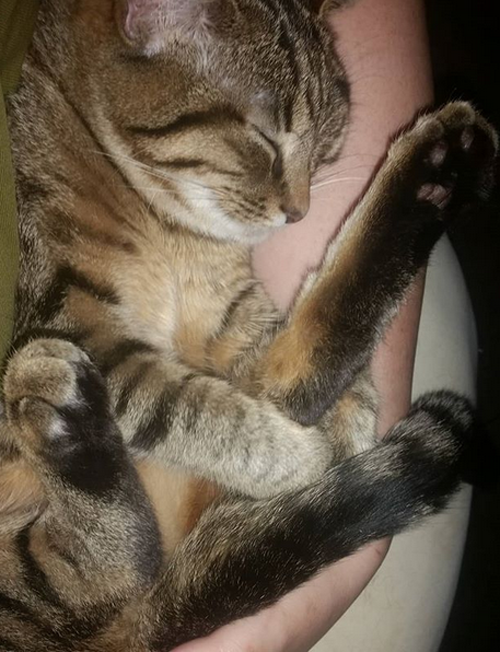 This special girl, who was abandoned in someone's yard when she was just a month old, has proven to be a source of inspiration to everyone she meets, and Amanda hopes Shelly's story will make people think twice about euthanizing animals with special needs, including the vet who recommended putting the little tabby kitten to sleep. "They didn't see much hope for her," remembers Amanda. "I worry that a lot of animals get written off in that way."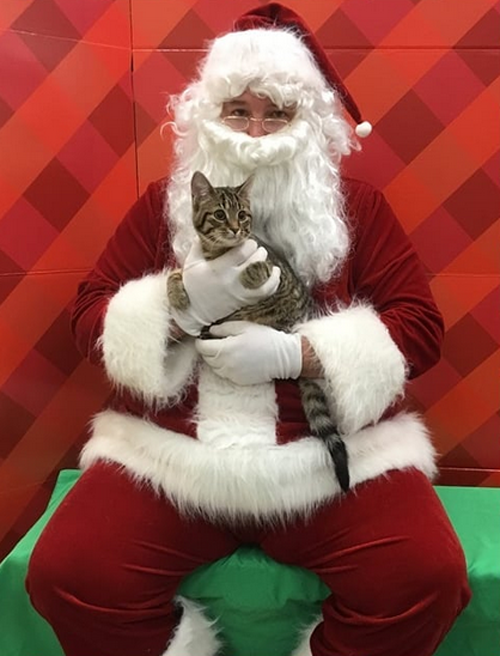 Thankfully, Amanda didn't write Shelly off, not by a long shot, and she is more committed today than ever to giving this beautiful girl the fun and fulfilling life she's not only capable of having, but deserving of having. "She has so much determination that it's impossible not to at least believe that she can do anything," says Amanda, adding, "Shelly is my furry symbol of hope."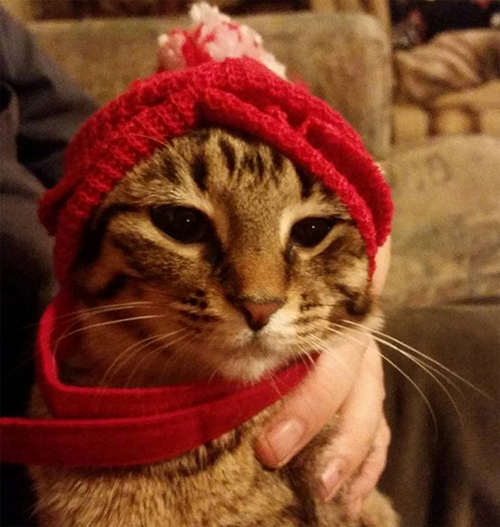 To learn more about this adorable cat, you can follow Shelly on Instagram.