Krista was scrolling through her Facebook feed at the end of January 2017, when a stunning long-haired black kitten — who looked strikingly similar to her two rescue kitties, Phantom and Batman — caught her eye.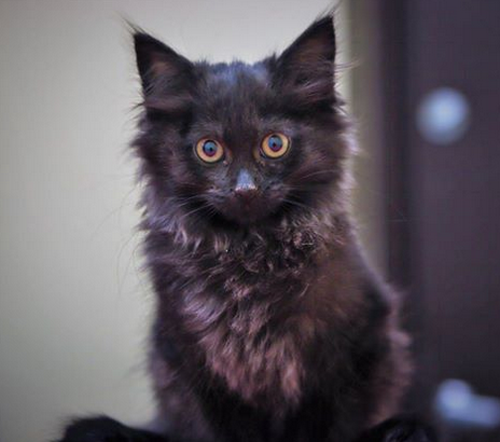 Intrigued by the beautiful feline, Krista clicked on the post and discovered the fluffy cat's name was BB, she had been born with unique back legs, and she was available for adoption through a local rescue, Seattle Area Feline Rescue. "I was immediately hooked on her big, round, alert eyes and curious demeanor," remembers Krista.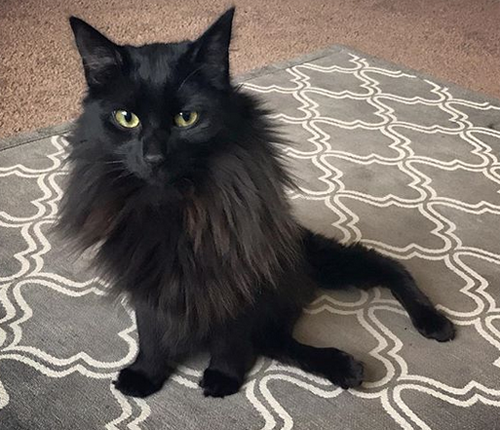 However, Krista and her husband weren't looking to open their home to another cat, as they already had their hands full with Phantom and Batman, whom they had adopted a few years earlier from Cats Cradle Shelter while they were living in Fargo, North Dakota. Still, Krista couldn't deny that she was drawn to BB's beautiful face, cute little legs, and fun-loving personality: "Something about her just melted my — and, when I showed my husband, his — heart."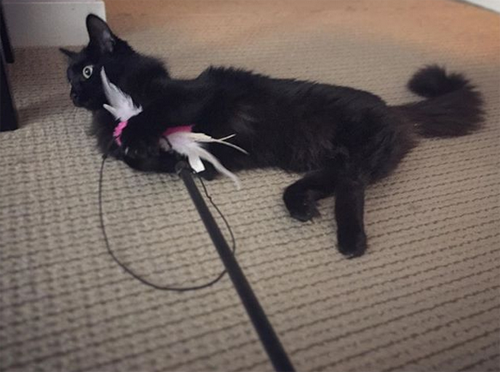 The couple contacted the rescue, and they arranged an appointment to visit BB in her foster home. When they arrived for the meeting, the fluffy black kitten — who had spent the morning playing — was asleep on the sofa, swaddled in a blanket. "She woke up and I remember all I saw were those big bright eyes and she immediately started purring," says Krista. "She came down off of the sofa and my husband and I played with her while chatting with her foster parents and learned about her care and progress."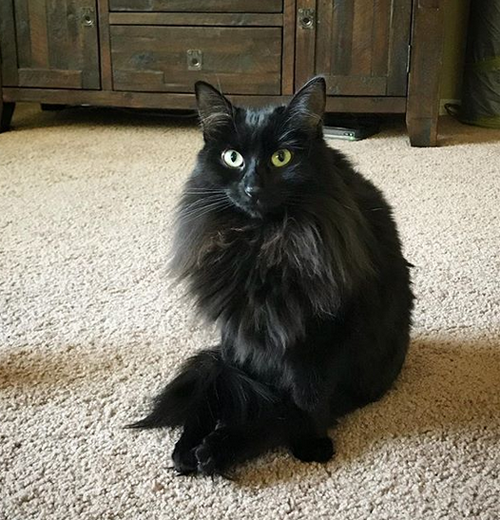 The foster family explained that when BB was born on August 19, 2016, her back legs were splayed, most likely because there wasn't enough room in her mother's womb for them to develop normally. "As we understand it," explains Krista, "her back legs are rotated almost 180 degrees at the hips and her knees bend backwards." Due to her unique condition, doctors didn't think she'd ever be able to walk, but when Krista and her husband met BB for the first time, she was approximately five months old and strutting around the room, thanks in large part to lots of physical therapy sessions.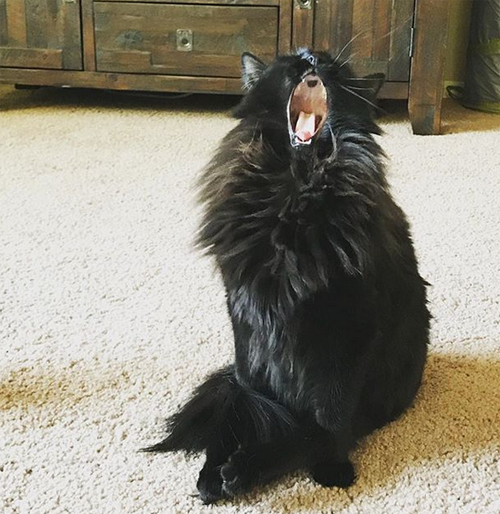 Krista, whose uncle uses a wheelchair and best friend has cerebral palsy, wasn't that surprised that BB had managed to flourish despite her challenges, as she'd witnessed her loved ones overcome their limitations time and time again. "My uncle has a business, wife, three children, and a beautiful home," says Krista, "and my best friend, whom her doctors thought would never be able walk, is a drummer!" Confident that she and her husband would be able to provide BB with any special accommodations she might need, Krista and her husband adopted the adorably different black cat and brought her home to meet her new brothers.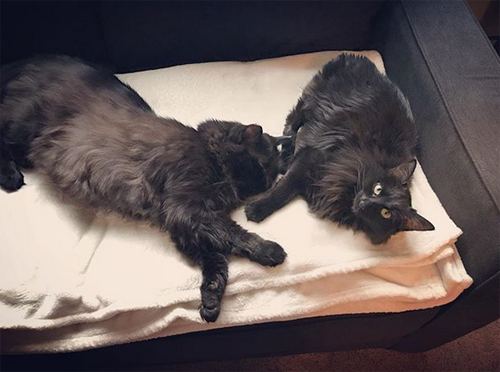 The couple wasn't sure how Phantom and Batman would react to their new sister, nor what BB would make of her siblings, so Krista and her husband were relieved when the three of them got along famously. Nearly one year later, they've all formed strong bonds with one another, and the boys are more than happy to help Krista and her husband look after their little sister.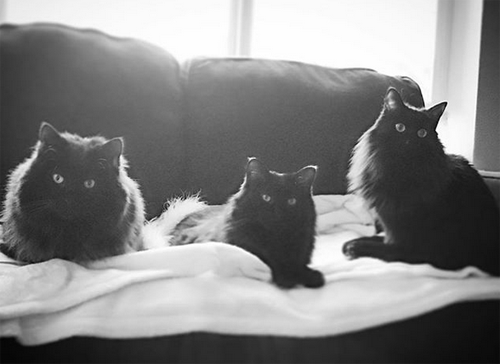 "Batman and Phantom are extremely protective of and loving with BB," says Krista. "If she gets her leg stuck somewhere and cries or meows, Batman or Phantom come running to help her. They cuddle with her and follow her around the house to make sure she's okay. It's amazing how they've bonded."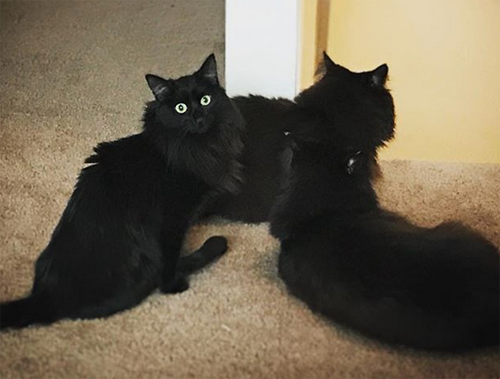 Thankfully, BB doesn't need all that much extra help, but Krista says there were a lot of challenges involving the litter box when she was first joined their family, and BB frequently had accidents that required baths in the middle of the night. However, Krista and her husband refused to give up on BB, and through the process of trial and error, they found a system that's ideal for this beautiful black cat with unique back legs. "She will go #1 in the litter box and #2 on puppy pads outside her litter box, and it works like a charm," Krista explains. "We also keep her rear end and tummy shaved down so she doesn't get her 'mess' stuck in her fur."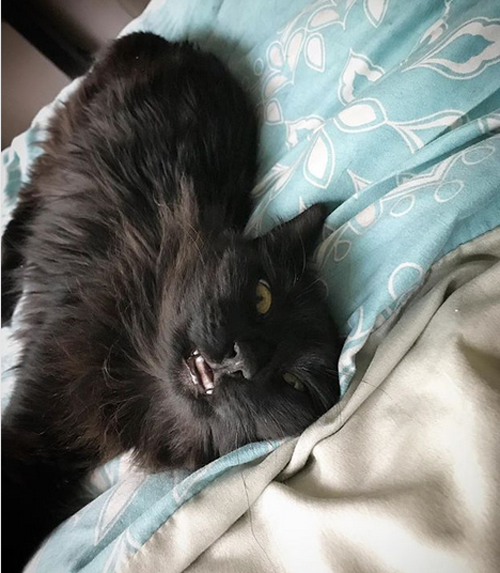 While BB isn't able to jump like a typical cat, she's an excellent climber, and she manages to get herself pretty much anywhere she wants to go. Plus, this beautiful black cat — whom experts thought would never be able to walk — enjoys chasing after her toys and wrestling with her brother Phantom. "Yes, she kicks his butt!" says Krista. BB's not only incredibly active and strong, she's also very affectionate, and she loves being with her parents and her siblings. "She's a big time snuggler and loves to lay on the sofa on her blanket with everyone around her," says Krista.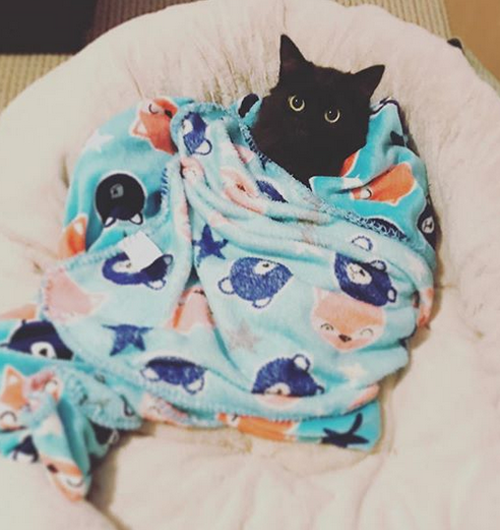 In addition to her playful, funny, and sweet nature, BB is an inspiration. "BB has learned to adapt to her differences and doesn't know the difference between her and her brothers," says Krista. While BB is the first special needs cat Krista and her husband have adopted, she probably won't be their last. "I know some special needs cats may have conditions that affect their health, so they may not lead a long life, but these kitties need more love than any other animal," explains Krista. "They deserve a life full of love, no matter how long they live!"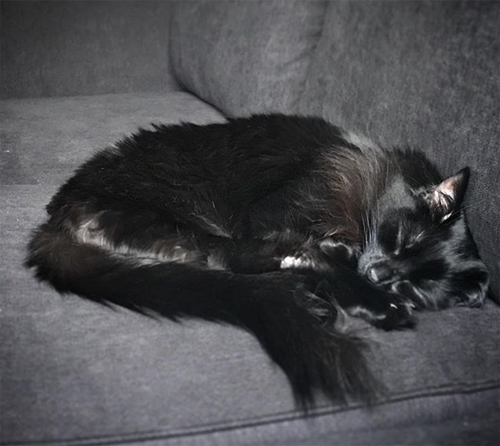 Thankfully, BB is as healthy as her brothers, and caring for her hasn't been any more expensive than looking after Phantom and Batman, but Krista admits this kitty with the unique hind legs is different from her siblings in one big way: "On my worst days, I go home and see her little face and huge eyes and watch her strut through the house — on legs we never thought she'd be able to use — and think, man, if she can get through life with her limitations and be happy, so can I!"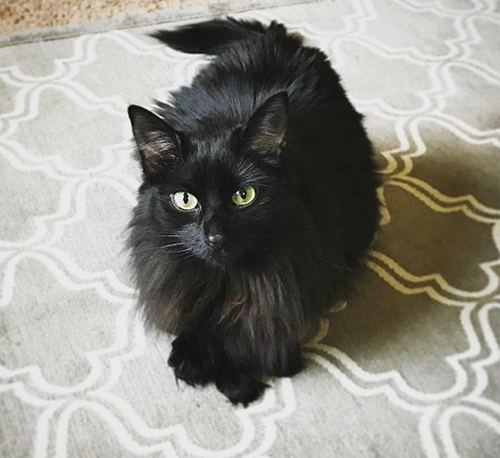 It's been nearly one year since Krista and her husband made the fateful decision to visit BB in her foster home, and in that time, this fluffy beauty has changed their lives for the better and brightened their days with her indomitable spirit and her gorgeous face. "BB has my heart!" says Krista. "She's a constant source of entertainment, laughter, and love and a lesson in patience, understanding and perseverance. She's my girl!"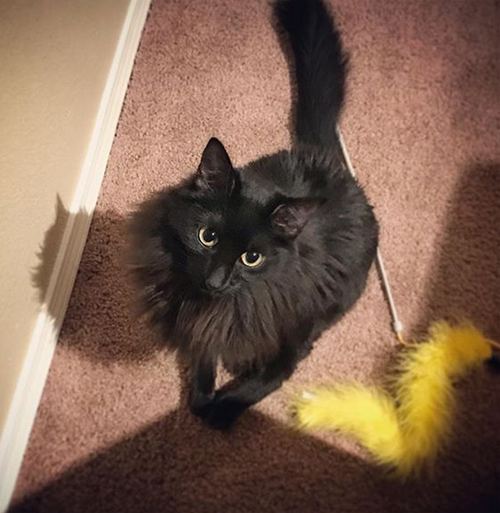 To learn more about this stunning cat, you can follow BB on Instagram.