When Kendall, a pre-veterinary student from Newark, New Jersey, decided to adopt a cat to provide her with companionship and comfort while she attended school, she knew she wanted to provide a home to a kitty with special needs. "I wanted to have an emotional support animal for when I went back to college," explains Kendall, and as a pre-vet student who also works in an animal shelter, she'd had lots of experience with pets with disabilities.
Kendall turned to Petfinder, using the special needs filter to find cats that fit her criteria, and she was immediately drawn to to a little grey and white tabby kitten with cerebellar hypoplasia (CH) who was born in a New Jersey shelter on October 23, 2016. The kitten, Joey (formerly Forest), and his two siblings all had cerebellar hypoplasia, a non-progressive neurological condition that affects balance and coordination and occurs in utero.
"Joey's mom had the panleukopenia virus while she was pregnant," says Kendall. While Kendall had seen CH cats on social media, she'd never met one in person, but she felt a connection with the tiny special needs kitten. "I fell in love with his face instantly," remembers Kendall.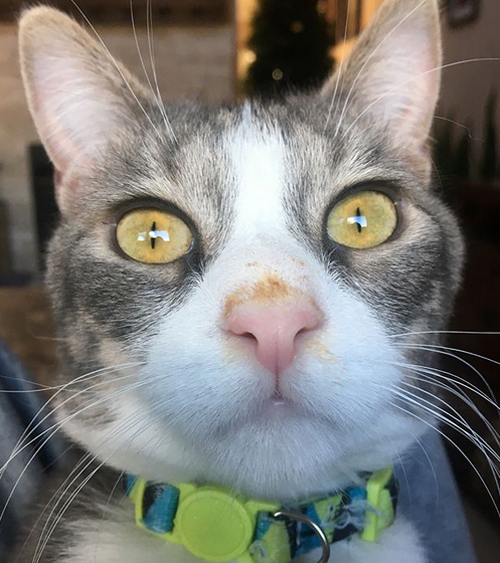 In May 2017, Kendall arranged to meet Joey — who had been rescued by Lost Paws Animal Rescue in Bridgewater, New Jersey — in his foster home, and she knew right away that he was the perfect cat for her. "His foster mom was amazing and took such good care of him," says Kendall, but the little kitten was being treated for ringworm, so she wasn't able to take Joey home with her that day. However, a week later, the tiny tabby's ringworm was gone, and Kendall returned to his foster home to formally adopt him.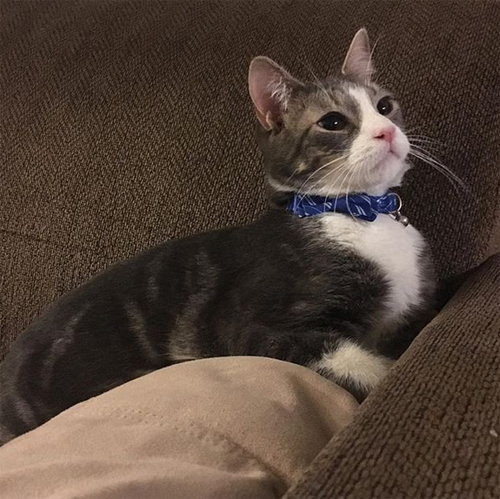 While Kendall had lots of experience with special needs cats, she'd never been around a CH cat before, so she wasn't sure how Joey's wobbly walk would impact his daily routine. However, she quickly discovered that Joey — like a lot of CH cats — was able to conquer most challenges related to his lack of balance and coordination.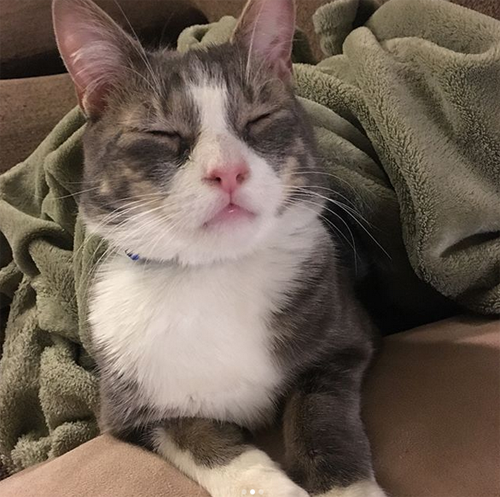 "Joey just needs a little extra help," explains Kendall, "especially in the litter box, but other than that, he is a perfectly happy and healthy cat." Because CH affects balance, Joey occasionally falls over while going to the bathroom, and Kendall sometimes has to give him a bath, an experience neither of them enjoys. "He does not like water," says Kendall, "so cleaning him up is usually the only time he is truly upset."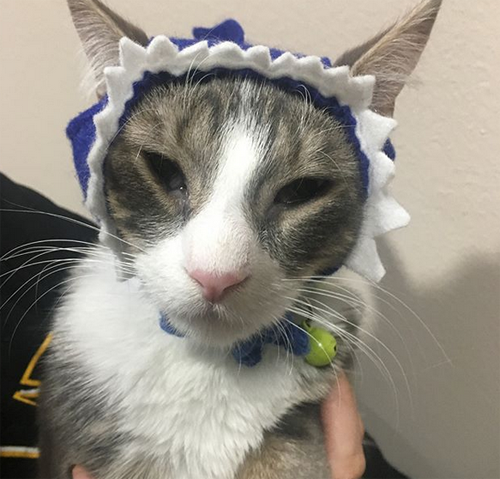 Thankfully, Joey rarely needs bathing, and the rest of the time he is an incredibly active and happy cat who loves hanging out with his mom and the other cats in his home. "Joey is the happiest, purriest, most special boy in the whole world," says Kendall, "and even when he is skipping around my apartment bonking into walls and tripping, he gets right back up and acts like nothing happened."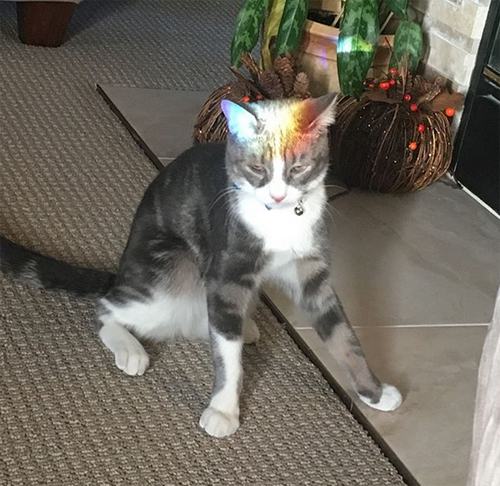 In fact, Joey is very social, and in addition to spending time with Kendall and her roommates, he loves meeting and greeting new people when they visit his home. This adorable cat is also obsessed with the laser pointer, and he loves cuddling with Kendall and taking naps on her head.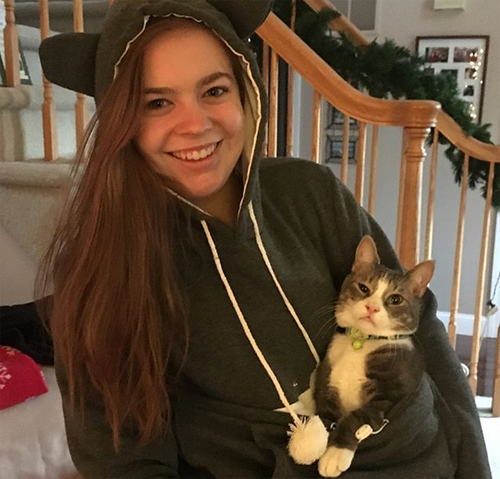 Joey, who is happiest when he's surrounded by people, is usually never far from Kendall and her roommates, but sometimes when they return home from school or work, they'll call for him by his full name, Joseph George. "He comes running," says Kendall, "wherever he is and no matter what he is doing. It's so cute!" This wobbly cat, who brightens the lives of everyone he meets, has been a part of Kendall's family for more than a year, and in that time he has provided her with so much love and laughter, even though he requires a bit more care than a typical feline.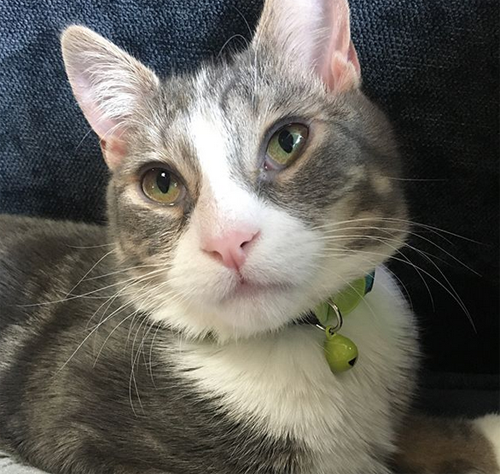 However, Kendall believes Joey is such a wonderful pet because of cerebellar hypoplasia, not in spite of it, which is why she thinks more people should consider adopting special needs cats like her wobbly boy. "Their disability is what makes them unique," says Kendall, "and people are so lucky to love them."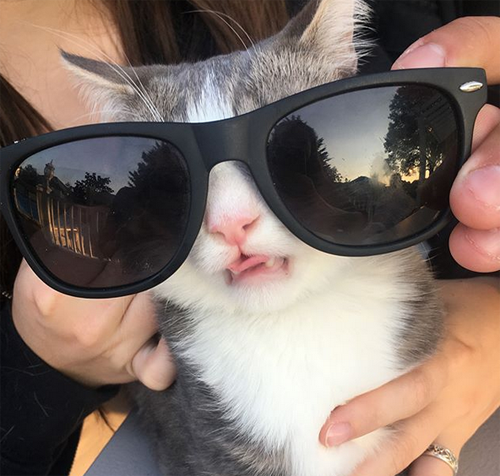 While many people think Joey is fortunate to have found a caring and love mom in Kendall, this pre-veterinary student insists this handsome tabby and white cat has given her so much more than she's ever given him. "As much as I support him and his needs, he emotionally supports me, calming me when I need it and just being so dang cute!" says Kendall. "I have no idea what I would do without him now that I have him."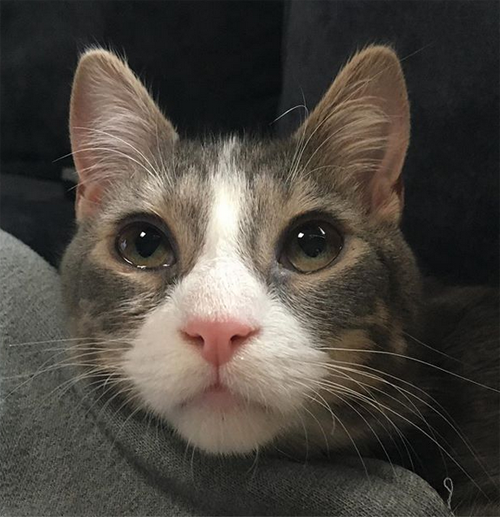 To learn more about this adorable cat, you follow Joey on Instagram.