When Zoe Winn of Buckinghamshire, England, saw a Facebook post in March 2013 about someone in her community who was looking for a new home for their one-year-old cat, Tommy, she didn't immediately consider adopting the handsome black and white kitty.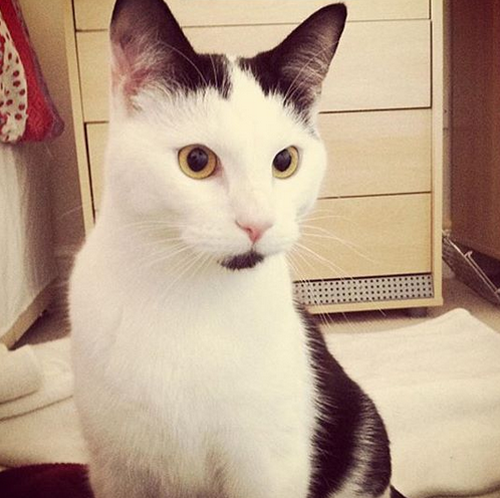 However, when Tommy's picture kept appearing in Zoe's Facebook feed, she and her husband began discussing the possibility of adding a younger cat to their family, which already included two 7-year-old felines. "We decided that perhaps getting a new cat would be a good idea," remembers Zoe, and so she contacted Tommy's owner to learn more about the black and white kitty.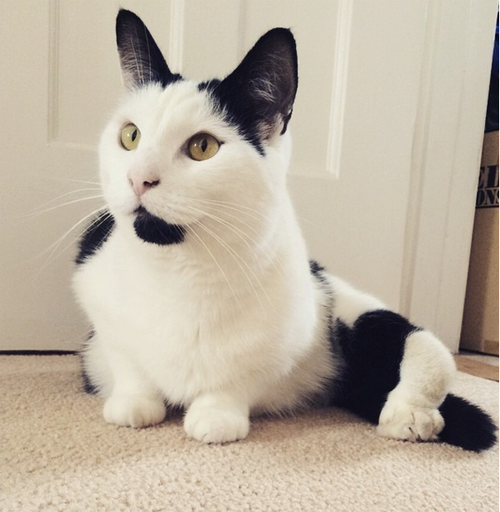 "She said he had bent legs," explains Zoe, and Tommy's owner had decided to find a new home for the one-year-old cat because she didn't have space for him in the small one bedroom apartment she shared with her dog and her young child. Zoe and her husband arranged to meet Tommy in person, and they quickly realized that the adorable special needs cat — who was born with contracted tendons in his back legs — wasn't thriving in his current home.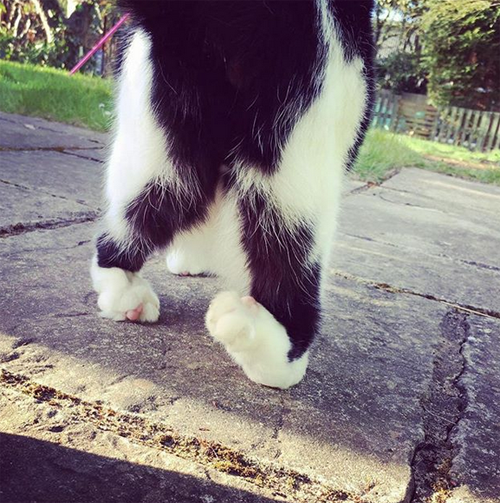 "The dog would jump on him," remembers Zoe, "and he ran and hid under the bed." Almost immediately after the couple saw Tommy for the first time, Zoe and her husband decided they were going to adopt him. "We couldn't leave him in the place he was," says Zoe. "He was terribly scared and we were worried he would end up being put to sleep if we didn't take him as no one else wanted him."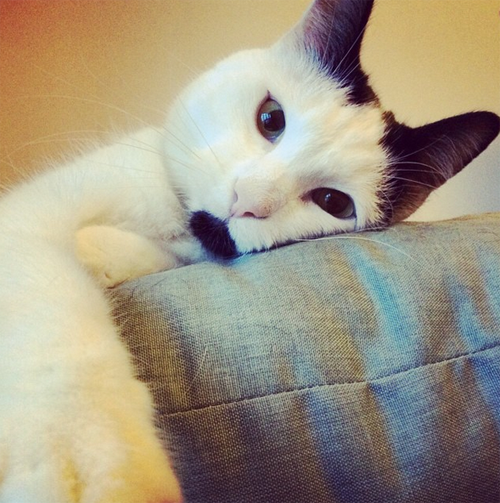 The next day, Zoe and her husband returned to the small one bedroom apartment, collected Tommy, and brought him to their home in Buckinghamshire where he was able to flourish. The couple quickly discovered that Tommy was able to walk and run just about as well as a cat without the congenital condition, although he essentially moves around on his "knees."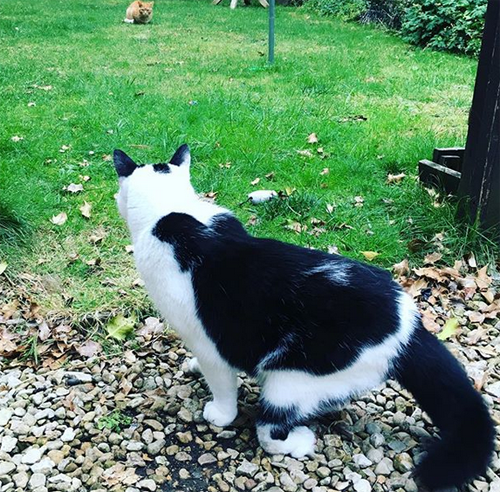 While no one knows exactly why Tommy was born with contracted tendons, it's believed to occur in utero when a kitten is poorly positioned in his mother's womb. "The kitten is cramped with no room to move its legs," explains Zoe, "and as a result the tendons shorten and twist the legs out of their normal alignment."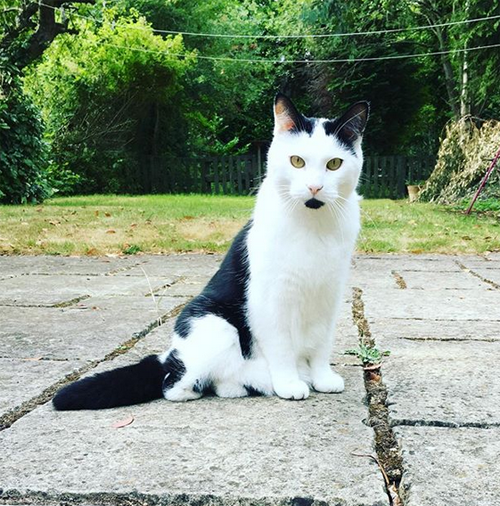 Because Tommy was born with this condition, he doesn't realize he's different from other cats, and except for not being able to jump as well other felines, it doesn't have much of an impact on his day to day life. In fact, he has no trouble getting climbing on to furniture, and when he needs to get down from high places, Tommy simply slowly lowers himself using his front legs.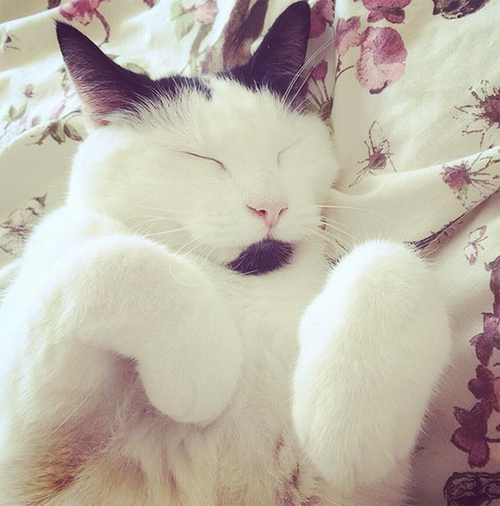 "His upper body is now really strong," says Zoe, "like a body builder." Also, because Tommy doesn't walk the same way as a typical cat, he does require some special grooming. "He has to have a pedicure at the vets every 8 weeks as he can't wear down the claws on those legs," explains Zoe, "but that's not much."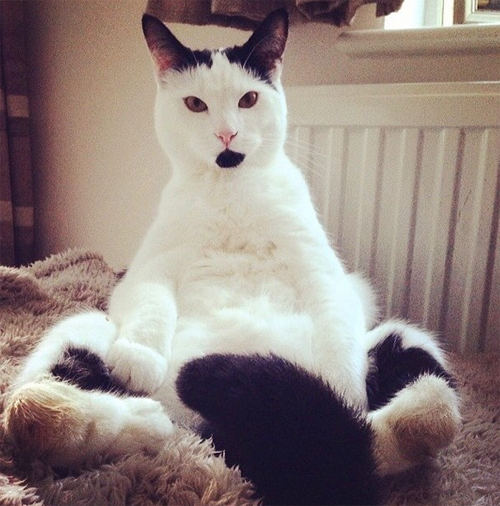 Tommy, who was once cooped up in a small apartment, gets to spend lots of time outside, and he loves protecting his new family's home from other cats and exploring the backyard. "We have an enclosed garden," says Zoe, "so he can't get out as he could get into difficulties if he was able to roam freely like a 'normal' cat would."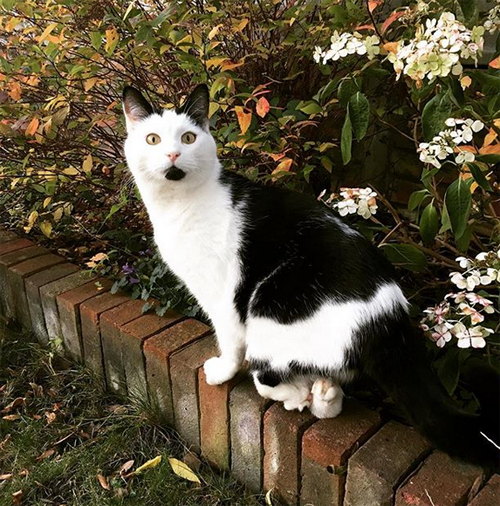 When Tommy's not enjoying the great outdoors, this handsome black and white cat can be found relaxing on his pink unicorn bed or hanging out with his adoptive siblings, Harry and Tash. "When we got him, he didn't really know how to wash himself," says Zoe, "but after watching his 'uncle and 'aunt' Harry and Tash, he soon learnt how to!"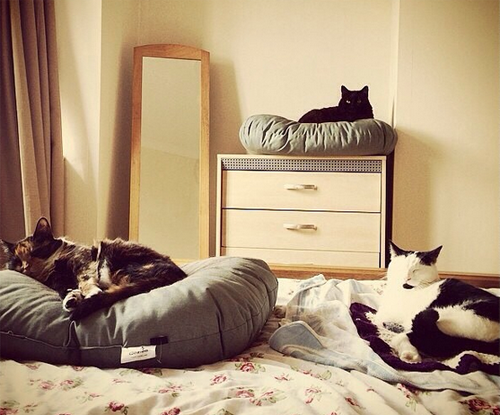 It's been nearly five years since Zoe and her husband made the decision to adopt Tommy, and it's one neither of them regret. Today, Tommy — who used to have to hide under the bed in a cramped apartment — now has a home, including an enclosed yard, for him to explore and lots of cozy places for him to rest his head.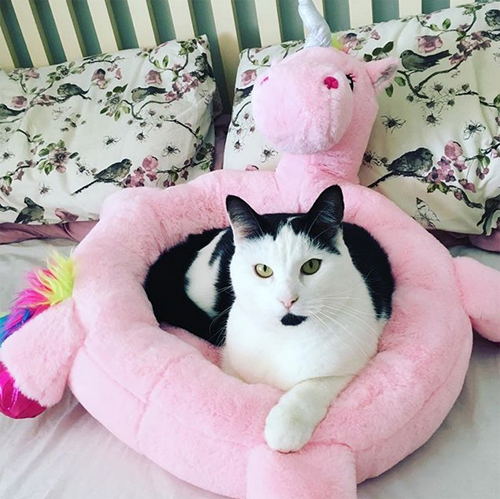 More importantly, Tommy now has Harry and Tash to play with and cuddle, as well as Zoe and her husband to love and take care of him. In fact, instead of losing his home several years ago in March 2013, it seems this special needs cat actually found the family he was always meant to have. Zoe, who believes special needs cats like Tommy are often more loving than typical kitties, obviously agrees. "Owning a special needs cat can be extra rewarding," says Zoe. "He's my special baby boy!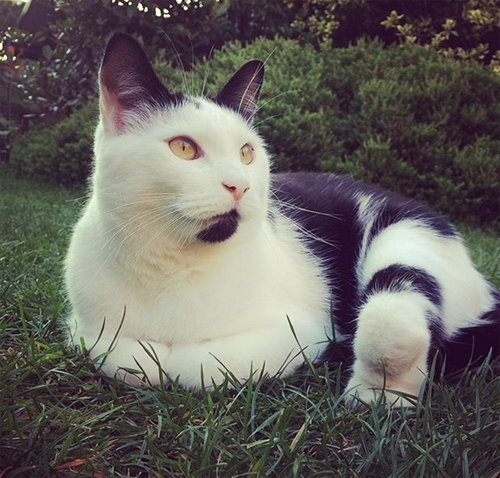 To learn more about this adorable cat, you can follow Tommy on Instagram.