Krista was looking for a special needs cat to adopt, when she learned about Kira, a kitten who ended up at vet's office in Cyprus in June 2018 when she was approximately three weeks old.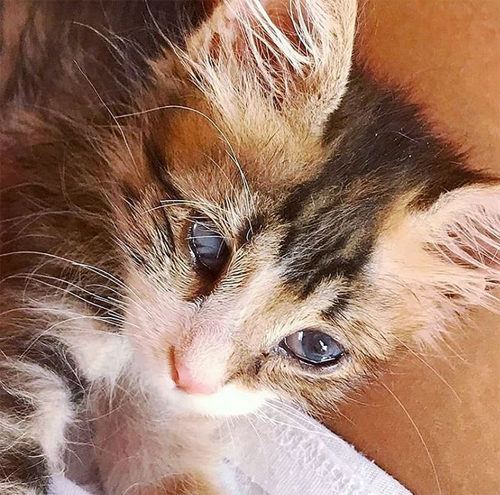 The tiny cat was in terrible shape, and she'd lived in a cage at the vet for about month until a kind woman came along and offered to help her.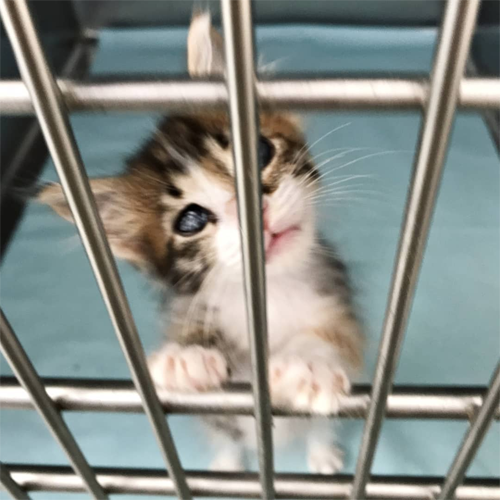 "When her foster mom Valeria saw her and took her home she was seven and a half weeks old, completely blind, and still battling internal parasites, a fungal skin infection, and an eye infection," says Krista.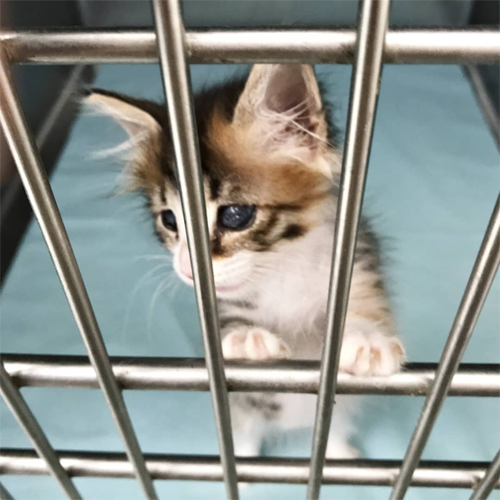 Despite being in poor health, Kira thrived in her foster home. No longer confined to a cage, the little kitten was able to explore the foster room in Valeria's house, play with toys and other cats, and even spend time on the balcony, allowing her to safely enjoy the outside world. "She could listen to all kinds of new sounds and feel how the hot days of Cyprus turned into cooler nights," says Krista.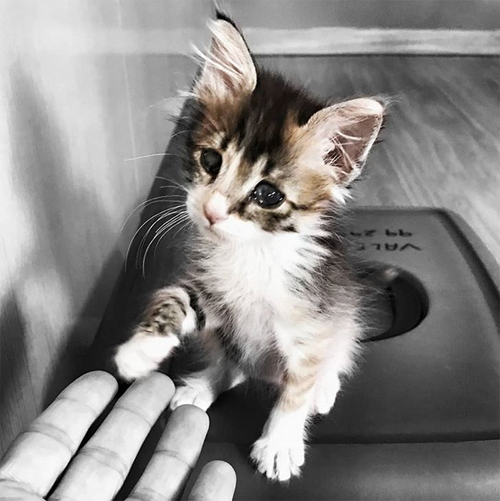 Not long after she brought Kira home, Valeria shared the kitten's story in a Facebook group about the many homeless cats in Cyprus, which is how Krista learned about her for the first time. Having recently lost her beloved senior cat to acute kidney failure, Krista saw an opportunity to turn her sorrow into joy.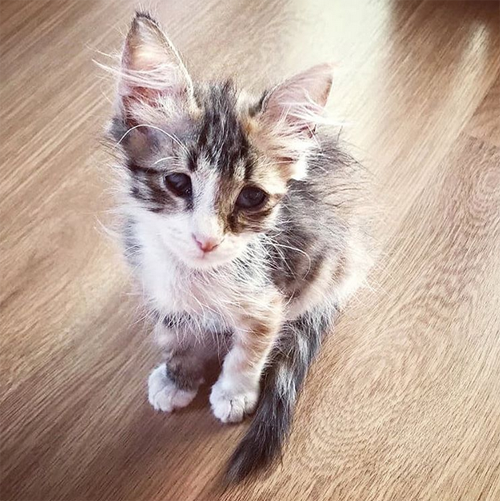 "Heartbroken after her loss, I was reminded of how one's passing can mean a chance at life for someone else in need," explains Krista. "It was everything to me in that moment of absolute grief — to think that something good could come out of something this awful."
Krista had spent several days searching for a special needs cat to adopt, wanting to open her home to a pet who would have difficulty finding a forever family. "Whole nights I stayed up going through special needs cats and kittens looking for homes all around the world, from Rhodes to Egypt, until I finally found her and knew I was done searching," says Krista. "This tiny, hardly two-month-old and completely blind kitten from Cyprus was it."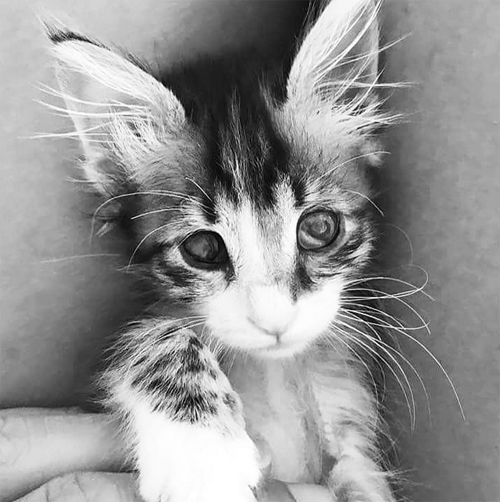 Smitten with Kira, Krista — who lives in Finland — reached out to Valeria to see if she would be able to adopt the adorable special needs kitten. However, even though the little cat was in relatively good health, Krista knew she wasn't old enough to get the vaccinations required to fly to a foreign country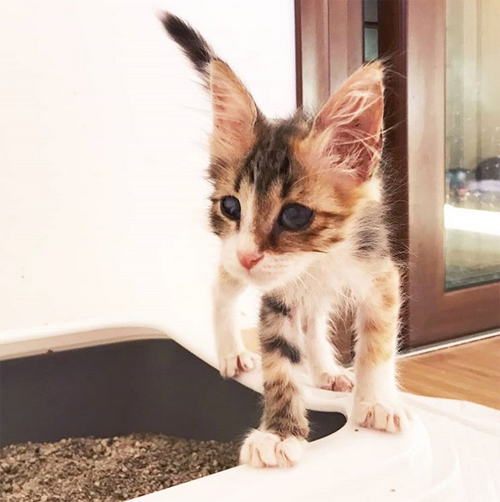 Fortunately, Krista was more than happy to wait until Kira was old enough to travel, and she spent several weeks watching from afar as the young cat got stronger and stronger. "We kept messaging back and forth with Valeria who went absolutely above and beyond in sending me new pictures and videos of my girl every few days or even daily," remembers Krista.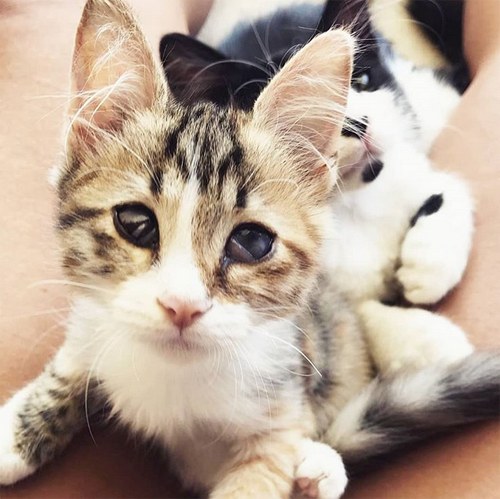 After two months of waiting, Kira was finally ready to travel, so Krista made the trip to Cypress, arriving at 4a.m. on the morning of October 3, 2018. "Valeria kindly insisted I'd stay with her while in Cyprus, so after landing there in the middle of the night, I got to meet Kira straight away," says Krista. "Valeria had done an amazing job in bringing up Kira to be so brave, confident and affectionate, that when she was placed in my arms she was right at home, purring and playing with my dress like we would have known each other already."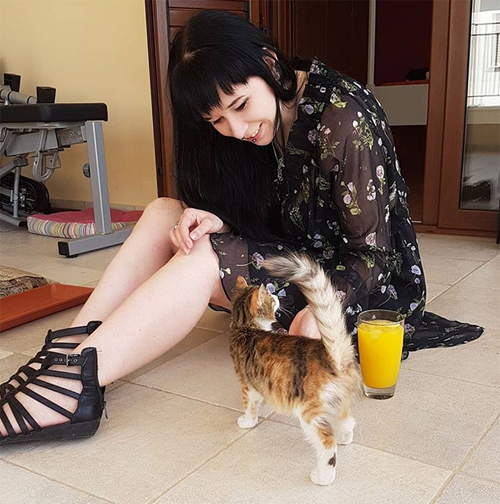 After spending two days in Cyprus, Krista and Kira prepared to fly to Finland, saying goodbye to Valeria, the woman who meant so much to both of them. "I felt grateful beyond words for all she had done for Kira, the trust she had in me for giving her to me, and the way she and her husband had welcomed me in their home as well," says Krista.
View this post on Instagram
On October 5, 2018, the pair boarded a plane to Finland, with Kira traveling in the cabin with Krista. Not surprisingly, the incredibly confident kitten did well throughout the trip, attracting attention from other travelers who wanted to learn more the calm and easy-going special needs cat.
View this post on Instagram

"One after another, people would come up to us and ask me if she was one of the numerous strays they had seen in Cyprus, not having thought that they could be adopted abroad and amazed that someone would do such a trip just for a cat instead of going on a holiday," remembers Krista. When Kira finally arrived in her forever home in Kerava, she adjusted quickly to Finland and its colder climate.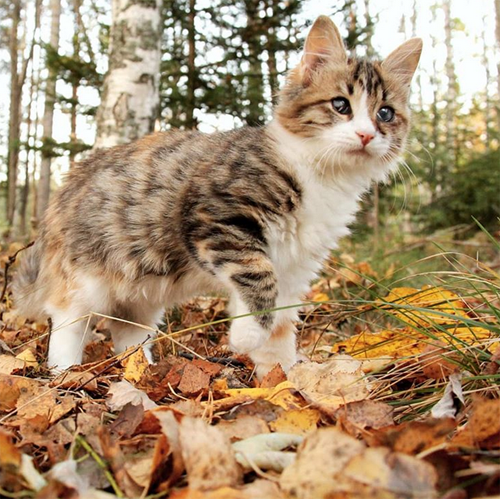 "I think one of the biggest misconceptions people have about blind cats is that they'd be inactive," says Krista, but Kira immediately began exploring her new home, and it didn't take long for her to learn the layout of the house.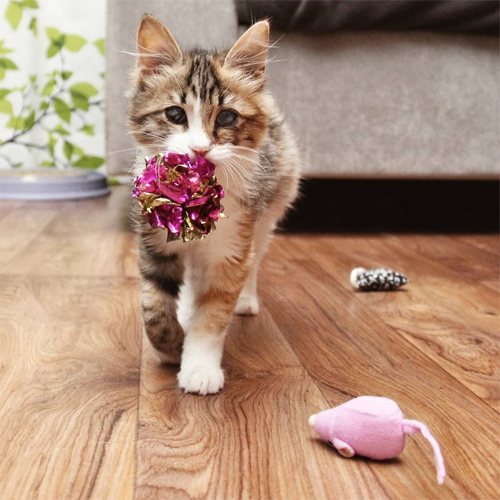 Shortly after Kira got settled into her new environment, Krista took her to the vet. While everyone had assumed Kira had lost her vision to some sort of infection when she was a tiny kitten, a medical exam revealed she was most likely born blind.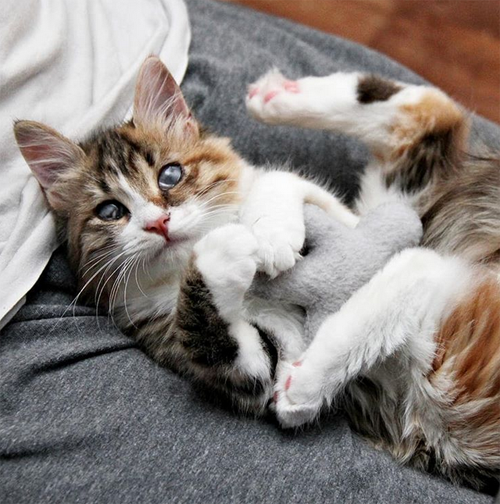 "Her right eye is underdeveloped and covered with parts of her lower eyelid that has attached to the eye before it ever even opened, which would suggest that she has never seen in her life," explains Krista. Unfortunately, over time, Kira developed glaucoma in her left eye, a condition characterized by the buildup of fluid that can lead to elevated eye pressure.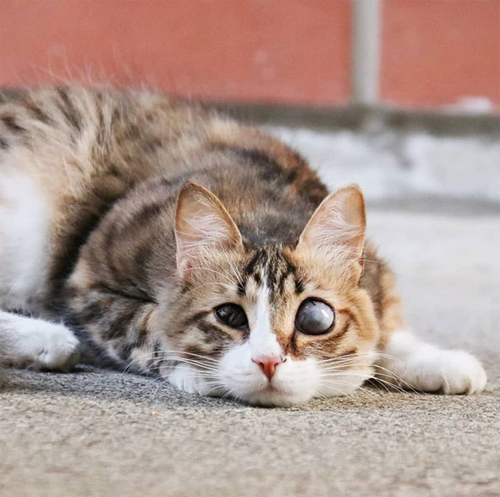 While she never exhibited any signs of discomfort, due to the progressive, irreversible, and potentiality painful nature of glaucoma, two veterinary ophthalmologists who examined Kira recommended removing her left eye once the pressure reached a certain level. "I had no other choice than to let her ophthalmologist remove the eye," explains Krista. "Her behavior didn't change, but after worrying and monitoring the eye for months prior, the certainty of no discomfort now or in the future was a relief."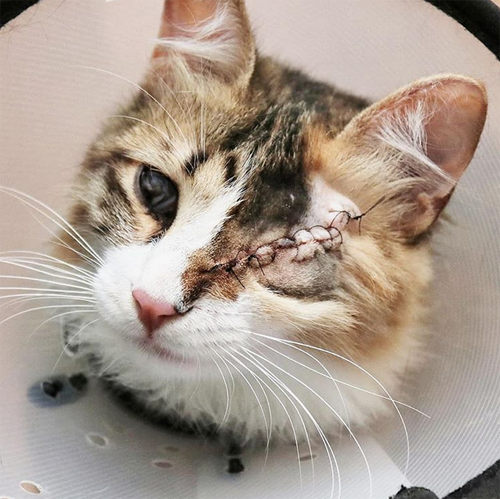 More than a year after arriving at her forever home, this one-eyed girl is thriving, and Kira even inspired Krista to adopt Khalil, another blind cat. Despite being unable to see, Kira and her brother are very happy and active, and they absolutely adore going on adventures with Krista.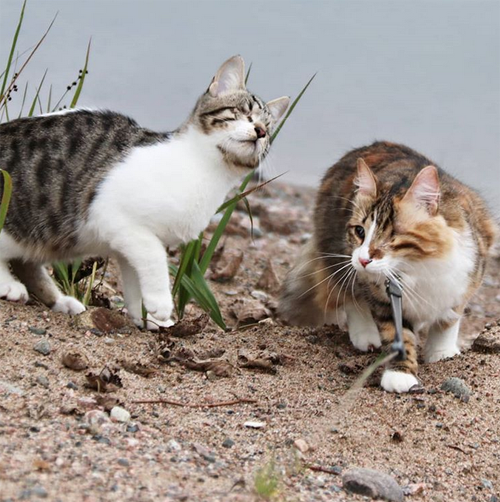 "I took Kira outside for the first time after she had been home for a week and she absolutely loved it," says Krista. "She was feeling the sun on her face, listening to the wind high up in the trees, and tossing leaves to herself to play with."
View this post on Instagram

While she occasionally brings one of her sighted cats on adventures with Kira and Kahlil, Krista has found none of them are as brave as her special needs kitties. Also, while people often feel sorry for blind cats, Krista believes there's absolutely no reason for anyone to pity Kira or Kahlil.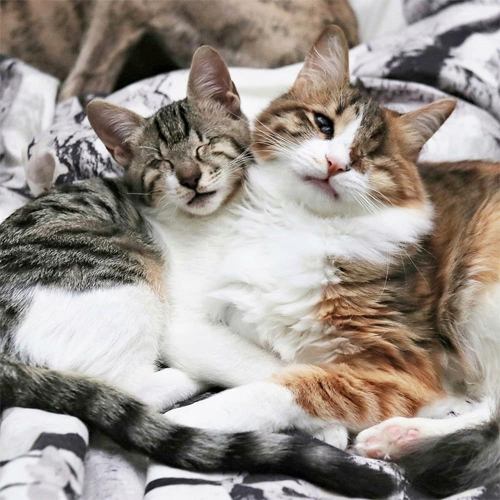 "This is how the world has always been to them and they're just as independent, stubborn, curious, playful, and energetic as any other cat," explains Krista. "When I compare my two blind cats to my sighted ones, they're actually more active than the rest!"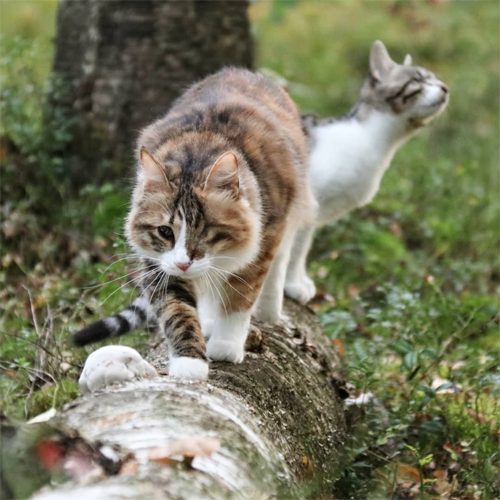 However, because Kira and Kahlil can't see, Krista has to make sure to keep her home free from clutter, and she avoids rearranging the furniture because she doesn't want to confuse them. She also speaks to Kira more than her sighted cats, relying on her sense of hearing to make up for her lack of vision.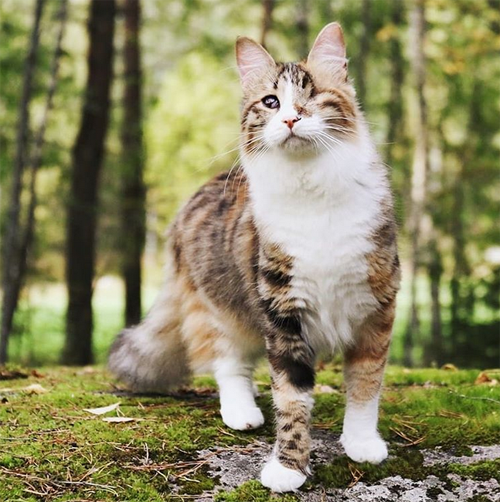 Aside from these relatively minor differences, Krista hasn't needed to make a lot of special accommodations for Kira or Kahlil, and she hopes more people will consider opening their homes to animals who frequently have difficulty getting adopted. Krista thinks people often avoid adopting pets with special needs because they believe they will just feel sorry for them all the time, but her experience with Kira and Kahlil has been the exact opposite.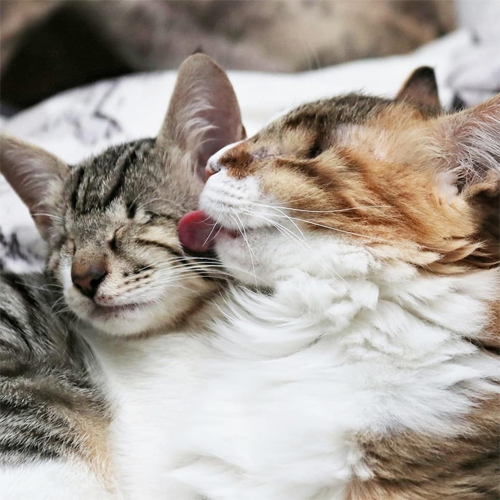 "These cats are living their lives to the fullest, not giving a single thought to seeing or not seeing, and getting to witness that is something not sad at all, but endlessly inspiring," says Krista. "They live in the moment without feeling sorry for themselves, so neither should you."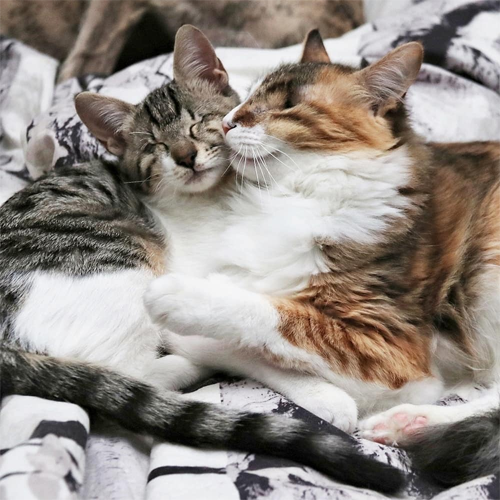 Instead of pitying Kira, Krista feels a tremendous amount of gratitude towards this gorgeous blind cat who helped her turn the loss of her beloved feline friend into something beautiful. "When she came into my life she mended a broken heart and now fills it with joy every single day," says Krista. "I am beyond lucky to be on this journey with her. She means the absolute world to me, this girl."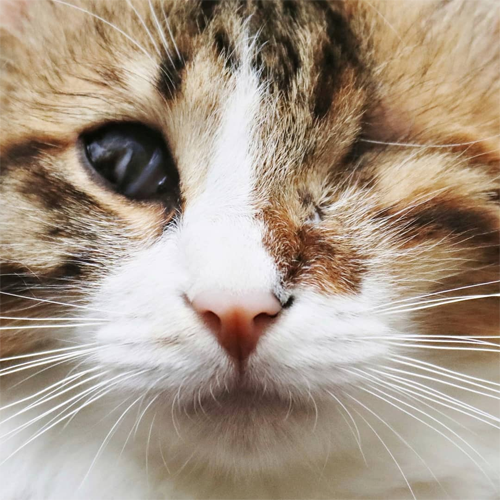 To learn more about Kira, you can follow her on Instagram.