When Megyn learned another foster mom needed to have surgery and would no longer be able to care for Sasha, an adorable Siamese kitten with Manx syndrome, she offered to open her home in Round Rock, Texas, to the cute special needs cat. "I've been doing medical fostering for years and love the tough cases," explains Megyn.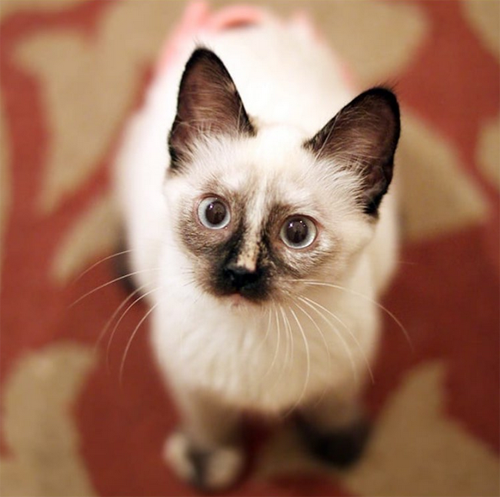 On August 9, 2019, Megyn started fostering Sasha, who was originally rescued from the Williamson County Regional Animal Shelter by her first foster mom, Ariana, on June 20, 2019, when she was approximately seven weeks old. "I met Sasha the same day as her first foster," says Megyn. "We both saw her making some intense biscuits on the kennel glass and looked at each other hoping the other would take her."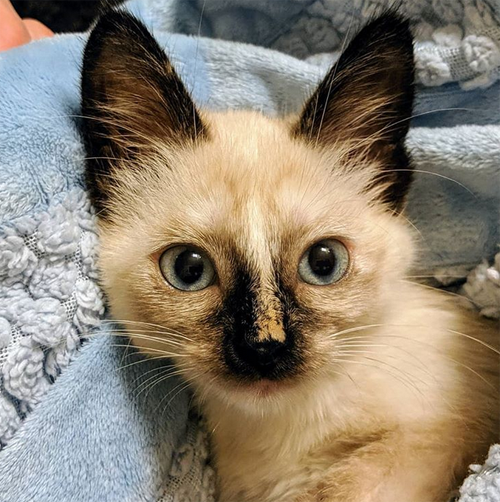 While Ariana fostered Sasha initially, Megyn was happy to take over caring for the beautiful kitten who was born with Manx syndrome, a congenital condition that affects some tailless cats, often making them incontinent. "The genes that cause Manx to be tailless can also cause spinal and nerve issues, such as spina bifida, which in turn leads to incontinence," explains Megyn.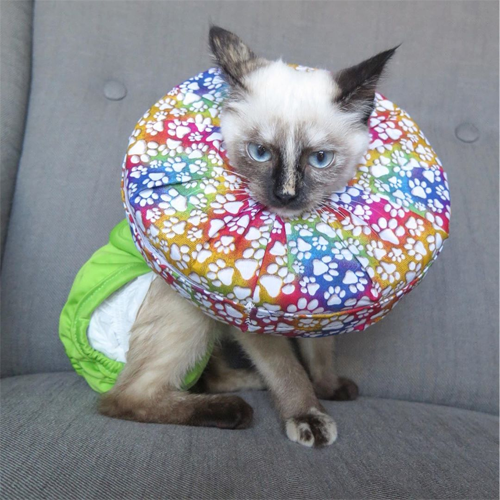 As a result, Megyn needed to put diapers on Sasha and express her bladder, which proved to be a bit of a challenge. Not only did Sasha's urine not stay in her diaper, Megyn found it difficult to express the young cat's bladder because of previous trauma to her genitals. "Because of all of her urine scald and subsequent debridements, scar tissue formed over Sasha's genitals, leaving her a pinhole in the skin from which to urinate," says Megyn.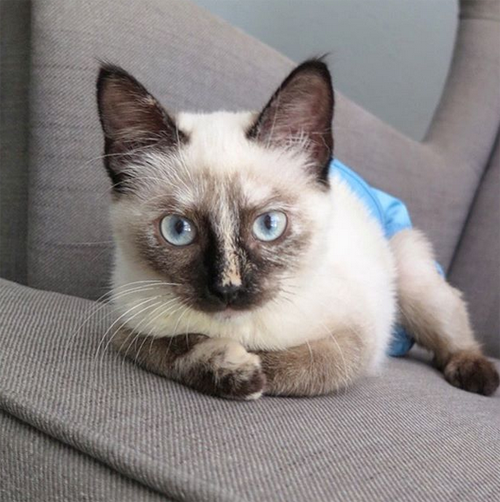 Despite these obstacles, when she visited the shelter a few weeks later and learned Rachel, an incredibly cute calico kitten with incontinence, was in danger of being put to sleep, Megyn knew she had to do something to help this special needs cat. "I met Rachel the day she came in to the shelter in a bucket with seventeen other kittens and immediately fell in love with this one extra special, wonky kitten," explains Megyn.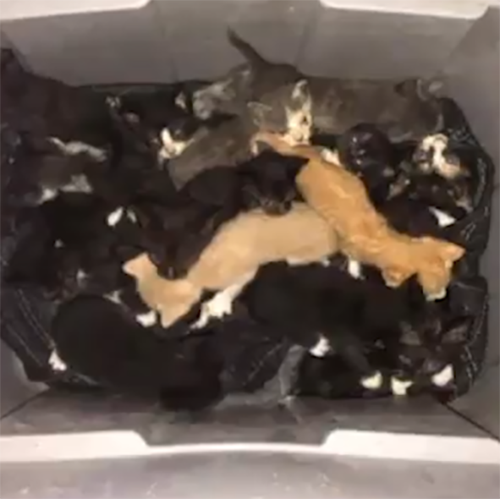 Shortly after arriving at the facility, Rachel was placed in a foster home, but it wasn't long before she was returned to the shelter when her incontinence became apparent. An x-ray revealed one of Rachel's vertebrae was either malformed or fractured due to some sort of trauma as a tiny kitten, making her both urinary and fecal incontinent, as well as causing her to have an unusual gait. "She is able to use her hind limbs to walk, but walks in a manner that resembles a horse doing dressage," says Megyn.
View this post on Instagram
Rachel, who was born in early May 2019, remained at the shelter, waiting for an individual or organization to come to her rescue, and Megyn became increasingly concerned about the little cat's future as the days passed. "Being at the shelter often as a volunteer, I would visit Rachel and heard some talk that they may have to euthanize if they couldn't find help or a rescue to take her," remembers Megyn.
View this post on Instagram
While she was still working to get Sasha's issues under control, Megyn was determined to give Rachel the chance she deserved, so on August 23, 2019, she started fostering the special calico cat. "I knew I had the skills and time necessary for their care," says Megyn. "I also believed they deserved a chance to find a home and would make amazing pets and wanted to show the shelter and public that special needs cats are just as deserving as special needs dogs."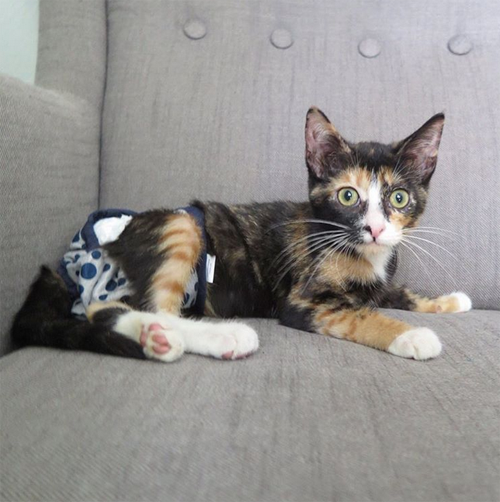 Thankfully, Rachel and Sasha hit it off right away, and just as she'd hoped, Megyn was able to give them the care they both needed to thrive. Sasha eventually had a vaginostomy, making it easier for her foster mom to express her bladder, and Megyn was able to get Rachel's diarrhea under control. However, those initial weeks were anything but easy. "Our house was constantly a mess with urine and feces accidents everywhere!" remembers Megyn. "Yet we continued to persevere and fight for their care."
View this post on Instagram
Just a few months later, these two special needs kittens are best buddies, and they're both doing better than ever. "That initial month of chaos was completely worth it to see how stable they are now," says Megyn, and currently, the special care they require takes approximately half an hour each day, far less time than a lot of people might think. "It generally takes me under five minutes to express, potty, and diaper both Sasha and Rachel! I do that about four to five times a day, so that's about 30 minutes a day of 'special' care."
View this post on Instagram
Also, because they don't use litter boxes, Megyn saves time on scooping, and she's found the cost of diapers for Sasha and Rachel is about the same amount she would have to spend on litter for the two of them. "The biggest struggle has been trying to convince the shelter and public that their lives have value despite the fact that they will always be incontinent," says Megyn. "I wish people knew that special needs cats, especially incontinent cats, are worthy of our time and love and worthy of homes."
View this post on Instagram
Despite being incontinent, Sasha and Rachel have very happy and active lives, and they both love to play. While Sasha enjoys spending hours chasing after her spring toys, Rachel adores toy mice and wrestling with the other foster cats who share her home. "Rachel's favorite activity is playing with anyone and everything!" says Megyn. "We often joke that we are grateful she has mobility issues because if she had full mobility of her rear legs, she'd be a terror!"
View this post on Instagram
While Sasha is very lively, she's also got a extremely sweet and nurturing side, and she adores doting on and mothering the foster kittens Megyn brings home. "She can often be found grooming the foster kittens and cuddling them to sleep," explains Megyn. "She also spends a great deal of time covering up the other foster kittens' business in the litter box."
View this post on Instagram
Even though they have different personalities, Rachel and Sasha are the best of friends, which is why Megyn is trying to place them in a home together. While finding a home for one special needs kitten can be a challenge, Megyn is confident the right family for both of these girls is out there.
View this post on Instagram
"We're looking for an adopter that either stays home, works from home, or can be home often enough to ensure they get their diapers changed frequently," says Megyn. "Mainly, we're just looking for an adopter who will love them as much as we do and give them amazing lives!"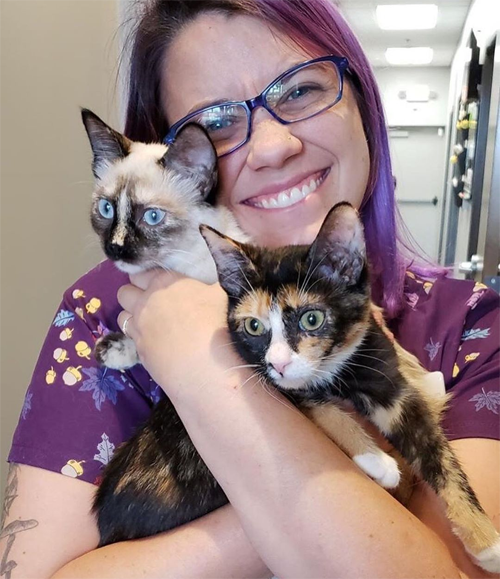 After all, while Sasha and Rachel have helped Megyn learn valuable skills and encouraged her to become even more of an advocate for cats with special needs, ultimately, these adorable girls have filled her home with love, fun, and happiness. "Sasha and Rachel mean hope, strength, and perseverance," says Megyn. "They bring so much joy into our lives that we know they'll do the same for another family."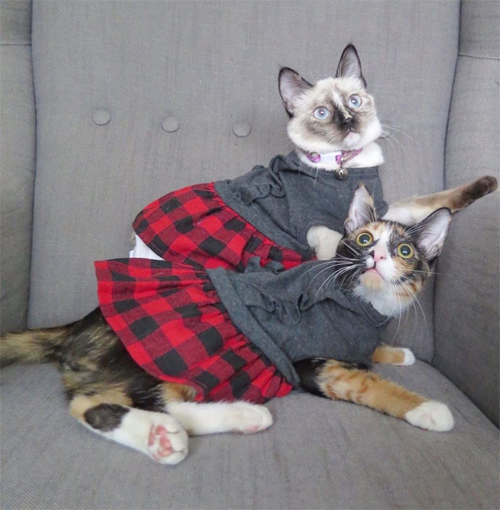 To learn more about these adorable kittens, you can follow Sasha and Rachel on Instagram.
If you're interested in adopting these special girls, please send their foster mom Megyn a direct message on Instagram.