In the spring of 2012, Carrie Hawks, a fantasy cat artist from Pensacola, Florida, discovered that a two-legged kitten and his mother and siblings were living in the woods near her father's work, and she decided she had to help the family of feral felines, especially the young tabby and white cat without back legs.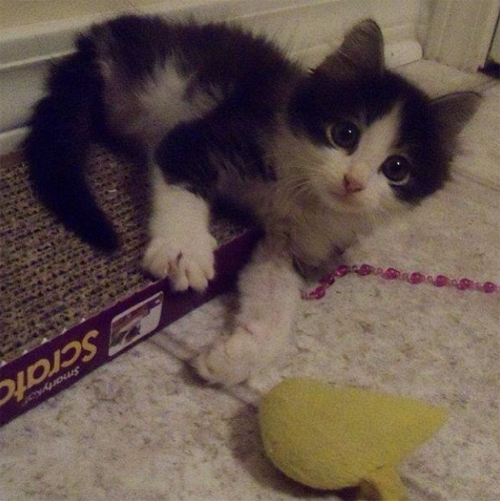 Carrie tried multiple times to catch the two-legged kitten who — along with his family — regularly emerged from the woods for food, and after a few attempts, she finally managed to rescue him and took him home to live with her, her husband, and the couple's many pets. "We named him after Anakin Skywalker, says Carrie. "My husband is a huge Star Wars fan. I told him we'd name the kitten whatever he wanted as long as I could bring him home!"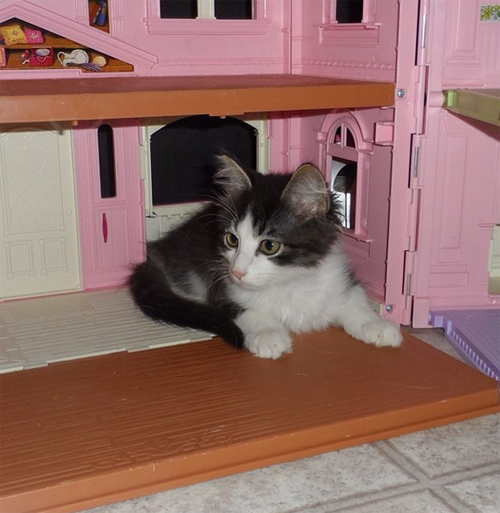 Soon after Carrie and her husband rescued Anakin, they took him to the vet where they learned he was approximately five weeks old and had been born without back legs or a pelvis. While no one knows the exact cause of this congenital condition, Anakin's vet believes that it may be the result of inbreeding or because his mother, a feral cat, was malnourished during pregnancy.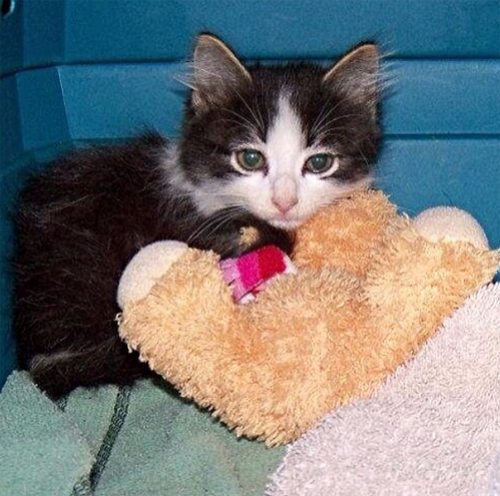 Carrie and her family also worked to help Anakin's mom and litter mates, and while they were able to catch his siblings and get them spayed, neutered, and vaccinated, his mother managed to escape and was never seen again. After they received medical treatment, Anakin's siblings were taken to a friend's home approximately two hours from Pensacola where they now live on 10 acres of land and are fed and cared for by the owner.
Anakin, who didn't receive any medical care until he was rescued by Carrie and her family, had a few health issues as a kitten, including a prolapsed rectum which required him to have purse string stitches and treatment for intestinal parasites. However, Anakin recovered fully, and aside from the occasional urinary tract infection — a product of his unique body structure — this two-legged cat is happy and healthy. "He is on special supplements that are helping to keep him from getting [urinary tract infections] so often," says Carrie.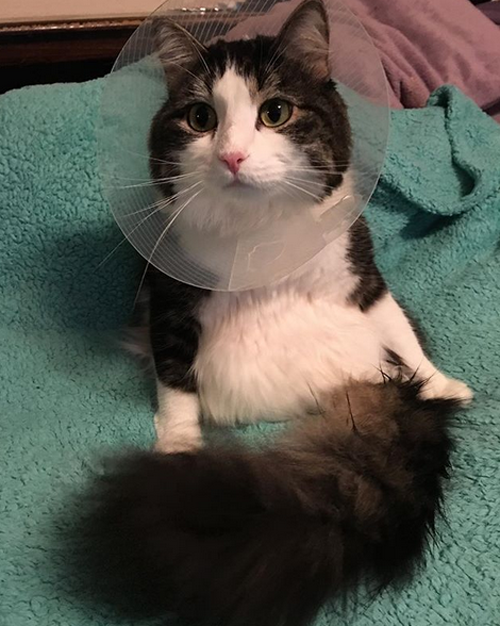 While Anakin has had a few challenges related to his health, he doesn't have any trouble playing or getting around, and he's a lot more like an average four-legged cat than most people might think. Not only is Anakin able to scoot around using just his front legs, this handsome tabby and white cat can climb to high places using his claws and even jump back down.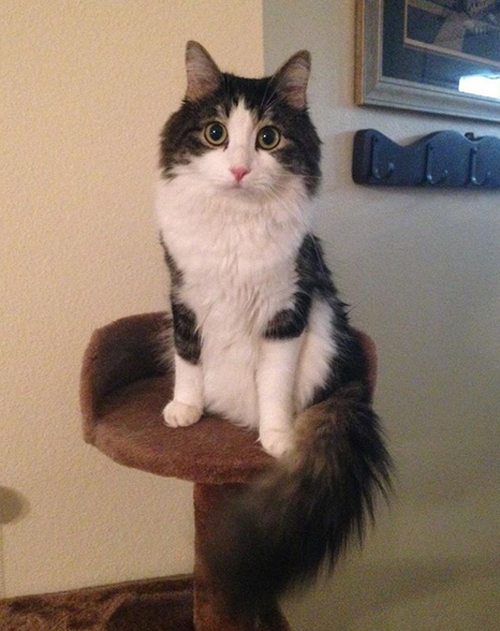 "Anakin is very independent and goes where he wants whenever he wants," says Carrie. "He can even climb a 6″ cat tower with no problems." Carrie and her husband have also placed ramps and steps around their home to help this remarkable two-legged cat get where he wants to go, giving Anakin the ability to explore his environment just like any other feline.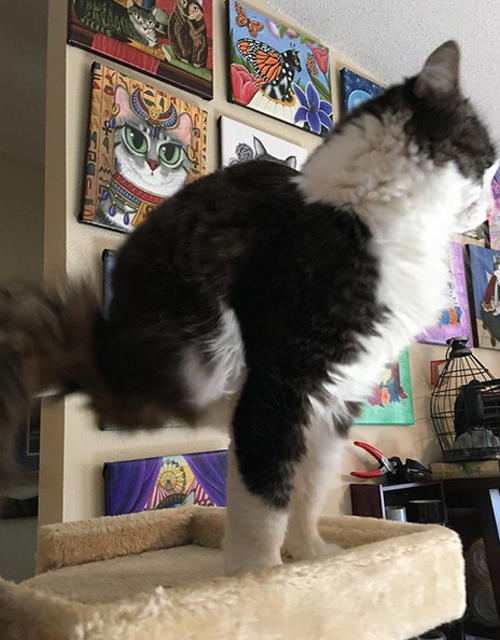 Like a typical cat, Anakin loves to eat, especially treats, and he enjoys playing with toys, particularly catnip and crinkly paper. This tabby and white cat also likes rolling around on the floor of the screened porch, taking naps, and of course, cuddling with Carrie, the person who rescued him from the woods many years ago.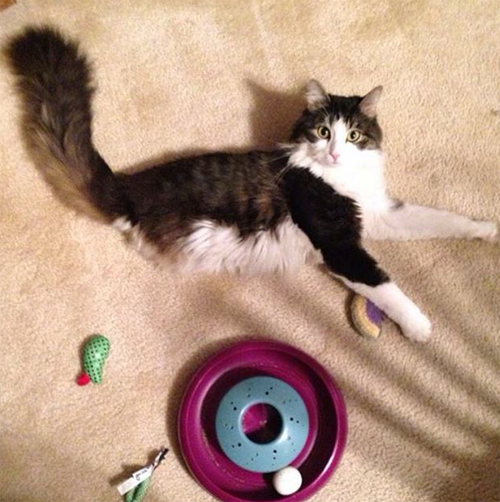 Carrie, who didn't have any experience with two-legged cats when she decided to adopt Anakin nearly six years ago, has learned a lot from her first special needs pet. "[Special needs cats] don't feel sorry for themselves," says Carrie, and she's inspired by the way Anakin and kitties like him deal with challenges. "[Anakin is] living a great life and doesn't see himself as any different from our other cats," says Carrie. "I think most specially-abled pets feel the same way."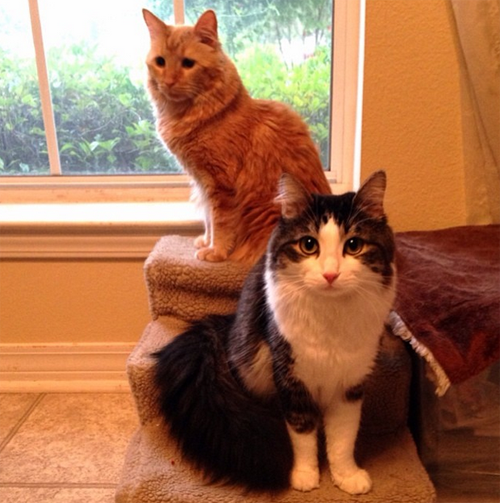 Undoubtedly, Anakin — who has thousands of followers across multiple social media platforms — has inspired lots of people to adopt and rescue special needs pets, which was one of Carrie's goals when she created the accounts for him shortly after she brought him home in 2012. While this handsome two-legged cat has lots of fans who enjoy watching the ingenious ways he overcomes challenges, Anakin's mom is definitely his biggest admirer. "I love him to pieces!" says Carrie. "He is a special little guy and I cherish him."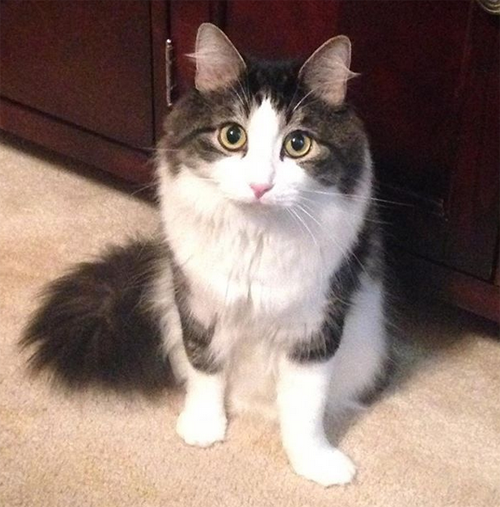 To learn more about this incredible cat, you can follow Anakin on Instagram.
If you'd like to see some of his mom's amazing fantasy cat art, visit Carrie's Instagram account and her website.