When Kelley Peters, founder of The Kitty Krusade, an animal rescue in Montclair, New Jersey, received a call from a local specialty hospital about a young cat in critical condition who had ended up at their facility after someone found him on the streets of a New York City suburb, she was eager to help the injured feline.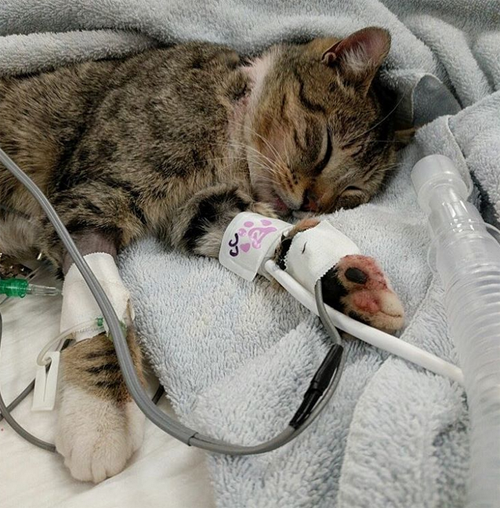 "He was listless and unresponsive," says Kelley, and initially, everyone thought the cat — who was approximately a year old when he was taken to BluePearl Veterinary Partners in Paramus, New Jersey, on February 2, 2018 — had been hit by a car.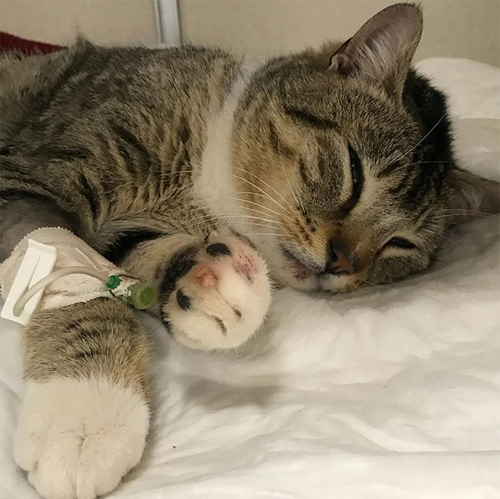 "It wasn't until nurses and emergency vets cleaned away the blood and did x-rays did they realize he had been shot," explains Kelley. Doctors determined the young feline had been shot — most likely intentionally — through the neck, and the bullet was still inside his body. "The bullet severely damaged three vertebrae and lodged itself in his chest," says Kelley. "He was barely alive."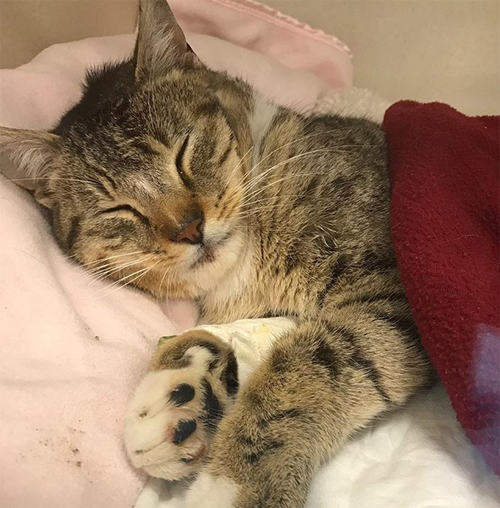 Determined to help the cat who had been the victim of senseless violence, Kelley agreed to rescue him, naming him Clint and working with specialists to make sure he got the care he needed to have the best chance at survival.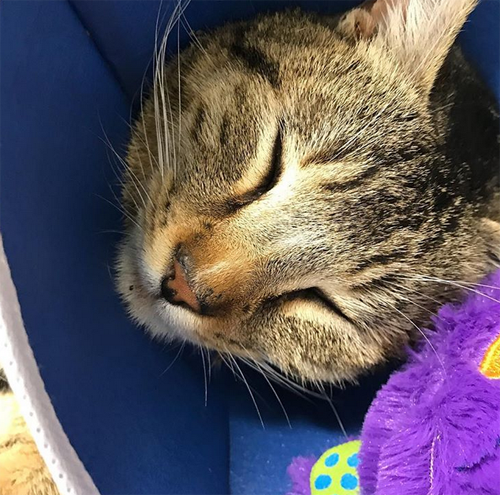 "For the next few days, it was minute by minute," remembers Kelley, and with Clint unable to walk on his own and dependent on oxygen, the handsome tabby and white feline's prognosis was very poor. "If he even survived his significant injuries, the chances of him walking again were slim," says Kelley, "but no one ever gave up on him."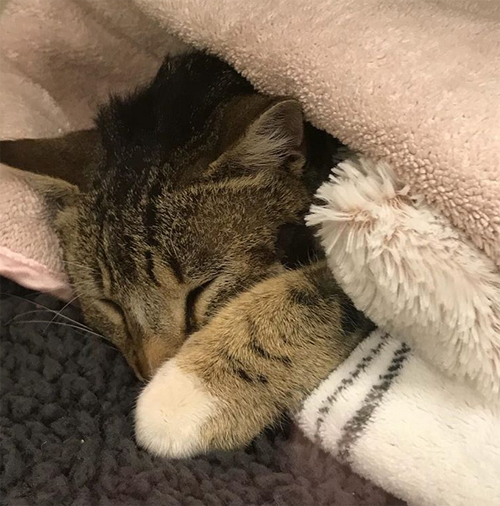 The staff at BluePearl began doing physical therapy, manipulating Clint's legs in hopes of helping him regain the ability to move on his own. Incredibly, this special boy — who had been the victim of shocking cruelty — purred as professionals gently pressed and pulled his limbs, proving the horrifying experience that occurred just a few days earlier hadn't damaged Clint's remarkable spirit.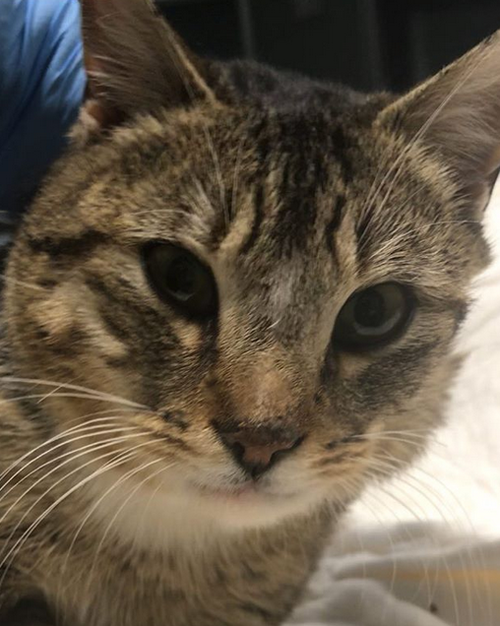 "Just a couple weeks after being shot, he started to move using his front paws," says Kelley, and on February 22, 2018, he was discharged from the hospital to continue daily physical therapy at home with Kelley.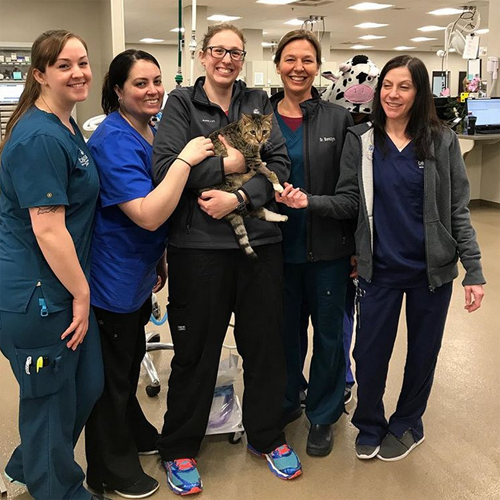 "Beyond expectations, Clint walked all by himself about two months after his cruelty attack," says Kelley. Nearly four months after he was shot through the neck, this adorable guy has made tremendous progress to the surprise of experts who thought he might not be able to survive, much less ever be able to get around on his own again. "Clint continues to astound all and beat the odds, walking, climbing stairs, playing, doing all kitty things!" says Kelley.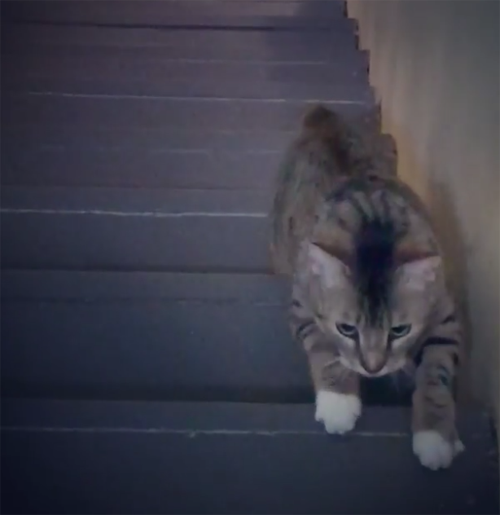 Clint has made such an incredible recovery, it won't be long before this sweet boy is ready for his forever home. This special cat loves the company of other felines — "Even during his physical therapy!" says Kelley — so Clint would do great in a home with other cats, but he needs a family that is willing to give him the patience and understanding he needs and deserves.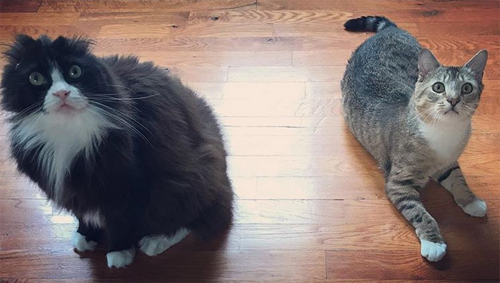 "He does things in his own special way," explains Kelley. "It may take him longer, his gait is unique, and he gets tired more easily, but it doesn't stop him. He continues to push himself and to learn all the things other kitties do."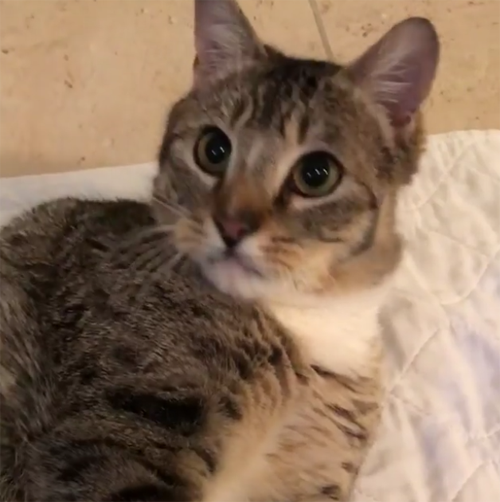 While Clint is still learning how to live life in his new body, this handsome tabby and white cat has a lot he can teach to the people who are fortunate enough to adopt him. "Never once did Clint give up," says Kelley. "In that, he showed others if you believe you can, you can accomplish anything."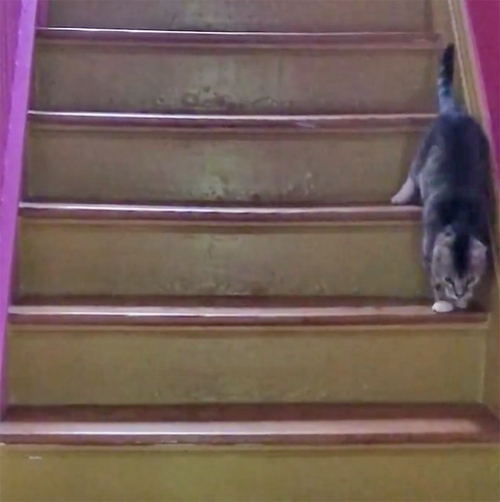 Clint is indeed an inspiration and a testament to the power of love and positivity, and he's sure to delight his forever family with his resilience and irrepressible spirit. "Clint is a super happy, sweet, loving purr machine," says Kelley, one of the many people who refused to give up on this incredibly special cat. "The fact he's alive and mobile is a miracle!"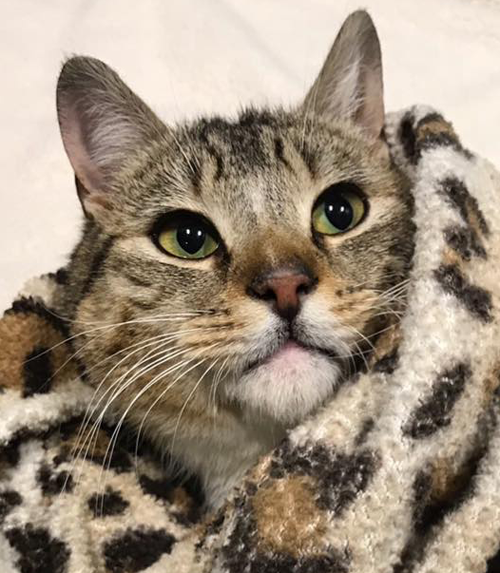 To learn more about this remarkable cat, you can follow Clint on Instagram and Facebook.