When Patricia and her boyfriend were walking near her family's home in Austria in September 2017, the couple spotted a kitten who was in desperate need of help. "She was already injured and dragging her legs behind herself," remembers Patricia. "We assumed it was a car accident, because that is very common, unfortunately."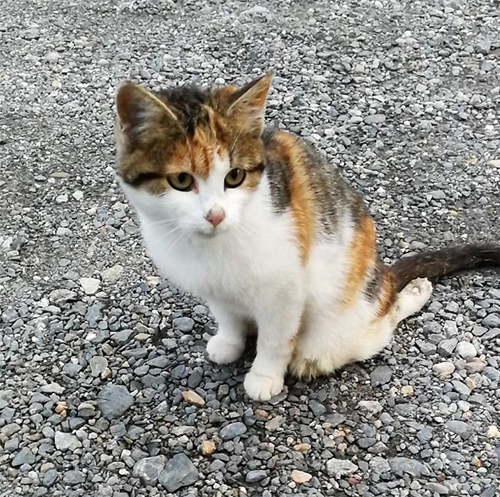 Immediately, Patricia and her boyfriend scooped up the hurt feline and rushed to her a nearby animal hospital. "We were really afraid that the vet would have to put her down," says Patricia. "Because of her injuries, we actually expected it."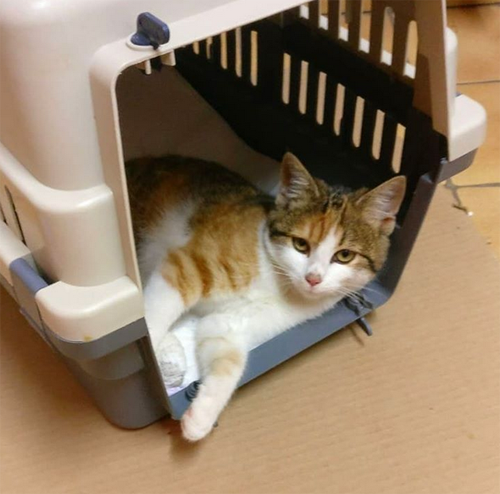 However, the veterinarian determined that the young cat — who was most likely born in April 2017 — was probably unable to walk due to swelling that was impacting a nerve, but with time, cortisone, and vitamins, she would regain the ability to move around on all four legs.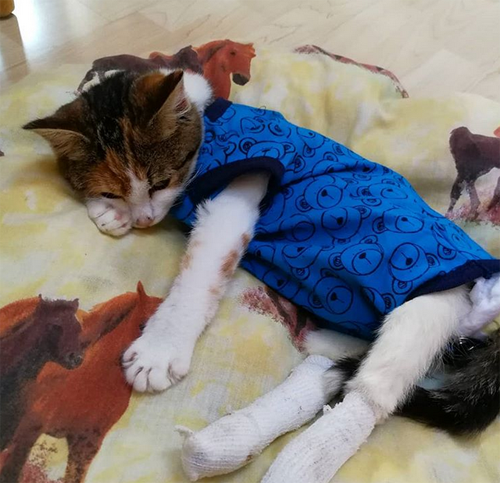 However, Patricia and her family weren't really in a position to take on a special needs cat at the time. "My parents work full-time, my sister is going to high school — and is allergic to cats — and I'm attending university in a city 1.5 hours away from my hometown and I'm only home on weekends," explains Patricia. Still, they were optimistic that the paralyzed kitty would be able to walk again, so they decided to do everything they could to help her, naming her Pünktchen, the German word for "little dot."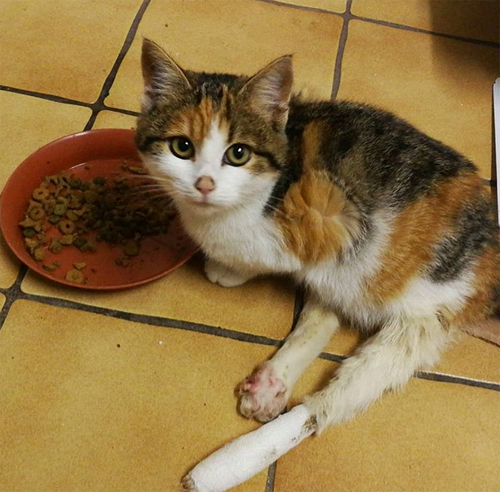 For the next few weeks, Patricia and her parents gave Pünktchen the medication the vet had prescribed, but they didn't see any improvement in the calico kitten's mobility. Determined to give the young special needs cat the best life possible, Patricia took Pünktchen — who had always been able to urinate and defecate on her own — to a veterinary hospital in December 2017 to get a better idea of what was causing her paralysis.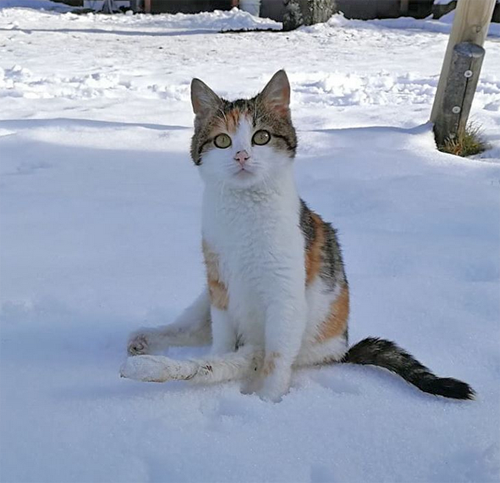 "Her back and back limbs were x-rayed in a veterinary hospital, because we wanted to know what was really going on inside," explains Patricia. "It turned out that her pelvis is displaced. In addition, it was confirmed — what we already expected — that her left back limb was broken two times at the pelvis and knee."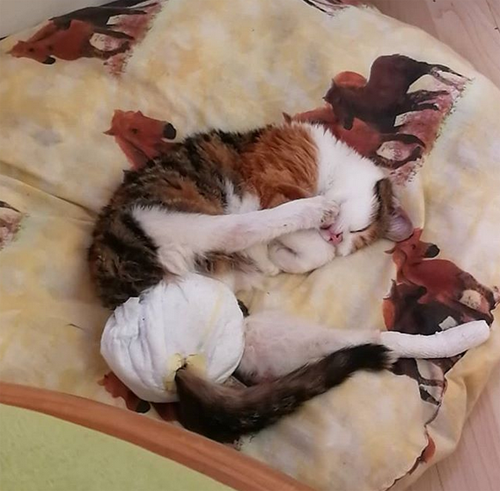 By early 2018, Patricia and her family had formed a strong bond with Pünktchen and decided to permanently adopt her. "We fell in love with her at first sight and it got increased over time," explains Patricia, "so we ended up with her being our second cat."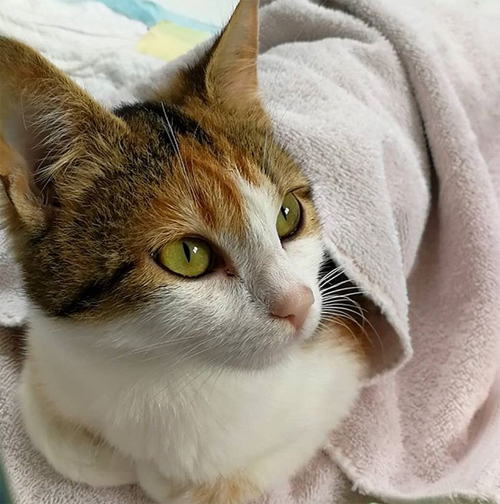 A few months later in May 2018, the family made the decision to have Pünktchen's fractured limb removed by their local vet after it became apparent that it couldn't be saved and was more a hindrance than an asset to the young cat. "It is still healing, because her suture bursted two weeks after the amputation," says Patricia, "but soon the wound will be fully closed." While Pünktchen hasn't completely recovered from the surgery, she is doing extremely well, and Patricia and her family have found her relatively easy to look after.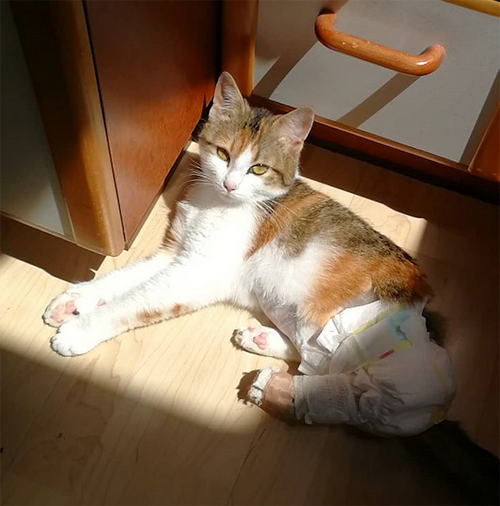 Initially, they assumed this paralyzed girl wouldn't be able to use a litter box like a typical cat, and so for the first months Pünktchen lived with them, they spent a lot of time cleaning up after her. Fortunately, they eventually discovered that she is perfectly capable of using a litter box, making it much easier for Patricia and her parents to take care of her.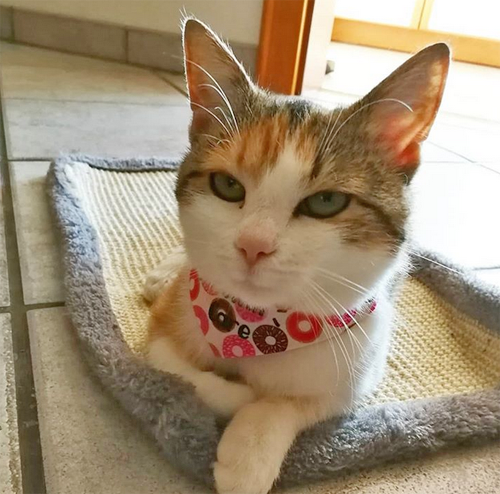 However, because her wound is still healing, Pünktchen has to wear diapers for the time being to keep the area clean. "The challenge right now is caring for her wound and changing the bandages two times a day and the diaper every time she pees or poops," says Patricia.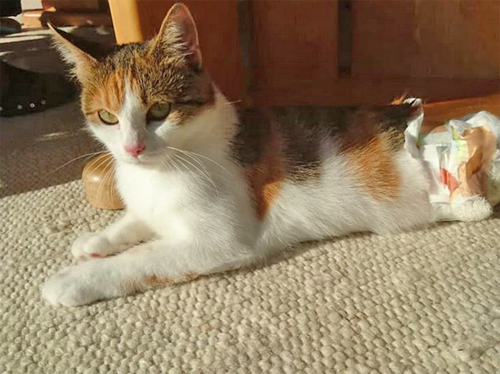 Patricia also finds it difficult to medicate Pünktchen, but that's just because — like a typical cat — she doesn't like taking the pills and antibiotics the vet prescribed for her after the amputation. Otherwise, Patricia and her family have found this beautiful calico cat pretty easy to take care of, especially because Pünktchen is capable of getting around very well on her own.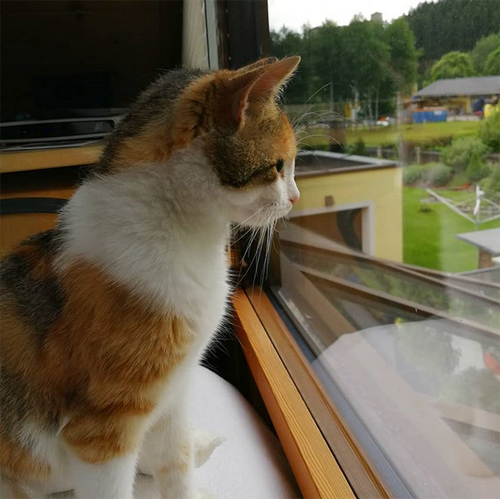 "Pünktchen is running around so fast, that sometimes we aren't able to catch up, honestly!" says Patricia. "And she really slides through our apartment and plays and even climbs." Consequently, Patricia has found that despite what a lot of people might think, Pünktchen isn't a good candidate for a wheelchair. "So many people think a paralyzed cat needs wheels or a wheelchair," says Patricia. "Maybe this works for dogs, but not for most paralyzed cats."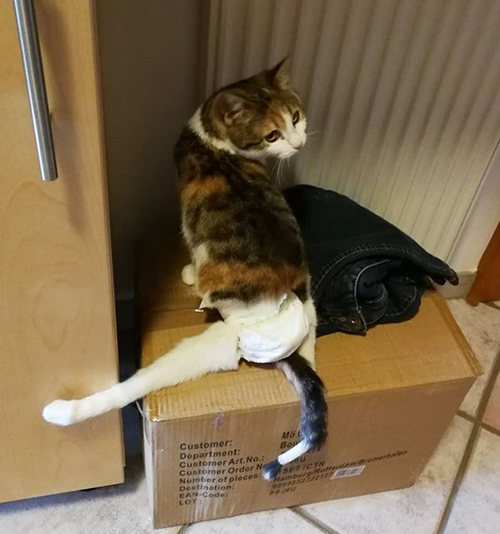 The only time Patricia thinks Pünktchen might benefit from a wheelchair is when she's outdoors, because rough surfaces like sidewalks and gravel can irritate her paralyzed limbs. However, she and her parents supervise Pünktchen the entire time she's outside and they make sure she stays on the grass. "She loves the outside and balcony and listening to birds and has a very special favourite place — my mum's desk chair in our winter garden — from where she can observe what's going on outside," says Patricia.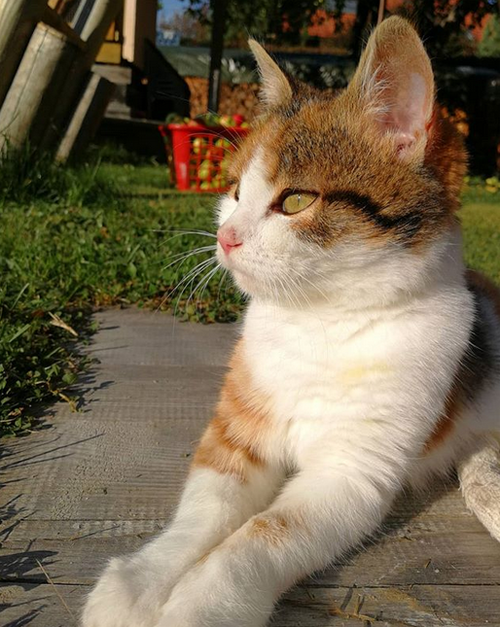 Pünktchen is also very playful, and she loves sneaking around the apartment and hiding in unexpected places in order to surprise her family. While people often question the quality of life of special needs cats, especially those with mobility issues like paralysis, Patricia is confident there's no need to worry about Pünktchen.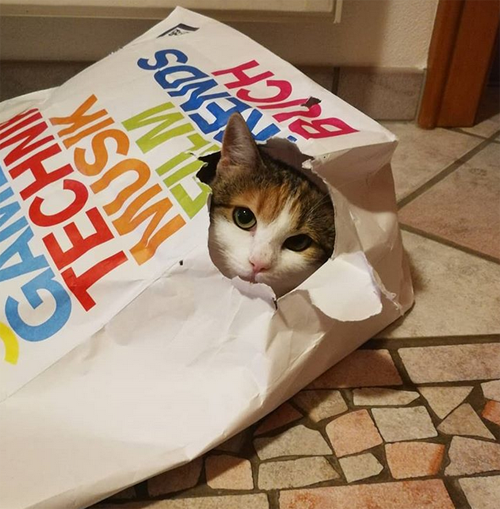 "Pünktchen loves life so much and does many things an ordinary cat does, so I would say she's happy," says Patricia, and she's certain that a lot of other cats with special needs can be just as content as Pünktchen. "They can have a happy life if they have a loving and caring family," says Patricia. "It's quite exhausting sometimes, but worth it."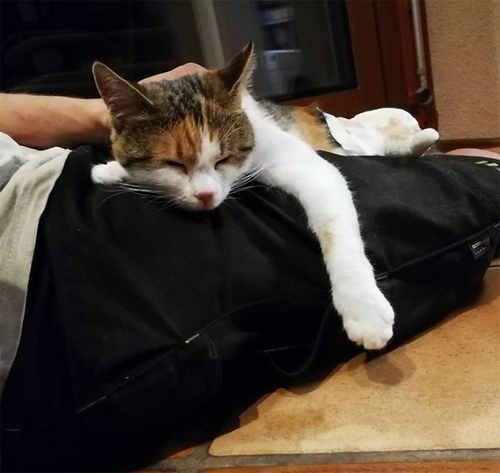 It's been nearly a year since Patricia found Pünktchen, injured and dragging herself on the ground near her family's home, and she her boyfriend rushed this special girl to the vet, afraid the doctor would advise putting her to sleep.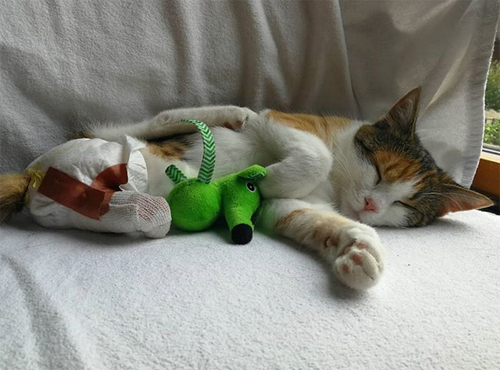 Fortunately, the veterinarian thought Pünktchen — who wasn't suffering or in pain — deserved a chance, and while this beautiful cat hasn't regained the ability to walk, Patricia is so thankful the doctor didn't recommend euthanizing this paralyzed girl. "Even our vet fell in love with her and is so glad that we kept her," says Patricia. "One time she said that she is so glad we didn't have to put her down because she didn't know how she could have managed it."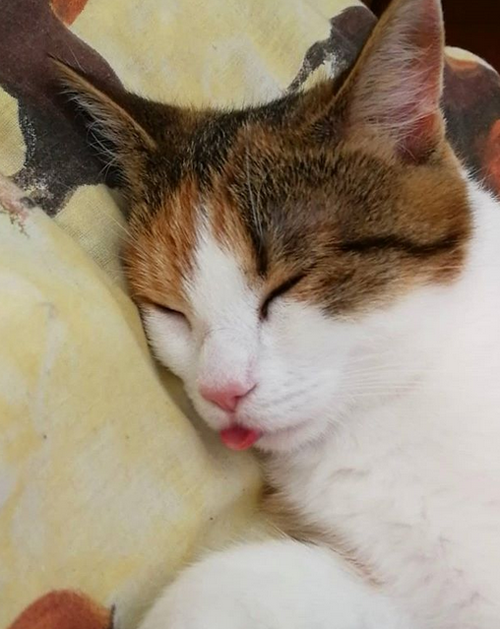 Thankfully, Pünktchen definitely isn't at risk of being euthanized, and this gorgeous cat — who was most likely hit by a car and left to die — found a wonderful home with people who adore her, especially Patricia. "She is so lovely, strong and lively that we just didn't want to think about putting her down, ever!" says Patricia. "She means very, very much to me."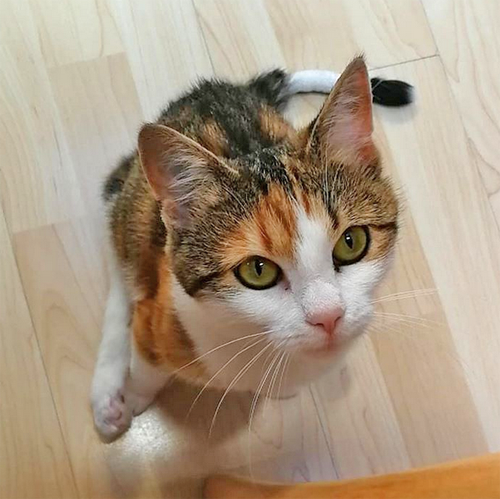 To learn more about this stunning cat, you can follow Pünktchen on Instagram.