When Ashley was in Cambodia on business in March 2017, the meetings she had scheduled for the final day of her trip were cancelled, so she decided to a visit a famous temple. Shortly after arriving at the sanctuary, Ashley spotted a tiny ginger kitten who immediately grabbed her attention. "I saw her playing with some children and took some photos from far away, but when they left, she was very upset and crying," remembers Ashley.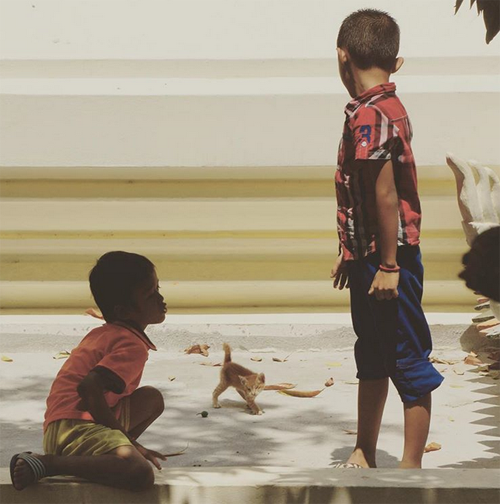 Concerned, Ashley approached the orange kitten and quickly realized that the young feline was unable to see. "I thought she was sick and her eyes were sealed shut from infection," explains Ashley, "but actually she had a congenital defect and her eyes never developed."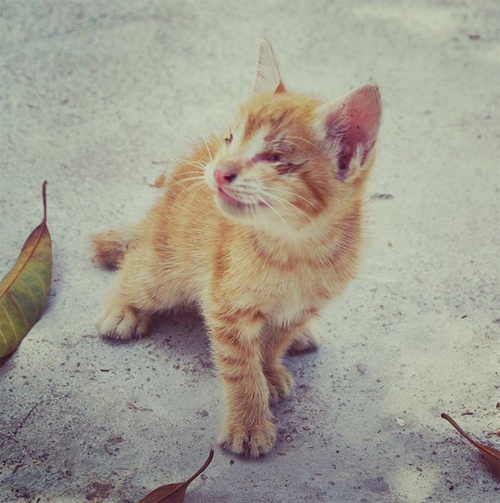 While the kitten was unable to see, she relied on her other senses to navigate around the temple. "She tried to follow where she could hear people walking," says Ashley, "and she fell off a very high ledge at the temple and that was very upsetting."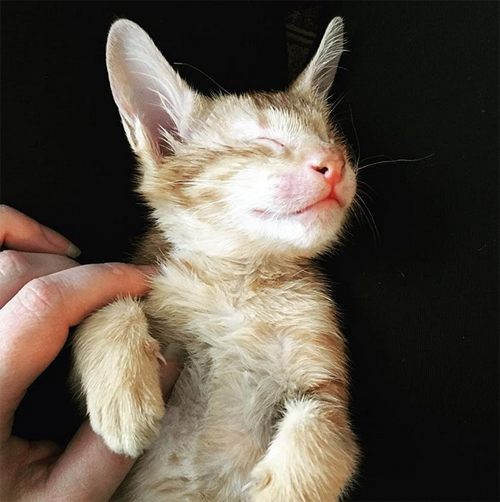 It quickly became apparent to Ashley that the tiny blind kitten needed someone to help her or she most likely wouldn't survive living on the streets. "Another woman visiting the temple, Leyla, picked her up and held her," remembers Ashley, "and we decided we would find her someone to take care of her together."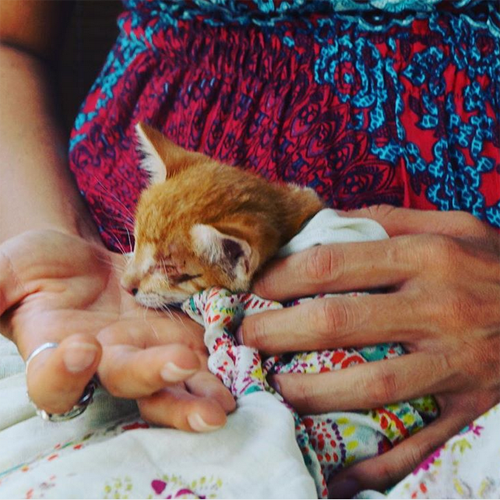 With just 24 hours left before she had to leave Cambodia to fly back home to Durham, North Carolina, Ashley used her phone to find a local veterinarian and she and Leyla took the little cat to the doctor's office. The vet determined the kitten was approximately three weeks old and she had a congenital condition called micropthalmia. "She was born without having eyes developed," explains Ashley, "so when all the other kittens in her litter opened their eyes, she would have opened hers and not seen anything."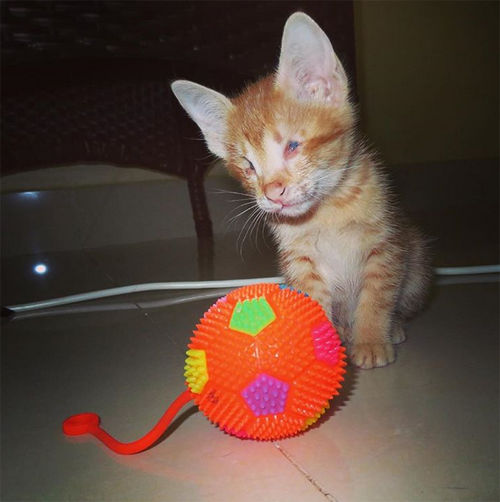 After learning that the ginger kitten was permanently blind and not just struggling with a temporary illness, Ashley and Leyla knew that they had to find a local organization that would be willing to take care of the 3-week-old special needs cat. "The vet agreed to keep her for a day while we called local animal rescues," says Ashley. "Finally, we managed to find the Cambodian Animal Protection Association (CAPA) just one hour before leaving for the airport."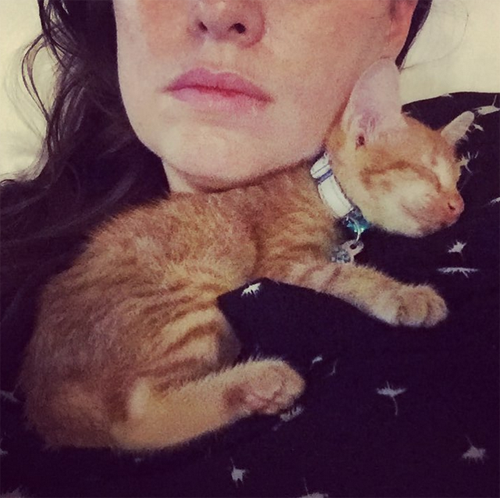 Incredibly, Madame Loan, the director of CAPA, collected the tiny blind cat with just minutes to spare, and Ashley boarded her flight and eventually arrived back home in North Carolina. While Ashley was glad that she and Leyla had been able to find CAPA and Madame Loan, she was still very concerned about the little special needs kitten. "I spent a few weeks worried about her and whether CAPA could provide everything she needed to have a full life," says Ashley. "They had over 200 cats and dogs and many with special needs."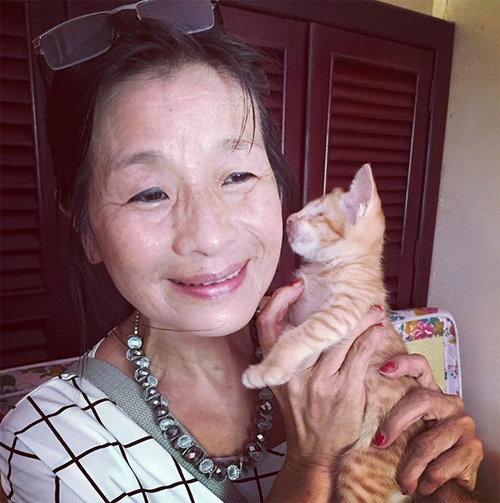 Just one week after she held the little blind kitten in her arms for the first time, Ashley made an incredible decision. "I decided I would fly back to Cambodia and pick her up," says Ashley, and in early April 2017, she left her home and her husband Aaron and returned to Phnom Penh to get the special needs kitten and bring her back to the United States. Reunited, Ashley named the then 8-week-old cat Imli, the Hindi word for tamarind, a popular fruit in Southeast Asia. "It is very sweet and tart and I thought it characterized her sweet but spunky attitude very well," explains Ashley.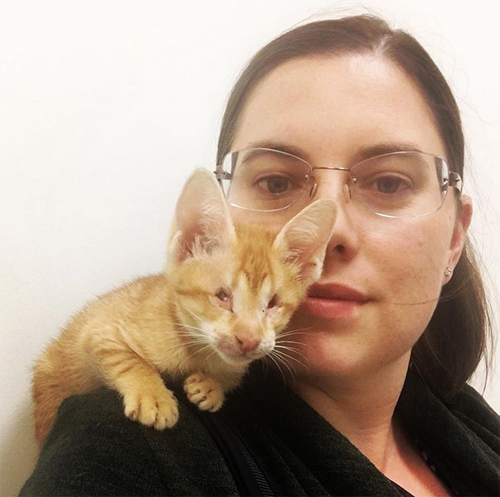 However, in order for Imli to get on a flight to the United States, Ashley needed to find a veterinarian who was willing to certify that the kitten was healthy enough to fly, which proved to be difficult due to her congenital blindness. "After visiting more than three vets, we finally found one vet, Dr. Chamnan, who agreed that her blindness was only a handicap and not an illness," remembers Ashley.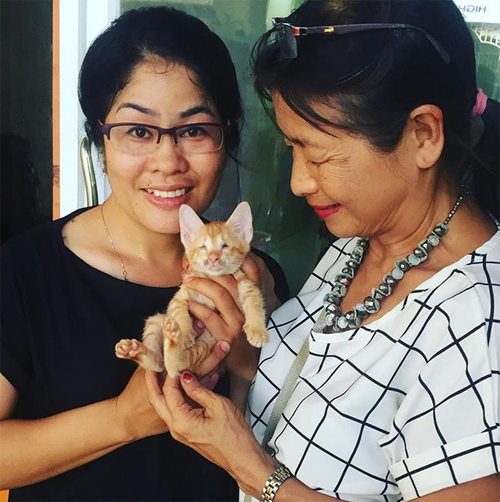 Armed with the certification, Imli and her new mom bid farewell to Madame Loan, the incredible woman who had cared for the special needs cat for the past five weeks, and the pair began their long journey back to North Carolina. "In Korea, everyone in security wanted to hold her and she was a huge hit," says Ashley, and despite an issue on the leg of their trip from Korea to the United States due to Imli's age, the pair's odyssey went exceptionally well. "Imli was a little angel kitty the whole flight," remembers Ashley, "and then she arrived in the US where she became a US citizen."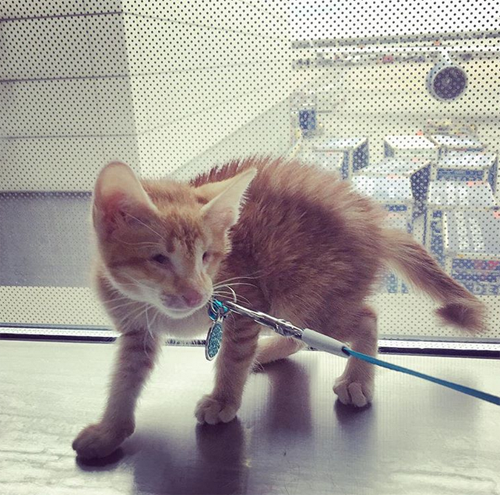 Imli, who was living on the streets of Cambodia just five weeks earlier, didn't waste any time adjusting to her new home in Durham and bonding with her parents and Jethro, her canine brother. "Imli loves her brother who is a coonhound," says Ashley. "When Imli came he barked at her once and she smacked him with her tiny paw and he never did it again. Beating him up is her favorite activity and when she is tired she likes cuddling with him."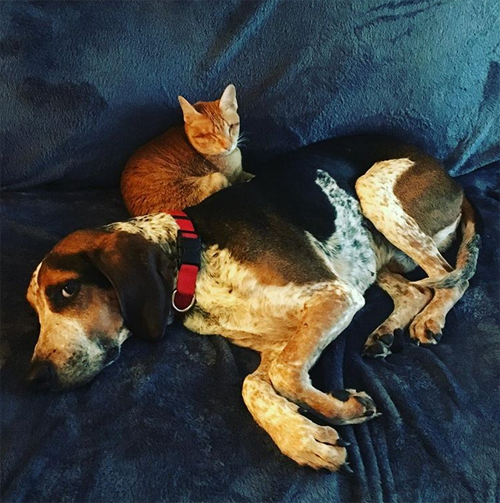 The pair became fast friends, and more than a year later, Jethro — who doesn't get along well with Ashley and Arron's other cats — is incredibly tolerant of his blind little sister. "She thinks he can't see her stalking him from all sides, but he actually does know she is going to pounce on him," says Ashley.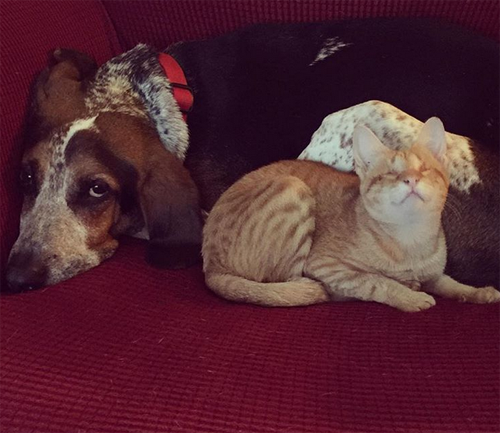 When she's not playing or snuggling with her brother, Imli enjoys hanging out in the kitchen while her dad cooks, taking in all of the different sounds and smells. Like a typical young cat, Imli loves to play, and despite being blind, she's surprisingly good at catching bugs. "She is an amazing little hunter," says Ashley.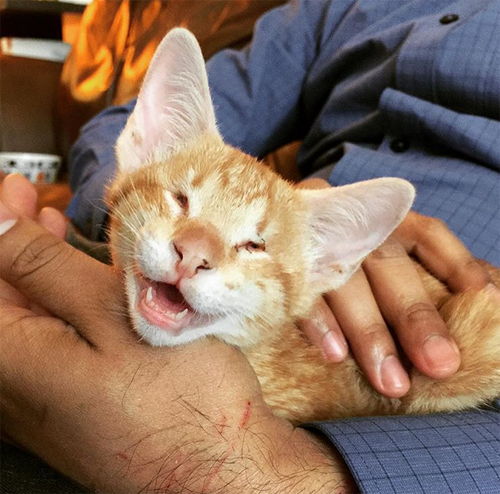 While Imli would have had a very difficult time surviving on the streets of Cambodia, she has flourished in the safety and security of her loving home in North Carolina. "I assumed she would be hard to take care of, but she is actually easier to take care of than our other cats with eyes," says Ashley. "She has no idea that there is any other way to experience the world besides sniffing and listening and she is really happy and not at all stressed about not having eyes."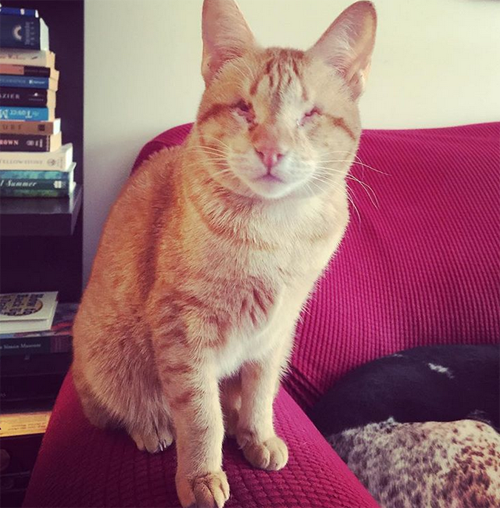 Since Imli arrived in the United States last April, this adorable little cat has formed an incredibly strong bond with her mom and dad, and she has charmed both Ashley and Aaron with her unique personality. "She is very attached to people and has cute mannerisms like answering questions when you talk to her because she is very auditory and vocal," says Ashley.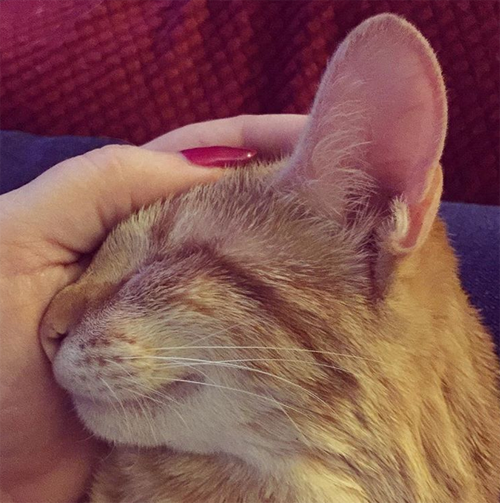 However, Ashley and Aaron aren't the only ones who have fallen for this beautiful blind girl. "She made many friends on her journey, from the people in Cambodia who helped her survive and move to the US, to the vet tech at her vet in Durham who volunteered to keep her every time we have to go out of town so that she doesn't have to be boarded and can be accustomed to the same place, to our friends who come by sometimes just to see her and get some cuddles," says Ashley. "Jethro also howls if she leaves the house and he can't find her."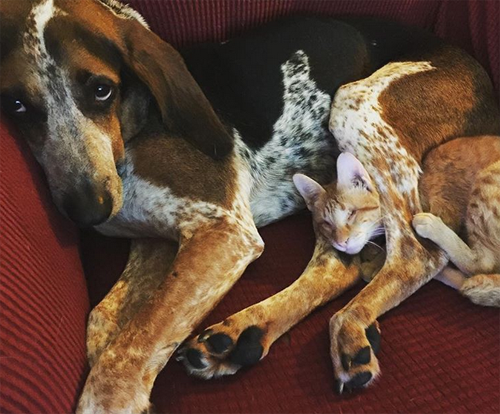 Though it's impossible to say what Imli's life may have been like had Ashley and Leyla not rescued her, or if Ashley hadn't returned to Cambodia five weeks later to adopt her, what is certain is the impact this little cat has had on the lives of everyone she's met, especially her parents.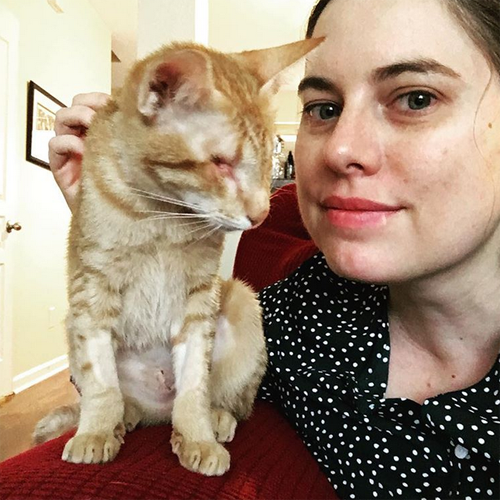 "She reminds us that we can overcome anything with a good attitude," says Ashley. "She reminds me that most people are genuinely nice and caring because I was really touched by how many people wanted to help this little cat when she was in trouble."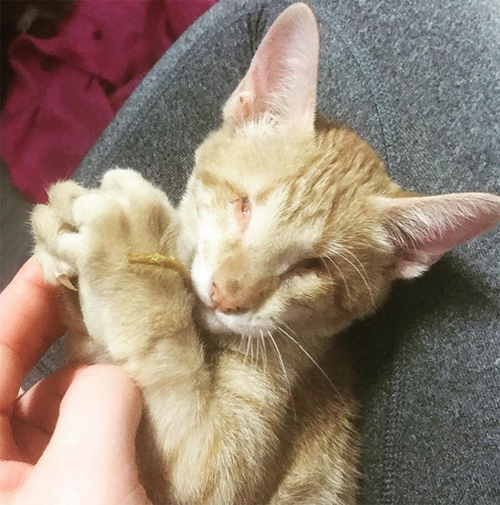 Still, Imli, who Ashley first encountered at a Cambodian temple — a place of tranquility and peace — has a very unique relationship with her mom, the woman who felt compelled not only to help her, but to travel thousand of miles to adopt this extremely special girl. While the lengths Ashley has gone to for Imli might seem incredible to some, it's easy to see why this one of a kind cat was worth all of the effort and expense. "Imli is everyone's therapist," says Ashley. "When she sits on your chest and purrs, she just heals your heart."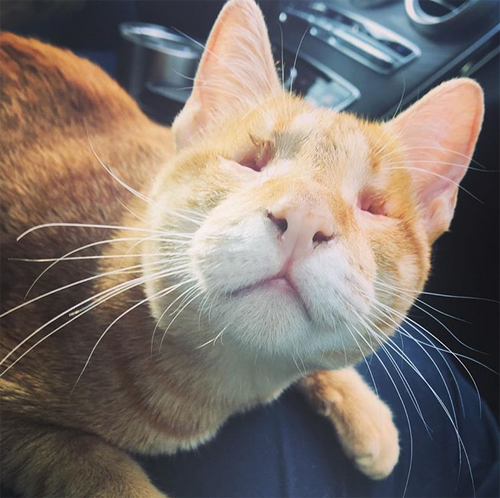 To learn more about this stunning cat, you can follow Imli on Instagram.