UPDATE: Benson got adopted and is loving his new life with his forever parents!
Tara Kawczynski was scrolling through her Facebook feed, when a post about a three-year-old tabby and white cat who was being given away for free on the social network immediately grabbed her attention.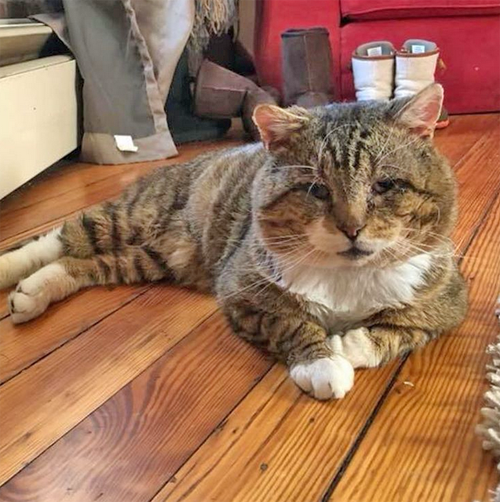 "His picture spoke to me!" remembers Tara, president of The Odd Cat Sanctuary, an animal rescue in Salem, Massachusetts. Concerned that the handsome young feline would wind up in the hands of an animal abuser, Tara contacted the person who had made the post. "I immediately reached out and asked if she would be willing to surrender him to Odd Cat," says Tara. "She agreed, thankfully!"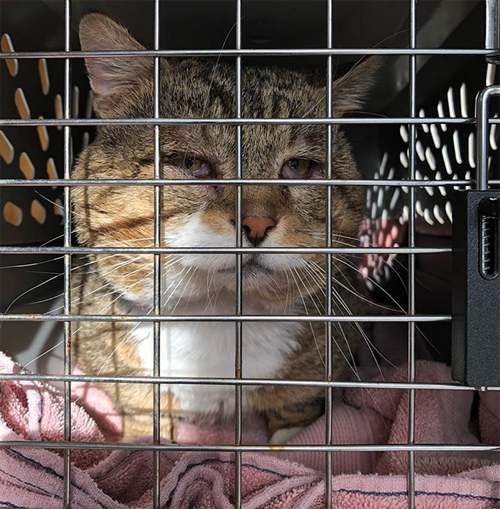 Through her correspondence with the cat's owner, Tara discovered that the woman had actually rescued him from an environment where he had been neglected. "He was originally born in a hoarder house with about 50 cats and was named Roadkill," explains Tara. "He was not taken care of or vetted." While his rescuer wanted to give him a better life, after two months, she realized that she didn't have the resources to care for the friendly and sweet feline.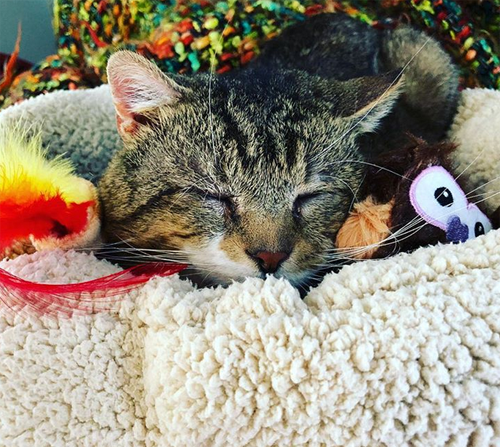 On May 7, 2018, Tara picked up the cute tabby and white cat, and with the help of The Odd Cat Sanctuary's Instagram followers, she gave him a new name to commemorate the beginning of his new life: Benson. Upon meeting Benson for the first time, Tara realized he needed medical attention, and she didn't waste any time getting the three-year-old cat to the vet. "Once I got him, I booked him his neuter for the next day," says Tara.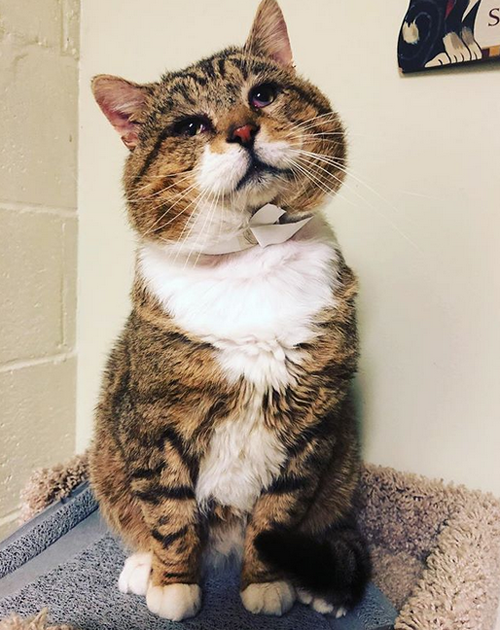 Tara quickly discovered that Benson, who had probably never been to a veterinarian before, had been born with a congenital eye condition that gone untreated for his entire life. "He was born with entropion in both eyes," explains Tara," so his eyelashes curl in and rub against his eyes, causing constant irritation."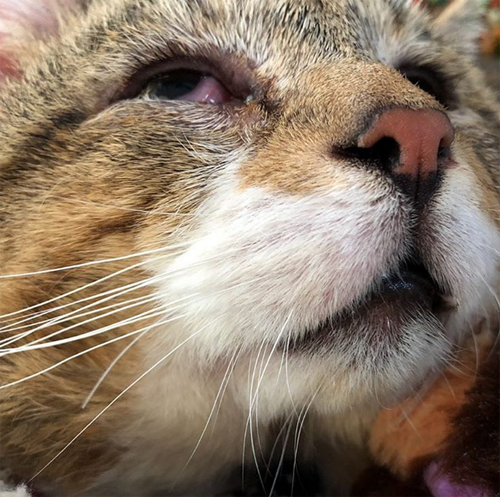 Entropion causes sufferers to have red, irritated eyes, and can often lead to serious infections. While some cats with entropion benefit from non-surgical treatment options like eye drops, Benson's vet determined he will need to have surgery on his eyelids. "His eye surgery is scheduled for July 26th, 2018," says Tara. "Then, he will be ready to find his forever people!"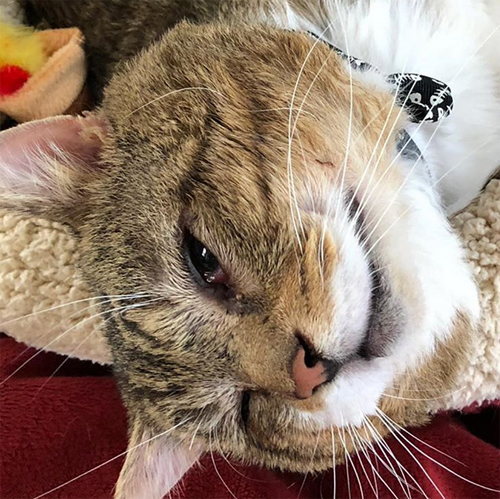 Benson — who had been neglected for years — also had serious dental problems, and he had to have two of his teeth removed. While Benson has been examined by a lot of doctors and undergone multiple procedures since he was rescued a little over two months ago, this handsome boy has remained sweet and loving throughout it all. "He has constant irritation to both his eyes, but he is such a trooper!" says Tara. "He doesn't let that stop him from being happy go lucky."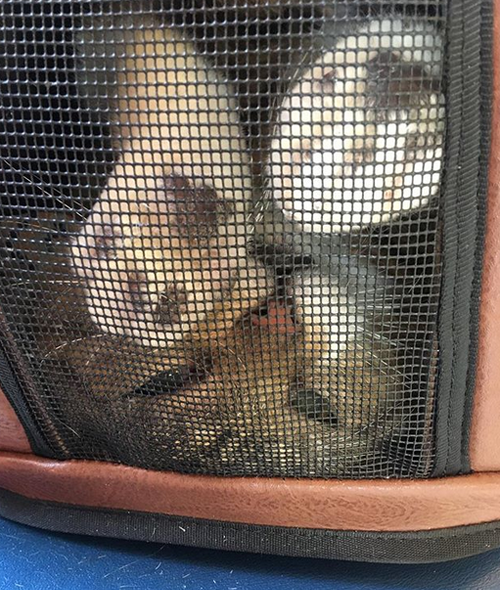 While Benson's medical care hasn't been cheap, Tara is certain that this cute tabby and white cat deserves the best care possible, especially because he was denied basic examinations, vaccinations, and medications for the first years of his life. "It is pricey," says Tara, "but our sweet boy is worth it."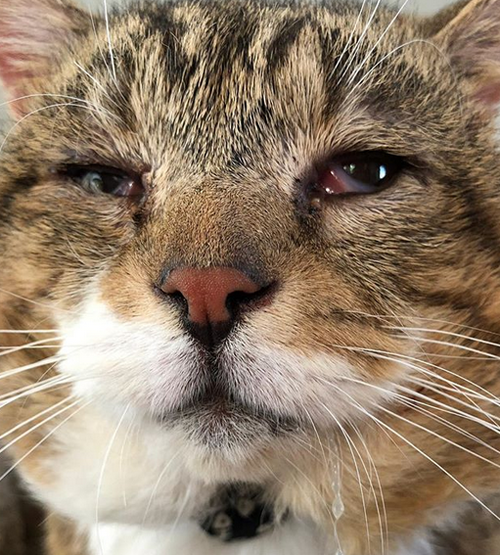 Once Benson recovers from his eye surgery, he will be available for adoption, and Tara is certain this easygoing guy — who was rescued from a home where he lived with 50 other cats — won't have any trouble settling in with his new family. "He has been in several foster homes and loves everyone and every cat he meets!" says Tara.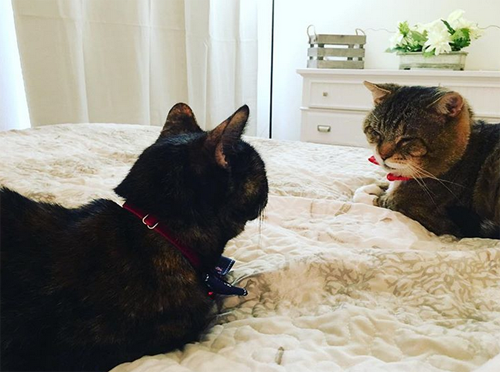 It's unlikely this good-natured cat will have any difficulty finding a home, especially because Benson is such a well-rounded boy. "Benson loves to clean and bathe his fur!" says Tara. "He loves to play, loves belly rubs, and loves to snuggle. He's literally the perfect cat!"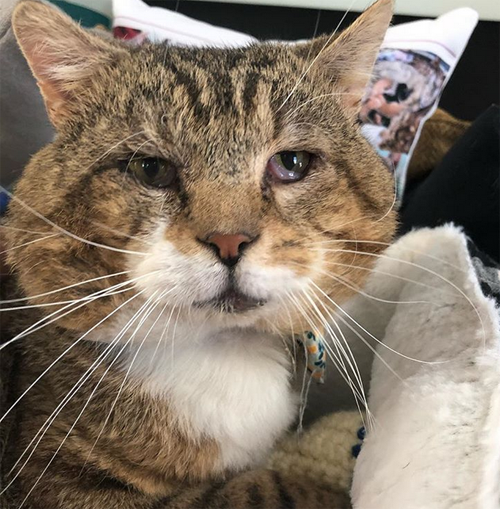 While Benson has had more than his fair share of challenges, this wonderful boy is proof of just how resilient cats can be, especially those with special needs. "They deserve a shot at a perfect forever home," says Tara. Fortunately, Benson — who was once named Roadkill and lived with an animal hoarder — will undoubtedly find a caring family that will shower him with the love he deserves.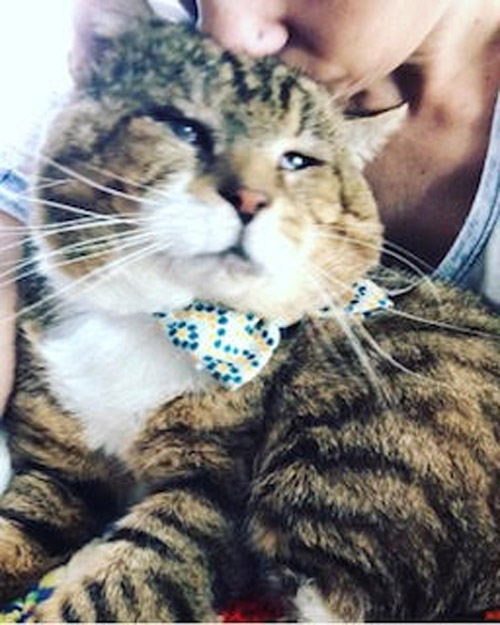 However, it's impossible not to imagine what his life may have been like if an animal abuser had seen the social media post about Benson before Tara did. "He is a poster cat for 'free on Facebook,' one of the lucky ones," says Tara. "They all aren't so lucky. I hope some day people learn that giving pets away for free is a dangerous thing and should be stopped."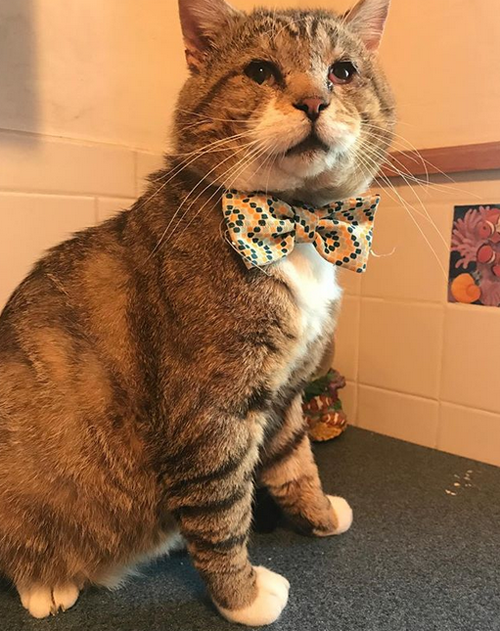 In less than two weeks, Benson will have eye surgery, alleviating the constant irritation caused by his eyelashes, and then it won't be long before he can be adopted. In the meantime, this affectionate tabby and white kitty is loving life in his foster home, and Benson's days of living in squalor with tens of other cats are now a distant memory. "He survived hell before us in discomfort to now living like a spoiled prince getting the best medical care," says Tara. "Benson is so unique and special, he deserves the world."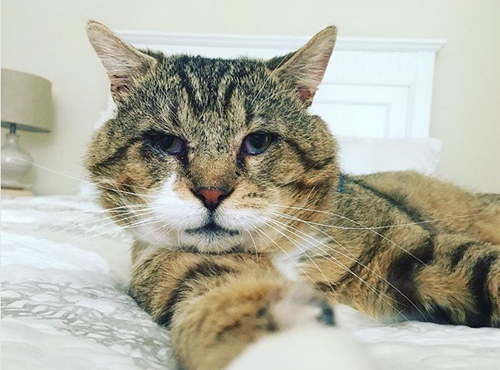 To learn more about this handsome cat, you can follow Benson on Instagram.
If you're interested in adopting Benson, you can submit an online adoption form.