Claire was at her job as a veterinary nurse in Beaudesert, Queensland, Australia, in March 2020, when a member of the public brought in a pair of two-week-old kittens who had recently been rescued from a nearby concrete factory. "They were both covered in dried cement and were super hungry and noisy!" remembers Claire. "Despite their appearance, they otherwise appeared normal and were healthy little kids."
View this post on Instagram
The male kitten reminded Claire of one of the furry creatures from the children's book The Wombles, so she dubbed him Womble, while she named his sister Sweep. Initially, they both appeared to be typical young cats, but it wasn't long before Womble began displaying issues with balance and coordination. "After running some checks, he was tentatively diagnosed as a cerebellar hypoplasia kitten," says Clair.
View this post on Instagram
Cerebellar hypoplasia (CH) is a non-progressive neurological condition that occurs in utero, often when a pregnant cat is exposed to an illness, such as panleukopenia, causing her kittens to be born with underdeveloped cerebellums. Because the cerebellum is the area of the brain associated with balance and coordination, cats with cerebellar hypoplasia often have wobbly gaits and intention tremors, two symptoms Womble displayed. "From this point he came into my care full-time, along with his sister," says Claire.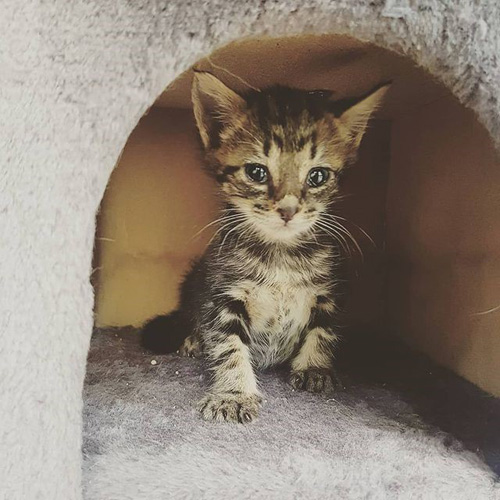 Over the course of the next few months, Womble's symptoms worsened, indicating he didn't have cerebellar hypoplasia — a non-progressive condition — like everyone had assumed. Instead, when he was six months old, Womble's diagnosis was changed to cerebellar abiotrophy, a genetic neurological disease that causes the cerebellum to deteriorate over time.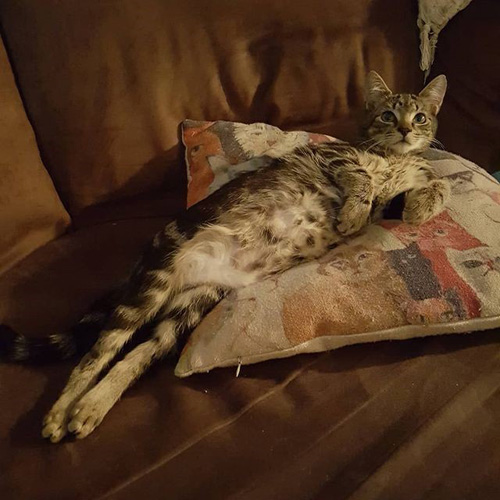 "The symptoms initially are similar to cerebellar hypoplasia, with intention tremors, a wobbly, awkward walking motion, and balance issues," explains Claire. "The difference is that CH is non-progressive, whereas CA is [progressive]."
View this post on Instagram
When Womble was diagnosed with cerebellar abiotrophy, Claire knew he would need special care for the rest of his life, so she and her partner Scott decided to adopt him. After all, they had already formed a bond with Womble — who got along well with their six cats — and Claire's career as a veterinary nurse made her the ideal caregiver for him. "Adopting him meant committing to his lifelong care, however long that will be," says Claire, "and to be honest, I didn't trust him to anyone else!"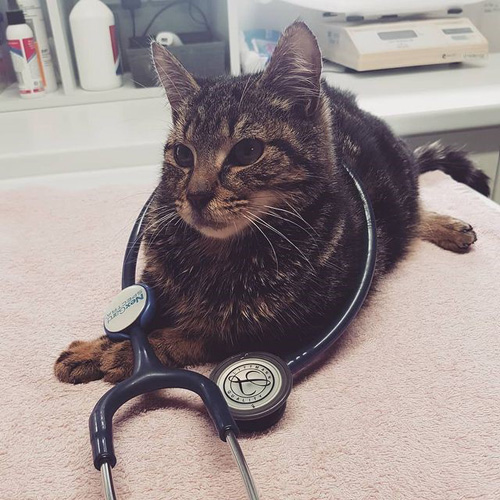 Several months later, Womble is doing well, and while his cerebellar abiotrophy has progressed to the point where he's not able to get around on his own, Claire takes him to work with her every day and she and Scott never leave him alone for very long. "I have cameras installed so I can watch him when I'm out without him," says Claire, and Womble stays with her parents any time she and Scott have to go away for longer periods of time.
View this post on Instagram

Because he's unable to walk, Womble can't get to the litter box on his own, so Claire takes him to it twice a day and he relieves himself. While Womble can eat on his own, he's extremely messy and his parents have to clean him up after meals. "He loves food and also seems to like wearing it," says Claire. "Hence, he always needs a bath."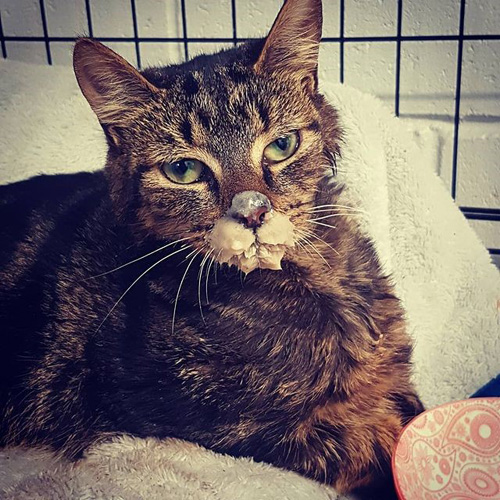 Thankfully, Womble actually likes having baths, although he doesn't love being dried off afterwards, and he even enjoys going for rides in the car. In fact, this special boy loves going to the fast food restaurant near his house for a cheeseburger. "He rolls around, starts drooling, and tries to crawl out of his travel crate as soon as pull into the drive!" says Claire.
View this post on Instagram
He also enjoys spending supervised time outdoors, especially when his parents take him bird watching or for a ride in his stroller. Consequently, while some people might assume Womble doesn't have a good quality of life because he can't walk, Claire believes he's just as happy as her six other cats.
View this post on Instagram
"He has so much more love and stimulation in his life than most cats I know!" says Claire. "He goes on car rides all over the countryside, visits places cats never normally get to go, and is always part of the action."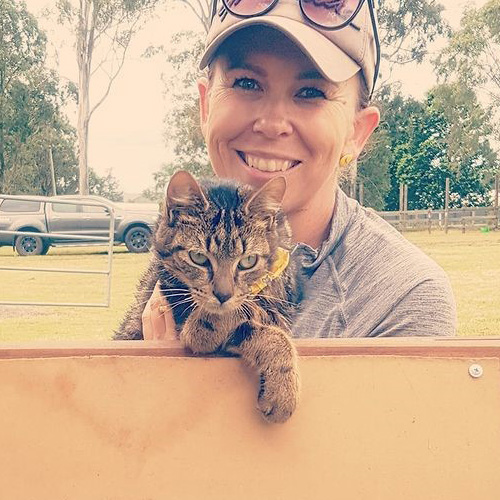 While Claire is confident Womble has a good quality of life, there are times she wishes he could walk like her other cats, which is why she does her best to make sure he receives lots of stimulation and enrichment. He also requires a lot more care than a typical cat, but as long as he is happy and free from pain, Claire is more than willing to provide him with this extra time and attention.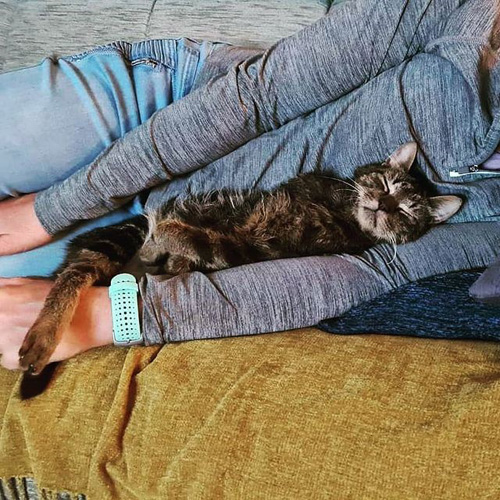 "He is a huge commitment and my life revolves around him, but with a household already full of animals to care for, the added challenge of looking after Womble is an easy addition," says Claire.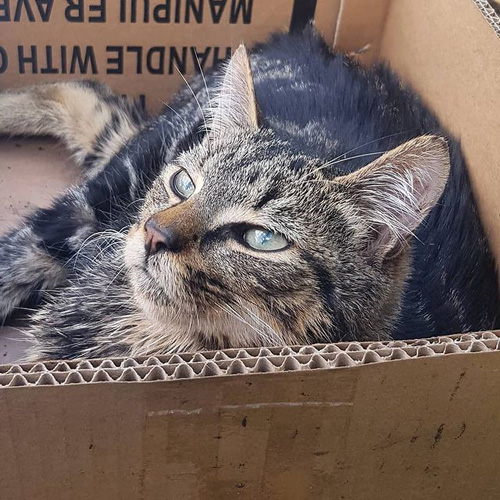 When Claire met Womble in March 2020, she had no idea how much he would change her life, nor did she know all of the sacrifices she would be willing to make for this very special boy. More than a year later, Claire is more committed than ever to giving Womble the life he deserves, and the two of them share an unbreakable bond. "Caring for Womble has been the most rewarding thing I have ever done in my life," says Claire. "He needs me, and I need him."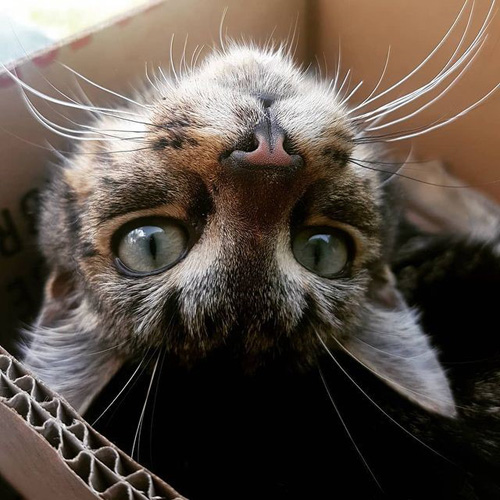 To learn more about this handsome cat, you can follow Womble on Instagram.