When Delcy Cerdeira saw a Facebook post from CARMA Cat Rescue Fredericton Maritimes Chapter about a kitten with Manx syndrome who was in need of a family who could handle her special needs, she immediately offered to foster — and possibly adopt — the young cat. "I didn't even think twice or tell my husband," says Delcy. "I messaged the organizer and told her I'd go get her."
On November 3, 2020, Delcy visited a vet's office near her home in Fredericton, New Brunswick, Canada, where the little ginger cat had been living for the past month, and she instantly fell in love with the 10-week-old kitten. "She was so small!" remembers Delcy. "She had been surrendered to the rescue a month into her little life because she had no tail and couldn't control herself and always did her business outside the litter box. She peed in little dribbles walking around the exam room and was just so happy to have attention."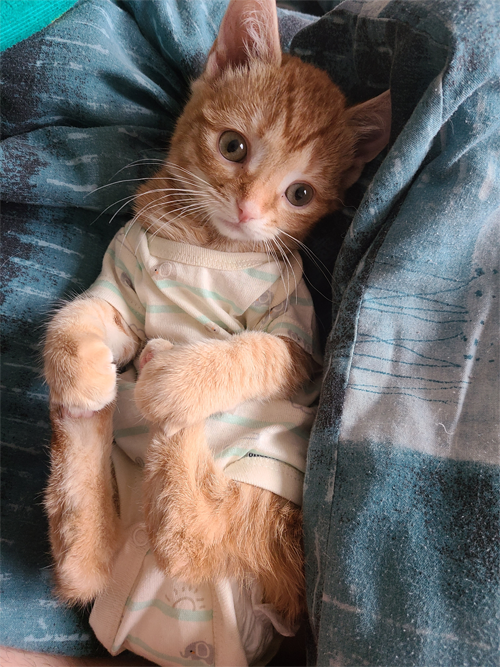 While other people might have been put off by the thought of fostering — and potentially adopting — a kitten who was unable to control her bladder, Delcy and her husband Jordan already had plenty of experience caring for cats with special needs. "We have three CH [cerebellar hypoplasia] cats — all different severities and one is epileptic," explains Delcy, "and we've always known if we're going to adopt more cats they were going to be special needs."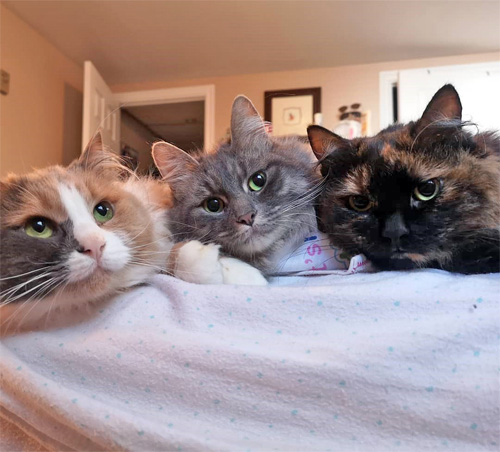 However, Delcy didn't have any experience caring for a cat with Manx syndrome, nor did she even know what the condition was before agreeing to foster the tiny orange kitten. After doing some research, she discovered Manx syndrome is a genetic condition characterized by a short or absent tail that results in damage to the spinal cord and nerves, causing affected cats to have bowel, bladder, and digestive issues. "Cats need their tails in order to control bodily functions and help with their balance," explains Delcy. "There are different severities of the condition that range from little to no deficits to many and challenging deficits."
View this post on Instagram
The kitten — who Delcy and her husband named Mazikeen, or Maze for short — was completely tailless, and her symptoms were on the more severe end of the spectrum, rendering her completely unable to control her bladder or her bowels. Maze also had bowlegs and a wobbly gait, but she was just as happy and active as any other 10-week-old feline. "The first two days all she did was purr," remembers Delcy.
View this post on Instagram

However, it quickly became apparent that any time Maze moved or got excited, she would leak urine, and she also had involuntary bowel movements. Consequently, Delcy spent days researching Manx syndrome and looking for solutions, eventually settling upon diapers and clothing for Maze and learning how to express her bladder and bowels. "We empty her colon by pushing on the bottom of her spine and helping her relieve herself," explains Delcy. "We've also learned to help her express her bladder but we do not do that on a daily basis as complications can develop."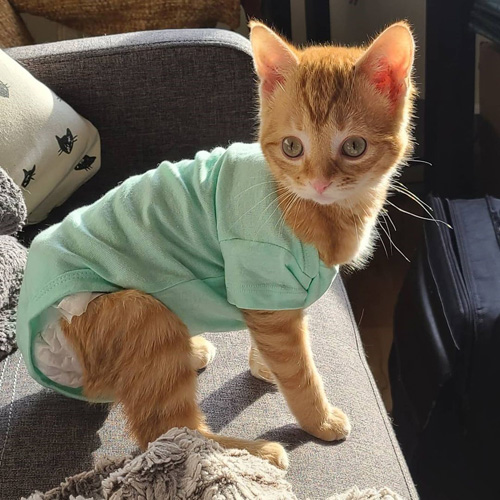 Over time, Delcy and Jordan developed a good system and routine for Maze, and after just a few months, they knew there was no way they'd be able to part with the adorable special needs cat. On March 11, 2021, they officially adopted Maze, and just two months later, this gorgeous girl is thriving. "Maze loves to chase bell balls and her stuffed mice," says Delcy. "She has a favorite yellow mouse that she carries around the house in her mouth."
View this post on Instagram

In addition to playing, Maze adores food — especially treats — she enjoys meeting new people, and she likes going on adventures with her parents. She also loves giving kisses and taking naps next to her mom and her adoptive sisters. "Maze is my little ginger baby," says Delcy. "She is going to always be my baby because she is going to be in diapers her entire life."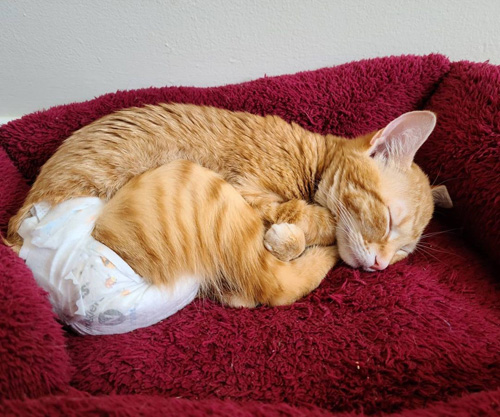 While Maze is generally very good about diaper and clothing changes, she will definitely let her parents know when they're taking too long by flailing her legs around. Also, as Maze has gotten bigger, it's been more difficult for Delcy and Jordan to find diapers and clothing that fit her properly. "The sizing of diapers is challenging, especially since she is still growing, and diapers are made for human babies and pet diapers have a hole in the bum for tails" explains Delcy.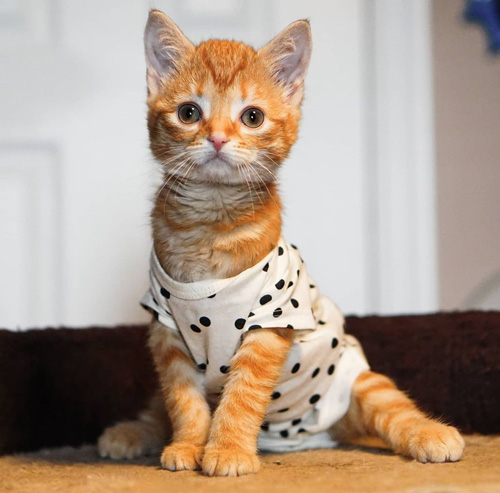 To keep Maze clean, Delcy and Jordan regularly give her baths and hygienic trims, so she definitely needs a bit more care than a typical cat. However, Delcy and her husband are more than happy to provide her with the extra time and attention she needs to have a great quality of life. "Maze is not and will never be a burden," says Delcy. "She is different and being different is a fantastic thing."
View this post on Instagram
Unfortunately, not everyone shares Delcy's sentiment, and she's encountered people who think Maze is suffering and should be euthanized. Thankfully, this special cat definitely isn't unhappy or in pain, and Delcy and her husband have no intention of putting Maze to sleep simply because she requires more care and consideration than the average feline. "I know for a lot of people kids and animals are not the same, but my special needs girls are my kids," says Delcy. "They need love, nurturing and attention just like a baby."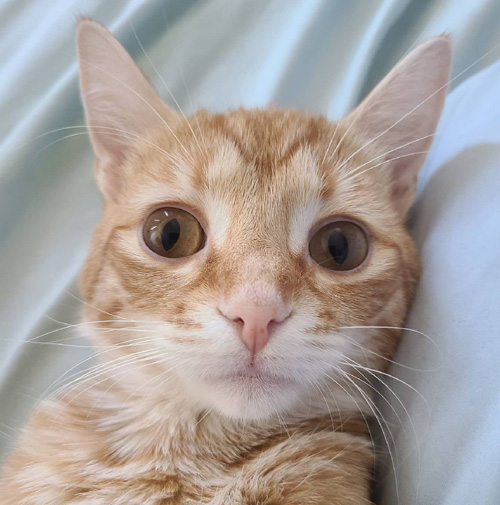 Delcy, who has three cats with cerebellar hypoplasia in addition to Maze, hopes more people will consider adopting animals with special needs. Not only because she believes it would be beneficial for the animals, especially because it might be harder for them to find homes, but because Delcy thinks they make exceptionally wonderful pets. "I find special needs cats are by far the most affectionate of cats and make for fantastic emotional support companions," says Delcy.
View this post on Instagram
While Delcy didn't know anything about Manx syndrome when she offered to foster Maze in November 2020, she's very thankful she opened her home to this special girl. "She's the fashionista of the family," says Delcy. "She's so happy and loved, and she has changed my life for the better."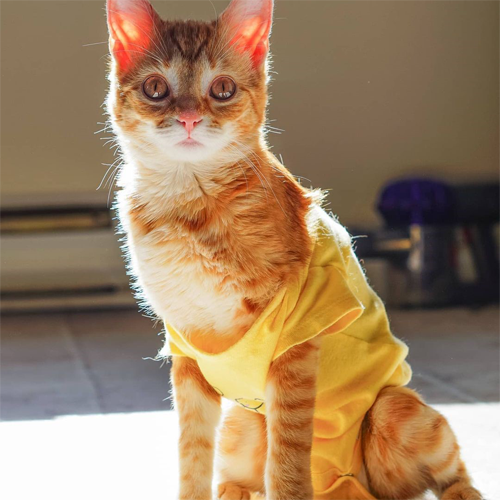 To learn more about this beautiful kitten, you can follow Maze on Instagram.
You can also read Maze's column in Canadian Cat Clowder magazine.