Sensitive Content
This post includes photos some people may find upsetting.
When the team at Puppy Kitty NYC, a rescue dedicated to helping homeless cats and dogs in the most populous city in the United States, received an email from Animal Care Centers (ACC) of NYC about Jasmine, a young tabby cat with severe burns on the left side of her torso and between her shoulder blades, they knew they had to help the injured feline. "The ACC said she was found by a good Samaritan," says Amanda, a volunteer at Puppy Kitty NYC.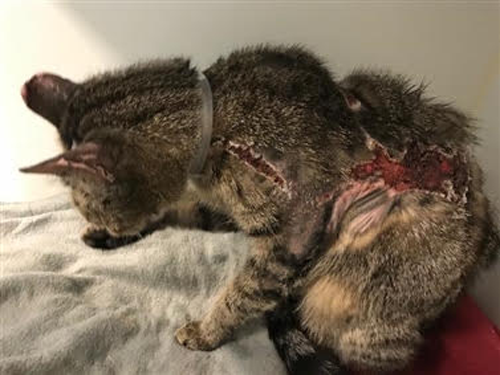 Jasmine's rescuer took her to the New York City animal shelter where a thorough examination revealed she was about a year old and her wounds were already in the process of healing, indicating she'd received her injuries approximately two weeks earlier.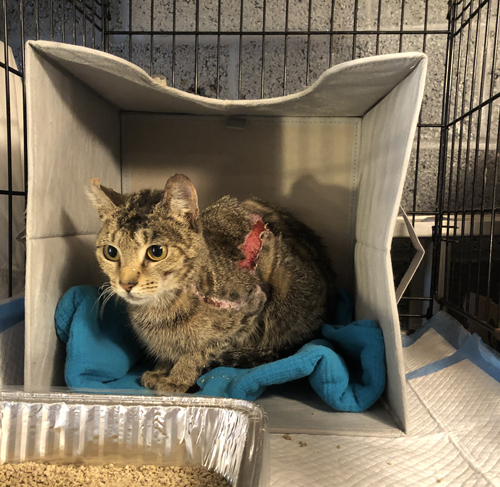 However, the staff at the ACC was unable to determine exactly how she got the burns that covered a large portion of her body. "It's hard to say what the actual injuries are from," explains Amanda. "It was either chemical or regular burns — possibly from a car engine — or it's possible someone tried to hurt her."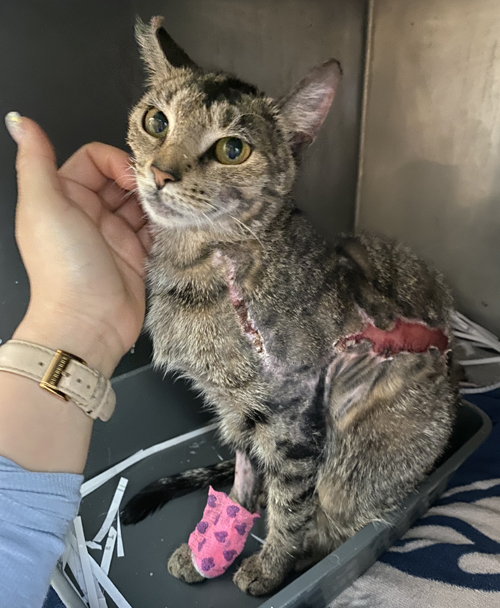 Despite the appearance of her injuries, the ACC found Jasmine wasn't in any pain, although she still had a lot of healing left to do. Fortunately, shortly after receiving the email on November 4, 2019, Puppy Kitty NYC stepped up and rescued Jasmine.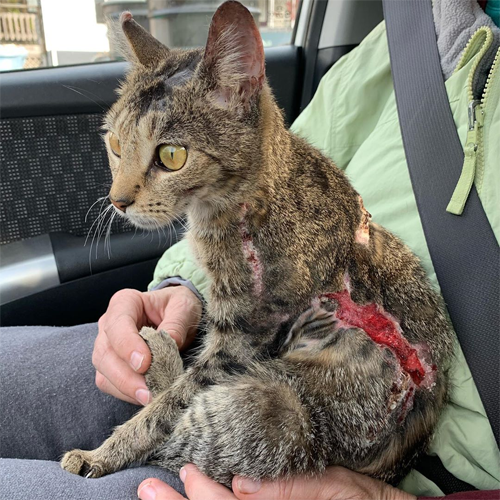 Two months later, this gorgeous girl is doing great, although getting Jasmine's injuries to heal has been a bit challenging because she licks her wounds whenever she gets the chance. Jasmine's caregivers have tried three different collars to stop her from irritating her injuries, but this clever girl has managed to get off every one of them, causing them to opt for clothing instead.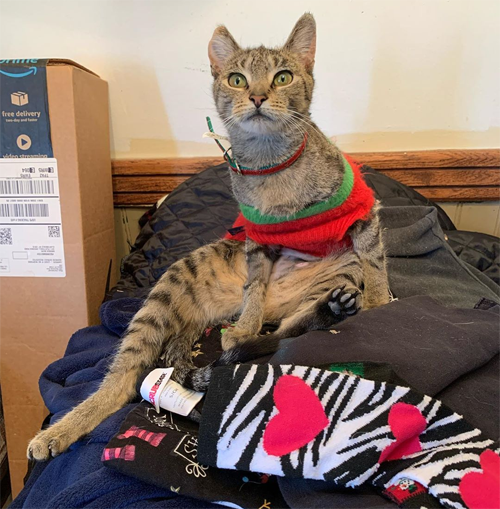 "We keep a shirt or sweater on her at all times to prevent her from licking," explains Amanda. "The most challenging part about that is changing her clothes — she can be a little spicy." Aside from this relatively minor issue — which should be resolved once her wounds are completely healed — Jasmine is an otherwise typical cat who loves to eat, climb Christmas trees, and nap.
View this post on Instagram

"She also enjoys sleeping on freshly laundered clothes," says Amanda. Another one of Jasmine's favorite activities is bird watching, so the team at Puppy Kitty NYC would love to find her a forever home with windows or an enclosed porch where she can keep an eye on the wildlife outside.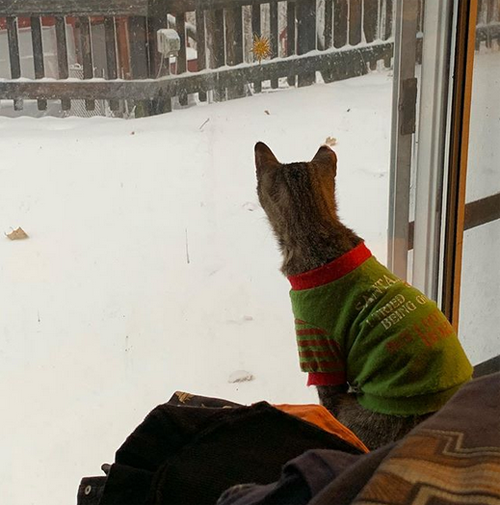 This beautiful tabby gets along well with dogs and the majority of cats, so she would do great with a family who already has other pets. While Jasmine likes spending time with people, she's not very cuddly, so she would do best with a family who is looking for an independent kitty, not a lap cat. "She doesn't enjoy being held, but she will follow you around wherever you go," explains Amanda. "She's a beautiful girl who just wants to spend her days lounging around and enjoying life."
View this post on Instagram
Jasmine is also very vocal, especially when she's upset or hungry, making her perfect for people who like talkative cats. While this feisty and fun-loving girl still has some healing left to do, it's apparent Jasmine has no idea she's different from other cats. "She doesn't know anything is wrong," says Amanda. "She's a spunky cat."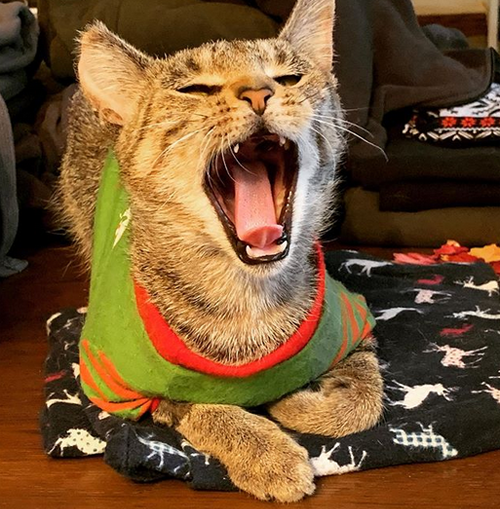 However, Jasmine's injuries left her with an unusual gait, but she's still just as active and agile as any other cat her age. "We call Jasmine's walk the 'raccoon walk,' " explains Amanda. "She high steps because of how her side healed — it contracted."
View this post on Instagram
Once her wounds completely heal, the only obvious evidence of the trauma Jasmine endured while living on the streets of New York City will be her unusual walk. While survivors like Jasmine sometimes have difficulty finding homes, everyone at Puppy Kitty NYC hopes this incredible girl will be adopted by a family who recognizes just how remarkable she is. "Don't overlook any animal just because they may look a little different,"says Amanda. "It just adds to their charm."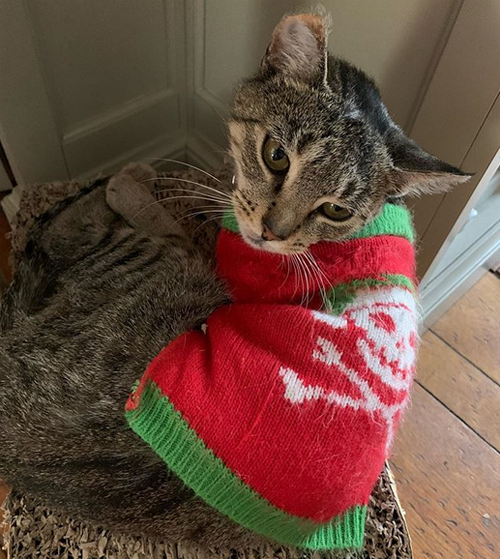 Not only is Jasmine charming, she's inspiring, and there's no doubt she'll find a wonderful forever home with people who appreciate her and her unbreakable spirit. "She had wounds down the sides of her body, and she never slowed down," says Amanda. "Animals are incredible creatures, and sometimes it takes a special one like Jasmine to make you remember that. Jasmine is a face of resilience."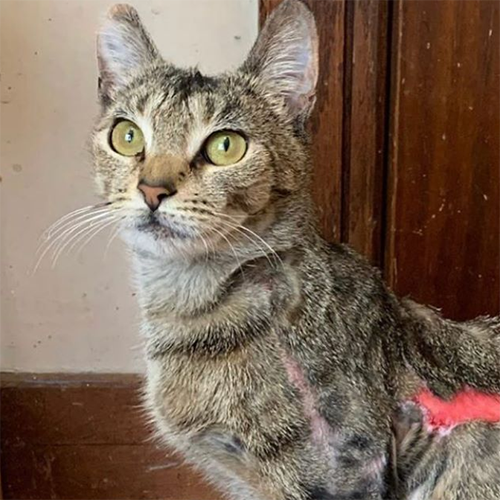 To learn more about Jasmine, you can follow her on Instagram.
If you're interested in adopting this special cat, you can complete an adoption application.