From the moment Melissa Landis saw a video of Toshi, a tiny black and white kitten who was born with paralysis, she felt an immediate connection with the one of a kind cat. When he was born on August 5, 2017, Toshi had a fractured spine, which left him paralyzed from the waist down, and he — along with his litter mates — was dropped off at a Rhode Island animal shelter when he was only a few weeks old. Due to his paralysis, little Toshi was considered unadoptable, and the shelter staff feared they would have to euthanize the tuxedo kitten with special needs.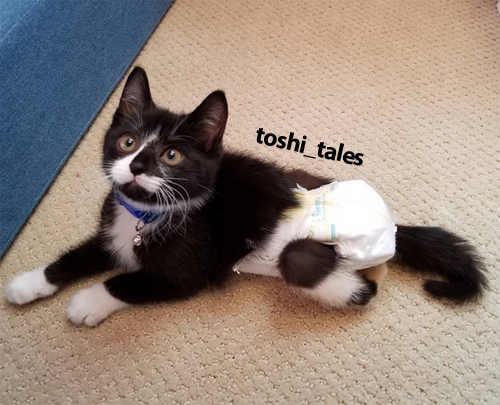 Thankfully, Trisha Torres of Rehoboth, Massachusetts, agreed to foster Toshi, saving the adorable black and white kitten's life. Unsurprisingly, Trisha fell in love with her new charge, and while she definitely considered adopting the special needs kitten, she knew the level of attention and care Toshi required would significantly impact her ability to help other animals through her rescue work. In order to reach her goal of finding Toshi the purrfect family, Trisha made a video of the tiny paraplegic kitten which she shared on Facebook. Almost immediately, the video of Toshi went viral, racking up more than 350,000 views, and applications for the "unadoptable" kitten came flooding in.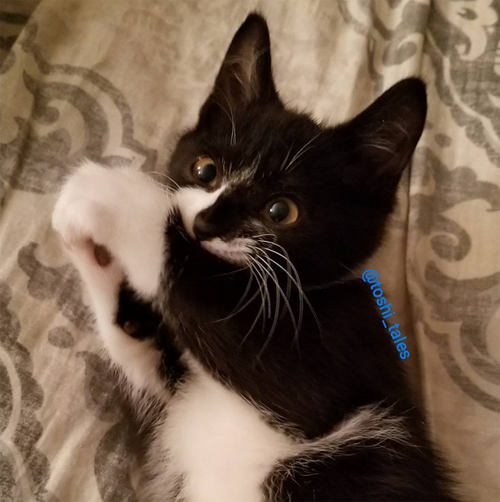 One of the many people who applied to adopt little Toshi was Melissa Landis, a wildlife rehabilitator from Needham, Massachusetts, who is often called "Snow White" and the "Animal Whisperer" by people who have witnessed her work her magic with all sorts of creatures. "I wanted so badly to be the lucky one to give Toshi the life he deserved," says Melissa. However, the adoption process was first come, first served, and Melissa was in line behind two other applicants who met the requirements to adopt Toshi.
"My husband and I discussed Toshi for days," remembers Melissa, "and knew that this felt right, that we were the right home for him." The couple's instincts were correct, because after the two other families turned out not to be just right for little Toshi, Melissa was offered the chance to have a meet and greet with the sought after special needs kitten.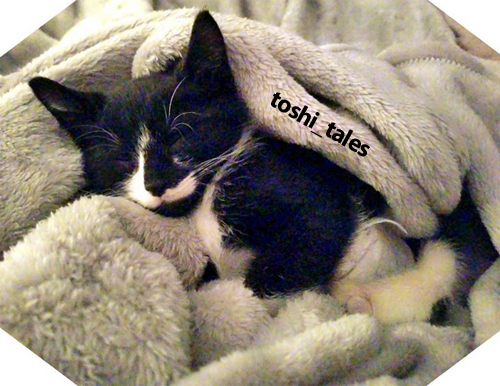 Melissa and her mother traveled to Trisha's home to meet Toshi in person, an experience Melissa will probably never forget. "I was flooded with emotions instantly," recalls Melissa. "He was everything I had seen in the video posts and more." During the visit, Melissa not only got a closeup look at Toshi's undeniable cuteness, she also learned how to express the tiny kitten's bladder and bowels.
Due to Toshi's paralysis, he's unable to use a litter box on his own, so he needed an adoptive family who would be willing and able to manually express him three to five times a day. Thankfully, Melissa had no trouble assisting the black and white kitten. "His needs weren't anything more than I have to provide for the many wildlife animals that are rehabbed in my home," explains Melissa. "The only difference was that he would get to stay."
After meeting with the Landis family in their home, Toshi's foster mom Trisha agreed to let the black and white kitten spend a week with Melissa and her family so that everyone involved could decide if it was the right fit. On October 9, 2017, Toshi spent his first night at Melissa's home, getting to know the couple's three children, as well the Landis family's dog, bearded dragon, and guinea pig. Almost immediately, Melissa knew the tiny tuxedo kitten — who weighed just over a pound — was meant to be a part of her family. "Toshi has the biggest personality," says Melissa, "and nothing stops him from doing things."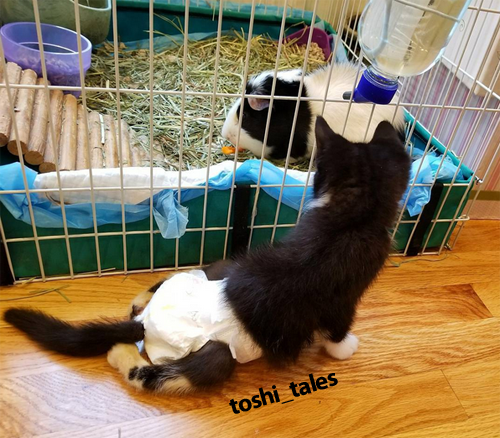 Since officially adopting Toshi on October 18, 2017, the Landis family's affection for Toshi has only grown — "The entire family simple adores him," says Melissa — and they've settled into a routine that works well for everyone. Currently, Toshi wears diapers designed for newborn babies which Melissa alters to accommodate his tail.
Aside from his incontinence and mobility issues, Melissa says Toshi isn't all that different from his more able-bodied counterparts. "Paraplegic and paralyzed kittens and cats can do everything a 4-legged cat can do," Melissa explains, "they just do it differently." In fact, Toshi absolutely loves to play, and he's able to scoot pretty much anywhere he wants to go. He also enjoys snuggling with his toy monkey, and he adores cuddling with Melissa and her family.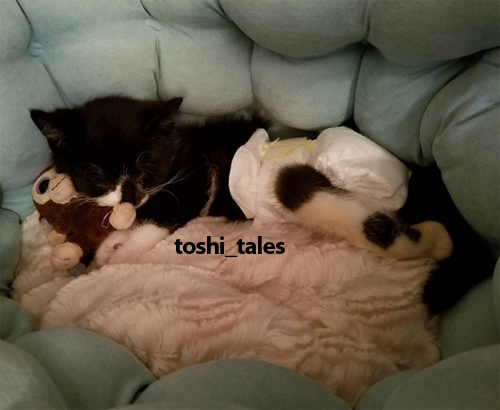 However, unlike a lot of other cats, Toshi loves to travel. "Believe it or not," says Melissa, "Toshi loves car rides! He goes just about everywhere with me." Because Toshi is such an inspiring kitten who adores people, Melissa hopes to one day be able to take him to local hospitals to brighten the lives of children and adults with paralysis and spinal injuries.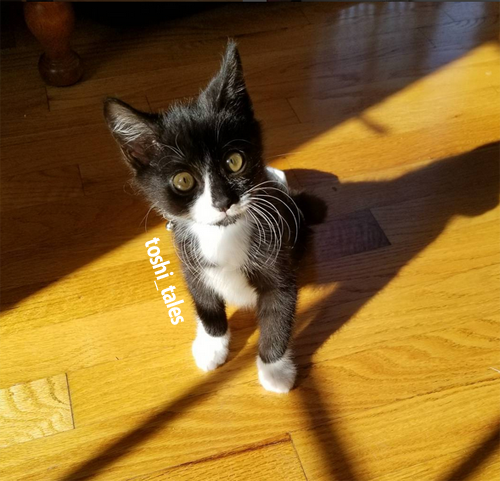 While Toshi is an incredibly happy and active kitten, Melissa is aware that he might develop some issues as he gets older, a possibility that definitely concerns her and her family. "He will eventually need wheels to help stabilize his spine and keep him from dragging his hind legs," explains Melissa. Also, Toshi will need to see multiple specialists to help give him the best quality of life possible, which — combined with the cost of a wheelchair — comes with a hefty price tag.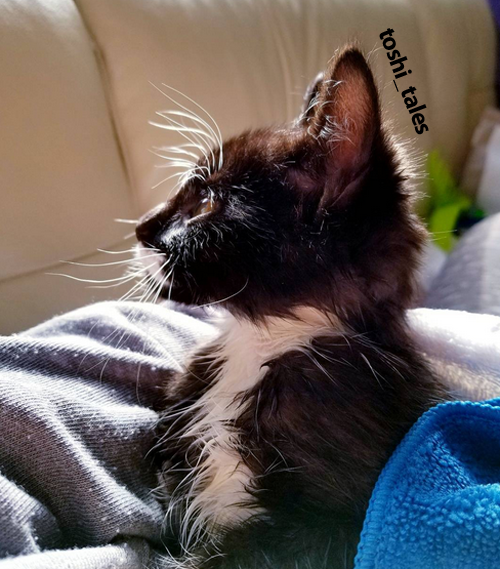 However, no matter what the future holds for Toshi, Melissa is so thankful she gets to be his mom, and she hopes his story will inspire other people to open their hearts and homes to special needs pets. "They are affectionate and loving sweet animals that deserve a life full of love and attention," says Melissa. In fact, Melissa, who has rehabilitated countless animals, is confident this spunky and sweet black and white kitten is an incredibly special boy who gives far more than he takes. "Toshi does more for me than I do for him," says Melissa. "He has more love to give than any other animal I've ever known."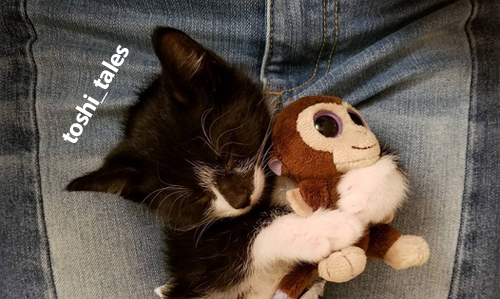 To learn more about Toshi, you can follow him on Instagram.