When Maria Schur began searching online for a cat to adopt, she wasn't looking for a special needs pet, but when she saw a photo of a stunning black cat named Gretchen, formerly Gump, she was was immediately taken with the little female feline. "I saw Gretchen's picture," remembers Maria, "and she looked so cute and grumpy. I knew she needed someone to take her home and love her!"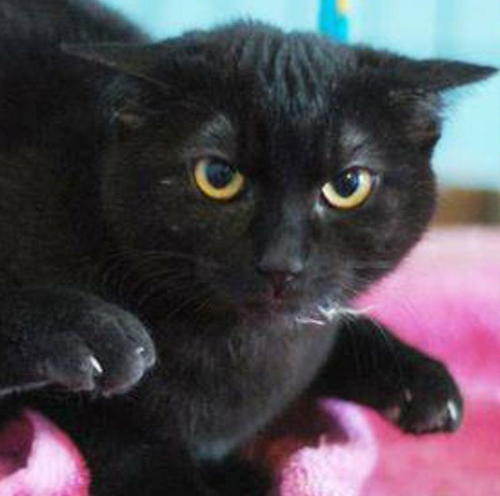 Maria learned that Gretchen, who was born on July 19, 2014, had been rescued by The Philly Kitty Rescue, an organization that specializes in helping cats with special needs, and she was currently in a foster home in Philadelphia. "Basically, she just has a congenital abnormality that makes her spine very curved," explains Maria, "and her hind legs are bowed and extremely stiff as if she has no knees."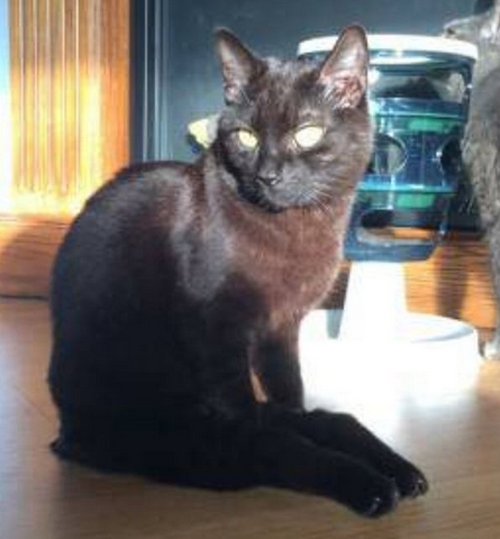 Gretchen had been an abandoned as a kitten, and she had been waiting for her forever home for nearly two years when Maria arranged to meet the special needs cat in her foster home in November 2016. "When I first met her where she was being fostered, she was very shy and antisocial," says Maria. "She looked so tiny and extremely different from any cat I've ever seen."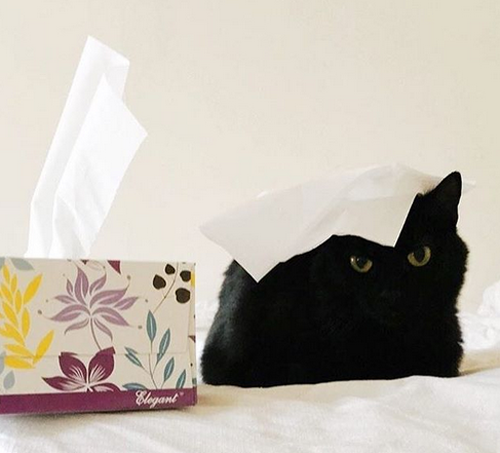 Not only did Gretchen have unique hind legs, she was much smaller than a typical cat due to stunted growth. While the little black cat didn't look an average feline, she immediately surprised Maria by climbing to the top of a cat tree using just her front legs.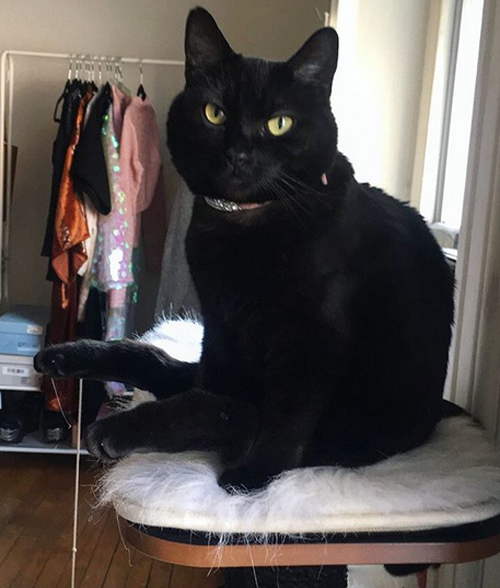 "It was actually a little startling," says Maria. "I didn't know what to expect — and I think I only gave her one little pet — but I knew I was going to take her home and bring her out of her shell."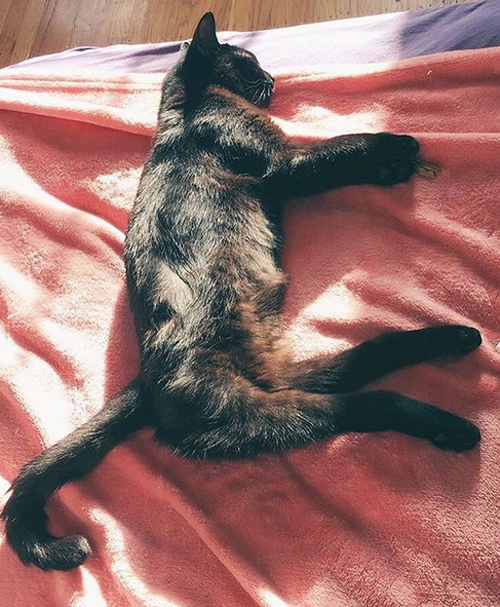 When Maria brought Gretchen back to her Philadelphia apartment, the little special needs cat immediately sought shelter underneath her new mom's bed, and for the next few months, she rarely left her hiding place. While other people would have given up on trying to earn Gretchen's trust, Maria persevered, and she spent every day showing the adorable black cat — who had been abandoned as a kitten — that she had a forever home where she was safe and loved.
Eventually, Maria's persistence paid off, and Gretchen emerged from underneath the bed and allowed her mom to pet her: "It was worth the wait!" Maria says of this momentous occasion.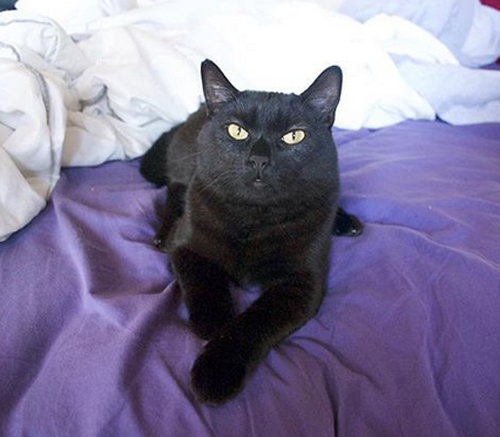 Months after she was adopted, Gretchen finally started exploring her new home, showing her mom — who hadn't gone looking for a special needs pet — that she was incredibly capable despite having a congenital condition. "Gretchen cannot jump like 'normal' cats," explains Maria. "The highest she can jump is a few inches off the ground, but she is a very good climber!"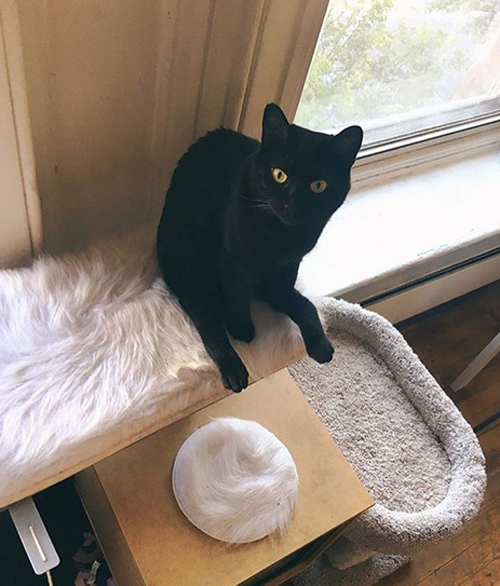 To help this little black cat get to various places in her apartment, Maria purchased ramps that Gretchen uses to get onto the bed and window sill. Maria even came up with an ingenious way to help Gretchen get up and down the wooden stairs in her loft apartment. "To keep Gretchen from slipping and falling on the stairs," says Maria, "I cut up yoga mats and used a staple gun to cover the steps so that she could use her claws to grab on."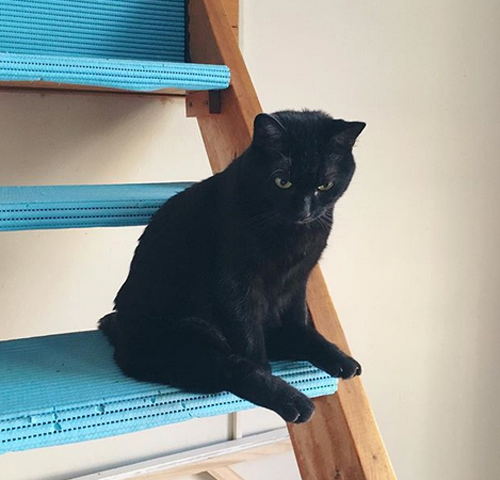 Thanks to the accommodations Maria has made for Gretchen, this little special needs cat with unique back legs has no trouble getting around her home, and she's able to play just like the average feline. In addition to chasing after the laser pointer and getting hours of entertainment from Maria's fish tank, this beautiful black cat is obsessed with toy Easter chicks. "She runs around the apartment with them, brings them to her food and water bowls," says Maria, "and she brings them into bed and cuddles with them."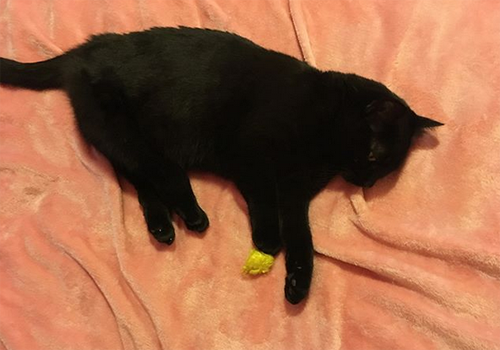 Gretchen, who waited for more than a year to find her forever home and spent months hiding underneath Maria's bed, is enjoying her new life with Maria, and she's shown her mom that special needs cats really aren't all that different from other felines.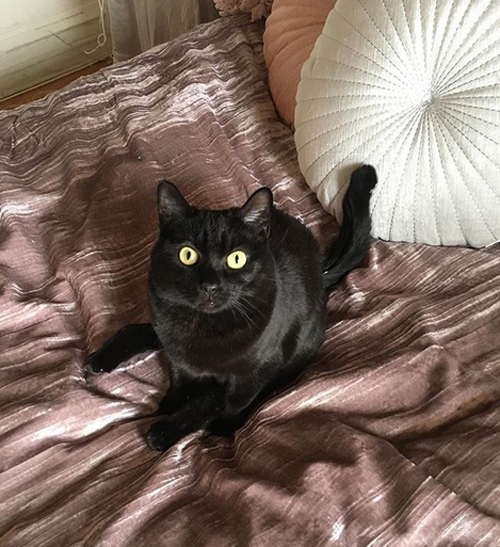 "Gretchen has the same personality that a cat without special needs would have," says Maria, and she hopes others will realize that kitties like Gretchen can actually be really easy to take take care of. "Special needs cats deserve love like any other cat," says Maria, "and people looking to adopt a cat shouldn't be hesitant to adopt a cat who has a disability just because they think it will be too much work."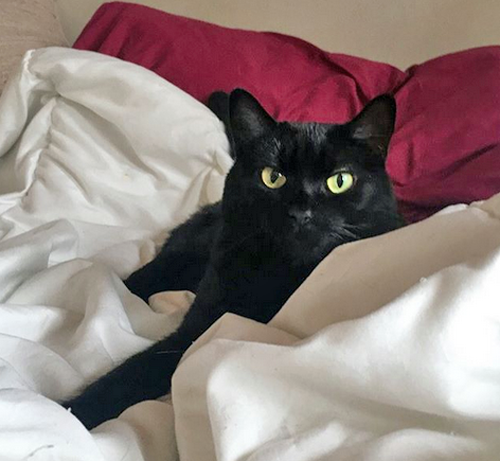 Not only is Gretchen just as easy to for as a typical cat, Maria finds this beautiful black cat's attitude towards adversity to be inspiring. "She runs and plays all day," says Maria, "and sometimes she stumbles or slips but it doesn't faze her at all."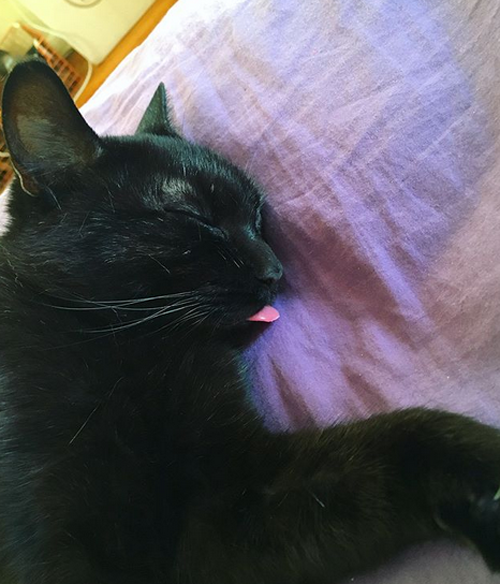 Not surprisingly, Maria, who refused to give up Gretchen during the many months she was hiding underneath her bed, unwilling to let her new mom to pet her, appreciates this gorgeous girl's indomitable spirit. "She overcomes every obstacle and never stops trying to do something just because of her disability," says Maria. "Gretchen means the world to me."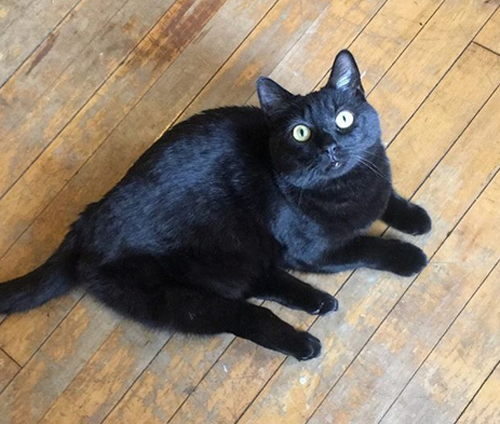 To learn more about this incredible cat, you can follow Gretchen on Instagram.