After a car accident in March 2014, Molly Lichtenwalner was left with a brain injury and severe anxiety, and when neither doctors nor medication offered her any relief, she decided to adopt an emotional support animal. Growing up, Molly helped her parent's train family's deaf sheepdog, so she was determined to provide a home to a special needs pet.
"I went on Petfinder and clicked the special needs box," remembers Molly, and one of the first animals she came across was a stunning earless cat. "It was love at first sight," says Molly. "I needed to meet him."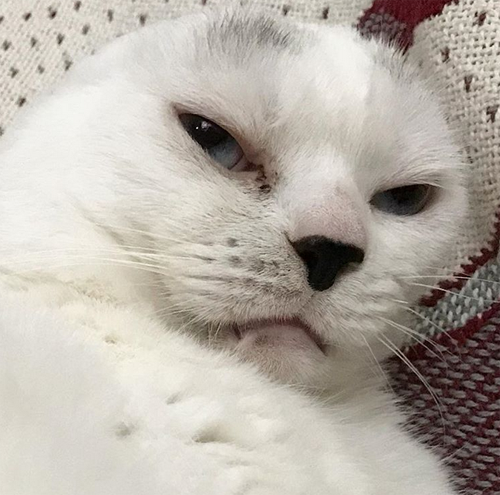 Like the sheepdog Molly had trained as a child, the cat was deaf, and he'd lost his hearing after cysts in his ears were ignored. "They were treatable at one time and he could've kept his ears," explains Molly, "however, they got so bad, amputation was necessary."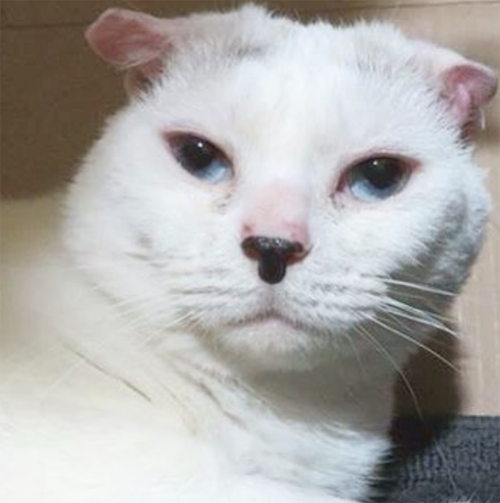 Instead of paying for the surgery, his owners surrendered him to their local rescue, The Feline Rescue Association of Baltimore, and the organization raised money to have the handsome cat's outer ears — "The part that transmits and interprets sound," says Molly — removed.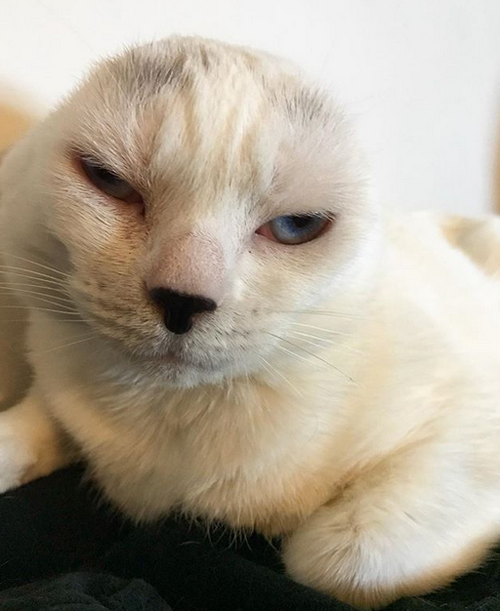 Molly was certain the earless cat — who doctors believe was born in September 2006 — would make the perfect emotional support animal, so she submitted an adoption application. The next day, Molly's application was approved, and on March 8, 2016, she picked up the handsome feline and brought him back to her home in Lancaster, Pennsylvania. "I wanted to name him after the thing that brought us together," says Molly, so she christened him Otitis, in honor of otitis externa, the medical term for inflammation of the ear canal.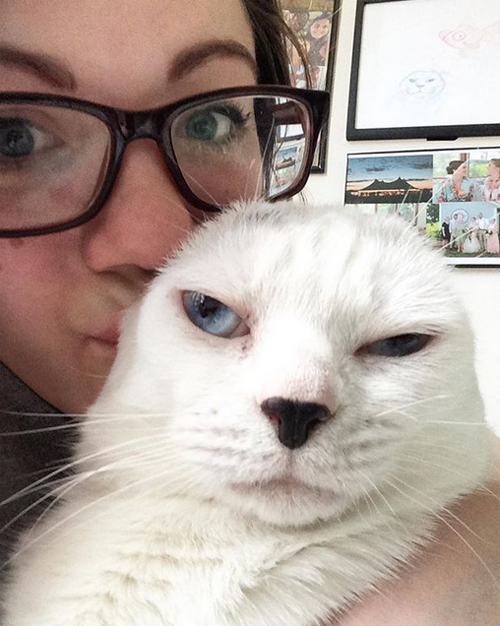 Once in his new home, Otitis didn't waste any time making himself part of the family, nor did it take Molly very long to forget that he was both deaf and a senior cat. "He acts much younger than he really is," says Molly, "and he doesn't let his deafness impact him in any way." While Otitis — who Molly has nicknamed Pup due to his resemblance to a baby seal — can't hear, he responds well to vibration, making it easy for Molly to communicate with him.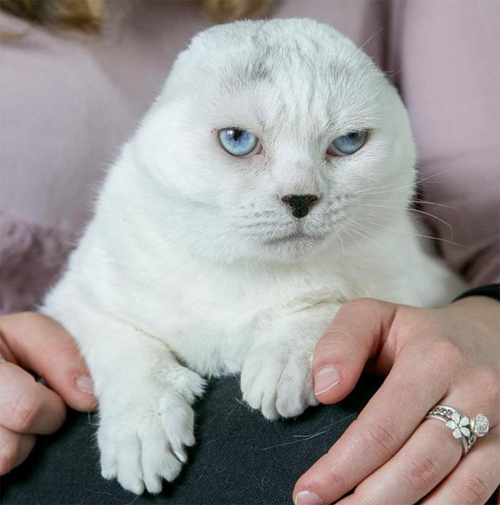 In fact, she believes he's just as easy to care for as any other cat, although his incredibly cute face does make it difficult for her to leave for work every morning. "People think that Otitis is grumpy all the time because of his sassy face," says Molly, "but he is always the biggest love."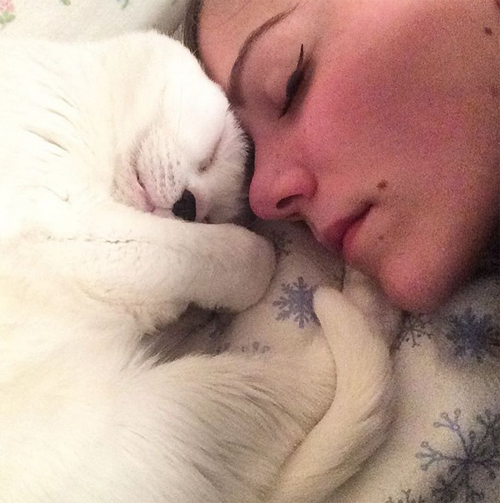 Otitis — who lost his ears and hearing when his previous owner failed to get him medical treatment — is very appreciative of his new family, and when he's not sleeping, he can often be found cuddling with his mom. However, just because he's a senior cat, that doesn't mean he's not still active and full of life. "When he's not sleeping, he is playing with his catnip banana or trying to eat my hair," says Molly.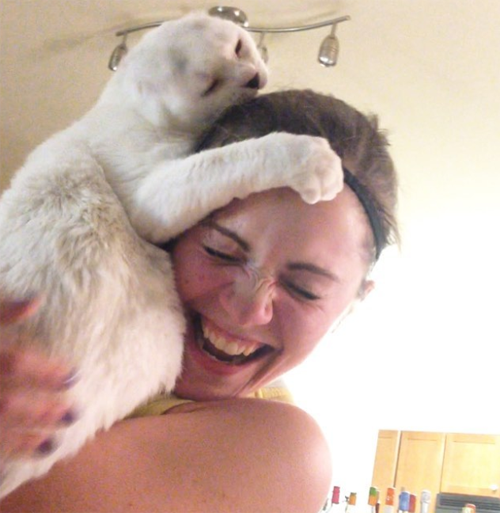 Nearly two years after Molly made the decision to adopt Otitis, the pair have formed an incredibly strong bond, although she says he had a profound impact on her life within hours of joining her family. For months, Molly had been struggling with crippling depression and anxiety — the result of a traumatic car accident — and crushing hopelessness nearly caused her to drop out of graduate school. "Otitis was my last hope to change this," says Molly, "and within one day of having him, my life was spun around."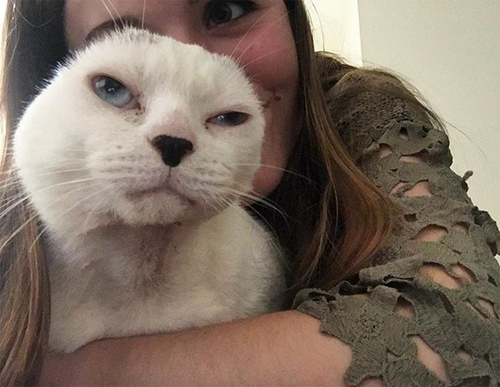 Not only did Otitis give Molly a newfound sense of purpose, he provided her with the unique type of affection only special needs animals seem capable of offering. "Having that unconditional animal love never ceased to melt away my stress and anxiety," says Molly, and since adopting Otitis, her life has improved dramatically. "I am discharged from my neurologist and my doctors, I am no longer on any medication for my anxiety," says Molly, "and I have graduated with my Master's degree."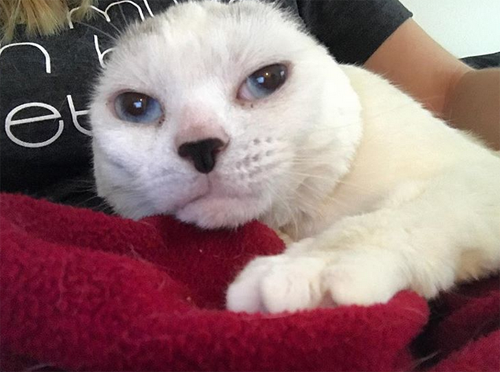 Not surprisingly, Molly is a huge proponent of emotional support animals, as well as special needs pets, and she hopes others will be inspired by the immeasurable impact Otitis has had on her life. "I wish more people would give these beautiful animals a chance and give more of them homes," says Molly. While Molly knows that some special needs animals require a bit more attention and care than the average feline, she believes they are eternally grateful for the extra effort and shower their families with additional love to show their appreciation.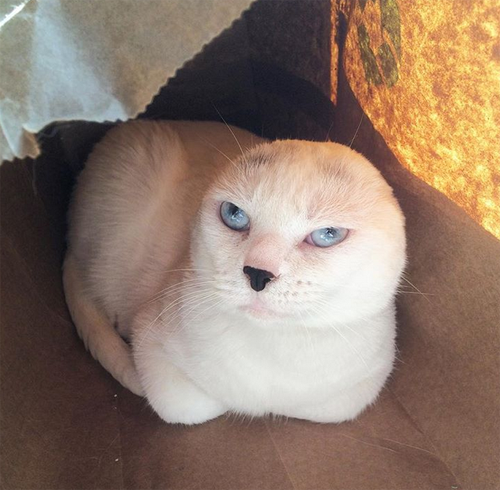 When Molly found Otitis, he was recovering from surgery, having lost his ears and hearing due to neglect, while she was at an equally low point in her own life, struggling simply to make it through the day. Thankfully, their paths crossed at exactly the right time for both of them, allowing Otitis and Molly to not only help each other heal, but to allow one another to flourish.
Today, their connection is as powerful as ever, so much so that Molly has difficulty finding the right words to express her love for Otitis. "To say that Otitis means the world to me wouldn't do him any justice," says Molly. "He really saved my life."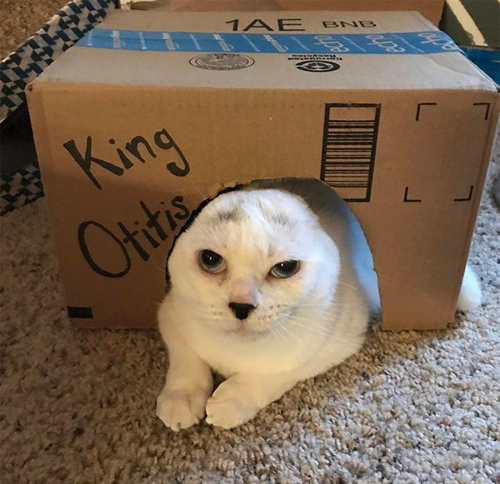 To learn more about this adorable cat, you can follow Otitis on Instagram.