When Hannah Erbe, a multi-media artist, was heading into an art studio near her home in Charlotte, North Carolina, she spotted a tiny black kitten in a wood pile. As Hannah examined the 4-week-old kitten — who was part of a colony of feral cats that lived in the area — she realized he desperately needed help.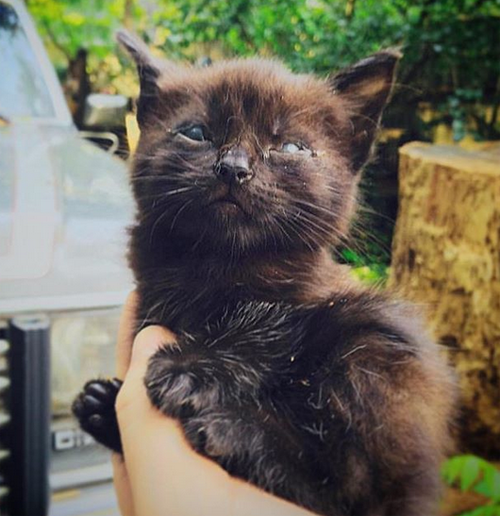 "He was skinny and weak and couldn't see much with all the debris and discharge in his eyes," remembers Hannah, and she decided to bring him home with her that day in June 2016, intending to nurse him back to health and find him a forever family.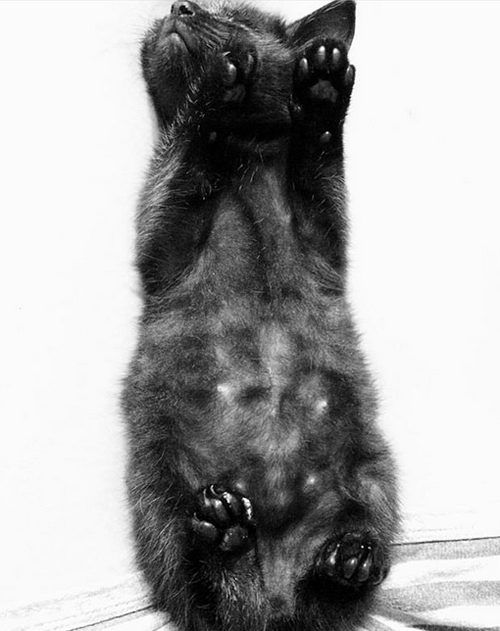 However, once Hannah got the emaciated kitten back to her house and cleaned him up, she discovered he had been born without eyelids, a congenital condition called feline eyelid agenesis. "When I noticed he did not have upper eyelids, and when he willingly let me touch him for the first time and purred," says Hannah, "I knew he was mine forever!"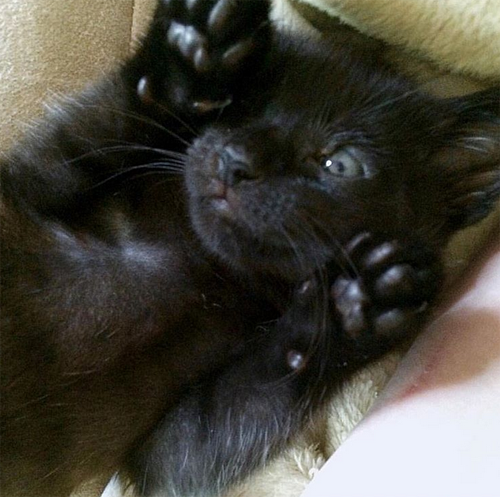 Still, she knew he was in extremely poor health, and when Hannah took the black kitten — whom she named Inky — to her vet, she learned his odds of survival were far from good. "The vet told me not to get attached because he probably wouldn't make it," remembers Hannah. "He was starving."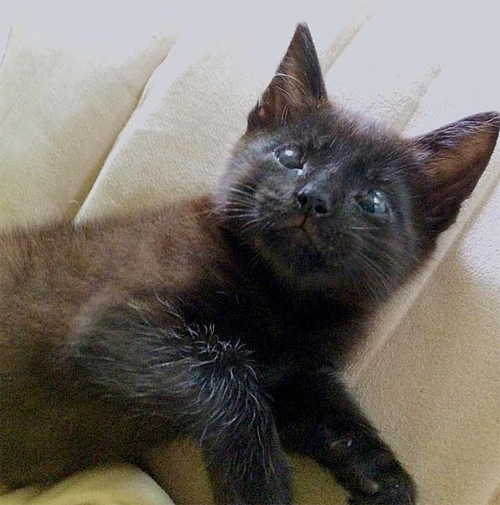 Thankfully, Hannah refused to give up on Inky, and her first goal was to help the scrawny little kitten gain some weight. She was also determined to trap his mother and siblings in order to get them spayed and neutered, but when she returned to the wood pile where she'd discovered the tiny special needs kitten, she found Inky's family had already moved on from the area. "Cats like him are poster kitties for why you should always spay and neuter your pets," says Hannah, "and also a call to action in helping community cats by trapping, sterilizing, and returning feral cats."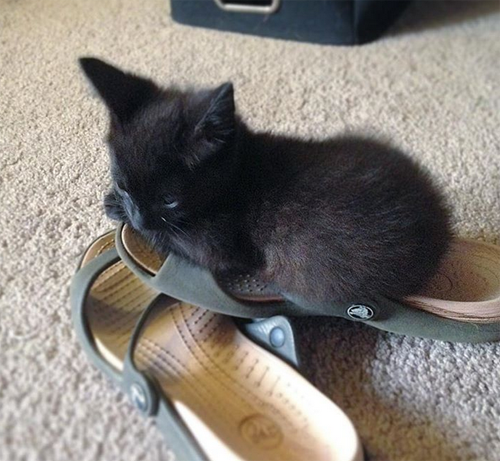 Unable to locate Inky's mother and litter mates, Hannah focused on making sure the malnourished kitten got the proper nutrition he needed to grow and thrive, at the same time learning how to care for his rare eye condition. Cats with eyelid agenesis don't have the same protection other kitties do, so they are constantly at risk of injuring their eyes.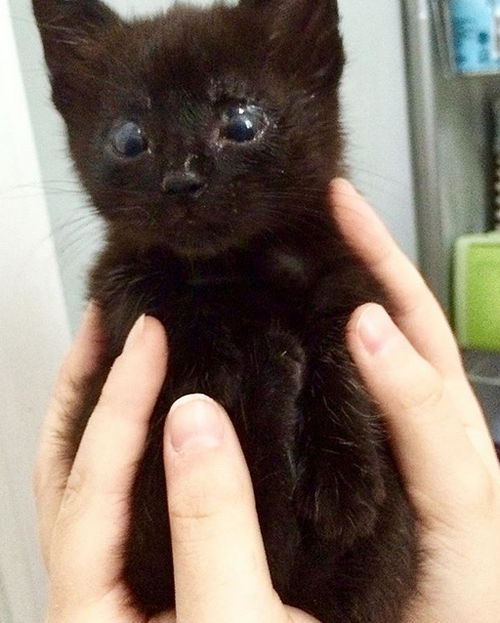 One of the biggest causes of irritation and trauma for cats with eyelid agenesis is actually their own hair, and many times, felines like Inky need to have cryotherapy to freeze the hair around their eyes; in more extreme cases, eyelid reconstruction is the best option. "I scraped together enough money to get him cryotherapy treatments to remove the hair growing into his eyes," says Hannah, "and it's helped a lot!"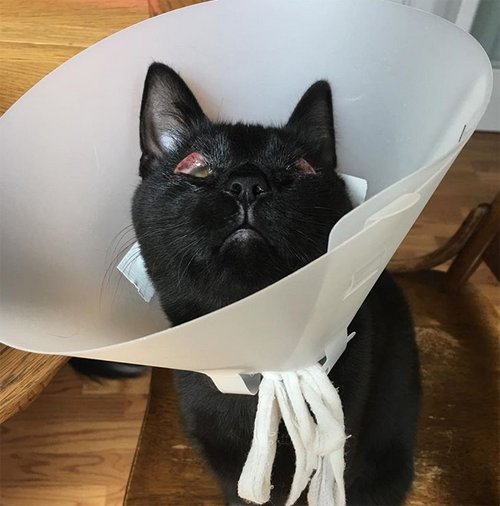 Following the treatments, Inky — who can blink, despite what many people think — needs a bit more attention than the average kitty, but Hannah insists taking care of a cat with eyelid agenesis who has had eyelid reconstruction or cryotherapy really isn't that challenging. "Inky needs drops about every other day and his eyes get cleaned by wiping them once every day," explains Hannah, "but other than that, it's just the same as having a 'normal' cat!"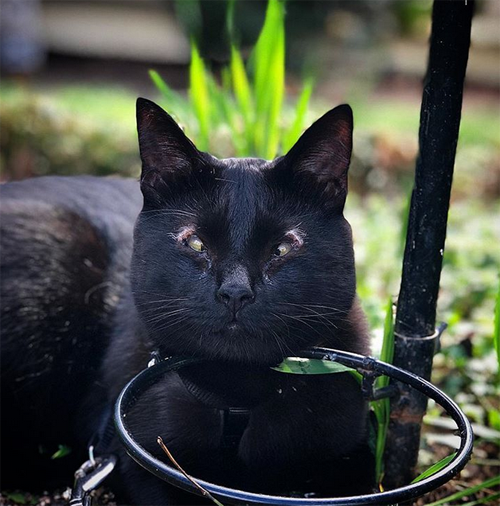 While Inky isn't blind, his vision is a bit impaired, but he doesn't have any trouble getting around, and he is extremely active and playful. In fact, one of this handsome cat's favorite activities is going for walks on a leash, exploring the outdoors with his three dog siblings, Jasper, Daisy, and Levi. Inky also enjoys hanging out with his kitty cousin, Luna, scaling his cat tree, bird watching, and chasing after the laser pointer.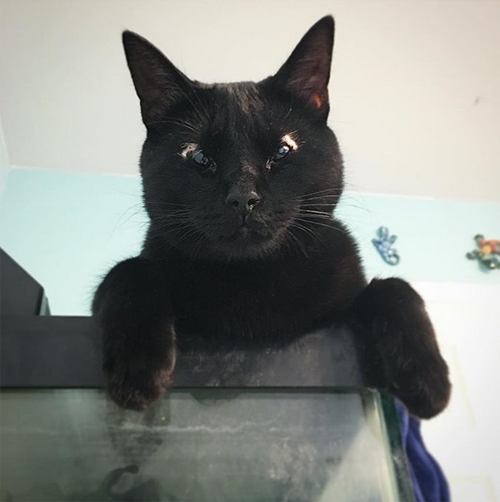 This adorable cat — who was starving when Hannah discovered him last June — has an insatiable appetite, so his mom has to make sure he doesn't eat too much of the prescription food he's on to prevent crystals from forming in his urine. However, Inky still gets his fair share of snacks, although usually only when he performs one of the tricks his mom has trained him to do. "He loves to practice tricks for treats," says Hannah, "and so far he can sit and stand on his hind legs and is working on learning to ring a bell. He's very smart!"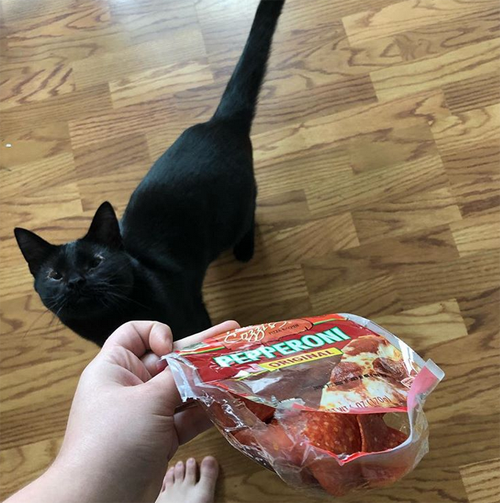 While Hannah had no intention of adopting Inky when she pulled him from a wood pile in June 2016, she's so thankful to have this adorable special needs kitty as part of her family, and she hopes other people will consider providing homes to unique-looking cats like him. "They may look odd," says Hannah, "but they are just as loving and playful as any other cat and deserve a chance!" In fact, Hannah — who has always considered herself more of a dog person — credits this special feline with fostering her love for cats, and she now appreciates both species equally.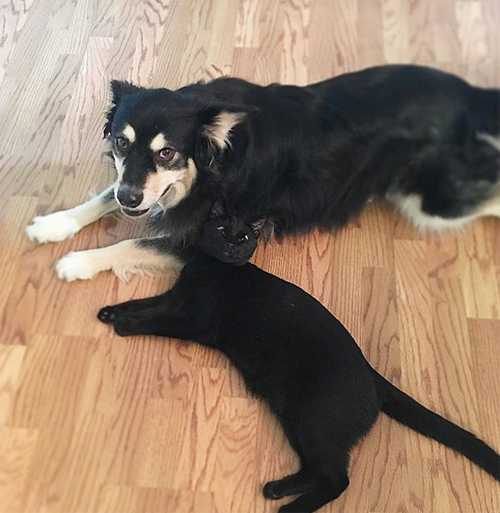 Recently, Inky has begun experiencing some discomfort caused by hair in the corners of his eyes which wasn't there when he had cryotherapy, so his mom is saving money to pay for another round of treatments. "I am dreading it because last time the recovery was so long and he felt so bad," says Hannah. Thankfully, Inky — who was once a malnourished kitten experts didn't think would survive — will have his mom by his side after the cryotherapy treatments, nursing him back to health just as she did more than a year ago, determined to give him the chance he deserved.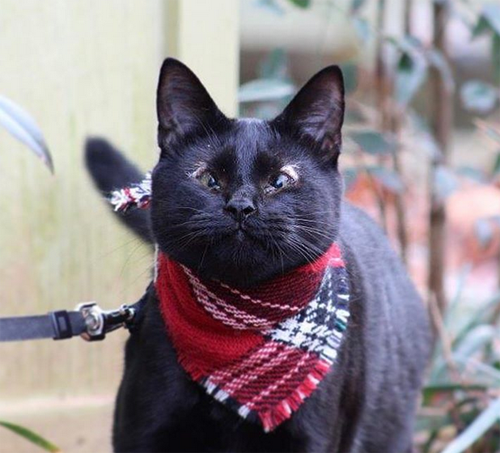 In return, not only will Hannah get the satisfaction of watching Inky continue to grow and thrive, she'll get the happiness and affection she's received from him on a daily basis, beginning with the day he purred as she petted his soft fur for the first time. "Inky means the world to me," says Hannah, "I love him more than I ever thought I could! He makes me smile more than I can count every day."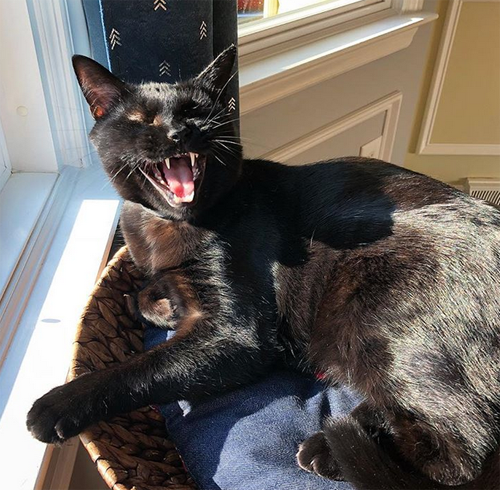 To learn more about this adorable cat, you can follow Inky on Instagram.
If you would like to make a donation to pay for his next round of cryotherapy, please visit his GoFundMe page.