While Ilona Kok was working at an animal shelter near her apartment in Zwolle, Netherlands, in 2015, she decided she was going to provide a home to a cat that other people would usually pass over. "I was settled in my new apartment and I had always had the desire to take in an older cat with special needs or maybe medical problems," explains Ilona. "In the shelter, my heart always went to the elderly cats that didn't get picked out to adopt. Sometimes it broke my heart."
Shortly after Ilona made the decision to adopt a senior cat or a kitty with special needs, Miss T, a beautiful but bedraggled tabby and white feline, arrived at the shelter. "Miss T. was a cat that met my conditions: she was elderly, it was known she had a very bad heart, and she had a limp," says Ilona.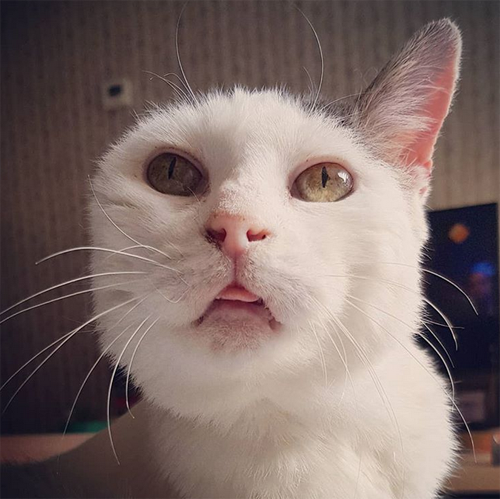 While a lot of other people would have opted for a kitten over a teenager like Miss T, Ilona thought she was perfect and officially adopted her on November 17, 2015, when the senior cat was approximately 13 years old.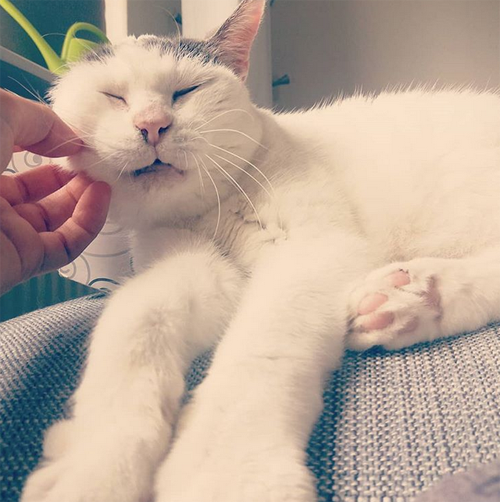 With the help of a volunteer at the shelter, Ilona got Miss T into a cat carrier and the tabby and white feline meowed and cried during the drive to her new home. Once inside her apartment, Ilona let Miss T out of the carrier, allowing the teenage cat to explore her new home.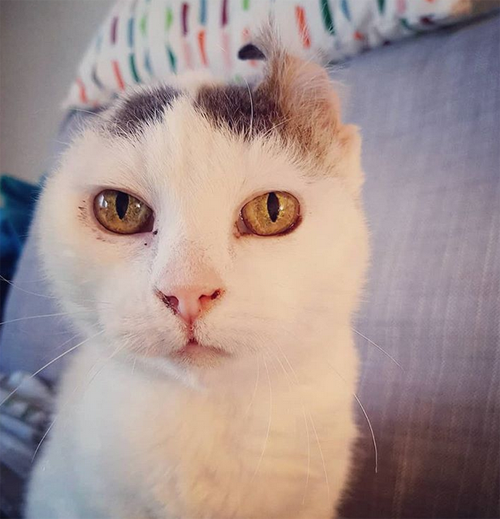 "At first — for the first few minutes — she walked very fast through my house, sniffing everything, still a little bit in a panic," remembers Ilona. "But it was almost like after a few minutes a switch went off. She then suddenly started to purr very hard and started to rub her head against literally every object in my house as if she was thinking, 'OK, I like it here, this is my house now,' and then marked it with her scent everywhere."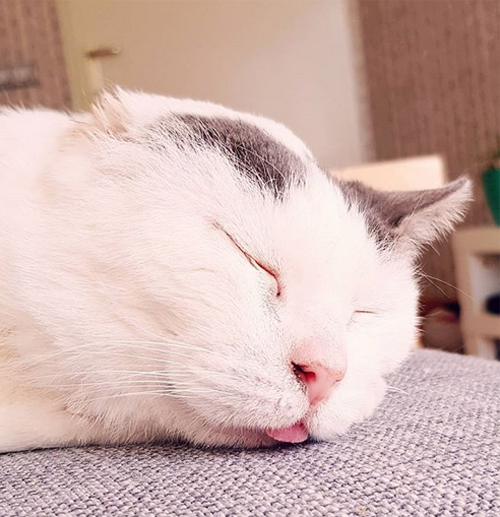 At the time, Ilona knew very little about Miss T's life before she arrived at the shelter — limping and with a swollen stomach — but it was very obvious to her that the sweet senior cat was extremely happy in her new home. "There was food everywhere; nice and comfy blankets and sofas," says Ilona. "It must have felt like she was in heaven."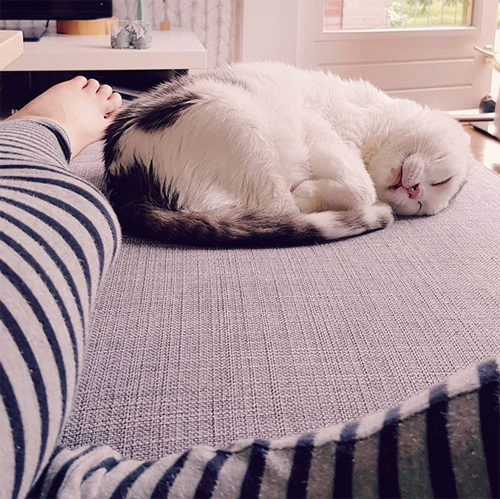 A few weeks after Miss T was adopted, a neighbor of the senior cat's former owner emailed the shelter to find out how the adorable tabby and white feline was doing. "She had called the animal ambulance for Miss T and really wanted to known how it ended with her," says Ilona. "She was also very afraid the shelter had put her down because of her broken leg."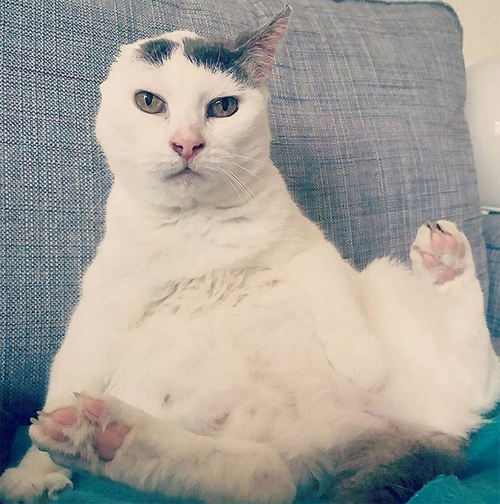 Ilona replied to the concerned woman's email, explaining that she had adopted Miss T, and she even included pictures of the beautiful senior cat in her new home. "She answered back very quickly," says Ilona, "and she said she was crying tears of joy that the cat had finally had a home now and she couldn't stop looking at the pictures."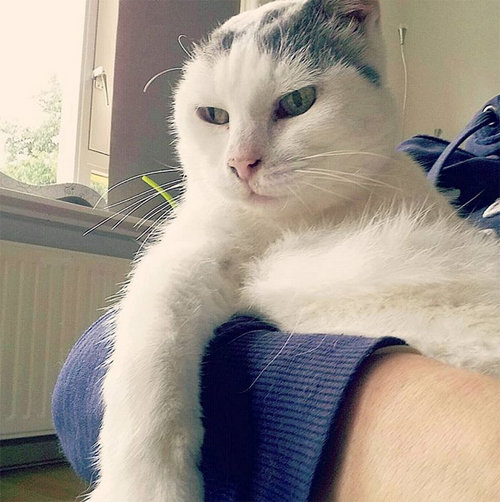 Through her correspondence with the woman, Ilona discovered that Miss T's life before she was rescued was worse than she could have imagined and that the sweet tabby and white cat's former owner considered her to be little more than a source of income.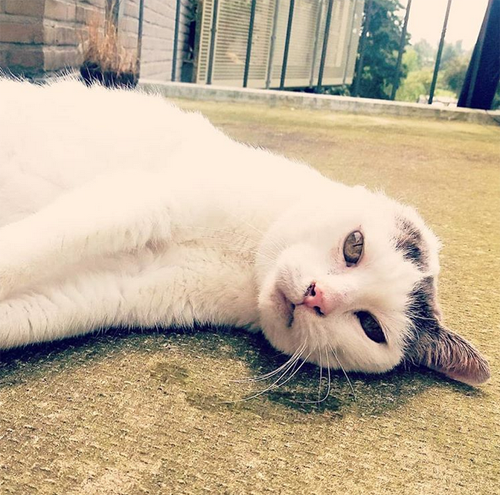 "The guy let Miss T get pregnant two or three times a year and he would sell the kittens online," explains Ilona. "When he didn't sell all the kittens, he just let them walk outside and left them on there own, so they became new stray cats. Once in a while, he picked the most strong kitten from a litter to make new kittens again."
This cycle went on for nearly a decade, causing Miss T to be pregnant for the majority of her life, and not only did she and her kittens never receive proper medical care or regular feedings, they weren't even allowed inside his home.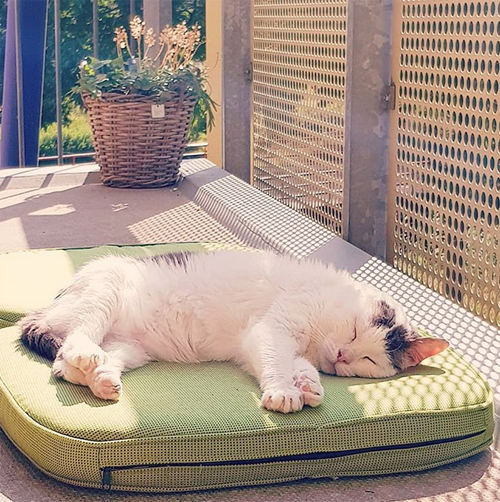 The concerned neighbor offered to pay to get Miss T spayed, but the man refused, and in November 2011, he died of a heart attack. However, the concerned neighbor was away at the time, and Miss T disappeared before she could help the tabby and white cat. The following summer, Miss T reappeared, frightened and in bad shape. "With a lot of patience she managed to get close to Miss T so she could free her from her ingrown flea collar," says Ilona, but the woman didn't see Miss T again for nearly three years.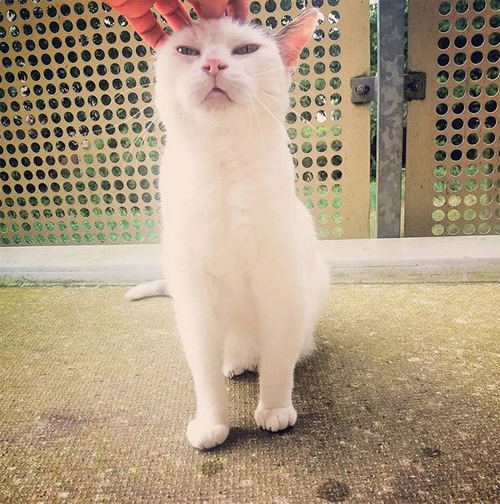 "Then — summer 2015 — she suddenly saw a cat stumble through a pasture," says Ilona. "She called the cat and it turned out to be Miss T. She was skin and bone, her leg was all twisted, and yes, she was pregnant again!"  That summer, Miss T gave birth to her final litter of kittens, and the woman fed the mother cat and her babies, and even worked to tame the young felines while gaining their mom's trust. When the cat family was no longer afraid of people, the woman called the animal ambulance, and Miss T and her kittens were taken to the shelter where they met Ilona.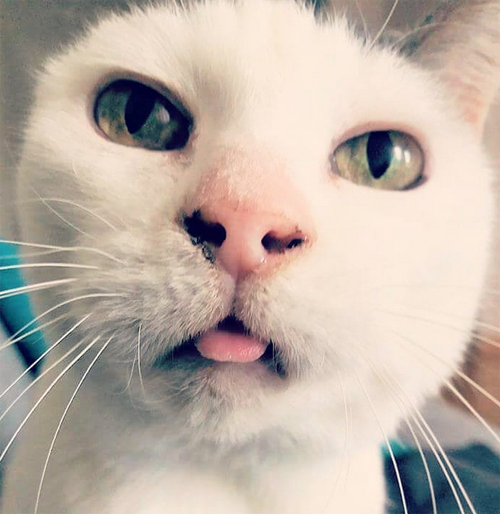 "I always felt like Miss T had a tough life behind her — just her appearance and the way she acted — she must have gone through a lot, I thought," says Ilona. However, there was no way she could have known the neglect and cruelty Miss T experienced before she ended up at the shelter, and Ilona was brought to tears after reading about all the hardships the senior cat had experienced.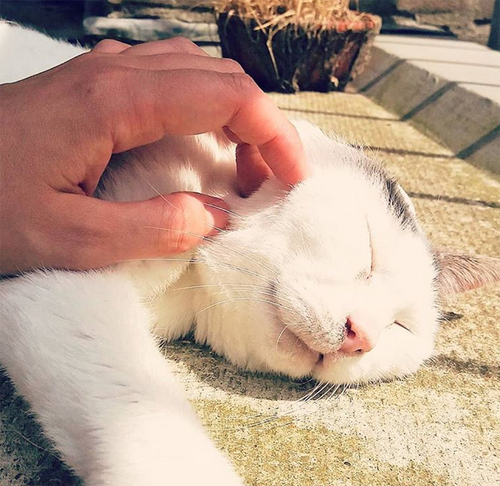 "It was just almost unbelievable knowing she was treated this way, and now she was sleeping peacefully on the sofa," says Ilona. "Miss T. was sitting next to me when I read the story and as soon as I started to wipe away a tear, she looked at me and started to purr very hard, as if she was saying: 'Yeah, I know, but I am OK now!' "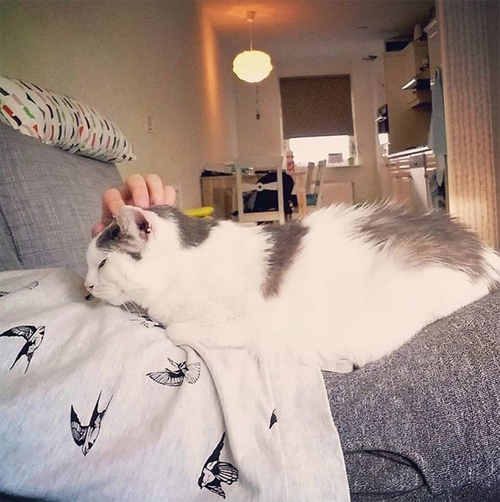 While Miss T found a safe and loving home after several years of being horribly mistreated, the shelter discovered that the senior cat bore the scars of an incredibly difficult life. "They thought her hip was dislocated, but the x-ray showed it was an old fracture that had grown back together in a weird shape, so she will be limping the rest of her life," says Ilona.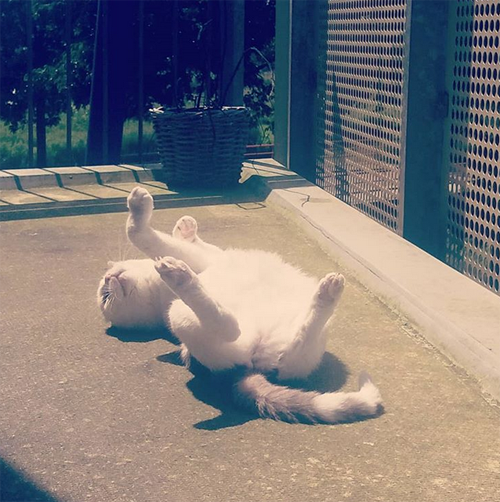 The vet also thought that Miss T was pregnant with yet another litter of kittens when she arrived at the shelter, but the staff eventually realized that the senior cat's swollen stomach and enlarged nipples were the result of being pregnant and nursing for the majority of her life.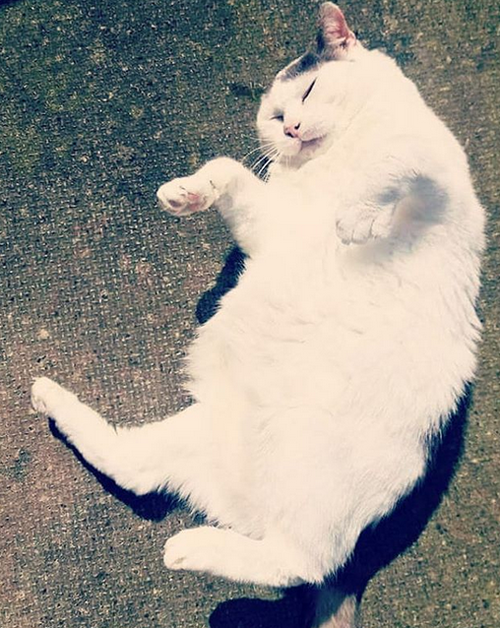 "The vet also detected a heart defect, cardiac arrhythmia," explains Ilona. "Her heart is not beating in the right rhythm. It's also making noises that it should not make." When Ilona decided to adopt Miss T, she was told the senior cat had a shortened life expectancy due to the heart condition, but it didn't make her reconsider her decision to provide the beautiful tabby and white cat with a forever home. However, less than a month after Ilona adopted Miss T, she discovered an unusual lump on one of her ears, and a biopsy revealed it was a cancerous tumor that had most likely been caused by years spent outside in the sun.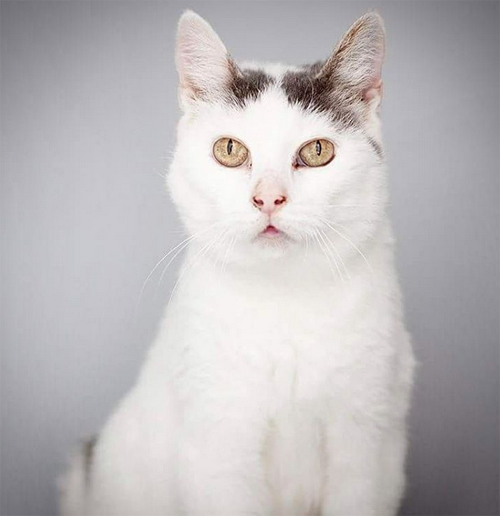 In order to stop the cancer from spreading, doctors recommended amputating Miss T's ear. "Just a month after the adoption, I had her lying on the operating table," says Ilona. "The operation went pretty well, although she had a little bit of a hard time waking up after the anesthesia."
Fortunately, Miss T finally woke up, and once she was back in Ilona's apartment, it was obvious this senior girl didn't miss her ear one bit. "When I brought her home after surgery, she totally went crazy," remembers Ilona. "She was purring like hell and rubbing her head on every object in my house."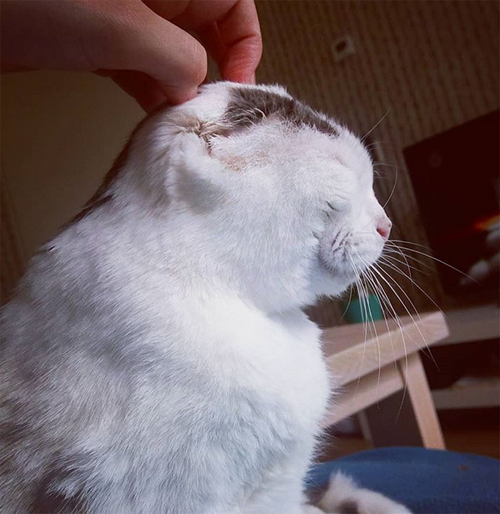 Less than two years after she found her forever home, Miss T developed a chronic cough and stopped eating, so Ilona took her to the vet in June 2017. Immediately, the doctor suspected lung cancer, so he took an x-ray of Miss T's chest which he sent to a specialist. "Then I got the phone call I feared: the vet said it was lung cancer, and he estimated just a few weeks to live," says Ilona. "I was very sad of course, but I was planning to make the last weeks of her life the best of her life."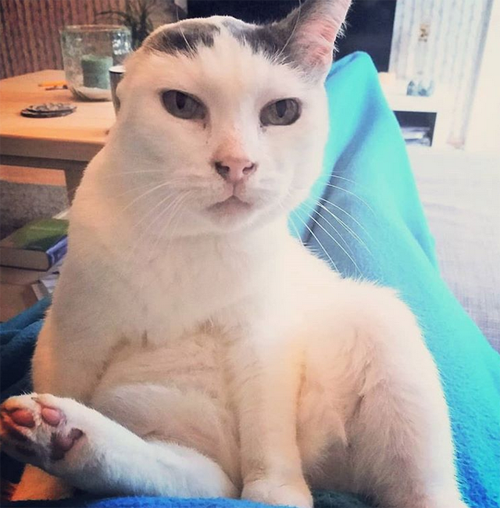 Miss T started taking steroids and regained her appetite, allowing her to eat lots of the expensive and high calorie food Ilona had purchased for her. In January 2018, months after Miss T was diagnosed with cancer, she seemed to be in excellent health, so the vet took another x-ray. "The weird tissue in her lungs had shrunk, which is impossible with cancer, because cancer never shrinks on its own!" explains Ilona, and the vet determined that Miss T had actually been suffering from severe bronchitis.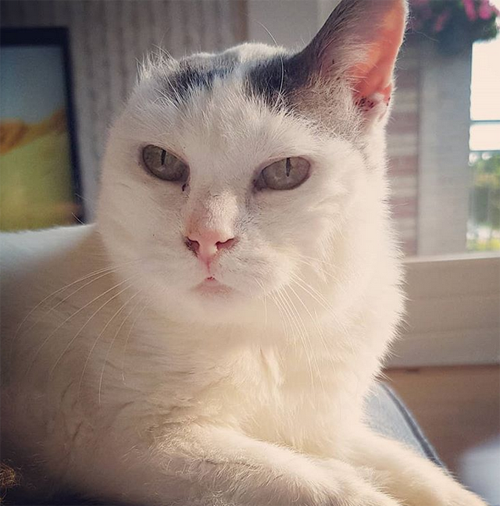 Currently, Miss T takes a low dose medication every other day to help with her chronic bronchitis, and this gorgeous girl is doing extremely well, even though the second x-ray revealed that she had previously fractured her sternum and the injury had gone untreated, just like her poorly healed broken leg.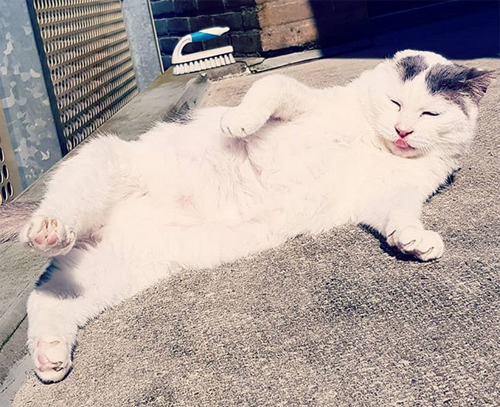 Undoubtedly, Miss T has experienced more trauma in her 15+ years of life than anyone should have to, but today, she is simply grateful to be safe, comfortable, and loved. "Living with her is pretty easy," says Ilona. "She's extremely soft and gentle."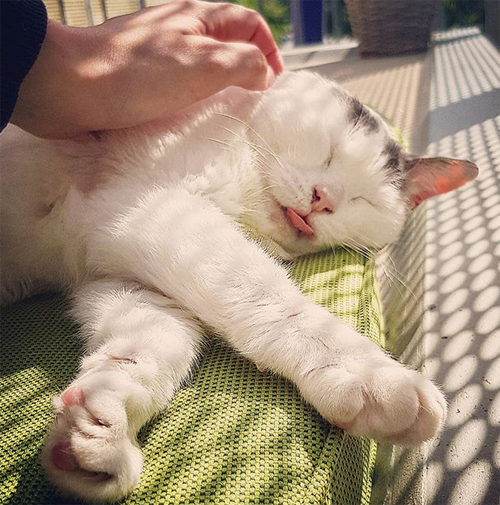 While a lot of people wouldn't be willing to adopt a special needs cat, especially an older kitty, Ilona is so happy she decided to give Miss T a forever home. Aside from buying a ramp to help Miss T get up and down from the couch, putting sunscreen on her remaining ear, and giving her medicine every other day, Ilona hasn't had to make a lot of special accommodations for this senior girl.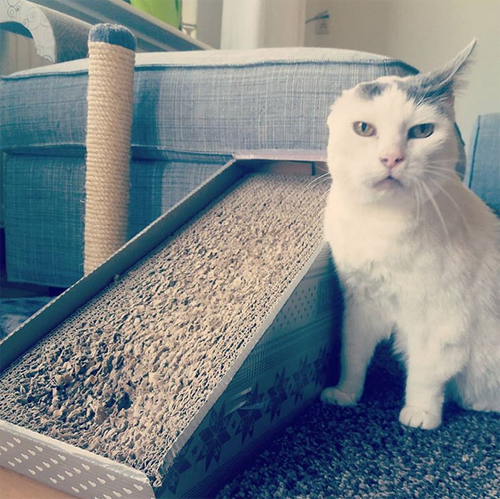 While this teenage cat hasn't required much extra effort, Ilona has made peace with the fact that she probably won't have as much time with Miss T as she would have had with a younger feline. "The joy and thankfulness you receive from a cat like this — for me — is totally making up for the limited years," says Ilona. "The joy and love and reward you receive for this is enough to fill a whole kitty life!"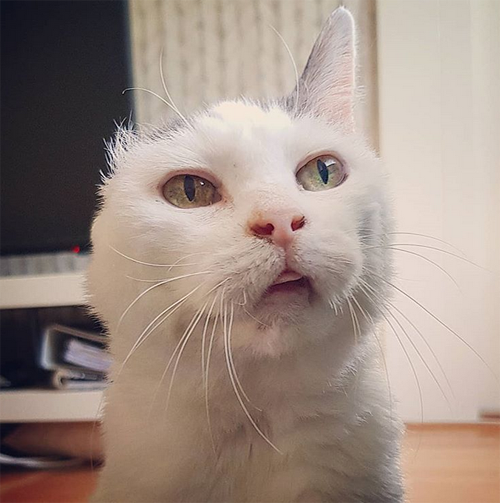 At 15+ years old, Miss T isn't that interested in playing, but it's obvious she's incredibly happy and loving her new life with Ilona. "Every morning when I wake up or when I arrive home, she's standing there circling around my feet, demanding attention and cuddles," says Ilona. "She also likes to get in my arms and then rubs her head in my face and even knocks my glasses off of my head."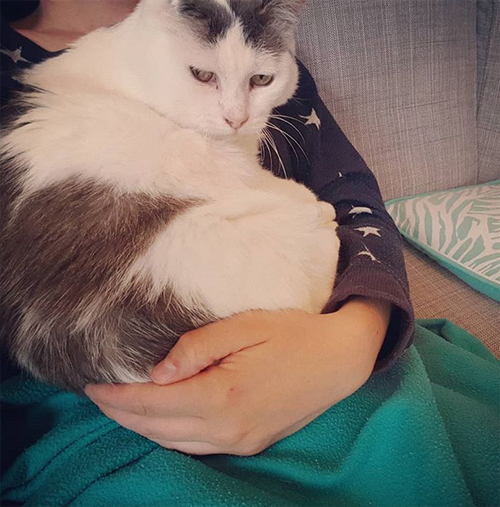 When Miss T isn't cuddling with her mom, this adorable senior cat loves sleeping and relaxing in the sun, although she prefers to be inside Ilona's apartment or on the balcony than outdoors. "I guess she unconsciously knows she is vulnerable outside — because she can't jump or run fast — therefore, I think she feels safe just being in her safe little bubble in my apartment."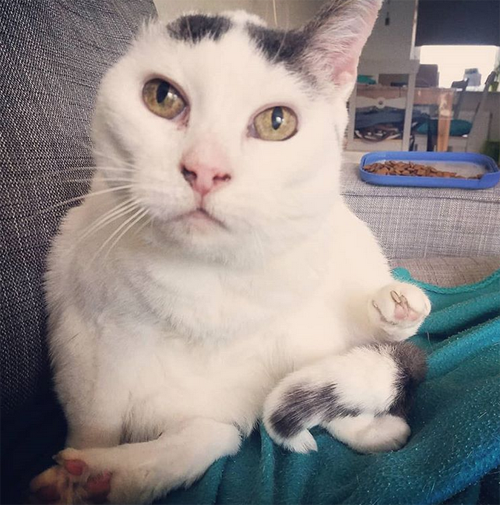 Not only is Miss T — who has given birth to countless kittens, suffered a broken leg and a broken sternum, lost one of her ears to cancer, and is living with chronic bronchitis — thankful she finally has a home where she is loved and cared for, it's obvious that Ilona is just as grateful for this senior girl. "There are two things I tell her everyday: 'You are so beautiful, and it's so nice you are here!' " says Ilona, "just to let her know she is finally appreciated and loved now. I have always said that the T in Miss T stands for tevreden, which is Dutch for satisfied or content, which she surely is right now!"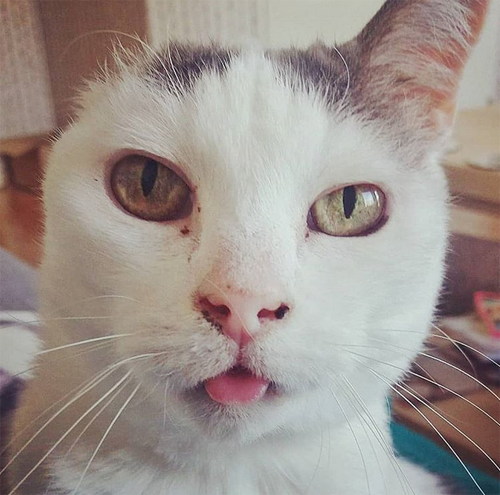 To learn more about this gorgeous cat, you can follow Miss T on Instagram.