Shortly after Imogen and Stephan moved from London to Abu Dhabi in September 2017, they contacted a local non-profit to find out if there were any kittens with special needs or medical issues who were available for adoption. "I wanted to adopt a kitten who might otherwise struggle to find a home," explains Imogen.
The charity put them in touch with The British Veterinary Centre, an animal hospital with two locations in the United Arab Emirates that was looking for a forever home for an adorable calico kitten who had lost both of her eyes to infection.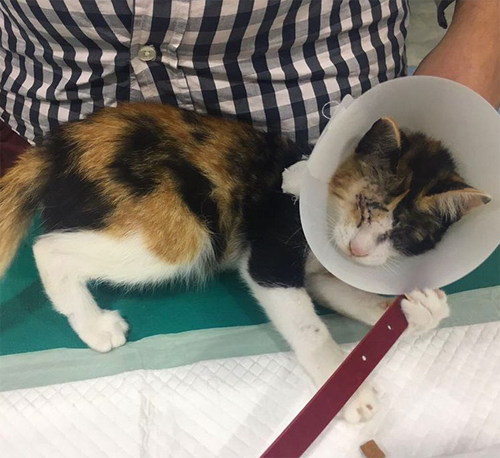 "The British Veterinary Centre took her into their rescue program and did all her surgery for generously discounted rates," says Imogen. The kitten, who was named Helen in honor of Helen Keller, the first blind and deaf person to earn a Bachelor of the Arts degree, was just a couple of months old when Imogen and Stephan saw her face to face for the first time. "The moment I met Helen, I just knew she was the one," says Imogen.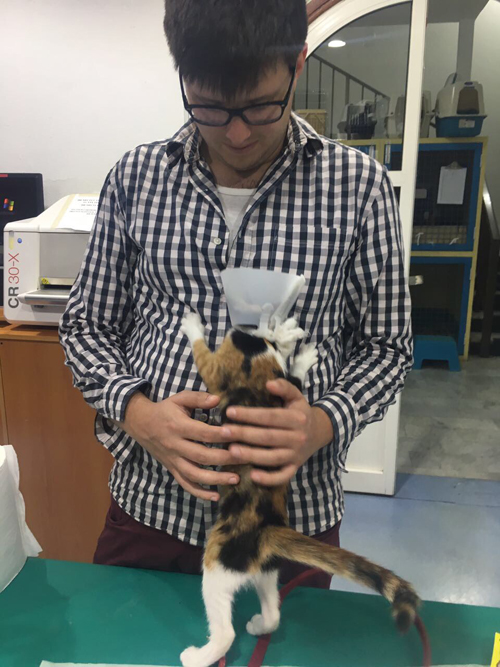 While Imogen wanted to bring Helen home with her that day, the little kitten was still recovering from surgery and wasn't ready to be discharged from The British Veterinary Centre just yet. "She had just had her second eye removed and had to stay at the vet's office for around another month," explains Imogen.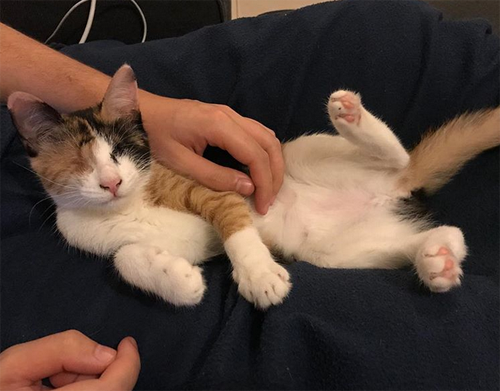 However, that didn't prevent them from bonding with Helen, the adorable kitten who had been abandoned on streets when she was just a few a weeks old. "We visited her every week, taking toys and treats for her each time," remembers Imogen. "She completely stole our hearts with how good-natured, cute, and playful she was."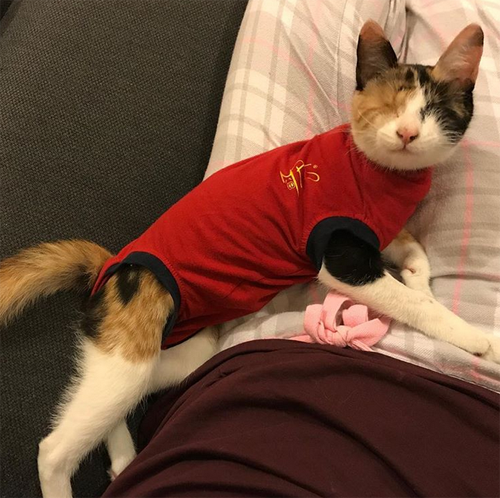 When Imogen was finally allowed to take Helen home with her in October 2017, she and Stephan had already developed a connection with the tiny special needs kitten. "Her first evening at home, she fell asleep in Stephan's arms!" says Imogen.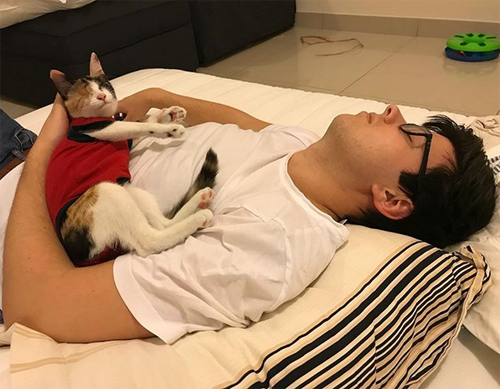 Completely at ease with her new parents, Helen quickly settled into Imogen's apartment, making herself right at home and proving to her mom that blind cats are capable of having happy and active lives. "People are often concerned about how Helen manages to get around," says Imogen. "She does just fine! She runs around the apartment and plays and jumps up on the dining table and kitchen worktop."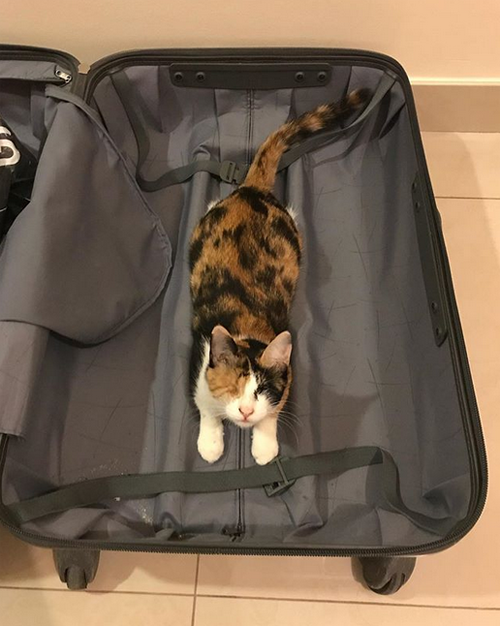 Imogen was still in the process of moving into her apartment when she adopted Helen, and this cute calico girl proved to be just as curious and inquisitive as any other kitten her age. "I put a box down, and she immediately started playing with it, jumping in and out with such ease!" remembers Imogen. "You would almost be forgiven for thinking that she can see."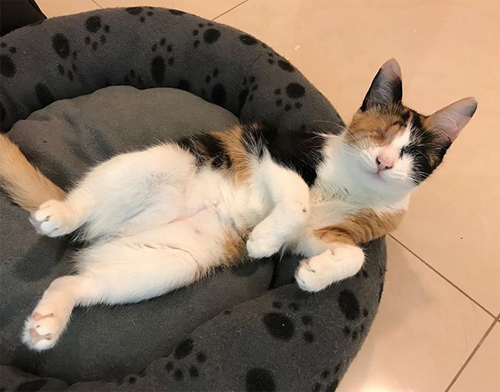 It's been several months since Imogen brought Helen home, and they've settled into the apartment they share in Abu Dhabi. "There have been no challenges," says Imogen. "She is amazing."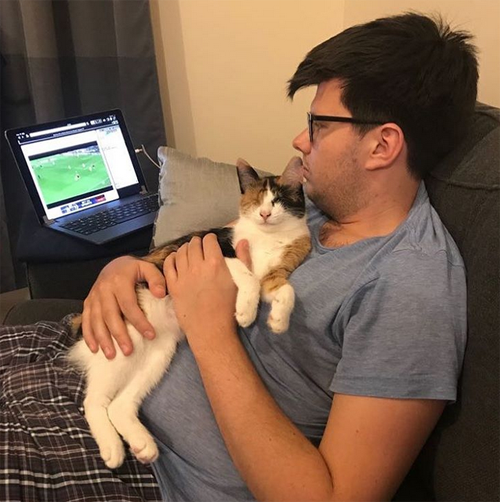 Recently, they added a new member to their family, an adorable three-legged kitten named Louis, and Helen began nurturing her little brother right away, treating him as if he was her child. "The night I rescued Louis, Helen immediately tried to comfort him," says Imogen.
Several weeks later, Helen — who was abandoned as a kitten — is enjoying her role as big sister and surrogate mom. "Helen now mothers him by cleaning him on a daily basis," explains Imogen. "She just has so much love to give!"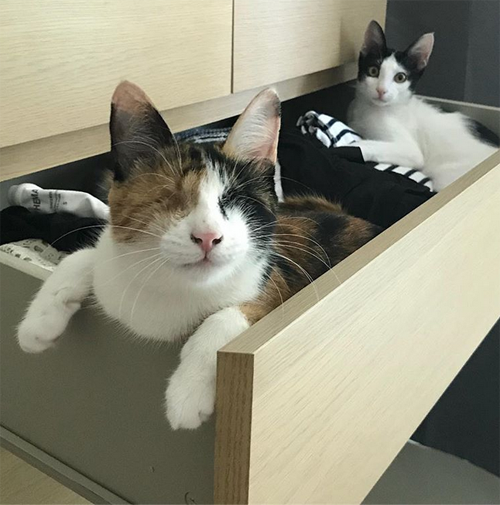 In addition to grooming Louis, Helen likes to keep Imogen and Stephan nice and tidy, and one of her favorite activities is licking their faces. She also enjoys playing fetch, racing around Imogen's apartment, and spending time in nature, so much so that Imogen and Stephan are planning to find a home with a fenced yard for Helen when they move back to Europe. "She loves having the wind in her tail!" says Imogen.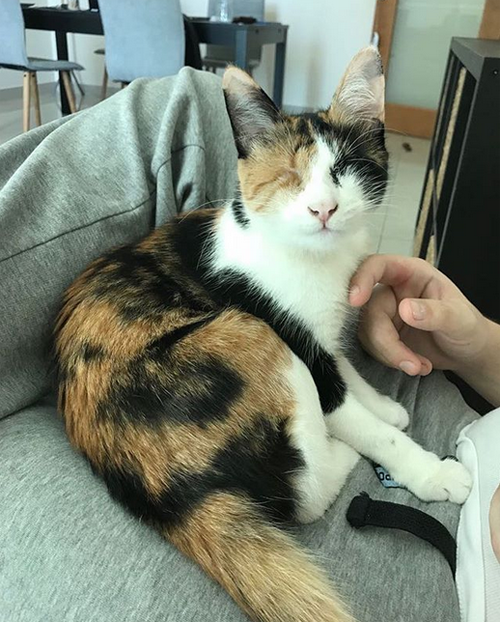 More than anything else, Helen simply likes being close to Imogen and Stephan, and her mom believes special needs cats form unusually strong bonds with their families. "It's almost like they know you have rescued them," says Imogen. "Helen doesn't leave my side when I am home. Even at night, she cuddles up against me as soon as I get into bed."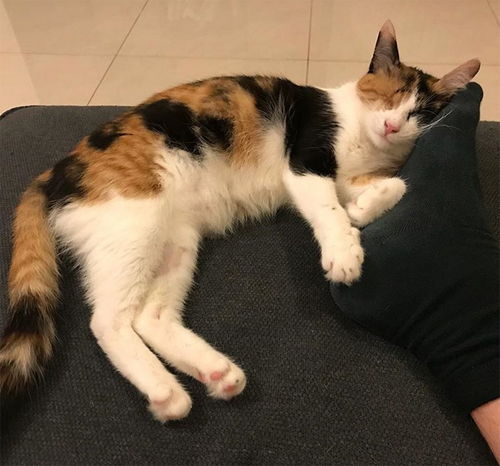 While Helen absolutely adores Imogen and Stephan, this sweet and playful kitten is far from helpless, and she doesn't want pity from them or anyone else. "Helen doesn't need sympathy or special treatment — she just does things her way!" says Imogen.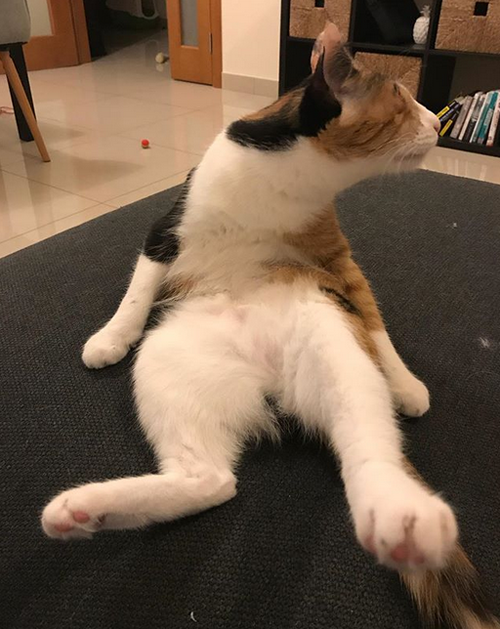 Whether Helen is carrying her favorite toy around in her mouth, doing one of her trademark leaps, cuddling up with Imogen and Stephan, or sitting in one of her many humorous positions, this little cat — who was living on the streets, sick and alone when she was rescued by The British Veterinary Centre — fills Imogen's home with joy. "Helen means everything to us," says Imogen. "She is such a sweet, loving cat; she brightens our day everyday."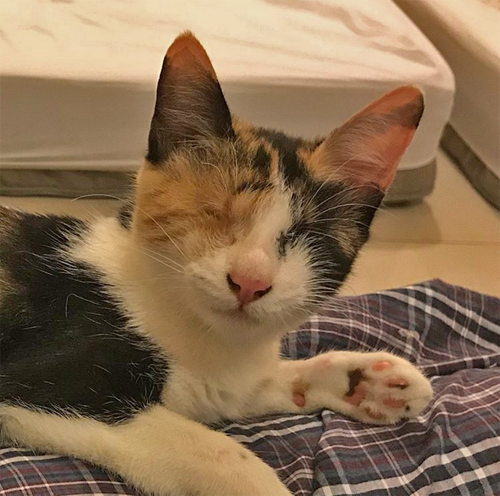 To learn more about this adorable kitten, you can follow Helen on Instagram.